Mining Equipment Manufacturers: Construction and mining equipment cover a variety of machinery such as hydraulic excavators, wheel loaders, backhoe loaders, bulldozers, dump trucks, tippers, graders, pavers, asphalt drum / wet mix plants, breakers, vibratory compactors, cranes, forklifts, dozers, off-highway dumpers (20T to 170T), drills, scrapers, motor graders, rope shovels etc.
They perform a variety of functions like preparation of the ground, excavation, haulage of material, dumping/laying in a specified manner, material handling, road construction, etc. These equipment are required for both construction and mining activity.

Mining equipment suppliers
The technology leaders in the construction equipment sector are Komatsu, Caterpillar, Hitachi, Terex, Volvo, Case, Ingersoll-Rand, HAMM, Bomag, John Deere, JCB, Poclain, Bitelli, Kobelco, Hyundai, and Daewoo.
In the mining sector, the leaders are: Wrigten, Atlas Copco, Liebherr, Joy Mining Machinery, Hitachi, Komatsu, Terex, Ranson & Rappier, Bucyrus Erie and DBT.
As a whole, the total revenue of 50 largest world manufacturers of construction equipment continues to decline, which compared to last year amounted to 2.6%. Thus, in monetary terms, total revenue was $159 billion.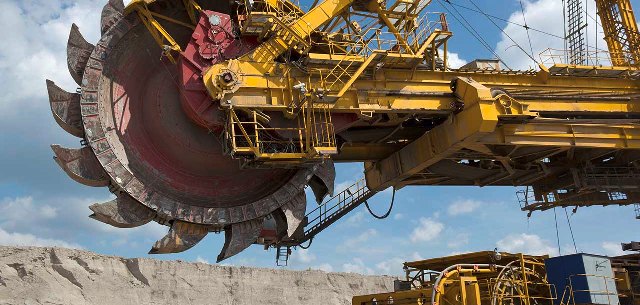 Top 10 mining equipment manufacturers
Caterpillar and Komatsu corporations, being the undisputed leaders of this ranking throughout the entire period of its existence, retained the first and the second position respectively. And the differences in sales volumes of these companies and their closest pursuers still remain at an unattainable level. However, due to the reduction of its activity in the mining industry, the sales volume of Caterpillar fell by almost $3 billion, which in turn led to 1.2% decrease of the share of the company in total sales volume.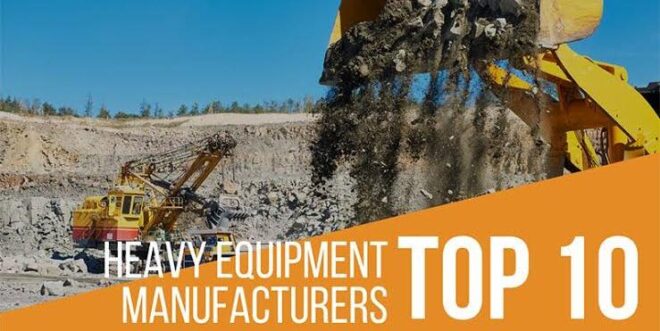 | | |
| --- | --- |
| Top companies | |
| Caterpillar | 17.8 % |
| Komatsu | 10.6 % |
| Hitachi | 4.9 % |
| Volvo | 4.9 % |
| Terex | 4.6 % |
| Liebherr | 4.5 % |
| John Deere | 4.1 % |
| XCMG | 3.9 % |
| Sany | 3.4 % |
| Doosan | 3.4 % |
| Others | 37.9 % |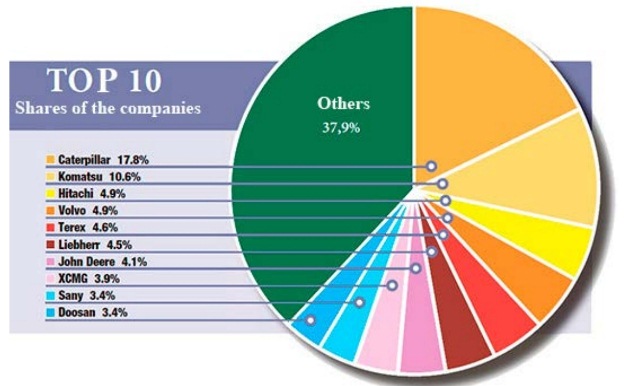 Mining machine manufacturers
The industry is quite mature in terms of marketing abilities as compared to the other sectors of the capital goods industry. Majority of the companies have strategic planning programmes in place and have well chalked out business strategies at all levels.
In order to enhance their market share, companies need to improve quality and service followed by a reduction in costs, increase in product range and finally adopt more aggressive marketing strategies. The competitive edge lies in satisfying customers by delivering higher quality products at lower prices.
Strategic alliances are already in place among 60% of the companies surveyed.
These are primarily focused on developing and combining competencies with the help of other organizations in terms of marketing, after-sales service, etc. Only 45% of the companies are interested in growth through mergers and acquisitions.
The level of quality consciousness is on an average higher than the other sectors probably because the companies are larger and many of them are associated with international companies either for manufacturing or marketing their products.
Another reason for higher quality consciousness is that more companies in this sector are well versed with the soft technologies being used worldwide for enhancing competitiveness and quality.
Approximately 90% of the companies covered under the study have either implemented or are implementing soft technologies like six sigma, lean manufacturing, etc. 100% of the companies manufacturing are ISO certified.

Mining equipment manufacturing companies
Inspite of the sharp hike in steel prices, profitability has been better in the last two years due to increased sales, better sales price, strengthening of the dolar and continued efforts to reduce production costs. The cost of production needs to be further reduced and hence companies need to work upon human resources management to improve employee productivity.
This can be tackled by proper training of manpower, proper utilization of the right talent in the right place which is presently lacking in the manufacturing industry.
Caterpillar equipment
Caterpillar Inc. is an American Fortune 100 corporation which manufactures machinery, engines, financial products, and insurance to customers via a worldwide dealer network. They are also the largest construction and mining equipment manufacturer in the world. Its sells its wide array of products under the brand name CAT, CAT Financial, CAT Reman, Anchor, Asiatrak, FG Wilson, Perkins, Hypac, Mak, and Yellow mark. The company was ranked 194 on the Fortune 500 global list in the year 2016.
Komatsu mining corp
Komatsu is a Japanese multinational corporation involved in the manufacturing of construction, mining, and military equipment. The company also manufactures industrial equipment like press machines, lasers, and thermoelectric generators. Their construction and mining equipment consists of machines including electric rope shovels, continuous miners, hydraulic excavators, wheel loaders, motor graders, dump trucks, and mini excavators. In April 2017, the American subsidiary of Komatsu acquired Joy Global, a world leader in high-productivity mining solutions.
Hitachi Construction Machinery
Hitachi is a Japanese construction equipment manufacturer that deals with the development, manufacturing, marketing, and sales of construction equipment. Their mining equipment consists of excavators, loaders, recycle machines, compaction equipment, crawler cranes, dump trucks, and bulldozers. In March 2017, Hitachi Construction Machinery entered into a partnership with Trimble to enhance its fleet management capabilities.
Atlas Copco
Atlas Copco, founded in 1873, is a Swedish company which manufactures industrial tools and equipment. They boast a wide variety of product range which includes air compressors and industrial gases, vacuum solutions, mobile tools, industrial tools and solutions, mining and rock excavation equipment. Atlas Copco is seeking to acquire assets of Renegade Drilling Supplies Proprietary, a South African manufacturer of drilling consumables for mining exploration. The company reported revenues of $11 billion for the year 2016 with sales in over 180 countries.
Sandvik Mining and rock technology
Sandvik is a global high-technology engineering group specializing in tools and tooling systems for metal cutting, tools, and services for the mining and construction industries. Their key services include machining solutions, mining and rock technology, and materials technology. The mining equipment manufacturer has employed 43,000 employees over 150 countries to generate revenues of $9 billion in the year 2016. It was one of the first company to commercially exploit the Bessemer steel process. They have categorized their products into metal cutting tools, mining and excavation tools, stainless steel, furnace products, and hard and super-hard materials.
Mining equipment rental
The equipment rental market is not yet fully developed but there are a number of companies who are now entering into the business encouraged by the low-interest regime. This will further give a boost to the demand for small and medium-sized equipment. The lowering of customs duties and removal of age restrictions have encouraged imports of second-hand machinery used by the rental companies. This has also found favor with contractors. It helps them to focus on their core competencies of construction and project management while having access to equipment without significant investments.
Future prospects of this industry are directly linked to the world economy and it is expected that the economy will do well in the future.
In recent years, the core sector of the economy, particularly the mineral and mining industry, has made significant progress.
The abundant mineral resources available in the world have led to the growth of the mining industry. This industry is basically labor-intensive and can provide job opportunities for many. Mechanized mining operations have become popular in recent years. Today, more and more companies engaged in open-cast mining resort to high mechanization in order to maximize the output of coal and other minerals. As a result, there is a marked trend in the introduction of large capacity and higher sized mining machines.

Mining Equipment Manufacturers
What is the mining equipment?
Underground specialized mining equipment such as trucks, loaders, diggers, etc. are used to excavate the material and are normally hauled to the surface with skips or lifts for further processing. Drilling is normally required to place explosive charges to liberate the minerals from the overburden material.
What is the most common type of mining?
The three most common types of surface mining are open-pit mining, strip mining, and quarrying.
How is underground mining done?
The entry from the surface to an underground mine may be through a horizontal or vertical tunnel, known as an adit, shaft or decline. Underground mining is practical when: The ore body is too deep to mine profitably by open pit.
What type of industry is mining?
The mining industry contains five main industry segments, which are defined by the resources they produce: oil and gas extraction, coal mining, metal ore mining, nonmetallic mineral mining and quarrying, and support activities for mining.
The most read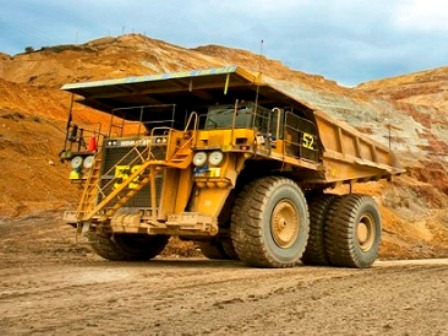 Mining is the extraction of valuable minerals or other geological materials from the land of a deposit. For this extraction to be done efficiently, we need machinery specialized in mining.
More on this story
The management of construction machinery and equipment is a difficult task. Those responsible for the mechanical equipment must make complex technical and economic decisions about the destination of the machines they are responsible for.