The SANY Group was established in 1989 as a small welding materials factory. Today, it is the largest manufacturer of construction machinery in China and No. 5 in the world. The two of its member companies are listed on the stock exchanges separately: SANY Heavy Industry Co., Ltd. on the Shanghai Stock Exchange and SANY Heavy Equipment International Holdings Co., Ltd. on the Hong Kong Stock Exchange.
SANY has 20 industrial parks in China and 5 industrial parks outside of China, respectively in the US, Germany, India, Brazil, and Indonesia.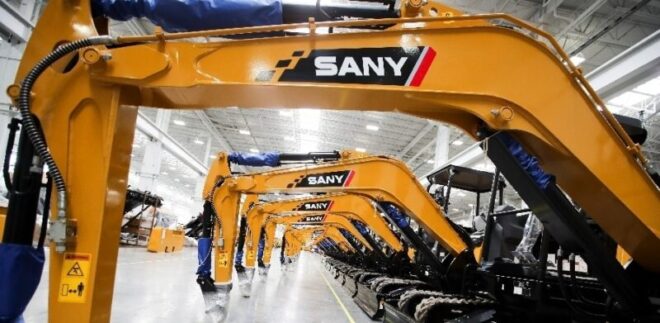 SANY Heavy Equipment
Currently, SANY is a leading brand in China in terms of concrete pumping machinery, excavators, crawler cranes, truck cranes, road and port machinery, rotary drills, and coal mining machinery. Above all, SANY's concrete pumping machinery is the No.1 worldwide. SANY has businesses in more than 150 countries.
Each year SANY reinvests approximately 5% -7% of its total sales revenue in Research and Development, with the goal of providing more world-class products to customers around the world.
Among the 35,000 global employees, SANY has more than 7,000 engineers dedicated exclusively to Research and Development, a fact that has helped SANY obtain and maintain a particular competitive advantage in the sector worldwide that is the only price-quality ratio and incomparable of all the lines of its products compared to other Chinese and international brands.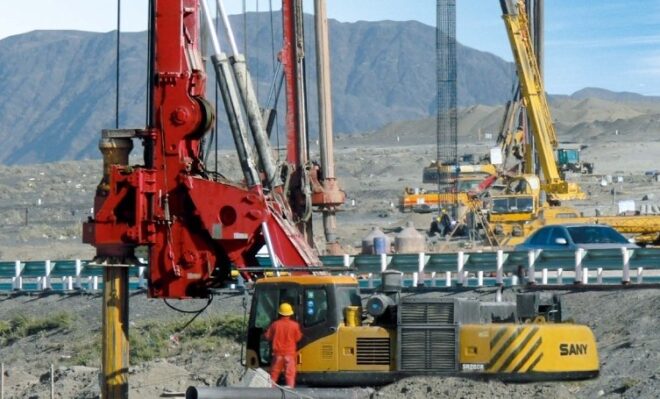 Sany logo
This innovative capacity as a result of the constant investment for decades in research and development, to SANY's belief, is the only driving force for the long-term sustainable development of an emerging brand seeking to be a leader of global importance.
At this time, SANY has 20 state-of-the-art development centers and 2 postdoctoral research centers. Until June 30, 2016, the SANY Group requested more than 8,000 patents, with more than 7,000 patents already authorized, the SANY Group ranks No. 1 in the industry.
While constantly working to improve the quality of its products, SANY is also committed to providing a comprehensive and world-class service to customers with 15 logistics and parts distribution centers around the world.
Thanks to these unique competitive advantages, SANY is definitely contributing to providing a better world.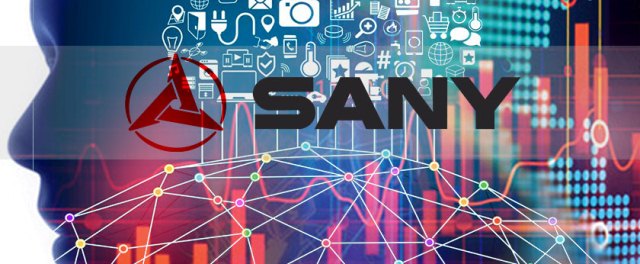 Sany construction machinery
Sany is one of the largest equipment manufacturers in the world and mainly focuses on concreting and construction machines.
Sany manufactures concreting machinery, road machinery, hydraulic excavators, piling machinery, hoisting machinery, wind turbines, port machinery, oil equipment, and precision digital controls. Sany hydraulic excavators, piling machinery, crawler cranes, mobile port machinery, and road machinery are the best in China, and concrete machinery ranks first in the world.
Through independent innovations, Sany has developed a 66-meter pump truck, a 72-meter pump truck, and an 86-meter pump truck. They each broke the World Record for height in succession.
Sany also developed the World's first full hydraulic motor grader, the world's first pump that delivered concrete with Graduation III, the world's first non-bubble bituminous mortar vehicle, the world's largest 3,600-ton crawler crane, the world's first whole-set mortar application unit, Asia's first 1,000 ton all terrain crane and many more.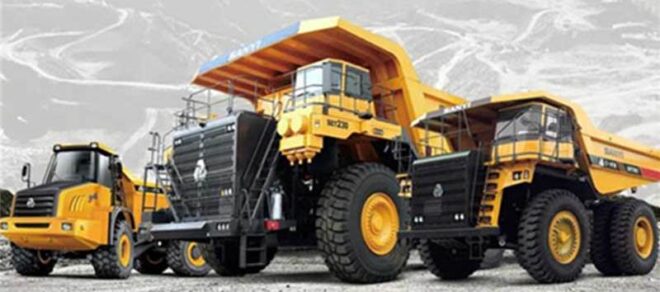 Sany heavy equipment international
2018 will be another record-breaker for Sany Heavy Industry Company as it is expected to surpass Caterpillar in global sales for all-important excavators for the first time. The forecasted revenue growth in 2018 is 50 percent, and by the end of this year, Sany will overtake Caterpillar in excavator sales for the first time.
You may have never heard of Sany, one of China's most important homegrown success stories, but the name is as big as Caterpillar in China, where it has rocketed from a company making welding materials in 1989 to become the biggest construction equipment, manufacturer.
Sany's rise benefited from the hundreds of billions of dollars the government poured into the enormous infrastructure projects in 2008. But as the construction boom slows, it started to hunt for sales elsewhere and has moved beyond the country's borders to cultivate markets in the US, Europe, Latin America, and India.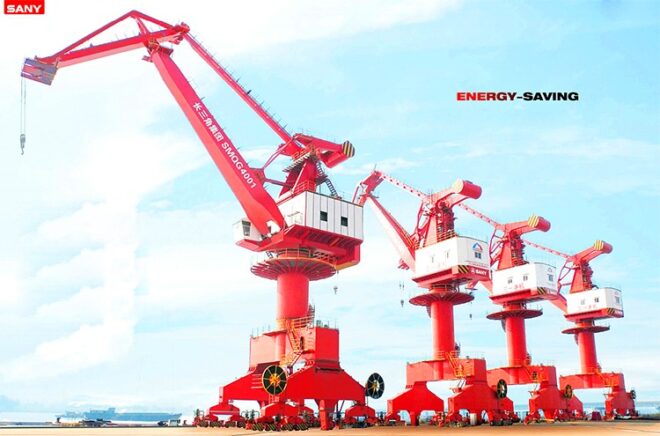 Sany corporation
The Belt and Road Initiative is becoming a very important driver for Sany's international development. Sany has done a better job than its competitors in India, where the sales are predicted to reach three billion yuan this year.
As Sany strove to gain a foothold overseas, it has made a series of brash moves, and it has both grown and stumbled, especially in the US, Caterpillar's home turf.
Its biggest hurdle starting off was finding experienced US dealers to sell and service the equipment, while the most seasoned ones have long been allied with Caterpillar and Japan's Komatsu.
Sany also struggled with the view that Chinese products are of bad quality. It lacked the core skill or technology to make many of its components, which it buys from companies like Cummins and Bosch Rexroth.
But today Sany is narrowing the quality gap and winning customers in developed countries and among quality-conscious equipment buyers, including top mining companies.
As Sany has grown fast and generated economies of scale, it has ultimately allowed the company to invest vastly in Investigation and development.
It spends five percent of its sales revenue on Investigation and development., the highest in the industry, according to the company's statement.
Sany construction
SANY builds some of the toughest equipment on the planet. Discover why our products have been recognized the world over for their legendary value and durability
Industry-Leading Warranty
We back our equipment with the industry's best warranty
Maximum Uptime Performance
Better reliability means more profitability
More Standard Features
Our equipment comes packed with everything you need
World Leading Components
We take pride in our products and only choose the best materials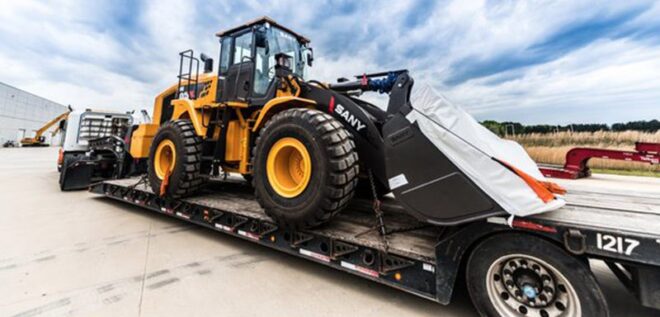 Sany Excavator
Sany hydraulic excavators are precision-engineered digging tools built with industry-leading technology and highest-grade components to offer you maximum job site productivity. Engines deliver top performance and tremendous power, with increased fuel efficiency and low emissions.
Multiple working modes, intelligent control systems, and a variety of attachments and parts allow versatile operation in all kinds of work environments. Whether it's mining, road building, civil engineering, or general construction, Sany excavators are ready and able to get the job done. The models include:
MINI EXCAVATOR
SMALL EXCAVATOR
MEDIUM EXCAVATOR
LARGE EXCAVATORS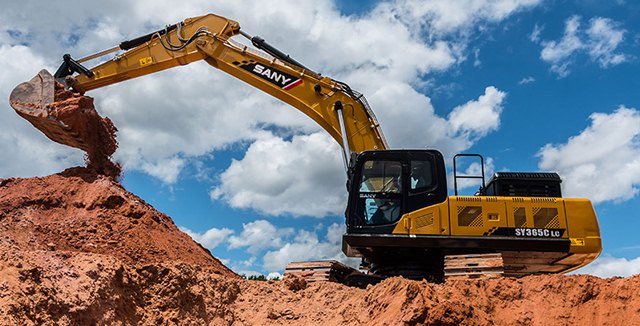 Sany concrete machinery
SANY is a globally accepted brand that develops, produces, and sells concreting equipment. Sany's concreting equipment is highly efficient and designed to work at a very less operating cost.
Truck-mounted concrete pump
SANY truck-mounted concrete pumps adopt 8 core technologies of one button stabilization, boom anti-vibration, energy saving, anti-overswing, fault self-diagnosis, safety, smart boom system, and highly wear-resistant parts to ensure smooth pumping and safe operation. Fine production, rigorous tests, and reliable components of world-renown brands guarantee your concrete pumps with a reach of 30-66 meters and a long service life.
Sany pump
Concrete static pump, by virtue of its unrivaled technical strength in the trailer-mounted concrete pump sector, SANY continuously created the vertical concrete pumping record in China and even in the world.
SANY Electric/ Diesel powered Static Pumps are available with output discharge ranging from 50m³/h -120m³/h with delivery pressure ranging from 8MPa – 35MPa.
SANY static pumps are equipped with:
Advance hydraulic system
Intelligent control system
Efficient pumping system
Energy saving
Extreme wear-resistant technology.
Sany Placing boom
SANY is much preferred by construction units for its convenient and rapid installation and great free-standing eight so as to provide a great convenience for constructors. It is particularly applicable to use in high-rise buildings and large-scale shopping centers.
SANY offers you different types of placing booms such as climbing in elevator shaft type, climbing on the floor, Tower type, and mobile type ranging with max. placing radius 18m- 40.5m with 365deg rotation and up 32MPa system pressure.
Sany Batching plant
SANY Batching plants with an Intelligent control system are Energy efficient, Corrosion prevented, and Environmentally friendly.
Sany's modular design makes it easy to Assemble, Transport, and for maintenance also.
Batching plants are available with Nominal Capacities ranging from 30Cubm/hr – 180 Cubm/hr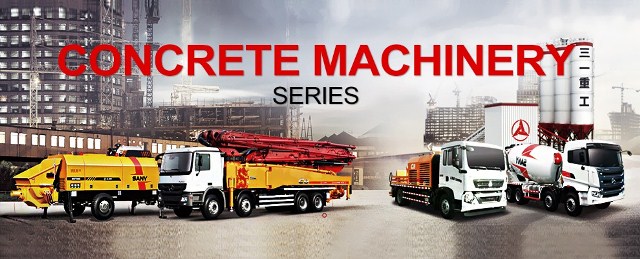 Sany crane
Sany offers a comprehensive range of high-quality, versatile hydraulic mobile cranes that are utilized across construction, infrastructure, oil & gas, industry, energy & others.
Sany Crawler crane
SANY can offer you crawler cranes with lifting capacities up to 3600T. Powerful lifting capacity, Outstanding operating performance, Reliable function controlling systems, and convenient maintenance technology make Sany crawler cranes peculiar.
Sany crane is designed and engineered with the best configuration of superstructure, undercarriage, and operation devices, equipped with a highly sensitive safety system.
Sany Tower crane
SANY Tower Cranes are designed and engineered with simple structure and high reliability which results in easy operation.
Sany can provide you Tower Cranes with rated weights up to 315T and max. weight up to 16T, ensuring the continuous performance of lifting, transport, loading, and unloading in three-dimensional space with a lifting height surely high enough to work for large workspaces.
Sany truck crane
SANY mobile cranes including truck cranes, boom trucks, rough terrain cranes, and all-terrain cranes are equipped with multiple intelligent functions, making operation easier, faster, and more efficient. Built with robust yet remarkably lightweight steel, SANY mobile cranes are highly maneuverable yet powerful enough to tackle the most demanding hoisting operations. The powerful lifting capacity greatly increases job-site productivity.
Sany piling machine
SANY used high-quality structural parts, and chassis that feature heavyweight, low gravity center, and extended width which ensure high stability and reliability for the piling machinery.
Sany piling machinery is equipped with a Strong rock drilling ability Kelly bar can realize the pile depth and a series of safety designs that can ensure the safety of the operator and other personnel, such as a 360° full vision monitoring system. Easy troubleshooting systems in the machine which facilitates servicing.
Sany road machinery
Sany motor grader
SANY Motor Grader is the grader with World's First Hydraulic-Mechanical Transmission System. Sany offers an environmentally friendly and rapid road sweeping grader which is designed for heavy-duty work.
Sany roller
SANY can provide single drums (7T- 27T), tandem drums (3T- 13T ), and pneumatic rollers (20T- 30T) with Higher compaction efficiency; longer service life of the machine; versatile compacting capability; best for complex working conditions of all types.
Sany paver
SANY offers Stable and Reliable Pavers with Excellent Performance and the strongest rigid design in the industry features a double-layered anti-twist beam design, producing consistently precise results.
Dynamic heating technology provides automatic and consistent heating, preventing issues. Sany paver is also equipped with remote updates and monitoring providing real-time technical support and technology updates.
Sany milling machine
SANY's milling machines are available up to 2m milling width. Sany adopts World-class drive belts, a strong layer of body armor materials, high temperature, and impact resistance; key parts of high-strength steel or composite steel, ensure the machine's high strength and long life.
SANY rigid dump trucks
The SRT series mechanically driven mining dump truck is the star product of SANY Mining Machinery and its loading capacity ranges from 33t to 95t. It is equipped with genuine imported engine and gearbox, main pump and main valve hydraulics provided by world famous manufacturers. It has six major core advantages of safety, reliability, economy, efficiency, comfort, and intelligence, and is used widely and frequently. Its technology reaches the internationally first-class design level.
SANY port machinery
SANY port machinery develops a wide range of port equipment for your choice, e.g. reach stacker, container handler, forklift truck, material handler, and large port cranes like ship-to-shore container crane, portal jib crane, rail-mounted gantry crane, rubber tyred gantry crane can be customized. Joint design of China and Germany, our port equipment is the right choice for harbor applications.
Reachstacker
Forklift truck
Empty container handler
Ship to shore container crane
Port tyre crane
Material Handler
Portal Slewing Crane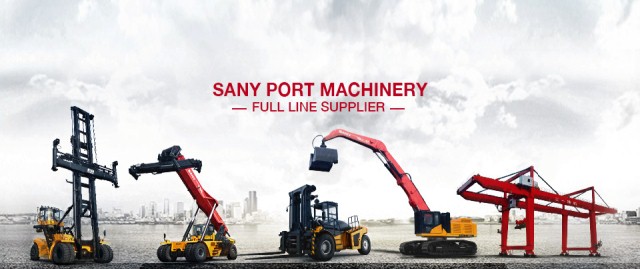 Crane accessories
From amazon.com
What is SANY Heavy Industry?
What is SANY Heavy Industry?
Today, it is the largest manufacturer of construction machinery in China and No. 5 in the world. SANY has 20 industrial parks in China and 5 industrial parks outside of China, respectively in the US, Germany, India, Brazil, Indonesia.
What is considered heavy equipment?
Heavy equipment refers to heavy-duty vehicles, specially designed for executing construction tasks, most frequently ones involving earthwork operations. They are also known as heavy machines, heavy trucks, construction equipment, engineering equipment, heavy vehicles, or heavy hydraulics.
How large is SANY?
Currently, SANY is a leading brand in China in terms of concrete pumping machinery, excavators, crawler cranes, truck cranes, road and port machinery, rotary drills and coal mining machinery. Above all, SANY's concrete pumping machinery is the No.1 worldwide. SANY has businesses in more than 150 countries.
How much does the heavy machinery training cost?
Typical costs: Heavy equipment training typically costs $4,000-$15,000 and lasts three-eight weeks.
More on this story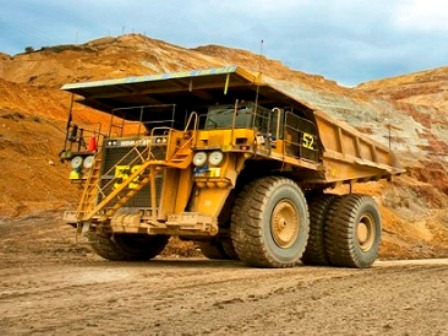 Mining is the extraction of valuable minerals or other geological materials from the land of a deposit. For this extraction to be done efficiently, we need machinery specialized in mining.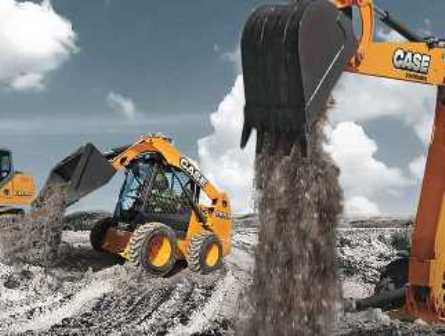 Brands and models of construction equipment, top-selling brands such as Caterpillar, Komatsu, Volvo, Mitsui, Liebherr