The construction machines are those that allow performing different works in the field of land adaptation, so that later buildings, bridges or other types of works can be elevated in them.
Likewise, they can also be responsible for the remodeling or dismantling of old buildings that are in poor condition.
These machines can level the ground where after the different jobs are going to be carried out, modifying the profile so that they can be carried out more comfortably and are the most appropriate, depending on the engineering project that has been carried out.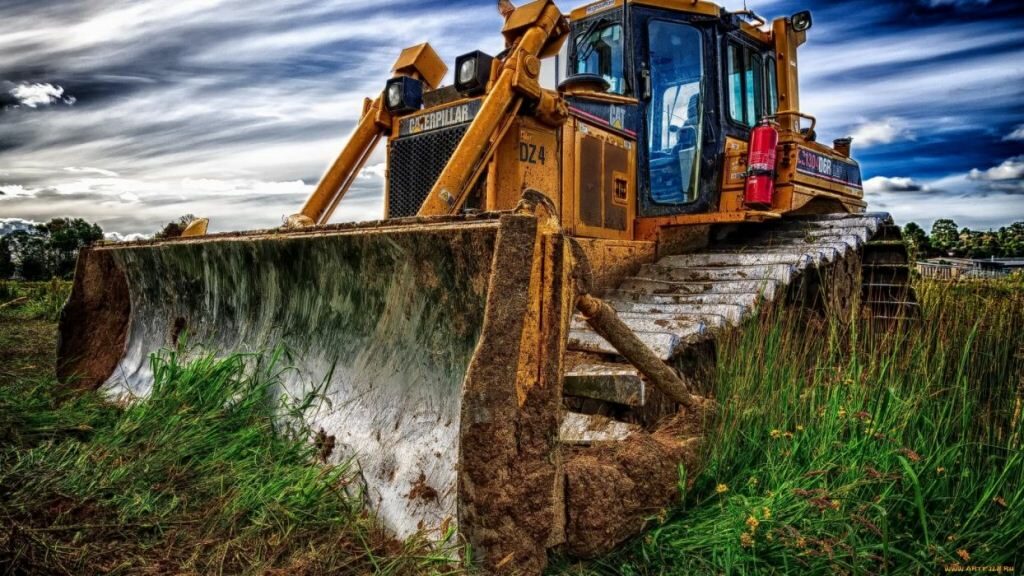 Heavy construction equipment
Heavy equipment is essential for construction jobs of almost any size, from home building to large-scale commercial and civil projects. Earth-moving equipment covers a broad range of machines that can excavate and grade soil and rock, along with other jobs.
Earthmovers and other heavy equipment help to speed not only earthwork but also materials handling, demolition, and construction. Many types of heavy construction equipment are designed for multiple functions, making them indispensable on job sites.
Excavators
Excavators are large construction equipment that can be driven by tracks or wheels, but tracks are more standard. A conventional excavator has a long bucket arm attached to a pivoting cab that can rotate a full 360 degrees. The operator sits in the cab and from there has good visibility of the site. Excavators are highly versatile and can be fitted with special attachments for specialty jobs. The most common uses for an excavator include:
Material handling
Excavating trenches, holes, and foundations
Brush cutting with hydraulic attachments
Demolition
Rough grading
Heavy lifting and pipe installation
Mining
River dredging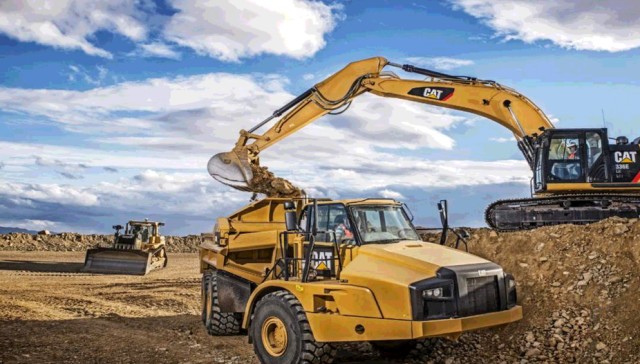 Bulldozers
Bulldozers are considered one of the strongest and most reliable heavy equipments used in the construction industry. A bulldozer is a powerful and extremely heavy machine used ​to move dirt along large open tracts of land. Bulldozers have a wide, flat blade in front that can be operated using two hydraulic pistons to move the blade in a limited range of angles and depths. They are normally used to push piles of earth and for rough or fine grading, depending on the size of the bulldozer. A bulldozer's considerable weight helps it crush large boulders, among other operations.
Motor graders
Motor graders are heavy equipment used for fine grading and for moving small amounts of dirt. They have a long blade that can be adjusted to meet certain angles to create a flat surface. They can also be fitted with a second blade in front of the front axle and in some instances can be used for underground mining. Motor graders are typically used to fine grade dirt or gravel roads or to prepare the road base course before placing asphalt. Graders can also be used to create sloped surfaces or drainage ditches with shallow V-shaped cross-sections.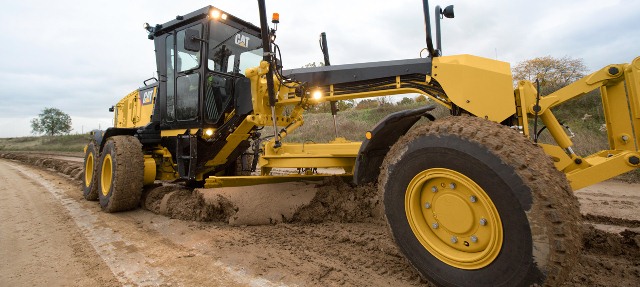 Dump trucks
Dump trucks are needed on almost every large job site. They offer limited function but perform the all-important task of moving and dumping many types of heavy material. They are also road-ready so they can bring material into or out of the site and can travel anywhere large equipment is permitted. Dump trucks come in many different sizes for different capacity and load needs, ranging from small utility-type trucks with dumping beds to enormous machines used in mining operations.

Types of heavy machinery
CLASSIFICATION OF THE MACHINERY: The machinery according to the relation of Weight/volume that is to say according to its capacity is classified in the following way:
Heavy machinery: Machines of great geometric proportions compared to light vehicles have weight and volumetry considered; it requires a trained operator because the operation varies according to the machinery; It is used in earthworks of large civil engineering works and in open-pit mining works. Examples Cranes, excavators, tractor, etc.
Small construction equipment: They are medium-sized machines generally used in construction for example dump trucks, tanks or water carts, ladder trucks. The weight and volume of these units is medium
Light construction equipment: Light equipment: They can be small machines or specialized equipment; such as: compressors, water pump, mud pump, vibrators, bed bugs, steel cutters, floor breaks, forklifts, etc.
Heavy vehicle: Among these vehicles is the truck with stakes or truck with bodywork.
Medium Truck: Among the light-heavy vehicles are those of public use such as buses, minibusses, etc.
Lightweight vehicles: Of reduced weight and volume, self-transporting, for example, automobile, vans, jeep, van, minibus, etc.

What is considered heavy machinery
Among the main construction machines, and depending on the type of work, the following can be contemplated:
Demolition work
Demolition Ball: It is normally used in large buildings and higher. It consists of a ball of great weight, which is linked by a chain or cable to a crane that makes it swing towards the building or building to be knocked down.
Hydroforest: It is an excavator that has large cogs, which rotate in both directions, providing a perfect extraction in the field.
Mechanical Hammer: This is one of the machines used by professional teams, and which is also known as the "breakthrough hammer". It is used to make holes or demolish pavements. There are three types of hammers: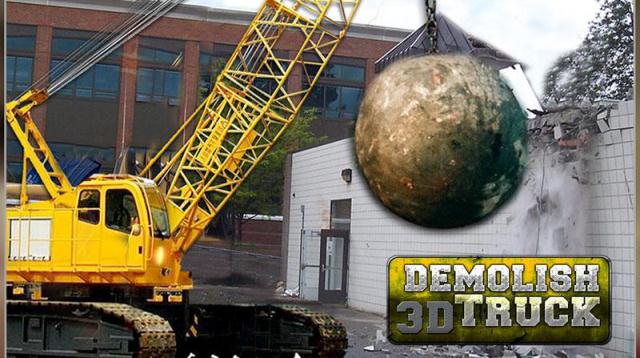 Excavator machine
In this group, it is necessary to differentiate according to the different points in which the work is carried out, since depending on it the type of machinery to be used varies.
Outdoor works:
Loader shovel
Excavator
Excavator shovel
Backhoe
Skid steer loader
Dragline
Ditch work: The trenchers, which are machines that are usually used in those works where tubes or cables have to be installed under the ground.
Sub-aquatic excavations: The dredger is used, which is a type of machinery that is used for works in which excavation work must be carried out underwater.
This machinery, in addition, will allow extracting the extracted runes to the surface. There are different types of dredges, such as mechanical and suction.
Tunnel excavations:
Subterrene
Tunnel boring machine
Earthmoving equipment
The levels of the grade and subgrade project of the paving or grading works of a cultivation plot or of an industrial or sporting terrain establish the need to modify the natural profile of the soil, being necessary, in some cases, to reduce said levels and in other cases elevate them. In the first case, it is necessary to carry out a "cut or excavation" work, and in the second, a "fill" job.
Bulldozer
Dumper
Tilting truck
Scarification machine: It involves making small incisions in the works, which are made with a mototrailla.
Road construction: The leveling consists of the operation of determining a tachymeter level of the land or work, knowing previously an initial or exit level. Said levelings will reflect the unevenness that exists between the different points of the plot or plot studied:
Road Compactor: Filling placed in successive layers, compacted and controlled to ensure that it corresponds to the specific standards of compaction and to know the moisture content of each of the layers, as well as its thickness and bearing capacity.

Compactor with goat legs
Compactor or compactor
Roller compactor

Heavy Machinery Transport: Transportation of materials
Accessibility machinery
Concrete pump

Concrete pump
Hydraulic bomb

Manufacturing of materials

Concrete mixer
Asphalting machine
Crusher

Finishing and cutting of materials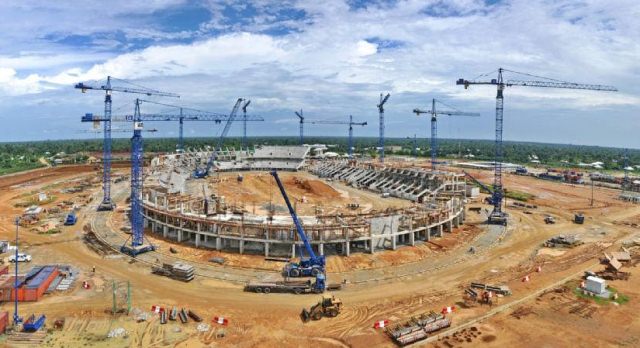 Heavy machinery for construction
In the world of construction and Civil Engineering, today we can count on a number of heavy machinery, which provide us with greater performance in terms of excavation work, to remove the topsoil, compaction, trucks to transport materials to incorporate in the work, loaded with construction materials, in short, with these machines we can save time and a lot of money.
At present we can find a diverse number of machines that can provide us an optimal performance, guaranteeing us the work to be done and the execution time is very fast. Now, we must know how to choose the machinery to use, therefore we must choose some of the heavy equipment that can be found in the market and its use in construction.
Heavy equipment transport
Special road transport of large equipment and machines: These are special high capacity convoys equipped with large gondolas and powerful tractor and push heads capable of moving the load. This type of transport is carried out with great care given the great weight and volume of the cargo, requiring gondolas of great strength and often designed to measure.
The gondolas sometimes have their own braking equipment independent of the tractors and the average transport speed is barely more than 20 km/hour, requiring also restricting and even cutting the traffic of the area where they move.
Sometimes there have been cases where the weight of the transported equipment exceeds the load capacity of many modern bridges equipped with large lights between pillars (such as those existing on modern highways and motorways), the passage of the convoy not being possible for the same.
To solve the problem the convoy has had to use other bridges of previous construction than by its design (minor lights and arcs between columns) if they support this type of overloads, requiring large detours, traveling on winding roads, excessive slopes, etc … All this makes this type of displacement a true adventure for the great professionals of transport and engineering.
Tractor truck – Lowboy: They are large teams that have the function of transporting large distances to machinery that by their characteristics cannot do it
What is heavy duty equipment?
What is heavy-duty equipment?
Heavy equipment refers to heavy-duty vehicles, specially designed for executing construction tasks, most frequently ones involving earthwork operations. They are also known as heavy machines, heavy trucks, construction equipment, engineering equipment, heavy vehicles, or heavy hydraulics.
How Do I Become A Heavy Equipment Operator or Heavy Duty Equipment Mechanic?
Although there are no formal requirements to work as a Heavy Equipment Operator, employers prefer a high school diploma or its equivalent; completion of a one to two-year apprenticeship program OR some high school, college or industry courses in heavy equipment operating combined with on-the-job training. You may also start out as a laborer or truck driver, and learn on the job from experienced heavy equipment operators.
Why is heavy machinery yellow?
It has been an industry-wide practice to adopt yellow as the primary color of heavy equipment. Yellow is primarily treated as the color of caution and visibility. Since all the heavy machinery which are employed in the mines or construction sites must be handled with the utmost care, they are provided with yellow color.
What does a heavy-duty fitter do?
Heavy equipment mechanics work with vehicles and machines used in farming, construction and railway transport to inspect, repair and maintain them. Heavy equipment mechanics do more than just engine repair and must have knowledge of electrical systems, hydraulics, fuel, and brake lines and more.
What does a heavy-duty diesel mechanic do?
Diesel engines are known for their hard work, and because of that are found in hard-working vehicles like buses, large trucks, boats, bulldozers, dump trucks, cranes, and even some light-duty trucks and cars. Diesel mechanics deal with everything From routine oil changes to full engine rebuilds.
Heavy duty equipment images

The most read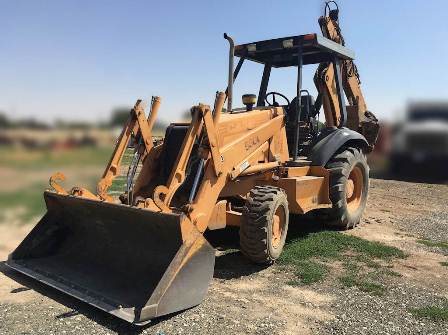 If you are new to construction and drilling, it's important to understand the types of equipment that will be used on the job.
More on this story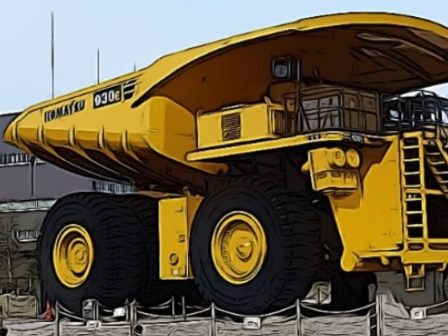 It should be noted that the term "heavy" does not refer to the weight or size of the machine, but to the heavy-duty nature of the tasks it performs.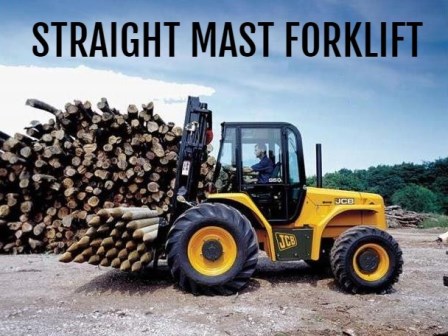 It should be noted that the term "heavy" does not refer to the weight or size of the machine, but to the heavy-duty nature of the tasks it performs.