Pallet racking system – Pallet Rack Design Layout: Selecting warehouse storage rack systems involves careful planning and appropriate system choices to ensure you get the most from your capital expenditures, reduce overhead, and respond quickly to distribution needs.
Pallet racking systems are just as practical as the euro and industrial pallets themselves.
Whether flat pallets, mesh box pallets, or other load carriers –longitudinal beam racks for single or multi-space storage ensure excellent mobility for rapid goods turnaround. Multi-space longitudinal beam rack systems are used in diverse areas ranging from wholesale or spare parts warehouses in the electronics, engineering, and automotive industries.
Single-space longitudinal beam rack systems are ideal for storing goods with the same base area and different heights. Drive-in racking systems have proven their value especially when storing a very large quantity of a limited range of different articles.
Combined with suitable accessories, pallets, and containers, this solution enables products with the most diverse dimensions to be stored optimally.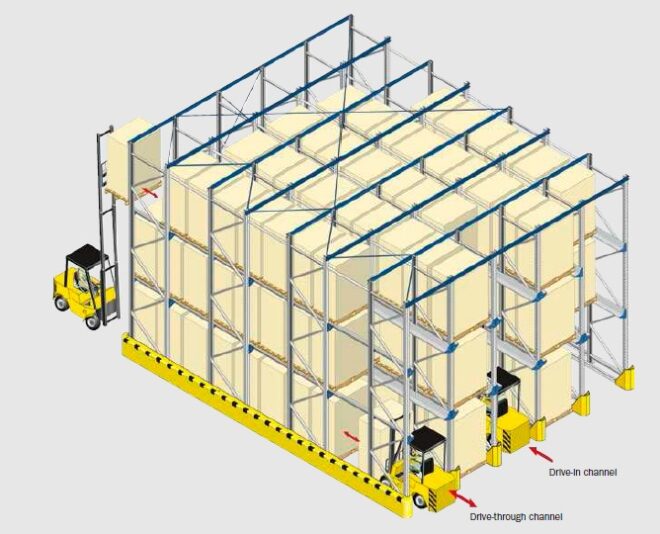 Warehouse racking system design
Whether setting up or replacing storage rack systems, warehouse operators are often confronted with an overwhelming number of choices. That can be daunting since their selections profoundly affect the "throughput" and the profitability of the operation. On the other hand, they may be offered limited choices because a rack manufacturer or dealer specializes only in certain types of racks, a scenario that is often even more problematic.
Warehouse racking system design:
Because warehouse storage and material handling have a pivotal impact on business, manufacturers, and distributors often turn to storage rack specialists to ensure that their warehouse systems fit their needs. Matching business needs with the appropriate the rack system is critical and entails asking the right questions, as well as planning for the flexibility you need as your business grows and evolves. That flexibility requires doing business with a supplier who can offer a variety of rack system designs, structural materials, accessories, and in some cases, customized equipment.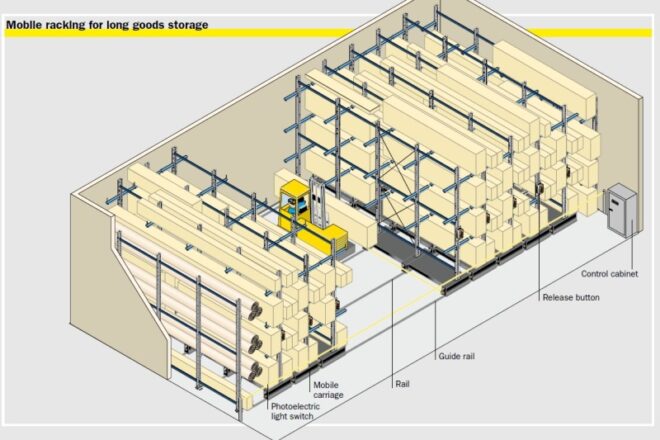 Storage design
Because no two warehouses are identical in every respect, it is important to consider and resolve structural requirements and potential building obstructions. It could be that a variety of pallet rack systems of varying densities provide the best solution. Often a customized or modified rack system is needed. Working with suppliers who comply with essential safety and structural standards set forth by the Rack Manufacturers Institute (RMI) is also strongly advised. It may be worth retaining a Material
Handling Specialists to ensure accurate specification requirements and storage rack layout, along with a team of specialists that can help you navigate the increasingly complex process of storage design.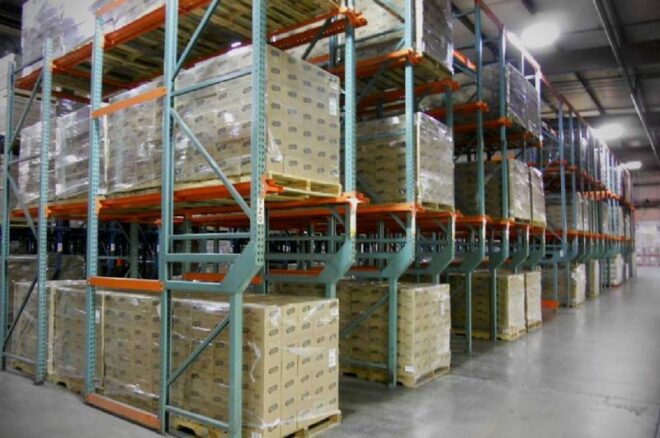 Warehouse layout design
In order to determine your ideal storage solution, there are important safety and design considerations.
Product turnover rate
Product and Turnover: The type of rack, as well as the shelf elevations and storage bay width, will, to a great degree, be determined by your product and stock rotation requirements.
How many different product SKUs will be stored?
What type, size, and the number of pallets will be used?
How often will pallets be accessed?
Do you require FIFO (first-in, first-out) or LIFO (last in, first out)?
Will processing/picking operations require the integration of automation into your system?
Pallet rack weight capacity
Load Capacity: Load capacity takes into account maximum pallet load, average pallet load, as well as maximum carton load, average carton load, and storage utilization factor.
Rack frame
Rack Frame and Beam Material: The type and configuration of your upright rack frames are determined by both the capacity they need to support and their exposure to potential impact during loading and unloading. Unlike some rack suppliers, Steel King has manufacturing facilities that specialize in both hot-rolled (structural) and roll-formed steel, so it is your racking needs that determine the type of steel that is used.
Existing Facility Features
In addition to the floor space of your facility, take into account all features of your existing structure – ceiling height, sprinkler systems, columns, floor drains. Be sure to account for sloping floors within your facility, as you will be required to ensure that your rack uprights are plumb.
Check your slab-on-grade capacity. Can your existing concrete floors accommodate the weight of the system you plan to install? Do they require any special rack anchoring considerations? You will also need to map out your means-of-egress for both personnel and forklift access to ensure that maximum distances to egress are within code, especially for raised work areas.
Production Zones
Production Zones and Work Flow Areas: Consider the space needed for your production work to safely occur. This is especially important in manufacturing, where you have materials movement around equipment. For a stock and ship operation, adequate space is required for packing, shipping, and receiving areas.
Material Handling Equipment
The material handling equipment to be employed for the movement of the goods will impact rack design factors. Some of the items to be considered are the type, size, and number of pallets to be used, as well as the type of fork truck vehicle being used, required aisle width, and the maximum lift height of the truck
Industrial racking systems
Rack collapse – Industrial racking systems: Why are seismic specifications so critical to pallet rack design?
Seismic building code standards are becoming tougher and more pervasive: Most regions of higher seismic activity now require the seismic design of storage racks.
Seismic zone designations are changing: Seismic zone designations (0 to 4) are no longer in use. Instead, the United States Geological Survey (USGS) uses ground acceleration values, referred to as Seismic Design Categories (SDC) from A to F.
With seismic requirements increasing in many parts of the country and with a better understanding of structural performance during an earthquake event, these standards will continue to evolve, placing more demand on the rack design.
Because the RMI Standard is the recognized U.S. specification for the design, testing, and utilization of industrial steel storage racks, responsible rack users will want to demonstrate that their racks meet this recognized standard for seismic design.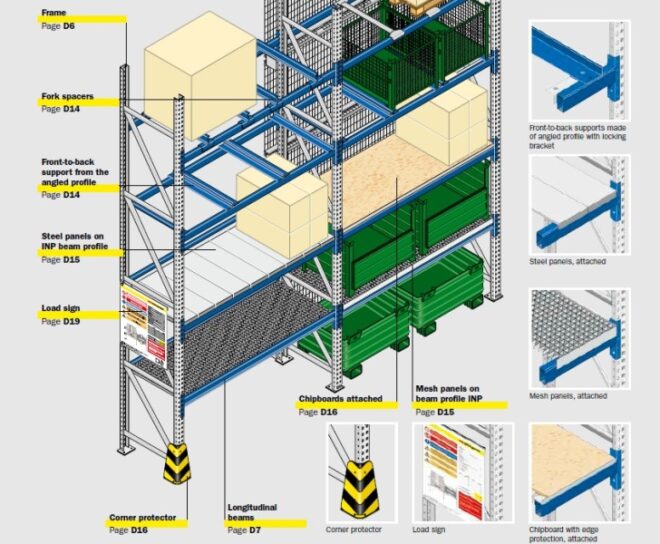 Pallet racking suppliers
Rack manufacturers: RMI created the R-Mark Certification Program as a way for storage rack users and customers to clearly identify those rack manufacturers whose components and design are in accordance with the RMI Specifications.
One of the continuing trends within warehousing includes automation – in the form of both pick modules and automated storage and retrieval systems.
Both of these systems raise the stakes of a potential rack collapse – in terms of expensive equipment and the lives of people working within the structure. Rack systems should be designed, manufactured, installed, and used in accordance with seismic requirements for maximum safety.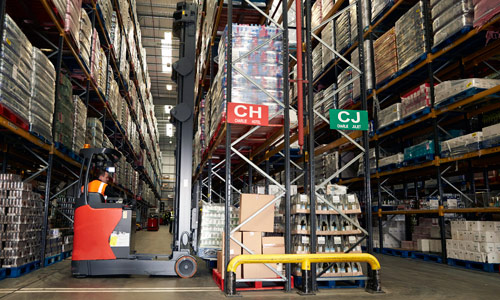 High density storage
Consider storage density:
Choosing the right storage rack system involves a solution process, beginning with the flow of merchandise which will determine your density requirements – how "tightly" that merchandise should be stored.
Warehouses with high-density storage solutions usually have high or even complete turnover of inventories during specific intervals or seasons. During these times, merchandise is often stored en masse in large bays with few access aisles to maximize floor space.
Conversely, lower-density warehousing is appropriate for parts or retail distribution centers where custom orders are picked continuously to fulfill JIT or other time-critical requirements – bulk shipments coming in one set of dock doors and customized packages going out another set of dock doors. Often located near the center of a distribution center are rack-supported pick modules that specialize in this repackaging effort.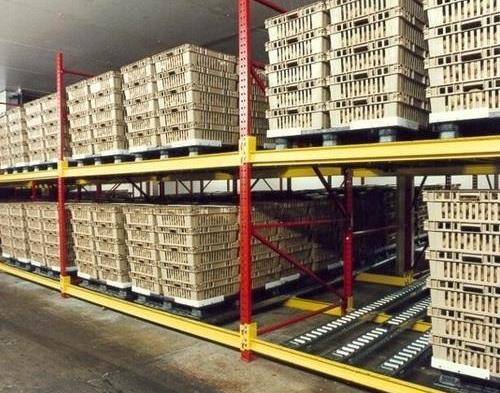 Pallet Rack Design Layout
Generally speaking, warehouse designers have to work with a space in which certain factors limit the surface area available. This is why the layout has to be carefully planned.
When deciding on the internal and external layout of a warehouse, there are three possible scenarios that could necessitate a different assignment of space:

the installation of new warehouses,
the extension of existing facilities and
the reorganization of those currently operating
Even though the last of these options do not involve making extremely important decisions that will affect the development of the business over the medium- to long-term.
Nonetheless, despite the specific circumstances, the general layout of a facility must cover all these needs: (Pallet Rack Design Layout)
Making the most of the available space
Reducing the handling of goods to a minimum
Providing easy access to the stored product
Having the highest rotation ratio possible
Offering maximum flexibility in the positioning of products
Controlling the amounts stored
To achieve these objectives, the first step is to create a warehouse layout, where the design of the warehouse is represented in the form of a plan.
The most read
More on this story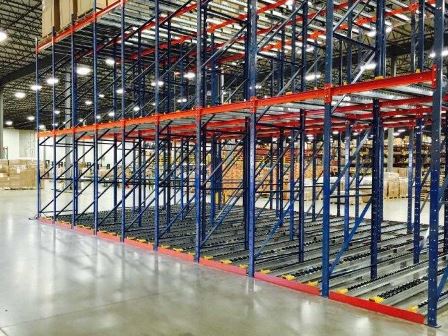 Pallet racking is a material handling storage rack system designed to store products and materials on pallets in horizontal rows and on multiple levels. Most warehouses prefer using pallet racking systems to maximize the storage space they have available.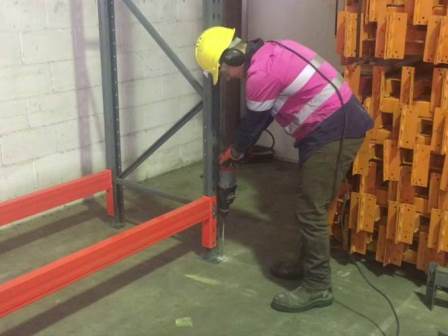 Pallet storage and pallet rack installation jobs require an experienced crew with the proper tools and equipment. Many people involved in pallet racking jobs don't really know how to install a pallet rack.