Crane Operator Training Simulator – crane simulator PC: The main Objective of a Simulator: The fundamental objective in training is that its users learn to use real machines by minimizing the number of hours of practice in the real machinery, reducing labor costs and risks and that learning is done using a pedagogical plan for training. The use of this technology is reflected in the results obtained, providing the following advantages: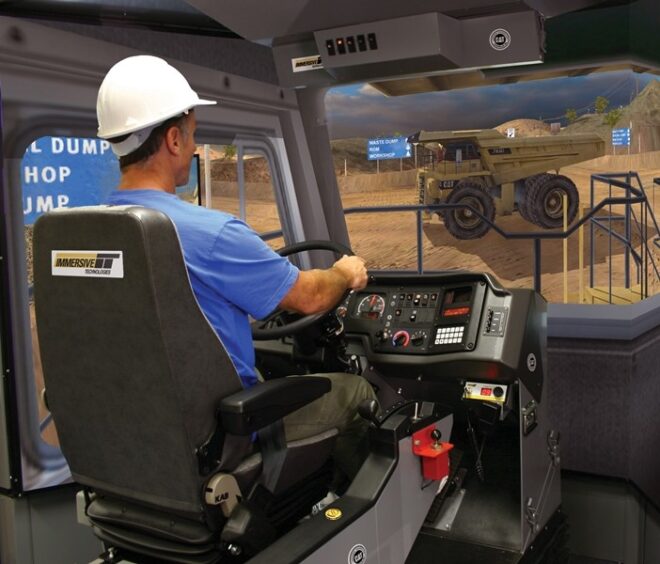 Crane simulator
Computer simulation
Advantages of the Simulators: The simulation provides a practical alternative. With a computer simulation, you can study the impact of adding a new workstation to a production line without having to physically organize the workstation.
Low cost of training
I do not use diesel
No machine wear – Brakes, Clutch Wheels, etc.
Reduction of maintenance costs
Zero occupational risk index
Null indexes of damage to machinery
Availability of equipment for 7 × 24 training
Personalized individual training
Substantial increase in productivity.
Focus on specific areas of training, with the possibility of performing exercises repetitively.
Less time of use of the machinery outside of its productivity tasks.
Evaluation of operators, according to skills and learning curve.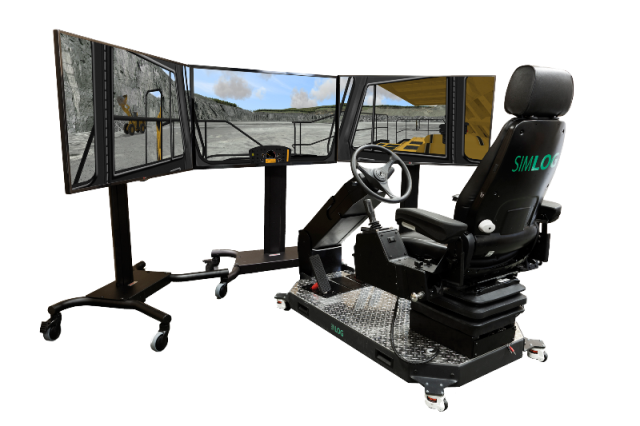 Crane training simulators
Training for experienced operators: The simulation allows you to analyze large complex problems for which analytical results are not available. In fact, most real-world problems fit into this category.
It helps to improve incorrect attitudes acquired with the daily routine.
Learning new maneuvers or new equipment.
Productivity increase.
Tool for certification.
Safety training:

Dangerous situations physically and mentally can be simulated
Undoubtedly, this experience will greatly contribute to the operator's safety awareness.
Significant risk reduction.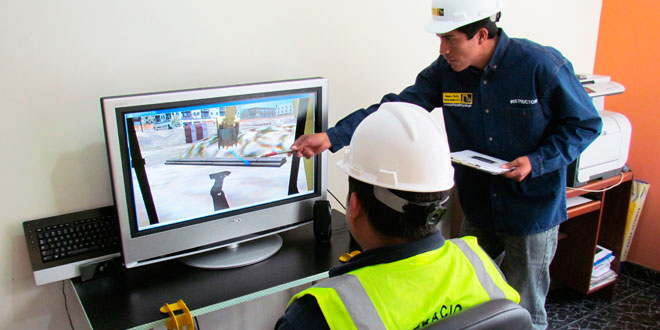 Heavy machinery training
Instructor Station: The heavy machinery simulator course has a station for the instructor, from which the behavior of the student can be evaluated, identifying strengths and weaknesses. At the end of the practice, a report of the practice performed is generated. The instructor can create users to identify and store each of the reports of each operator. You can also organize users in different courses to have a greater organization of information.
Prevention of occupational hazards
Simulation As a Training Tool for the prevention of occupational risks. The training is, without a doubt, one of the prevention techniques of greater profitability in the prevention of occupational risks.
From the preventive point of view, training must be comprehensive, directed not only to achieve a change in attitude towards the prevention measures that must be adopted but also to achieve the desired change of aptitude to develop a certain job and carry it out safely.
The use of simulators in the training of workers is presented as a very useful tool when it comes to acquiring safe habits in the handling of the different equipment, at the same time as it supposes a reduction of costs in such training to enable the realization simultaneous internship by several workers and a greater time availability when performing them.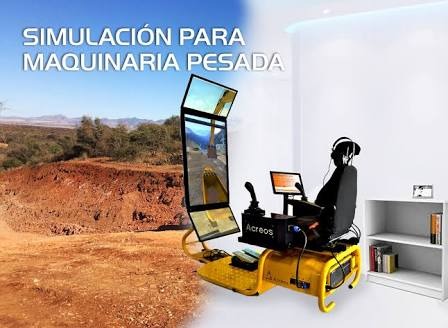 Construction crane simulator
Heavy machinery courses
Construction crane simulator:
Always consider the possibility of accidents in the port maneuvers of loading and unloading merchandise, but a well-trained user can avoid accidents that can be fatal.
Wheel Loader simulator
The Wheel Loader Simulator puts the students in charge of a wheel loader with a nominal capacity of 21.8 metric tons, operating together with a construction truck in a virtual quarry.
A total of eight simulation modules created under a pedagogical table of incremental difficulty are available, starting from the familiarization of controls to the truck loading with signage. For each simulation, key "performance indicators" are measured, which allow you to determine the productivity and quality of the simulated work.
Backhoe simulator
The Hydraulic Excavator Simulator puts students in control of a modern hydraulic excavator on a typical construction site. You can select either the SAE control configuration or the backhoe loader control configuration. A total of twelve simulation modules created under a pedagogical table of incremental difficulty are available, starting from how to position the bucket, to the practice of opening trenches and loading a truck.
For each simulation, key "performance indicators" are measured, which allow you to determine the productivity and quality of the simulated work.
Tower crane simulator
The tower crane simulator puts students in charge of a self-sustained tower crane. A total of six simulation modules created under a pedagogical table of incremental difficulty are available, starting from the roll control due to the turn, until the development of elevations in the presence of obstacles respecting the limits of the load tables.
For each simulation, key "performance indicators" are measured, which allow you to determine the productivity and quality of the simulated work.
Mobile Crane simulator
The Mobile Crane Simulator puts students in control of a typical hydraulic crane equipped with a telescopic boom, down, and a variety of hooks.
A total of six simulation modules created under a pedagogical table of incremental difficulty are available, starting from the roll control due to the turn, until the development of elevations in the presence of obstacles respecting the limits of the load tables.
For each simulation, key "performance indicators" are measured, which allow you to determine the productivity and quality of the simulated work.
Virtual reality
Virtual reality is generally used for young people's bones, that is, in games. They are also applied in high complexity training, for example, training of pilots, paratroopers, etc.
Virtual reality leads us to create environments of any kind in a virtual way, which serves to investigate, observe and speculate on some issues, also creates test environments for example in the case of pilots of aircraft, machinery in situations of risk, etc.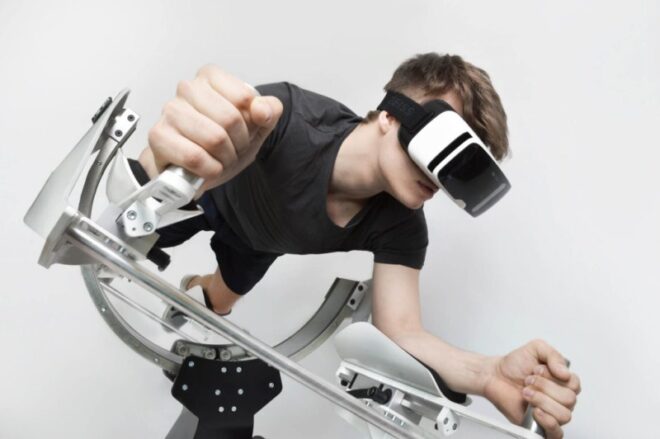 Crane operator training
Crane Simulators for Operator Training: crane simulators are ideal for organizations looking for a way to objectively assess crane operators and keep skills sharp.
Scalable to every training need and budget, crane training simulators provide the most thorough and realistic simulation-based training and assessment available today.
Practice exercises for accreditation testing are built into every crane simulator training pack.
practice testing allows trainees to go through the course and practice as much as they want without getting on a real crane.
This results in cost savings for organizations that have to pay every time one of their trainees takes the practical exam.
Heavy equipment simulator
Now is the perfect time to learn heavy equipment operations. Rising workforce shortages are creating strong demand for skilled heavy equipment operators. More and more students will be trained using the innovative technology of simulation!
Virtual reality is at the forefront of affordable PC-based simulation that takes students from the classroom to the virtual work-site as they develop real skills and valuable safety-conscious habits. There are many simulators for forestry, construction, mining, and material handling.
PC-based equipment simulators are a trusted and cost-effective way of improving traditional operator training programs in the mining, construction and forestry industries. They provide vital hands-on experience to trainees in a safe, instructional designed environment.
These simulators leverage the power of today's PCs and laptops to help train new operators on common machine tasks. They have been proven to reduce training costs, increase operator productivity, and help minimize the safety risks associated with operator inexperience.
Crane simulator training
Adapting the training to the tech-savvy youth of today is an important key in recruiting the next generation of craft professionals. One tool that is becoming widely utilized in the construction industry is the use of simulators.
Simulators allow trainees to react to and learn from test conditions that are likely to occur in real-life, with the added benefits of increased safety while training and decreasing wear on equipment.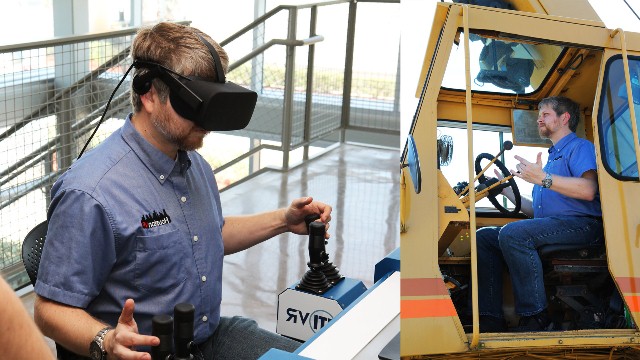 Vortex crane simulator
The Vortex Advantage is an immersive training simulator with a plug-and-play training platform that is scalable to training needs and customizable to the crane fleet. CIS recently added a new portable crane training simulator to their toolkit. The Vortex Edge Plus, produced by CM Labs Simulations, is designed for simple transport and set-up.
"With a simulator, one person can be trained much faster and more economically than in the cab of a crane." In fact, the simulator-based training reduces the man-hours to train to a 4:1 ratio and does not require job site supervisors or rigging crews for the training exercise or valuable equipment time.
"The desktop-style simulator is portable, making it easier for training organizations to bring simulator training to their clients' locations,"
"It is equipped to run any CM Labs training module, which includes mobile cranes, tower cranes, forklifts and earthmoving equipment."
The instructor handles the technical side of the machine and can simultaneously coach the trainees. The self-guided programs are progressive in nature and capture operator metrics, for valuable feedback.
Construction simulator
A crane operator would pick up skills more quickly with a simulator. "There are more things he can be aware of, and different skills that can be taught, in that situation," he says, noting he's spent 20 years in crane operations in the field and has worked around cranes of all types. "Your initial fears of being in a crane and the risks involved in operating heavy machinery — you take that risk factor out when you practice using a simulator, and you avoid the chance of damaging the equipment."
Illustrating that point exactly, a customer utilized the cab-style simulator to prepare for a rough-terrain crane practical exam for crane operator certification. The operator had several months of job-related experience before starting the training. After spending about 40 hours on the Vortex simulator and 10 hours on an actual crane in the yard, the operator was able to pass the practical exam on the first try.
Port crane simulator
Training simulator offers a fast track to efficient and safe crane operations. It enables training of operators for both remote and cabin based crane operation in an authentic environment – as close to real crane operation and realistic conditions as it is possible with simulation.
Simulator based training has proven to be an efficient way of training personnel for various tasks.
With crane simulator, the port crane operators learn to operate container handling cranes efficiently, in a safe environment with no risk for accidents and damage to equipment or goods.
Using port crane simulator simplifies planning and scheduling of the training. For instance, in case of new cranes, the training of operators can be conducted already before the cranes at the site are commissioned, or even arrive at the terminal. The majority of the training can be done with the simulator, which significantly reduces the training needed with real cranes before the operator starts working in production. Thus the real cranes remain available for production while the operators perform their training.
In addition to training, the simulator provides efficient means for pre-assessment of operator candidates when recruiting new operators.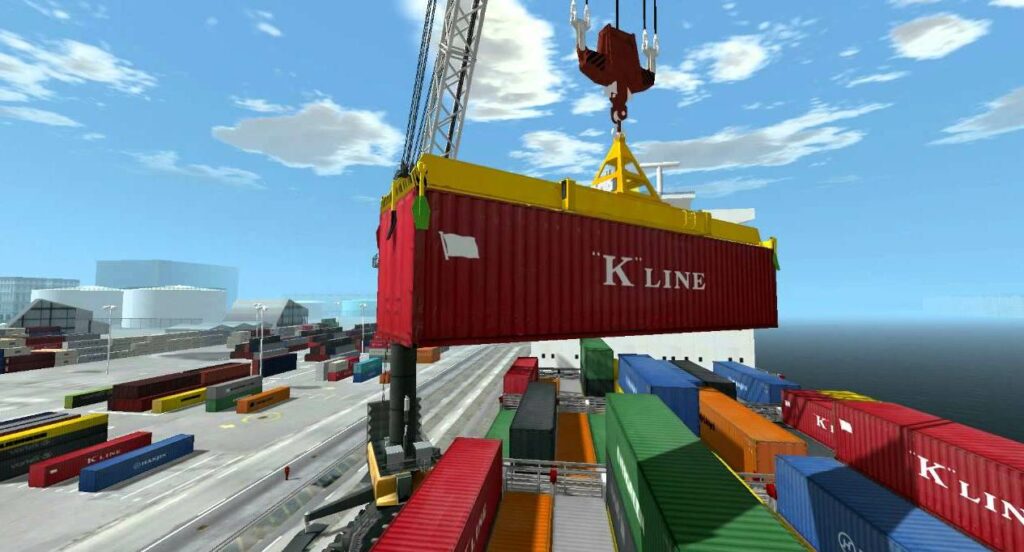 Crane Operator Training Simulator
What is a crane simulator PC?
The Crane Simulator Training Course is a comprehensive training tool. It covers the entire process from lifting cargo to familiarizing yourself with complex controls and maneuvers, such as lifting steel structures, working on buildings, and working around power lines.
What is the use of simulator?
Simulator: Computer program (such as a game or animated flowchart) or a dedicated device that models (simulates) some aspects of a real life situation (such as flying an aircraft) and can be manipulated to observe the outcomes of different assumptions or actions, without exposing the experimenter to any danger or risk.
How Much Does Enrolling in a Crane Operator School Cost?
Well, there is no accurate answer to this question as the market is constantly changing. The tuition also varies depending on the comprehensiveness of the training course.
But to give you a rough estimate of crane training prices, many schools offer complete courses for the cost ranging from $1,500 to $2500, depending on the type of crane you want to get certified in. The school you've chosen may offer an additional cost for practical training with their instructor on standby at an hourly rate of $80 to $120.
Should I become a crane operator?
If you are considering getting a job as a crane operator and you don't have prior education, where do you think the best way to take to get into this profession?
You might be thinking of going into enrollment with a crane operator school. And you're absolutely correct and you're taking the right path.
We strongly recommend everyone to get professional training from a school that is NCCCO-accredited.
Formal training is not required by NCCCO. But for you to have an edge passing the NCCCO certification, it is highly recommended to have such training by enrolling in a course offered by the school.
The most read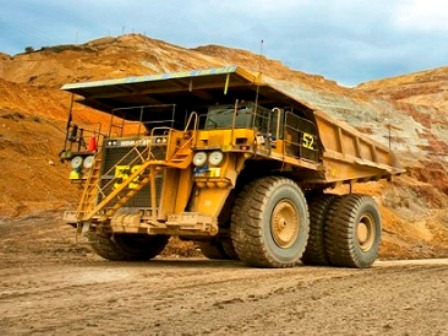 Mining is the extraction of valuable minerals or other geological materials from the land of a deposit. For this extraction to be done efficiently, we need machinery specialized in mining.
More on this story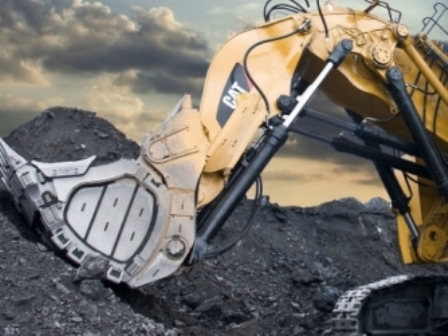 Construction and mining equipment cover a variety of machinery such as hydraulic excavators, wheel loaders, backhoe loaders, etc.