Portable Gantry Crane – Mobile Gantry Crane: The gantry crane is the best tool to work with loads due to its versatility and lightness
Thanks to the characteristics available, the gantry crane is versatile and can be used in many places and sectors:
aeronautical
feeding
automotive
building
pharmacist
railway
industrial
engineering
logistic
chemical
services
Crane Lift
It is often necessary to have this type of elevator that help to facilitate the work and lift the load to the operators since on many occasions the tasks are complicated to perform without the help of a machine.
The gantry crane is the best tool to have when working on:
repair
raise loads
they unload vehicles
Thanks to it, it is possible to reduce the weight with which the operator's load (often it is impossible to lift the load without the help of a machine); In addition, as it is a tool with a very simple assembly, it can be used anywhere.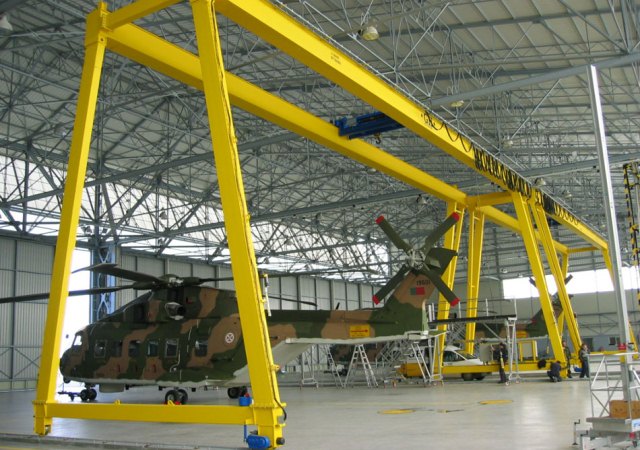 Gantry crane specification
To adapt to different needs, the company develops different types of gantry cranes: the mini, the standard and the maxi, whose load capacity will always be the same (up to) 1500 kilograms.
Both the height and width are adjustable. That is, with the same load capacity you can choose different crane sizes depending on where you are going to be.
Also, it is possible to extend the weight they support thanks to the duo kit. With this, the load capacity increases up to 3000 kg.
On the other hand, the gantry crane is very easy to transport thanks to its reduced weight: the mini model weighs 115 kg; the standard 130 kg and the maxi 146 kg.
In addition, the transport of this is very simple since all its components can be disassembled and folded easily.
In this way, you can move in any vehicle and anywhere. The gantry crane is approved and CE certified, so it can be used anywhere.
In the same way, thanks to this certificate, it has been verified that the certified load capacity offered by the crane is 1500 kg.
You can include wheels to move the gantry crane without load.
On the other hand, one of the legs can be moved through the horizontal beam, which allows varying the length of said beam, while the leg always remains fixed.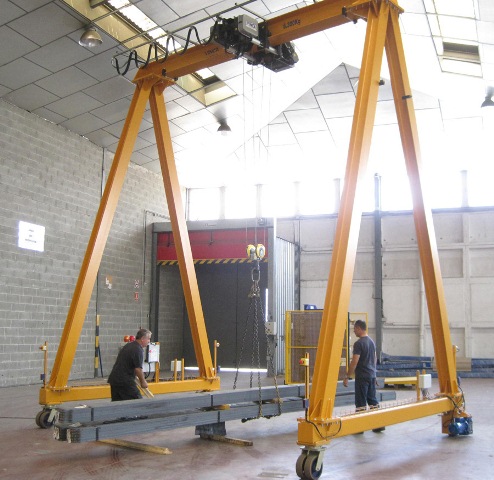 Crane parts
One of the most interesting advantages of gantry crane is the accessories that can be implemented to suit each client.
The duo kit. The connection system of cranes that allows us to join two fixed gantry cranes (of the mini, standard or maxi models) and thus double the load capacity of the tool up to 3,000 kilos. The trolley moves on the two beams.
Wall attachment, which makes it possible to anchor one of the ends of the beam to a wall. This allows us to use the crane through a window or a door and thus increase the possibilities of the system.
Wheels. The system of wheels allows moving the crane mounted and without load. It also includes a suspension of springs so that the weight is distributed in an equivalent way.
Transport trucks, which allows moving a complete gantry crane, quickly and comfortably. It is especially useful for transporting the crane to places where it can not be accessed with a vehicle.
Gantry crane design
The company has also developed a mobile gantry crane. It is a versatile solution for handling needs on large surfaces, as it can be used at different points without the need for assembly/disassembly.
The main advantage is that you can move with or without cargo. As in the fixed gantry crane, one of the legs of the mobile gantry crane can be moved through the horizontal beam, allowing the length of said beam to be varied.
The other leg remains always fixed. Its load capacity is up to 1000 kg and is also available in three sizes: mini, standard and maxi.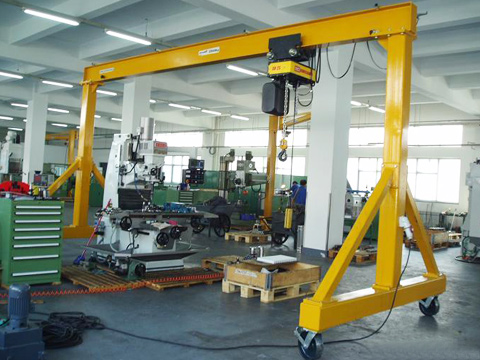 Industrial crane
The world of cranes is huge; While many cranes are used in different types of large construction projects, many other cranes are used every day in a variety of industries. With so many different applications, there are also many different types of cranes that are designed for specific tasks and functions.
A special type is the gantry crane that lifts the load by means of a forklift installed on a beam. Gantry cranes are commonly found in shipyards or in places like steel mills, where space at height can be a problem.
A gantry crane is similar to a traveling crane, but instead of moving on suspended tracks, the crane uses legs to support the bridge, the car, and the hoist. These legs travel on rails that are embedded in, or on the structure of the floor or ground. A gantry crane is ideal when you need a light and fast discharge crane for applications that require portability and resistance to corrosion.
Hydraulic gantry crane
Gantry crane for car:
The gantry crane or car cranes are flexible and light equipment. The rotating wheels are vital parts for the movement of the equipment. It can also be named as a mobile gantry crane and light gantry crane.
In addition, the gantry crane can be disassembled into several segments to be transported to several places. It is sure that every two parts are connected by means of high strength bolts to guarantee a stable structure.
How to install the truck crane?
Put the supports and beams on the ground, and connect them by means of bolts.
Use 16 special specification screws to connect the wheels and support columns.
Install loading gantry with lifting machine.
Adjust the scaffold to the proper location, install the hoist of the crane.
Safety And Protection For Cranes
To obtain benefits, some small crane manufacturers forget to establish protection lanes or security shields that are necessary. Or the steel cable is not in correspondence with the pulleys. These can cause danger during the use of cranes.
Cranes manufacturers have taken many measures to ensure safety and protect operators.
All products manufactured to meet safety requirements.
Industrial producers strictly obey the standards and specifications.
The companies insist on the inspection and daily maintenance of the equipment in order to ensure safe operation.
Resolutely eliminate illegal use and unprofessional operation.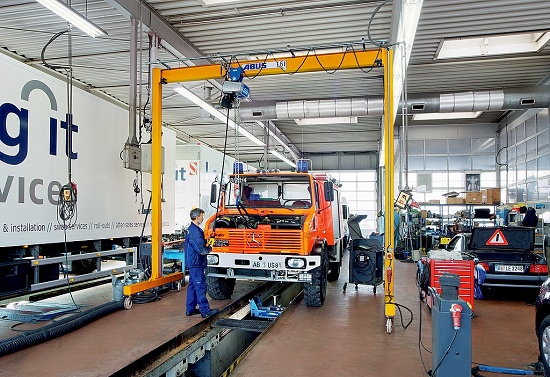 Hoist gantry crane
The cranes are accompanied by mechanical or electrical hoists and can be designed to use a chain or cable, and use an electric motor to rotate the gears located inside the hoist that raises or lowers the load.
Electric hoist:
Electric hoists are controlled by a push-button or by radio controls.
They are usually wired to the electrification system of the crane and use 220v / 440v or 230v / 460v.
The lightweight electric hoists can use 110v and plug directly into a standard outlet.
Electric hoists can be used in a variety of applications and come in numerous types and configurations, but are limited by the duty cycle and cannot operate continuously.
The electric motor in the hoist requires a period of cooling between uses to ensure that the motor does not overheat.
Mechanical hoist:
Ideal for construction, maintenance, automotive and industrial applications.
Typical capacities can vary from 1/4 tons to 50 tons
Can be attached to a beam or cart and use a vertical pull to produce a vertical lift
Spark-resistant design can be achieved with stainless steel or bronze hooks, wheels and chains.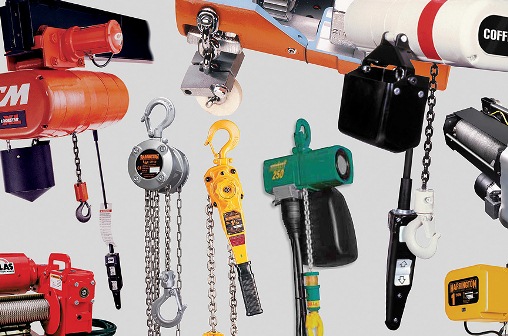 Portable aluminum gantry crane
The Fixed Height Aluminum Gantry Cranes are ideal for a variety of industries including maintenance and production. The aluminum design is easily manageable and can be simply assembled for immediate use.
Fixed height is perfect for working in a permanent or semi-permanent environment where the surrounding seldom changes. Casters provide a smooth way to transfer units when unloaded and if changing locations is needed.
These All-Aluminum Gantries quickly assemble and disassemble, making them popular with contractors who need highly mobile lift equipment that they can take in their service trucks.
Just one or two workers can typically move a disassembled crane up stairways, onto roofs, or in other challenging locations. When on location, the gantry cranes are rapidly assembled, ready to lift, and able to position heavy objects precisely, such as bulky HVAC units.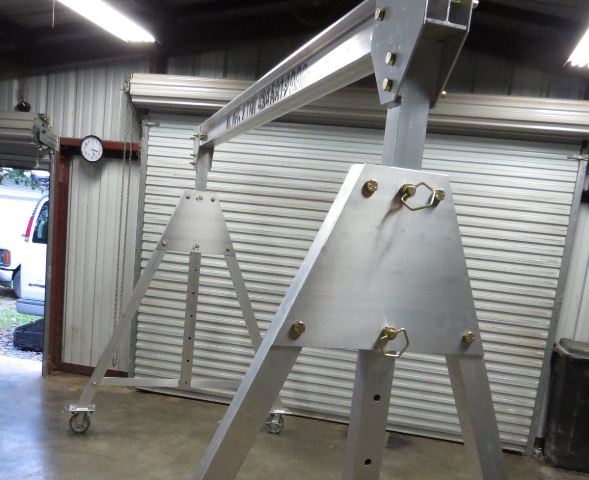 Adjustable gantry crane
Fixed and Adjustable Height Steel Gantry Cranes provide an economical way to lift materials anywhere in a facility. The wheels enable you to move the gantry around your facility. This is a more cost-effective lifting solution for areas of infrequent lifts than a more expensive permanent structure.
Heavy duty end frame design with square tubing uprights, knee braces, and channel base provide stable lifting and movement.
Why Choose an Adjustable Gantry crane?
Ease of Movement

The non-marking, durable phenolic casters provide low rolling resistance for easy movement.
The phenolic wheels roll smoothly, even over rough floor surfaces, and can withstand water, oil and most other chemicals.

Safety

The bolted beam to upright connection ensures that the beam does not dislodge.
Pre-engineered for use with powered hoists. A factor of 15% of the crane capacity is allowed for the hoist and trolley weight with an additional 25% of the capacity allowed for impact, thus giving maximum capacity use of the crane. Therefore, if it's rated for 1000#, it can safely lift 1000# without having to worry about hoist weight or impact.
Reasons to Choose adjustable gantry Cranes
The Flexible Solution Adjustable Steel Gantry Crane provides the most flexible lifting solution of any style crane. The adjustable gantry can be moved to almost any location and can be easily adjusted to provide different lifting heights.
Ease of Installation: All components are built and assembled with jigs and fixtures which ensure easy installation.
Ease of Operation: adjustable gantry cranes were engineered to be easy to position and easy to operate. This helps reduce injuries and increase productivity.
Versatility: make a complete line of crane systems to meet your individual needs.
Safety: All cranes are pre-engineered for powered hoist operation—with a factor of 15% of the gantry capacity for the combined weight of the hoist and trolley and an additional factor of 25% of the crane capacity for the impact of powered hoists.
Titan gantry crane
This crane has everything that we like to see in a product – Durability, functionality, and affordability.
The Titan is loaded with features that make purchasing it worthwhile. It has four locking casters that give you the option of mobility, while still being able to lock in place when you need to. Another nice feature of this crane is the telescoping boom, which allows you to raise and lower the crane height to give more versatility in lifting options. The last bonus to the Titan is the locking pins, which make adjusting the boom height of the crane a breeze.
One of the attributes we like to see in a product that we review is durability.
It doesn't make any sense to spend money on a product that is going to need to be replaced shortly. We have a "buy it for life" mentality.
The Titan surely fits that bill, as it is made with all-steel construction. Using high-quality materials is what gives certain Titan models the ability to lift up to two tons. Make sure you check the weight rating of each model, as some are only rated for a half-ton.
When it comes to price, the Titan is one of the most affordable cranes on the market for its quality. The one downside of the crane is that it does not come with any hoisting gear. Although, at this price, you can purchase the crane, and all the necessary gear, and still spend less than you would on an equally capable crane.
What is meant by gantry crane?
What is meant by gantry crane?
A gantry crane is a crane built atop a gantry, which is a structure used to straddle an object or workspace. The terms gantry crane and overhead crane (or bridge crane) are often used interchangeably, as both types of crane straddle their workload.
How much does it cost to put a lift in a garage?
A standard installation should be around or under $500 for a two-post car lifting solution and under $1,000 for a four-post auto lift. As previously noted, in-ground car lifts and installations are by far the most expensive auto lifting option available, sometimes costing as much as $10,000.
How do gantry cranes work?
The bridge can have a single-beam or double-girder structure. Gantry crane moves on a rail crane rails on four undercarriages. The undercarriage is equipped with protective arcs that minimize the chance of damaging to a minimum. The wheels for transportation trolley wheels are reinforced to avoid accidents.
What is an A-frame crane?
With a choice of fixed or portable designs, our A-frame gantry cranes are a very popular lifting product for light and medium-sized loads. A-frame gantry cranes to various sizes, heights, and spans, that can lift a range of capacities.
What is an overhead gantry crane?
A gantry crane is a type of overhead crane with a single or double girder configuration supported by freestanding legs that move on wheels or along a track or rail system. These are typically used for an outdoor application or below an existing overhead bridge crane system.
The most read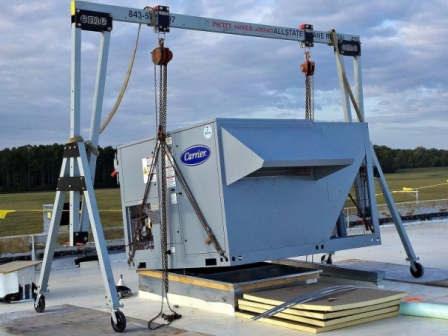 Made from lightweight extruded materials, the components of the adjustable height aluminum gantry crane are easily lifted by one person.
More on this story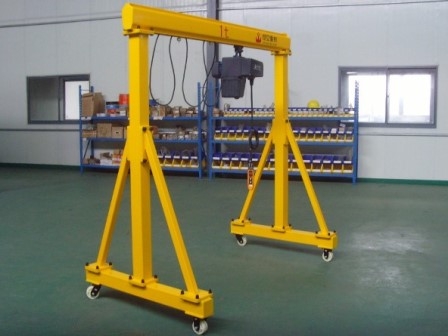 A gantry crane is a serious purchase. Not only are they expensive, but they are relied upon to lift seriously heavy objects. It is not worth it to try and save a few bucks on a crane of inferior quality.