A gantry crane is a serious purchase. Not only are they expensive, but they are relied upon to lift seriously heavy objects. It is not worth it to try and save a few bucks on a crane of inferior quality.
Not only will they cost you more money in the long run by breaking down faster, they will also cause frustration when they are not able to perform the task they were meant to. Lastly, they can be a serious danger if they are not able to properly hold the heavy item you are trying to lift.
That is why we put together this list of cranes that are better than the harbor freight version. All of them are well tested, and able to be purchased online.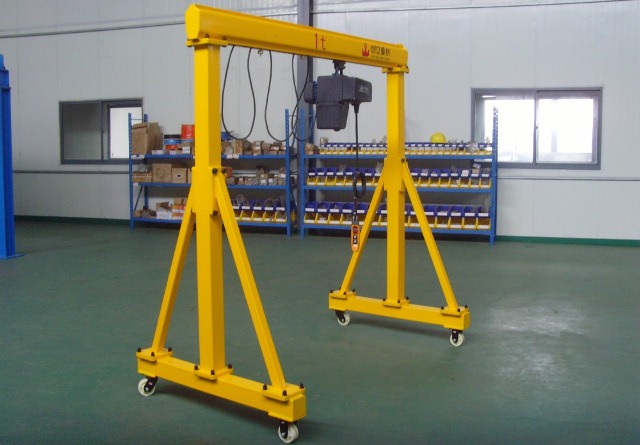 Portable gantry crane
Portable gantry cranes are an ideal answer to awkward applications like hard to budge cartons or machinery. These cranes give you the pinpoint accuracy, speed, durability, and load control needed in many of the following industries and operations: automotive, trucking, manufacturing, loading docks, aircraft, marine, warehouses or maintenance.
With capacities from 1 to 5 Tons and spans from 2.5 to 5 meters, portable gantry cranes are easy to move in your factory area, assemble and disassemble for relocation.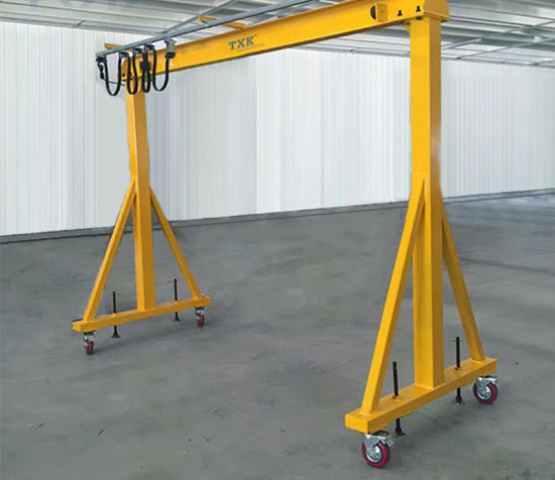 Adjustable Gantry Crane
Portable gantry cranes are perfect for applications where you need a portable and economical way to lift materials anywhere in your facility. Our top choice for the best product in this review is the Titan Adjustable Telescoping Gantry Crane. This crane has everything that we like to see in a product – Durability, functionality, and affordability.
An overhead gantry crane provides a cost-effective lifting solution for areas of infrequent lifts than a more permanent jib crane or overhead bridge crane. One of the biggest reasons that this crane is an excellent choice is a price.
The Telescoping Gantry Crane by Titan Attachments is what your shop needs for all lifting and loading tasks.
The adjustable boom raises and lowers to accommodate varying heights.
The 4 locking casters make moving and transporting easy and provide a sturdy base when lifting.
The 1/2 ton capacity covers a large range of items and equipment that can be lifted.
Trolley or hoist not included.
Aluminium Gantry Crane
Made from lightweight aluminum, the components of the gantry crane are easily set up and assembled by two people. This allows the crane to be shipped easily to a job site and even carried up a ladder or staircase to a rooftop work area. The adjustable height ensures a single ergonomic lifting solution for low headroom areas and wider lift range in other areas. Simple set up and break down allows the aluminum gantry cranes to be collapsed and stored when not in use.
Mobile Gantry Crane
Lifting and materials handling problems can be quite complex. In some cases, a forklift, crane or other overhead lifting solution can become expensive. Our Mobile Gantry Crane provides a cost-effective lifting solution that is reliable and versatile.
The Mobile Gantry Crane is made to order, so it can be customized to suit a wide range of possibilities and applications without cost penalties. The engineered design makes the device incredibly easy to use, simple to assemble or dismantle and extremely practical as it can be used virtually anywhere (indoors and outdoors).
Portable gantry hoist
A mobile gantry is a free-standing structure compromising a runway beam and two supports assembled in a goalpost-like configuration, The supports are usually mounted on wheels or castors to enable the structure to be relocated by manpower only; they may, however, be mounted on free-standing feet requiring the structure to be dismantled for transportation.
Standard range of steel and aluminum mobile gantry cranes offering a lifting capacity range of 250kg to 5,000kg. The steel gantries are suitable for indoor and outdoor use and come with either a standard I beam or a profile beam.
Harbor Freight Gantry Crane
What is the difference between a gantry crane and overhead crane?
A gantry crane is slightly different from a bridge crane. The general premise is the same, but the operation is different. Some gantry cranes ride along a track installed on the floor or use a V-groove caster to keep moving in a straight line. Gantry cranes are usually less expensive than an overhead bridge crane.
What is a gantry system?
A gantry robot consists of a manipulator mounted onto an overhead system that allows movement across a horizontal plane. Gantry robots are also called linear robots. They are usually large systems that perform pick and place applications, but they can also be used in welding and other applications.
What is the full form of EOT (Electric overhead traveling) crane?
Electric overhead traveling crane or EOT crane is one of the most common types of overhead crane, or called bridge cranes, which consist of parallel runways with a traveling bridge spanning the gap.
What is an A-frame crane?
With a choice of fixed or portable designs, our A-frame gantry cranes are a very popular lifting product for light and medium-sized loads. Pelloby manufacture A-frame gantry cranes to various sizes, heights, and spans, that can lift a range of capacities.
The most read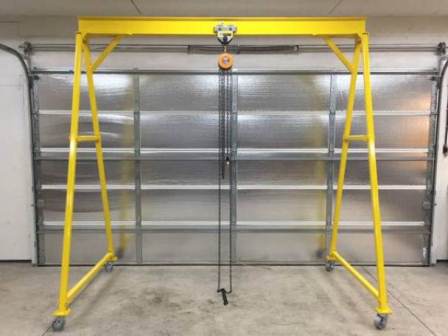 The Telescoping Gantry Crane can be positioned anywhere you need to lift and position materials. Standard adjustable height 8 ft to 12 ft.
More on this story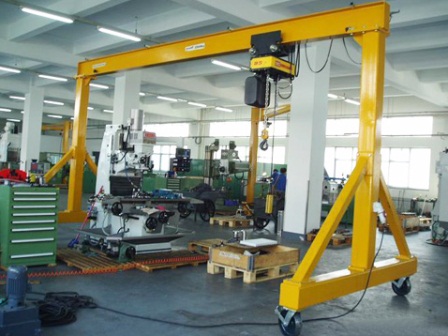 Portable Gantries: Reach all corners of your plant. Lift and move materials, or use for pulling motors, equipment, and other heavy machinery. Quick disassembly for transport by a service truck.