As a special series of lifting equipment, there are different types of gantry cranes. The classification of the gantry cranes can be listed according to several factors:
Fixed crane
Semi gantry crane: One articulated support and the other recessed to the beam:
The union of the beam with each of the two supports is done differently. In support, an articulated joint is executed, without transmission of moments between both elements.
In the remaining support, an embedment materializes, in such a way that the transmission of moments is guaranteed.
With this provision, the structure is a mechanism if we look at its internal constitution. However, globally the structure is isostatic due to the fact that in the union of the supports with the rails, fixed supports are obtained.
The main advantage of this configuration is that the section needed for the articulated support is smaller since it only works under axial force.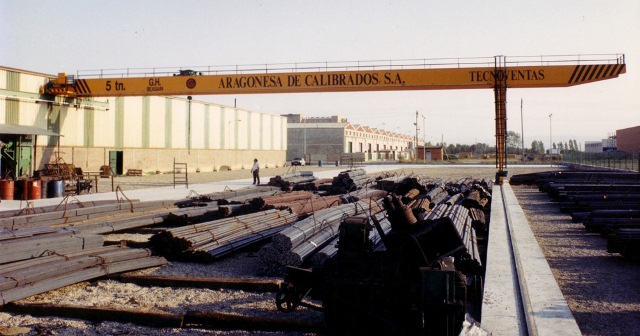 Mobile crane: Both brackets are embedded in the beam:
In this case, the union of both supports with the beam is executed as an embedment, obtaining a hyperstatic constitution structure.
The main advantage of this configuration is that the arrow on the beam is smaller compared to the articulated-recessed system.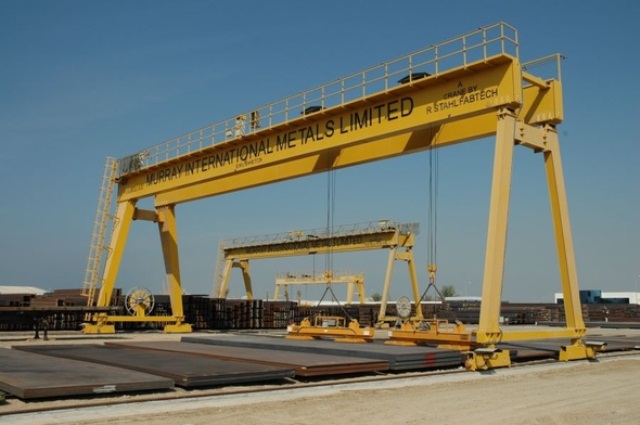 Mobile Gantry Crane
Fixed gantry
In this case, the gantry does not move from its position, so it can only move loads along its light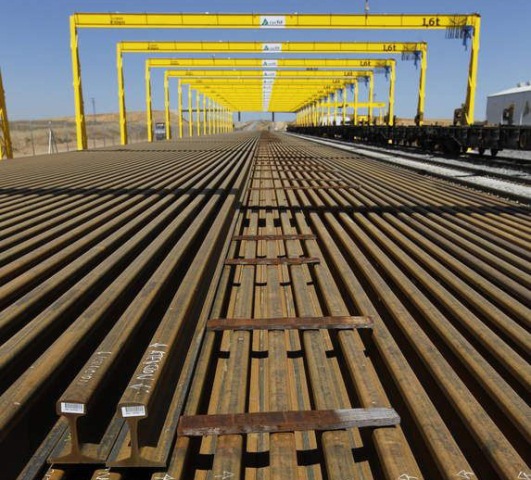 Mobile gantry
With this arrangement, the gantry crane can be moved to cover more work surface. The displacement can be unidirectional along rails or in any direction if it is an automotive gantry crane on pneumatic wheels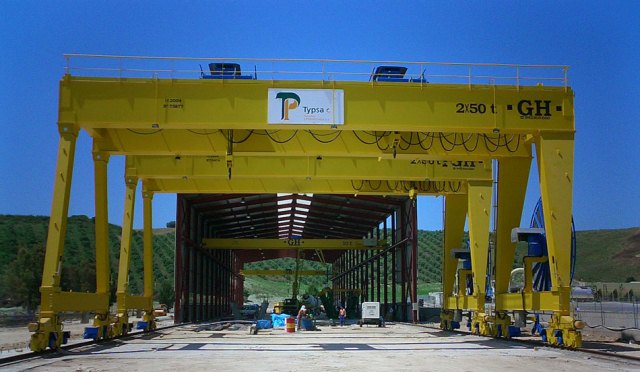 Gantry crane structure
Lattice crane
Both the beam and the supports are made up of lattice profiles, either flat or spatial. The main advantage of this solution is that it is more economical when trying to save large lights.
In addition, the surface exposed to the wind is noticeably smaller compared to the porticos formed by box beams.
However, its limitation is given by its maximum load capacity, which is less than what can be achieved with box beams.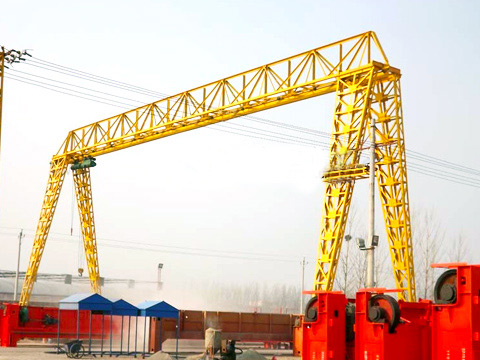 Steel gantry crane
The cranes based on hot-rolled profiles of full core type IPE, IPN or HE are used when the lights to be saved are reduced and the loads to be handled are light. Its main advantage lies in its simplicity and economy of construction.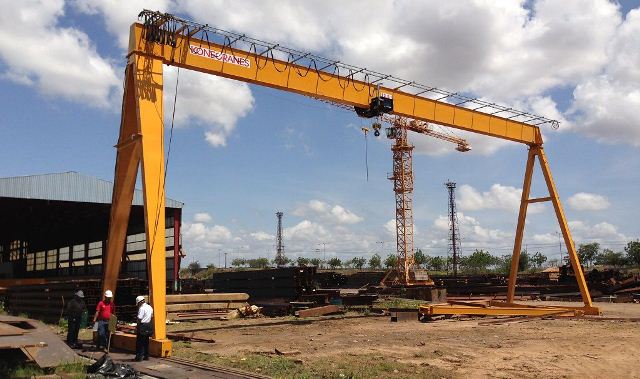 Crane gantry girder
Drawer beam type:
With this configuration, the beam is constituted by an armed profile based on welded plates.
You can get practically any type of section that is needed. Generally, the sections have a rectangular hollow shape (with or without external flanges), well suited to withstand the bending and shearing stresses prevailing in the beam.
This morphology is the most used in the construction of gantry cranes from a certain size. With it, you can reach load capacities over 1000 tons and lights over 100 m.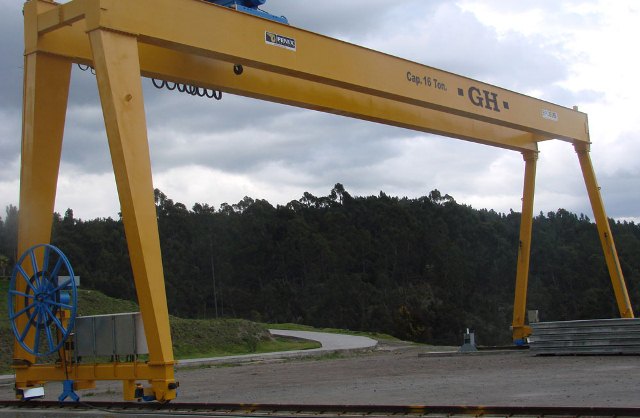 Types of cranes
Classes and types of cranes (forms):
Single girder gantry crane
It is the basic configuration of a gantry crane and in it, the car is supported by a single beam. It is a suitable solution to support low loads. Starting at 20 t, the use of a double girder configuration is usually preferable.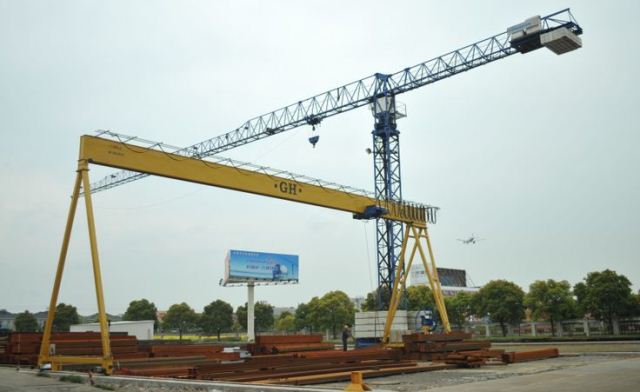 Double girder gantry crane
When the loads to be moved are high and/or the light to be saved is important, a double-row configuration is used. With it, the load is distributed between two beams, with which the necessary profiles can be of the smaller sections.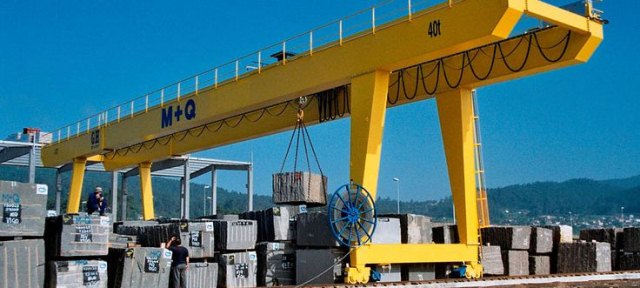 Portable gantry crane design
While a gantry crane is flexible in its design because it doesn't rely on building supports and can be designed to be mobile, there are some things you'll need to consider if you want to utilize a gantry crane in your facility.
Gantry crane design standards
Nearby Foot or Motor Traffic
Most people will choose to go with a gantry crane if they're going to be running a lot of traffic, forklifts, and carts in and out of an area where they need to utilize their crane. A larger gantry system will allow forklifts in to pick up materials and allow you to bring trucks in and out for loading. That's probably, the bigger ones that we've done have been for that reason.
Support columns, like you, have with bridge cranes, take up valuable floor space and are also obstructions for workers moving about the facility.
If you can eliminate those support columns, it makes it much easier for your workers to maneuver around in that area.
However, with any type of gantry system, you need to consider what equipment or personnel are operating nearby.
With a gantry that's moving down the rail or track—or even a portable gantry that's being maneuvered through different areas of a facility—you want to be aware of any possible obstructions that the crane could possibly collide with.
Any type of impact could cause damage to electrical panels, end trucks, controls, gearboxes, or any other components mounted to the legs of the crane.
Manufacturers can get creative in positioning the controls, gearboxes, and panels on the legs to minimize exposure to impact.
Steel gantry design
Indoor/Outdoor Use
If your gantry crane system will be operating outdoors, you'll want to consider the type of paint or finish is applied—as well as the material itself. Since the crane is being used outdoors, you'll want material like stainless steel or galvanized steel that can withstand corrosion and hold up to UV exposure, saltwater, moisture, and extreme heat or cold.
You'll also want to consider additional features like motor heaters and insulated electrical panels to withstand the elements. You can even add on a "dog house" or covered area to protect the trolley and hoist. These can actually travel over the top of the hoist the whole time or can be a designated parking station at the end of the crane.
While a gantry crane is flexible in its design because it doesn't rely on building supports and can be designed to be mobile, there are some things you'll need to consider if you want to utilize a gantry crane in your facility.
Powered gantry crane
For large outdoor gantry systems, cable reel is a common electrification option. Cable reels utilize a simple design that's either spring-loaded or motor-driven to release, retrieve, and store conductor cable for crane equipment. They can be mounted stationary or on a swivel base to allow the cable to payout in multiple angles and directions.
The disadvantage of a cable reel is the sag factor you may experience in the cable when you stretch one out 50', 100', or longer. If that cable is sagging or laying on the ground because of a long track system, you've now negated the advantage of allowing motorized traffic to run underneath the gantry system.
Overhead crane manufacturers can work with you to design an electrification system using lightweight beams or a series of poles to keep your electrification off the ground. Or, portable gantry cranes can be designed with long extension cords to accommodate power supplies that may not be as close to the work area that the crane is moved to.
Crane lifting speed
Gantry cranes should be used in applications where speed is not a concern. You can run a bridge crane at a pretty high speed, but on gantry cranes, the load is typically moved at a slower crawling speed.
Lifting gantry design
Especially on outdoor gantry systems, you may want to consider upgrading to rotating axle end trucks instead of standard fixed axle end trucks. Fixed axle end trucks have the gears and bearings contained within and in an outdoor environment, these can get dirt, dust, and debris inside the gears. Over time, this debris can seize up the gears and burn up the motors.
Rotating axle end trucks are designed to be a little more heavy-duty and robust and typically have fewer parts, so they're lower maintenance. The gears are enclosed in a continuous oil bath that keeps all debris out—even in dirty, dusty, and outdoor environments.
Even the style of the gears on the drive can make a difference. A helical or bevel gear drive can be advantageous compared to a worm gear drive. A helical or bevel gear drive can roll back on itself in the event of an impact—causing less torque to the gears themselves. On a worm gear drive, the gears could break apart in the event of an impact because they aren't designed to operate in reverse.
What does an industrial designer do?
What does an industrial designer do?
Industrial designers develop concepts and designs for manufactured products. They typically specialize in one product category, such as automobiles, machinery or cranes.
What is A-crane?
A-crane is a major type of construction machine that is used to move the loads horizontally. Equipped with a hoist rope, wire ropes, and sheaves, it can be used to lift heavy loads or transport them to other places. The mechanical advantages created by several components on the crane can produce powerful strength.
What is structure in design?
Structural design is essential to the design of a complete structural system which must be safe to carry and transfer the intended loads, generally to the ground on which the structure is supported. The structural analysis is based on different theories of Physics or experimental analysis and properties of materials.
What are the requirements of structural design?
The objectives of structural design are to design the structure for stability, strength, and serviceability. It must also be economical and aesthetic.
What is a structural design pattern?
In software engineering, structural design patterns are design patterns that ease the design by identifying a simple way to realize relationships among entities. Examples of Structural Patterns include Adapter pattern: 'adapts' one interface for a class into one that a client expects.
What is structural design and analysis?
Structural analysis is a tool to analyze any configuration of the structure, while the structural design is the method design different that particular member for the calculated internal forces.
What is the difference between structural design and structural analysis?
Structural Analysis: It is the process by which we find out how a structure or a member of a structure behaves under applied loads. That is means finding out internal forces (axial force, shear force, moment), stress, strain, deflection, etc. We need these data for the structural design.
Structural Design: It is the process by which we find out safe and economical specifications of a structure or a member of the structure. That is means finding out member steel section, cross-sectional dimension, amount of reinforcement, etc. to withstand the internal forces that we have got from structural analysis.
The most read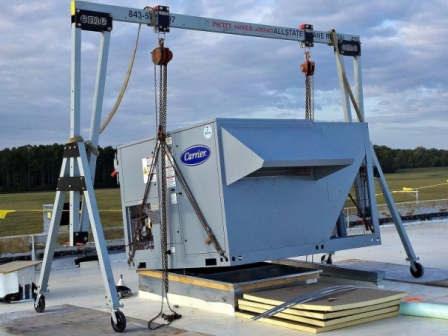 Made from lightweight extruded materials, the components of the adjustable height aluminum gantry crane are easily lifted by one person.
More on this story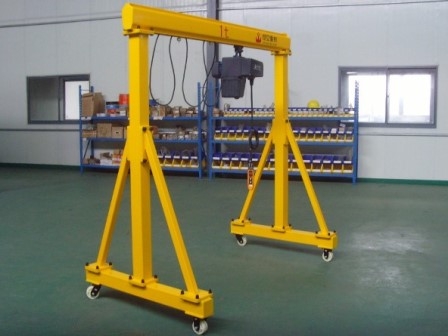 A gantry crane is a serious purchase. Not only are they expensive, but they are relied upon to lift seriously heavy objects. It is not worth it to try and save a few bucks on a crane of inferior quality.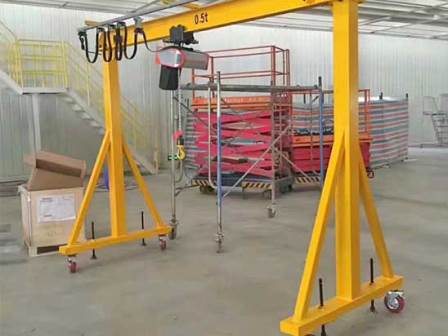 Small gantry cranes are the perfect solution when heavy-duty lifting equipment that is versatile and easy to set up and use is required.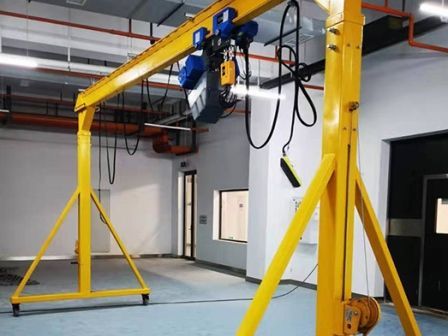 When buying one of this equipment, use and load considerations are necessary, whether they are for work at home or for a workshop.