A contactless thermometer is a sensor that consists of a lens to focus the infrared (IR) energy on to a detector, which converts the energy to an electrical signal that can be displayed in units of temperature after being compensated for ambient temperature variation.
This configuration facilitates temperature measurement from a distance without contact with the object to be measured (non-contact temperature measurement).
As such, the infrared thermometer is useful for measuring temperature under circumstances probe-type sensors cannot be used or do not produce accurate data for a variety of reasons.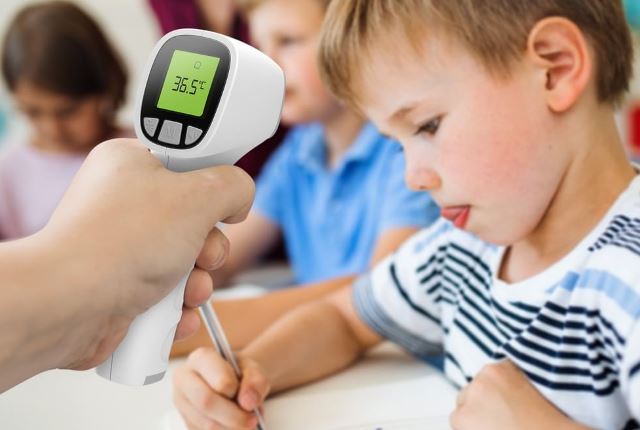 Best contactless Thermometer
Contactless thermometers allow engineers to obtain accurate temperature measurements in applications where it is impossible or very difficult to use any other kind of temperature sensor.
A contactless thermometer is an essential thing to always have on hand. The handy tool monitors your body temperature to see if it's within the normal range. This information can be helpful for tracking changes in your body, like whether you're fighting an illness or infection.
Contactless thermometers are a gentle way to take anyone's temperature, and they're especially useful for sick children.
This type of thermometer is accurate, fast, and less intrusive than using an oral thermometer. With so many options, which should you choose? Let us help.
Omron contactless Thermometer
Braun contactless Thermometer
Berrcom contactless thermometer
Jiacom thermometer
Dikang thermometer
BBlove non contact thermometer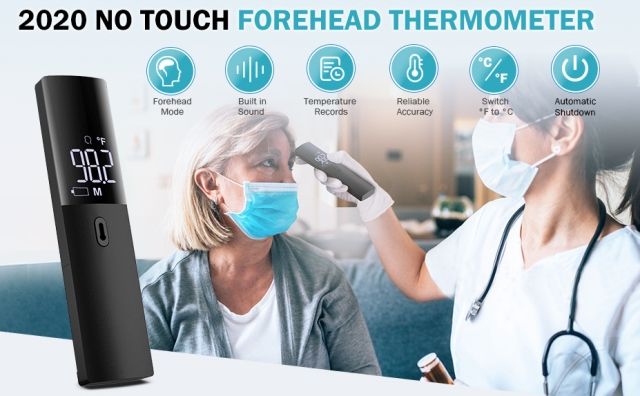 Omron contactless thermometer
The OMRON contactless Thermometer MC-720 offers safe, comfortable, and quick temperature measurement from the forehead. It is mainly designed for household use.
OMRON GentleTemp 720 contactless thermometer is a superfast, accurate infrared thermometer with specific features to keep your baby's temperature constantly under control, with the lowest possible fuss.
Omron mc 720 manual

Conducting self-diagnosis based on the measurement results and/or treatment can be dangerous. Please follow the instructions of your doctor. Self-diagnosis may worsen the symptoms.
A high or prolonged fever requires medical attention, especially for young children. Please contact your doctor.
Keep the unit out of children's reach.
If a child swallows the battery, immediately consult with a doctor.
Do not throw batteries into a fire. The battery may explode.
Remove the battery when the unit will not be used for three months or more. Failure to do so may lead to fluid leakage, heat generation or bursting, resulting in damage to the unit.
Do not use the unit to measure any item with a temperature higher than 80.0°C (176.0°F).
Braun contactless thermometer
Braun 3-in-1 no touch thermometer
The Braun contactless 3-in-1 thermometer with age-precision takes the guesswork out. Simply select the appropriate age setting:

0-3 months,
3-36 months, and
36 months- adult

Take temperature and the color-coded display will glow green, yellow or red to help you understand the temperature reading. The Braun No touch 3-in-1 thermometer can be used to measure not only forehead temperature but also food or bath.
Temperature elevation may signal a serious illness, especially in neonates and infants, or in adults who are old, frail, or have a weakened immune system. Please seek professional advice immediately when a temperature elevation occurs on persons that are:
Neonates and infants under 3 months (Consult your physician immediately if the temperature exceeds 99.4 °F [37.4 °C])
Individuals over 60 years of age (Fever may be blunted or absent in older individuals)
Individuals having diabetes mellitus or a weakened immune system (e.g., HIV positive, cancer chemotherapy, chronic immunosuppressant treatment, splenectomy)
Individuals who are bedridden (e.g., nursing home patient, stroke, chronic illness, paraplegia, quadriplegia, surgical recovery)
A transplant recipient (e.g., liver, heart, lung, kidney).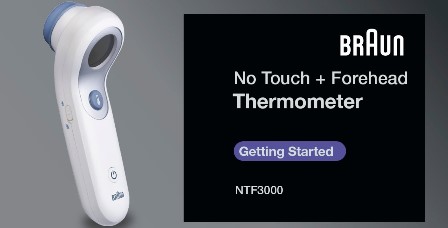 Berrcom contactless thermometer
Temperature taking has never been easier with the Non-Contact Thermometer. Berrcom contactless thermometer provides convenience, accuracy, and precision when taking a temperature.
With the push of a button, Berrcom jxb-182 instantly and accurately takes a person's temperature without the need for any physical contact. Simply point the contactless thermometer at the patient's forehead, click "Scan" and their temperature instantly will be displayed.
Also comes equipped with three different temperature taking modes; Body, Room, and Surface temperature modes.
Thermobio thermometer
Designed with advanced infrared technology to accurately measure body temperature from a distance without making any contact. Simply point, measure, and get instant, 1-second results. Extremely easy to use and instructions are easy to understand.
Dikang thermometer
The infrared thermometer with exquisite workmanship and simple style is very practical and convenient to use. Human and object mode, and HD back-light display, taking good care of the health of your families.
Human Mode/Object Mode:

This thermometer can measure human body temperature within 32℃-42.9℃/89.6℉-109.2℉ by forehead use and
object temperature within 0℃-60℃/32℉-140℉.
Contactless Thermometer: Infrared detecting technology supports a non-contact measurement, which is safer and healthier, no afraid of the baby does not cooperate and avoids cross-infection.
Simple Operation: Press on the key and display data results directly within 1 second. The simple and straightforward operation is easy for kids or the elderly to use.
HD Screen: You can see the temperature value on the screen without turning on the lights at night.
Wide Application: This thermometer is perfect for households, hotels, libraries, and large enterprises and institutions, and can also be applied in schools, customs, airports, and other comprehensive places.
Amplim non contact thermometer
Safely and accurately take someone's temperature with this Non-Contact Infrared Digital Thermometer from Amplim. In order to take someone's temperature with this non-invasive handheld thermometer, simply point it at the forehead and press the button.
Non-Contact Touchless Infrared Digital Thermometer. Our contactless thermometers do more than just give temperature readings. Each thermometer comes with special features such as an audible fever alarm, dual Celsius and Fahrenheit settings, and memory that allows you to store the temperatures of up to 60 past readings.
As medical-grade devices, our thermometers are ideal for nurses and healthcare professionals who demand the most precise and reliable equipment.
In fact, our devices are some of the most hygienic and accurate thermometers available to the public.
How to use contactless thermometer?
Difference between contact and contactless temperature measurements
Understanding the difference between contact and contactless thermometers measurements is vital to addressing health, safety, and quality issues in a wide range of industries. The use of thermometers to measure temperature has been around for centuries and it is the second most frequently measured physical quantity after time.
They provide important information such as the condition of a sick person, fever, and high temperature. Accurate temperature monitoring ensures that the recovery operates under optimal conditions, resulting in a better quality of medical service, greater safety, and less downtime.
Thermometers are mainly classified into two major categories: contact and non-contact. In contact thermometers, contact sensors measure their own temperature. Contact thermometers measure temperature using the heat transfer phenomenon known as "conduction."
They require physical contact with the measured object to bring the sensor body to the object's temperature. While in contactless measurements, an infrared sensor is used to measure the temperature of an object by reading the level of infrared emissions.
What is a contactless thermometer?
A contactless thermometer is ideal to measure the temperature of a surface or an object without being in direct contact with it. Contactless thermometers have a small LED display that gives you quick but accurate body temperature and they are more accurate than traditional mercury thermometers.
Which type of thermometer is the most accurate?
Digital ear and forehead thermometers are the most accurate. Forehead thermometers, while they may not be used widely for at-home use, they are the best way to take the temperature at home.
The most read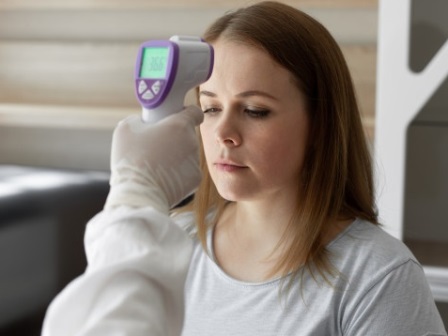 Looking for the best non-contact medical thermometer
More on this story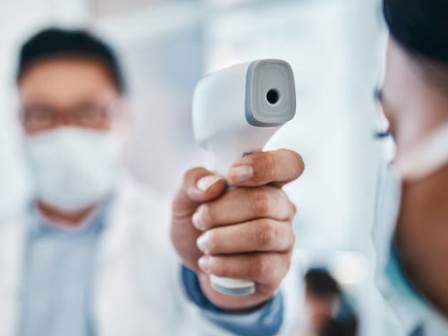 As people plan to get back into a rut, many are considering buying technologies that can detect elevated temperatures.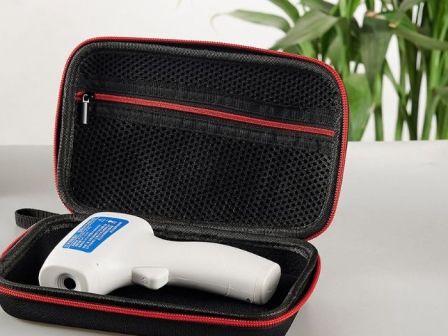 A home use infrared thermometer is a medical device intended for users in any environment outside of a professional healthcare facility.