Overhead Monorail Crane: With an overhead crane warehouse monorail system, the hoist and trolley run on a single stationary beam. The monorail allows two axes of hook movement: up/down and forward/back along the monorail beam.
Because of their inherent speed and efficiency, monorail material handling systems are an effective method of moving and positioning loads to specific locations. They are available in various capacities.
Monorails are best used in applications where materials are to be transported from one fixed point to another fixed location, or through a process.
Monorail Crane
These overhead cranes or bridge crane of European Standard is designed and manufactured according to the advanced FEM / DIN standards.
To begin with, the Monorail overhead Cranes have a compact structure with little pressure on the tires, which generates efficiency in small spaces or warehouses with limited space, to reduce investment in structure.
Monorail Overhead cranes are frequently used in the branch of manufacturing, metallurgy, ports, work stations, warehouses, to provide more efficient logistics solutions, especially suitable for places that require precise movements.
Bridge Cranes or Single Girder Overhead Cranes or known as the Monorail Overhead Cranes are a type of crane that is designed according to the FEM, DIN, ISO standard, however, they are widely used in the field of materials processing, metallurgy, oil, electric power, etc.
Therefore these cranes are manufactured specially for a place of assembly that requires precision for the assembly of components and the precise positioning of materials.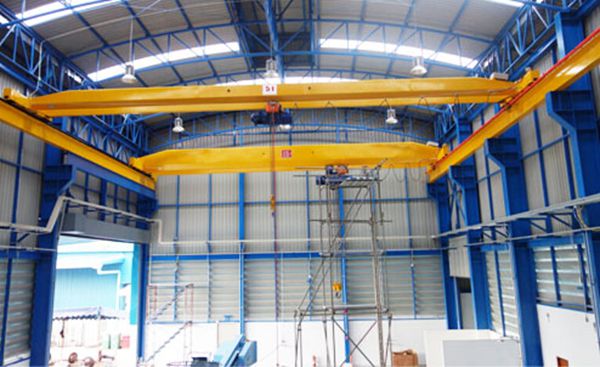 Monorail overhead crane
Monorail conveyor – monorail overhead crane – monorail crane design – Mechanisms:
The Monorail is optimally designed, with box type design, the total length of the plate is cut and formed through the numerical control and its deviation is exact.
Low Trolley structure and reasonable size to the hook, allowing the reach of the wide crane application.
Bow or flat wheels, anti-friction, honey type shock absorbers, and anti-derailment devices.
3-in-1 motor, speed control, force reducer, safe disk brake.
Good performance, this way it works smoothly with the speed control of the steep less
The shot-blasting machine reaches Sa2.5 after welding, thus relieving internal stresses to ensure the best performance of the main beam.
Painted with epoxy paint rich in zinc and the thickness of the oil film is 140 μm.
Monorail overhead crane systems
Monorail overhead crane systems, electrical systems, safety procedures:
Electrical system
In general, Food is through sliding lines.
Phase protection; it automatically disconnects from the power source when the phase occurs.
The Crane and the Hoist are mutually independent and can travel at the same time.
The sliding contact line meets the requirement for power supply and adapts to agitation or movement.
Corrosion-proof Control with IP54 grade protection
Rugged plug
The Electrical Components are equipped in a convenient position for optimal and convenient maintenance, in addition to having protection to avoid inadvertent contact.
It has an electric power system type Festoon.
Overhead Crane Safety
Protection System:
Reducer blocked to fall-proof.
Outdoor hoist with rain cover
Alarm indicator lights
Anti-collision infrared
Monorail crane design
Overhead monorail conveyor systems – Monorail Cranes: Opportunities & Considerations:
Overhead crane specifications
Opportunity: Monorail cranes are most effective in production applications where materials are repetitively moved from one point to another. The monorail hoist and trolley run on a single stationary beam—a cost-effective alternative to a bridge or gantry cranes for applications that require limited lifting capacity.
Examples include assembly operations, transport of materials to workstations and lines where parts are blasted, painted or coated.
Monorails also serve as a material handling alternative in places that cannot accommodate a bridge crane.
Monorail beam design
Overhead crane design – Considerations: Monorail cranes provide only two axes of hook movement: up/down via the hoist and forward/back via the monorail beam.
If your application requires lateral motion, you'll need to consider other alternatives such as a bridge or gantry crane.
Aided by your engineering team, can help you create a monorail system that maximizes efficiency and productivity.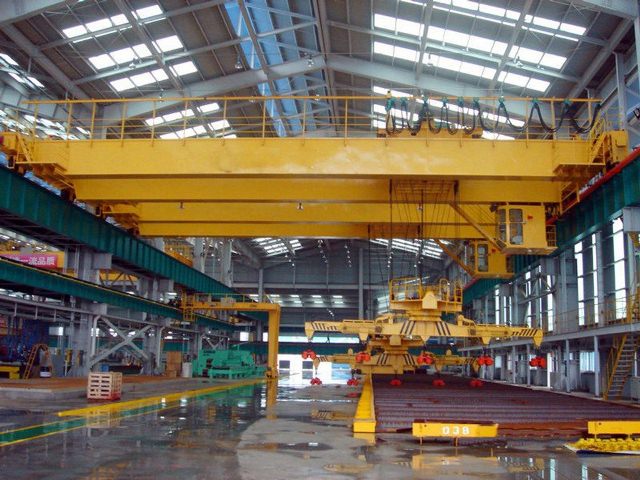 Aircraft crane and monorail systems
What is an overhead gantry crane? aircraft crane and monorail systems considerations:
What is the difference between a gantry crane and overhead crane?
A gantry crane is slightly different from a bridge crane. The general premise is the same, but the operation is different. Some gantry cranes ride along a track installed on the floor or use a V-groove caster to keep moving in a straight line. Gantry cranes are usually less expensive than an overhead bridge crane.
What is an overhead gantry crane?
A gantry crane is a crane built atop a gantry, which is a structure used to straddle an object or workspace. They are also called portal cranes, the "portal" being the empty space straddled by the gantry.
Do you need a Licence to operate an overhead crane?
The majority of a bridge or gantry cranes do not require a license to operate as they are both remote or pendant controlled and are limited to 3 or less powered motions (hoisting, traverse, and travel). The regulations do not define the extent of the powered operation.
Is overhead crane training required OSHA?
While OSHA standards do not spell out overhead crane training requirements, the American Society of Mechanical Engineers does get much more specific in the ASME B30.2 standard.
It further states that a company's management is responsible to "provide training to persons who will operate a crane"
What is a monorail crane?
A monorail crane is a type of lifting device that acts as an option to conventional cranes or conveyors. Crane manufacturers commonly utilize these cranes to relocate materials or products within a restricted location, as opposed to throughout an entire building.
Which motor is used in an overhead crane?
Following two types of motors are widely used for crane duty applications:
-Squirrel Cage Crane Duty Motors.
-Slip ring and Wound Rotor Crane Duty Motors.

The crane motors are duty type rated for developing high starting torque with the low starting current. The motors are designed to withstand stresses due to frequent starts/stops and reversals. Also, rapid acceleration is achieved by high pull out torque/rotor inertia ratio.
The most read
More on this story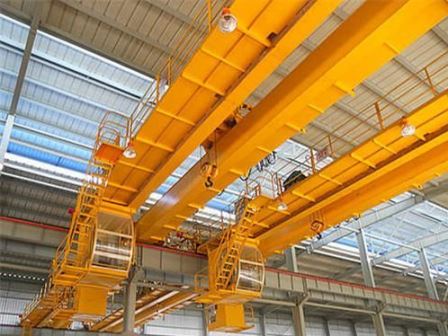 What are the parts of an overhead crane?
What is the purpose of an overhead crane?
How much does an overhead crane cost?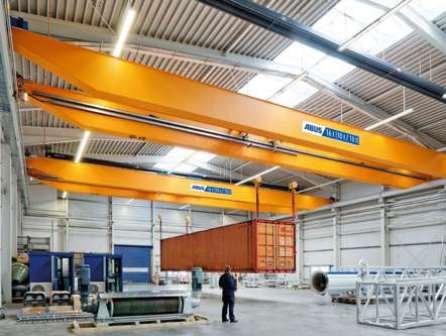 Crane operator interview questions and answers
Rigging test questions and answers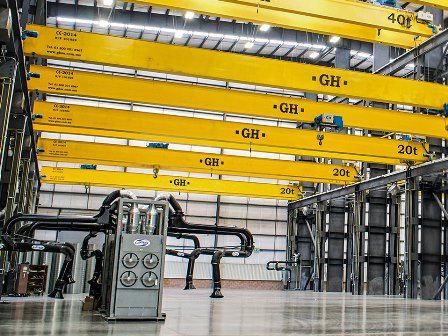 Some have wondered if in the United States they fix, manufacture, elaborate parts, and components of overhead cranes.