First things first – overhead cranes can come in many shapes and sizes, so if you're not certain of the terminology it's best to start by asking: what exactly is an overhead crane?
What is overhead crane?

crane operator
An overhead crane consists of two parallel runways which support a horizontal beam (often called the bridge or simply the crane) on which a hoist or hoist runs.
The supporting runways can be attached to the building walls or columns at a raised level, or be supported by a series of columns (often called 'freestanding gantry steelwork').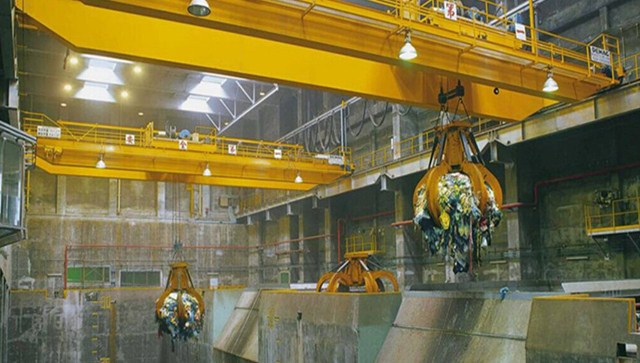 Overhead crane working principle
What is overhead crane?
Applications: Powered either by hydraulics, internal combustion, or electric batteries, they usually serve commercial and industrial crane applications. They are found in paper mills, automobile manufacturing facilities, refineries, and more.
Common applications: the initial construction and subsequent maintenance of paper machines and heavy press roles, raw material handle, hot metal storage, and steel refinement.
Overhead crane specifications
What is overhead crane?
No matter the overhead crane type, they basically function using a series of pulleys and cables. These pulleys and cables do their hoisting, lifting, lowering, carrying, and positioning from either a single or a pair of overhead steel beams, or girders, to which they are attached. From these girders, they also gain structural support.
Different overhead cranes work using different additional power lending mechanisms attached. Examples include:
counterweights,
hydraulic cylinders,
chain hoists,
levers and pivoting extended arms.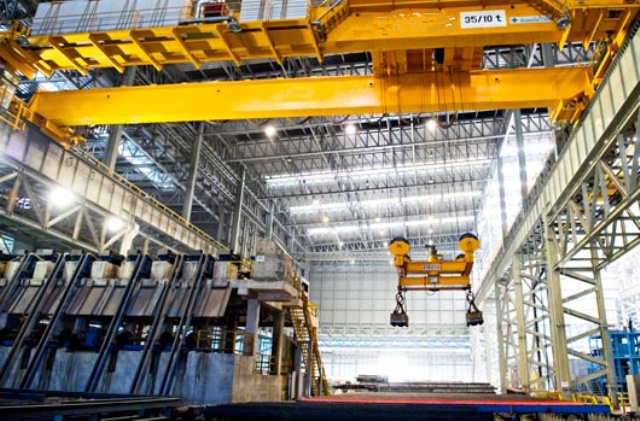 Bridge crane
bridge crane vs.overhead crane. What is overhead crane?
The crane bridge will usually be able to move up and down the runways (what is known as long travel) and a single pair of runway beams can support multiple crane bridges if needed.
Overhead cranes, particularly when supported by gantry steelwork, are often confused, with gantry cranes (where the crane's columns travel longitudinally and form a single structure with the bridge to straddle a gap).
Whether you're looking for an overhead crane, track girders or gantry steelwork, you can find anything from a brand new overhead crane system to some replacement parts.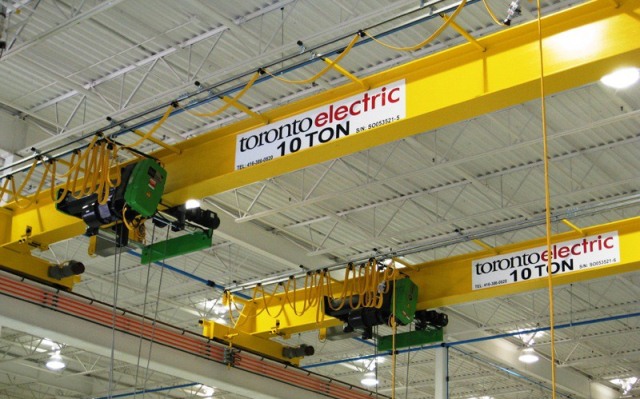 Overhead crane types
Types of overhead cranes: We design overhead cranes to meet any and every lifting requirement. Here's a breakdown of the different models we offer:
Single girder cranes
The basic overhead crane design features a single beam with a hoist running off it.
Single girder cranes are a type of overhead crane that is common in production, engineering, and many other workplaces as they cater to practically any lifting application.
Every one of our single girder cranes is made to order, meaning its size and capacity can be adapted to fit your requirements. As a rule of thumb, we tend to specify single girder crane designs for loads under 10 tonnes, anything over this will typically feature a double girder design.
Double girder cranes
Two beams running side by side, normally with a crab hoist unit running between them – specified for higher capacities.
A double girder overhead crane is a lifting solution designed to carry medium and heavy-duty loads. By using two adjacently positioned beams, double girder cranes offer improved support for the goods being handled, allowing the movement of larger capacities. Typically we will specify a double girder crane design for loads over approx. 10 tonnes.
The U.K. is the most versatile manufacturer of double girder cranes, providing a comprehensive range for lifting requirements of all kinds. All our double girder overhead cranes are made to order – meaning they can be built to any size and adapted to handle any load.
Process cranes
Designed specially to suit critical industrial processes across various sectors.
Process cranes combine automated technology with overhead cranes to let you handle heavy-duty loads and streamline your working procedures.
The UK is a market leader in providing bespoke process cranes that are tailored precisely around your industry and the application in hand. We have provided customized industrial overhead cranes for end users and trade clients for almost fifty years and have the knowledge and expertise to turn even the most complex lifting requirements into a workable solution for your business.
Top running cranes
Specified as standard in most cases this refers to when the crane beam sits on top of the runway beams.
As a leading lifting equipment manufacturer, have considerable experience when it comes to designing and supplying top-running cranes. We can produce a top-running crane tailored around your needs, to meet any requirement whether you're the end-user of the system or a business working within the lifting industry.
Top running cranes, also referred to as top running bridge cranes and top running overhead cranes, get their name from their end carriages that support horizontal beams or beams which span the width of the system and sit on top of the gantry rail supports. This is as opposed to underslung crane designs, in which the end carriages run underneath the gantry framework.
Underslung cranes
The opposite of top running systems, the crane 'hangs' below the runway, usually specified to maximize headroom.
If you require a lifting system for an application where the available headroom is limited, an underslung crane could be the ideal solution. While the end carriages which support the horizontal beam or girder of most overhead cranes typically run on top of the gantry rails, they are located underneath underslung cranes.
The opposite of this system is called top running cranes.
This is useful in workplaces where there is a low-level ceiling or where the distance between the floor and hoist needs to be maximized.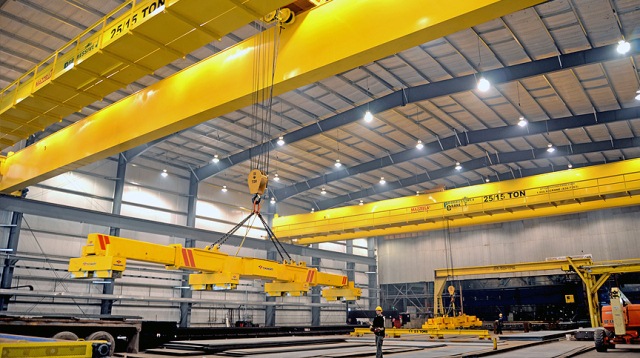 Overhead crane design
Overhead crane design options: Every overhead crane is custom designed and built to suit the customer's requirements.
Height of lift/max-height: Any
Span: Any
Capacity (safe working load): From a few kgs to over 100 tonnes
Gantry steelwork: Raised runway beams or freestanding gantry steelwork
Long travel operation: Manual, electric, pneumatic
Vertical hoisting operation: Manual, electric, pneumatic
Hoist cross travel operation: Manual, electric, pneumatic
Environments: Indoor, outdoor, marine, explosive
Delivery, installation, testing & servicing: Available

Why buy an overhead crane?
Overhead cranes can be designed with a series of optional extras, including pendant or remote controls, walkways for easy access, floodlights, laser sensors, and other anti-collision features. Whatever the application, can ensure you receive the perfect overhead crane lifting solution.
Kinematic Drive System
All of our overhead cranes benefit from the Kinematic Drive System, which uses advanced inverter technology to offer variable speed control on the crab as it moves along the beam for superior operating performance.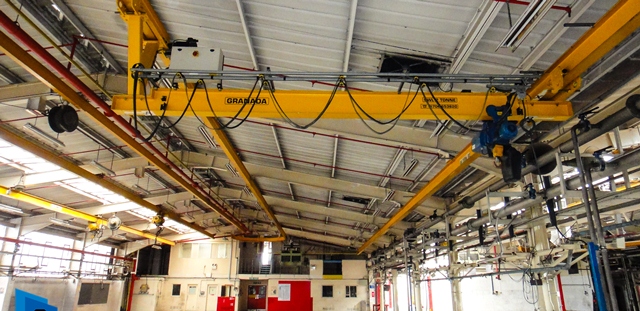 Hoist vs crane
What is overhead crane? – What's the Difference?
First things first:
a hoist helps to do one thing: move heavy loads up and down.
An elevator is probably the most well-known hoist. Elevators are the perfect machine for transporting loads vertically, but in no other direction (unlike a crane's functionality).
On the other hand, a crane can move in two or three dimensions. Overhead cranes suspend from a beam or move along a rail.
Just like cement is a component of concrete, a hoist is a central part of an overhead crane. Essentially, the crane moves the hoist around.
What is an overhead crane?
Why buy an overhead crane?
When you purchase an overhead crane, you also benefit from our complete project management experience. This not only covers design and manufacture, but also delivery, installation, load testing, and final commissioning.
How do overhead cranes work?
Overhead cranes cover a rectangular area, moving a load side to side and backward and forward. They typically incorporate a top running trolley hoist which moves along the top of the two bridge beams on its own set of wheels for increased headroom under the crane; also called a top running crane.
What is an overhead gantry crane?
A gantry crane is a crane built atop a gantry, which is a structure used to straddle an object or workspace. They are also called portal cranes, the "portal" being the empty space straddled by the gantry.
How does a gantry crane work?
The bridge can have a single-beam or double-girder structure. The Gantry crane moves on a rail crane rails on four undercarriages. The undercarriage is equipped with protective arcs that minimize the chance of damage to a minimum. The wheels for transportation trolleys wheels are reinforced to avoid accidents
What is the difference between a gantry crane and an overhead crane?
A gantry crane is slightly different from a bridge crane. The general premise is the same, but the operation is different. Some gantry cranes ride along a track installed on the floor or use a V-groove caster to keep moving in a straight line. Gantry cranes are usually less expensive than an overhead bridge crane.
The most read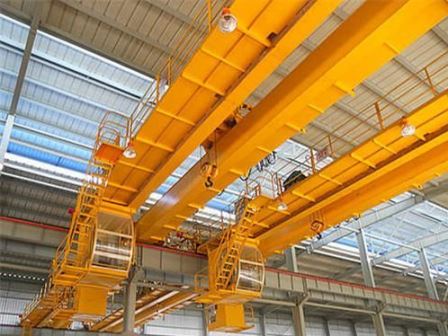 What are the parts of an overhead crane?
What is the purpose of an overhead crane?
How much does an overhead crane cost?
More on this story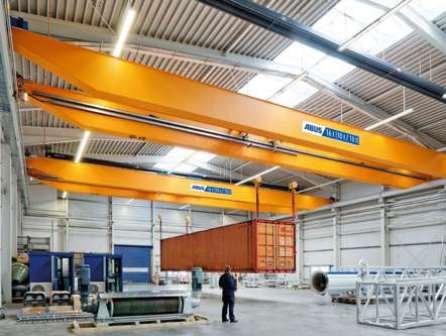 Crane operator interview questions and answers
Rigging test questions and answers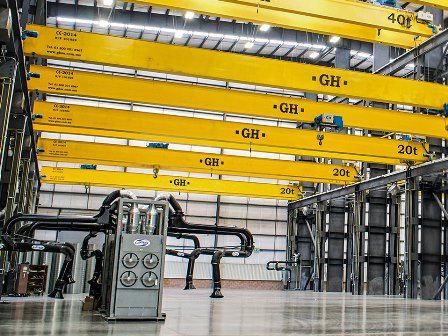 Some have wondered if in the United States they fix, manufacture, elaborate parts, and components of overhead cranes.