The pressure to reduce input costs for agricultural products has led to an active market for quality used machinery.
It is relatively easy to determine the condition of many types of field implements, but the evaluation of the tractor and combination may present more difficulties. Much of the problem is due to the wear points that are inside the machines.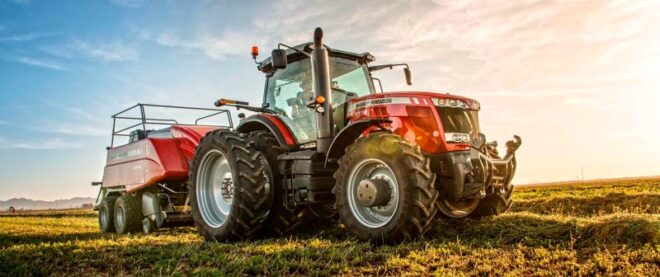 Farm Equipment
In general, the cleaning, polishing, and sealing of the machine can be a primary indicator (for example operation of narrow gears, absence of external leakage signals, etc.).
Have a healthy suspicion of newly applied paint that can mask welds, cracks or repairs.
Used tractors
In a first visual inspection of a used tractor check the following:
Inspect for leaks in the cooling system
Damage to the blades of the radiator fan and the thermostat.
Consider the condition of the oil.
If it is milky, water is present; Heavy oil indicates combustion or combustion problems.
Commercial oil analysis is an option if a sample of oil can be obtained.
The condition of the air filter helps indicate the care of the machine.
Be careful with the "blowing" after the tractor has left the factory (raise the fuel injection pump or add large hoses, high compression pistons or turbocharger on an older tractor).
Problems may develop in the back.
For tractors originally equipped with turbochargers, the condition and lubrication must be maintained well.
Check the final transmission for leaks and transmission oil for metallic particles (dilute a small amount with diesel fuel and mix with a magnet, a small amount is normal).
Has the frame been suspended or has it ever been repaired? Look at the condition of the hydraulic oil and the lines.
Is the tractor equipped with a ROPS and a wide front end to avoid rollover hazards?
What is the condition of the tire?
Will the replacement be required soon?
Use around the hole or balls of the drawbar in the 3-pt. hitch helps indicate the use
Does the air conditioning system use current refrigerant or a previous version?
If you are still using an earlier version, you may need a future conversion.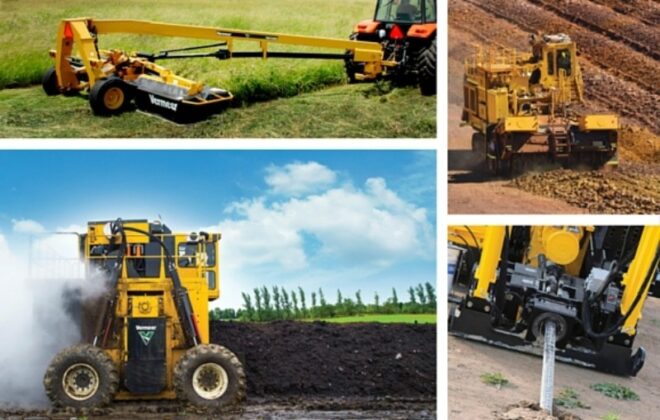 Second hand tractor
Then, if possible, drive the tractor.
Check the operation of the indicators or indicator lights and the functions they are indicating.
Now is the time to observe the operation of the transmission (clutch and gear shift in second-hand tractors).
Doing this under load is preferable. It must be soft and tight. The same happens with the PTO, the 3-point hitch and the response and remote hydraulic operation.
Check hydraulic pressure (for example, lifting capacity) and flow rate (for example, the largest engine speed) under load if possible.
Newer tractors and harvesters keep user-accessible fault codes stored electronically.
Consult the operator's manual if possible to obtain potential access to these codes.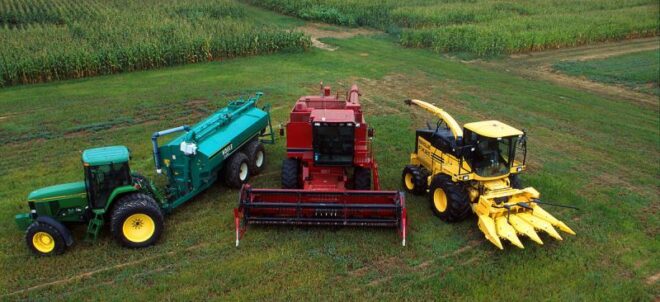 Used harvester
The inspections of the combined engine, frame and transmission are similar to those of a tractor.
Also be sure to take note of the following elements, many of which indicate combined life:
Check the wear on the rotor/cylinder and concave bars.
Look at the cleaning of shoe and screen assemblies (if those who walk with straw are also present).
Are there broken parts or spot welding repairs? Consider any play on bearings or grooves. The thin auger propeller indicates prolonged use.
Check the head to see if it has tripped or misaligned and the status of all drive mechanisms.
The general areas that must be verified are the use of zerks (metallic accessory used in mechanical systems to feed lubricants) of grease (especially zerks with less accessibility) and the wear of large belts, chains, and sprockets.
Compare engine hours and separation hours.
If the engine hours are considerably longer, take more time to check the wear on the drive train (transmission and response at various speeds, condition of the oil).
Agriculture equipment
Equipment for agricultural tractor:
Electronic considerations:
Many of the tractors and harvesters used will include electronic systems of post-sale and installed in factory for applications of control of machinery and agriculture of precision.
When evaluating these be sure to take into account:
Integrated electronic steering valves and steering sensors can reduce the cost of upgrading to the auto-ship system.
These integrated components are also easier to repair and will be familiar to your equipment dealer.
Check the routing of the cables in the cabin. Make sure they are not frayed or curled.
Request a detailed list of the electronic components that are provided.
If a GPS is included, ask if it has been unlocked for a dual frequency correction or if any other software unlocking is included.
Check with the manufacturer to make sure that the electronic components used are still compatible.
Some older screens are not compatible with the manufacturer.
Check if the tractor has a standard ISOBUS connector on the back.
If so, this will make it more adaptable to updated electronic systems.

Machine maintenance
Used accessories:
General guidelines for other field accessories include checking the condition of the frame for alignment and major repairs and recording any necessary repairs for moving parts and common wear points.
The seed metering mechanisms of the planter, ground contact tools, such as sweeps, spikes, and fences, and sprinkler pumps and pipes, and implement tires, are all replaceable wear items.
Are there protectors to protect people from the elements of power transmission and the exposed moving parts?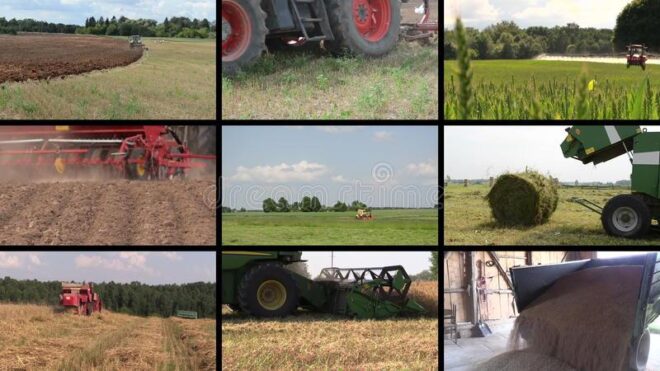 Tractors for sale
General considerations:
Some important and often overlooked things are also important tools of the good buyer of used machinery.
Doing these things can often keep several thousand dollars in the buyer's pocket after buying a high-value item:
Do your homework before you buy. What is the current price (consult auctions, dealers, large batches of used equipment, classified ads)? Searching websites can help.
Are the features you need available with this machine? Despite a good price, a machine is not a bargain if it does not meet your needs. For example, increasing the hydraulic requirements for many agricultural implements requires hydraulic flow rates and tractor-specific operating pressures. Heavy loads on the drawbar (eg, grain cart or manure tank) require a tractor of a certain size (ie, adequate weight) for braking and control.
Know the potential weak points on any model machine and review them. Spending a few dollars in consultation with a mechanic can help you discover possible weaknesses in the machinery. The repairs of the store are not cheap; look for the general quality.
The possible protection of the guarantee and its capacity to evaluate the previous use will probably vary depending on the source of sales (distributor, sale of goods, auction of machinery, etc.). If the source is a neighbor or an acquaintance, evaluate your team care rather than just general agricultural skills.
Do not hang with the small accessories (for example, you can easily add an additional remote hydraulic output to most tractors).
Cost of farm equipment
How much does farm equipment cost?
In order "to sustain a long-term farm operation, you must be able to invest in, and support, a reasonable amount of equipment to maintain the farming operation."
The general rule of thumb should be spending "$95-$100 per acre on machinery costs. This gives a 1,000-acre farm about $100,000 of cash flow to cover annual machinery payments and maintenance, insurance, fuel, etc. Only $70 per acre of this is direct machinery costs."
"$70 per acre is about 10% of the total costs of production in 2016 for an acre of corn."
So, it costs $95-$100 per acre for machinery costs, but what about the expense of the actual machinery itself? as well as a grain and livestock farmer from Western Illinois, states that this all depends on the size of your operation. A small farmer, who may have around 350 acres, needs nothing more than a $50,000 tractor, $20,000 planter, and a $50,000 combine. But, that is about as "minimum" as you can get. "A 1000 acre farmer is going to need a couple of tractors around $150,000, a $50,000 planter, and $100,000 combined."
This may seem like lots of money, but Spangler mentions that it is better to keep the combine, planter, and sprayer up to date. "A lot of dollars flow through those machines and a breakdown at the wrong time can be expensive."
If buying new isn't something you want to do or can afford to do right now, have no fear. Leasing has become more popular in recent months.
Some farmers even share equipment over two or more farm families. In reality, there are tons of other options to make machinery more affordable. "Everyone has their own philosophies on machinery,"
"It basically comes down to what fits best in your operation."
Used farm equipment prices
Loan values are not the most accurate method of determining a bidding limit at auction, whether the asking price at a dealership is a good deal or a good deal too much, or whether the price a dealer is willing to give on a trade-in is reasonable.
"Just finding out what a machine sold for – whether it was by a dealer or at an auction – is not always a true reflection of the value," he says. "People ask me all the time, 'What is this worth?' My answer is, 'To whom for what?' How do you plan to use the appraisal?"
One problem with undervaluing equipment, he says, is that in the event of loss from theft, fire, tornado, or a flood, the burden of proof is on the insured to prove that the equipment was worth more than the insurance company has established as its value.
"Unless the owner has a policy for "actual replacement cost," which is seldom the case, the producer is only awarded average value,"
"Unfortunately, that value doesn't take into account the number of hours on the machine, the extra options, or the time of the year, which can also affect farm equipment values – particularly on seasonal equipment like planters and combines."
On the other hand, if you're wanting to borrow money using an auction-purchased tractor as collateral, you may be selling yourself short, since the fair market value appraisal would actually allow borrowing more money.
Used farm equipment for sale
The nature of values becomes most apparent when trying to put a price on equipment that is being traded-in vs. sold outright or being bought from a dealer vs. at auction, for example.
"I am willing to tell customers what I think a piece of equipment up for sale is generally worth,"
"When they ask me how much a piece of equipment they own is worth, I hesitate, and warn them that it depends on its use (in hours), condition, and how it's equipped (specifications)."
All of the experts advise that it pays to be as exact as possible describing equipment when establishing comparable marketplace values.
Some of the most profitable time you invest this year could be spent searching websites to unearth prices, or seeking the opinion of an appraisal company.
What machinery is used on a farm?
What machinery is used on a farm?
Agricultural machinery is machinery used in farming or other agriculture. There are many types of such equipment, from hand tools and power tools to tractors and the countless kinds of farm implements that they tow or operate.
What are the types of farm machinery?
The most common types of equipment and machinery used on farms include tractors, balers, combines, plows, mowers, planters, and sprayers.
What is a farm vehicle?
A farm vehicle is defined as a truck or truck tractor, to be exclusively used for agricultural purposes. Farm vehicles are not farm machinery and equipment. The Vehicle Code designates those vehicles as "implements of husbandry," when used on the farm. Different rules apply to farm vehicles than to implements of husbandry.
Farm vehicles are not passenger vehicles. Since farm vehicles only include trucks and truck tractors, cars and passenger vans do not qualify as farm vehicles.
What are the modern farm machines?
The most common types of equipment and machinery used on farms include tractors, balers, combines, plows, mowers, planters and sprayers. Farming is no longer a small scale production, but rather one that is done with huge machines over thousands of hectares.
How much are tractors worth?
A bare-bones compact tractor might sell for less than $10,000, while the largest and most powerful farming models could go for as much as several hundred thousand dollars. Most tractors fall somewhere in between. Mid-size tractors with 30 to 75 hp usually cost anywhere from $25,000 to $50,000.
The most read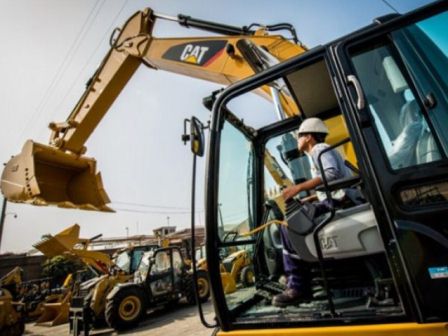 What does Heavy Machinery Operator do?
What do you need to handle a crane?
What is the job of a heavy machine operator?
More on this story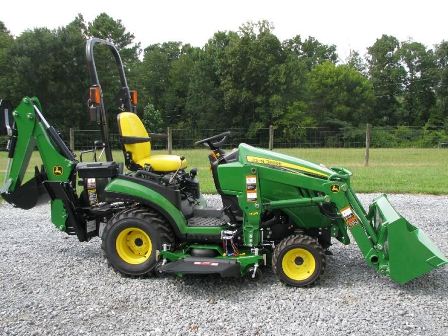 The loaders and backhoes illustrated here are the perfect tools for the care and maintenance of your property and landscaping.