Buckets for backhoe loaders match the machine to the job. Whether quarry, construction site, or landscaping job, they focus the full power and performance of the machine on the task at hand. Rugged Buckets for backhoe loaders include standard duty, heavy-duty, heavy-duty rock, soil, high capacity, coral, and ditch cleaning buckets.
Excavator bucket dimensions specifications
Performance and Versatility
Buckets are designed to provide superior productivity, high reliability, and long life in a variety of materials and conditions. An enhanced bucket shape allows the material to flow more easily, and the tapered bucket sidewalls allow for easy dumping of sticky material. Wear strips and routers extend the bucket wear life and increase durability.
Backhoe ground engaging tools are machine-matched and designed to enhance the productivity of the buckets in a variety of applications.
The diagonal retention system features a 40-degree pin retention angle, allowing for close spacing of the teeth and easy installation and removal of tips.
Serviceability
The fork is easily replaceable to extend bucket life, simplify servicing and reduce downtime.
The system offers different tips for different applications, including sharp, chisel, long, soil digging, penetration, twin sharp, and wide tips.
Customer Support
Whether it is matching the right work tool to the right job, adding more work tools to your lineup, or obtaining responsive and knowledgeable support, dealers are ready to assist you.
Quick Coupler
When frequent tool changes are required, an optional manual pin grabber quick coupler or pin lock style of the coupler is available, allowing the use of a wide range of compatible work tools.
Loader Buckets
There are many types of backhoe buckets for backhoes. While they share many common features, each is designed to perform certain specific tasks.
All buckets are pin-on unless a pin-lock option is available.
Backhoe bucket forks
Features:
Standard Duty Buckets: Available in five widths, all with standard Diagonal Retention System adapters and teeth. They are designed for general light-duty excavation in soft soil or clay.
Heavy Duty Buckets: Available in six widths (pin-on and pin lock), all with standard diagonal retention system adapters and teeth. They are especially well suited for semi-rocky soil or where hard bank material must be broken out and removed.
Heavy Duty Rock Buckets: Available in five widths, all with standard Diagonal Retention System adapters and teeth. They are specifically designed to work in the harsh rocky conditions found in various regions of the world.
High Capacity Buckets: Available in four pin-on widths and six pin-lock widths and are especially well suited for work in lower density soils and light materials. They have the same durable characteristics as heavy-duty buckets but are capable of moving greater volumes.
Soil Excavation Buckets: Available in four widths, they have heavy-duty characteristics with higher capacity, for use in a variety of conditions including heavy impact. The more aggressive adapter nose angle combined with the new tip design provides enhanced productivity in all soils, plus longer wear and sharpness in rocky areas.
Coral Buckets: Specifically designed to work in rocky coral conditions such as those found on the southeastern coast of the United States. Four widths are available.
Ditch Cleaning Buckets: Available in three widths designed to provide optimum trenching, slope-cutting, grading, and finishing work.
More on this story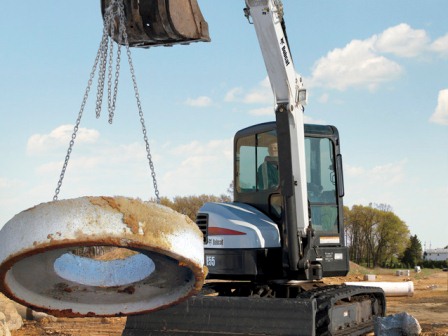 The use of excavators for lifting operations, particularly on construction sites, has become more common over the last few years.