The backhoe is the main tool of the backhoe loader. It's used to dig up hard, compact material, usually earth, or to lift heavy loads, such as a sewer box. It can lift this material and drop it in a pile to the side of the hole. Basically, the backhoe is a big, extremely powerful version of your arm or finger. It has three segments:
The boom
The stick
The bucket
Backhoe loaders are fantastic general-purpose tools, and nothing increases their utility like backhoe attachments and accessories.
For one thing, they have a reputation for being among the best designed and engineered in the industry, which is a real boon to construction, industry, and agriculture entities who want superior equipment but also to keep a lid on costs.
Backhoe compaction wheel
Hydraulic hammer for backhoe
Backhoe bucket forks
Backhoe bucket log splitter
Hydraulic thumb for backhoe
Backhoe bucket cutting edge
Backhoe grapple bucket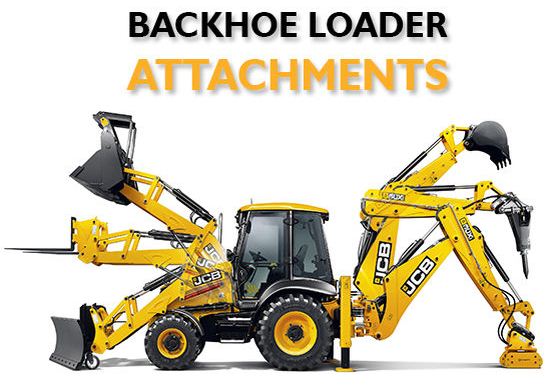 Backhoe attachments
If you were to buy a separate piece of backhoe for each task, you'd be in debt. Fortunately, a good backhoe is incredibly versatile, with dozens of accessories available to handle virtually any project need.
One of the most popular is an attachment that costs only a fraction of the price of a mini excavator.
A backhoe attachment turns your equipment into a mini excavator capable of a variety of tasks, depending on the capabilities of both your loader and the attachment you choose.
Dig basements, drainage ditches, footings, pipe trenches, and more, using nothing but your track loader and a backhoe attachment. You can even add more oomph to your rig with a hydraulically powered attachment, further increasing your digging capabilities.
Backhoe compaction wheel
One of the useful backhoe bucket accessories: Compaction while backfilling trenches; compaction wheels are designed to compact the soil when backfilling trenches. They come in a variety of widths and feature tapered roller bearings.
A tampered-foot design with static pad rollers provides smooth operation and a high degree of compaction. The open rim allows the wheel to penetrate the trench fill and compact the soil from the bottom up. The compaction wheels are available for all Cat backhoe loaders, as well as all Cat compact excavators.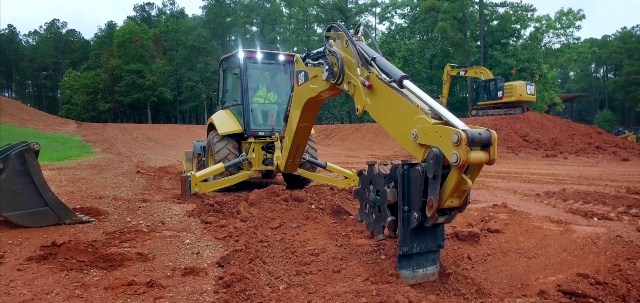 Hydraulic hammer for backhoe
Construction Equipment's hydraulic hammers have only two moving parts and isolate every blow from the operator and carrier.
The hammers are pre-assembled and made for backhoes, excavators, compact tractor loaders, and skid steers. The blows are isolated in the cushion chamber, and recoil energy is recycled and used for the next blow.
The long-stoke piston facilitates energy transfer and recoil reduction. Hydraulic hammers come with a gas recharge kit and a three-year warranty.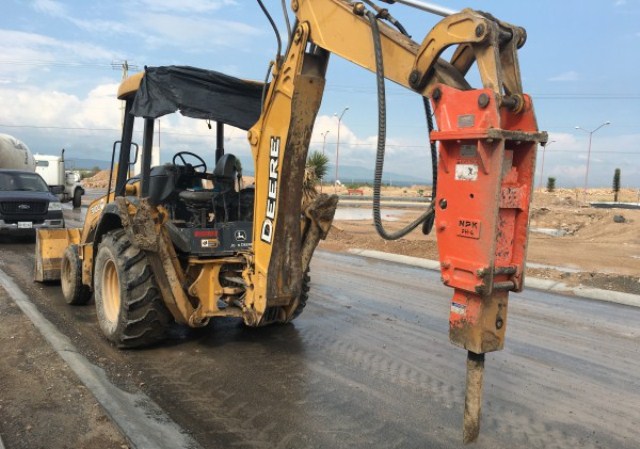 Backhoe bucket forks
Bucket forks allow bucket-mounted loaders to quickly provide the lifting capabilities of a forklift or pallet forks without the need to switch machines or attachments.
All forks are made of a premium steel blend and subjected to a full heat-treatment process. This extends the life of the fork by reducing damage from impact and stress, especially in cooler climates.
Features:
Attaches in seconds without tools
Adjustable fork spacing for different load sizes
Extra mounting brackets available for additional machines
Made from a high strength boron-carbon steel
Fully heat-treated to better absorb impact
Kit includes forks, shaft bar, and mounting hooks
Custom modifications available upon request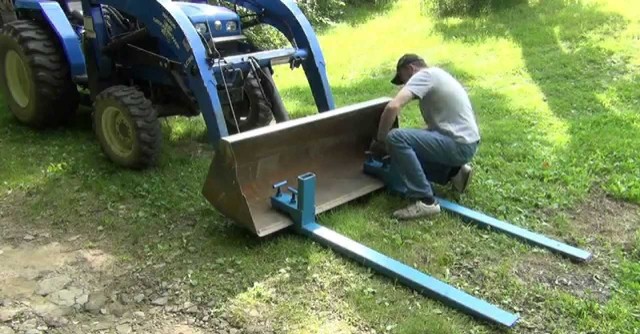 Backhoe bucket log splitter
A log splitting attachment tool adapted for use in combination with a material moving machine having a boom and dipper stick for lifting and moving as well as splitting logs which tool can alternatively be secured directly to a dipper stick and hydraulic bucket cylinder or to a quick connect mechanism secured thereto.
What is the 'psi' of the wood splitter?
The answer may surprise you: The SideTool Wood Splitter is not a hydraulic attachment –it is mechanical. It relies on the existing hydraulics of the excavator.
A more accurate gauge to estimate the force and efficiency is not "psi" but rather gallons/minute of hydraulic flow or "GPM" of the machine (excavator or backhoe).
The larger your excavator, the higher the GPM (in most cases), and hence – the greater efficiency and force in splitting wood.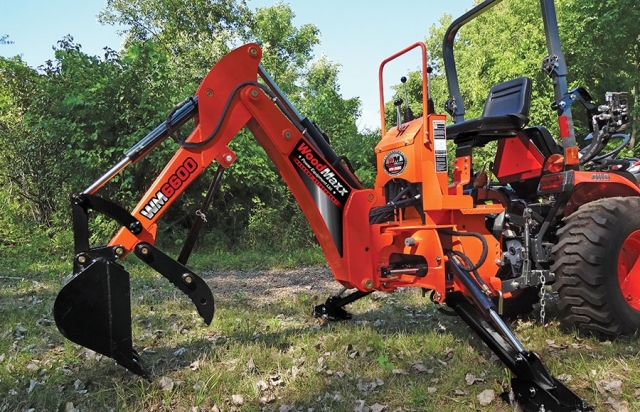 Hydraulic thumb for backhoe
The easiest and fastest way to get more capability from your excavator is to install a Hydraulic Thumb. With a Hydraulic Thumb, your excavator goes from digging to complete material handling.
A Hydraulic Thumb makes it easier to pick, hold and move awkward material such as rocks, concrete, branches, and debris that does not fit into the bucket.
hydraulic thumbs are specifically designed to match your bucket tip radius and tooth spacing – accommodating your exact picking and sorting needs for almost any job. Available in hydraulic or stiff link models, pin mounted or under stick mounted.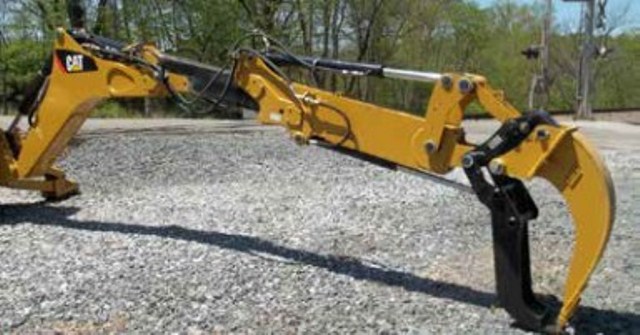 Backhoe bucket cutting edge
Excavator buckets can fail due to corrosion or due to heavy usage that literally wears away the steel or breaks the welds. Weld-on edges make installation of bolt-on cutting edges easy. Weld-on cutting edges come with pre-punched bolt holes for easy installation.
Bolt-on edges are reversible for prolonged use and are very easy to install, edges are available as a bolt-on or weld-on style. Bolt-on edge systems let you quickly change edges on the fly and also extend the life of the bucket base edge and corners. Bolt-on edges can be reversed for extended wear life.
Edges for excavators and backhoes are designed specifically for the demands of heavy equipment use and abuse. They are available in various lengths and thicknesses.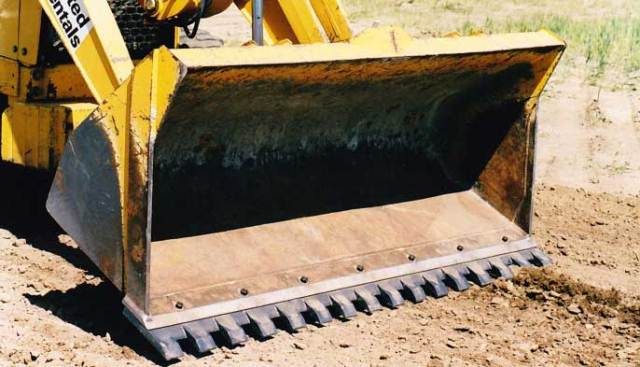 Backhoe grapple bucket
The industrial-grade grapple rake is designed for extreme duty applications. Featuring completely enclosed grapple assemblies, heavy-duty welded end cylinders. Aggressive design with long curved teeth for getting under and lifting debris.
Protected supply hoses with nylon kevlar wrap, heavy-duty construction for years of abuse.
Also available with a shear bar attached to the teeth for use in storm debris clean up. All of the products are made from high-grade alloy steel, making them very durable. This style grapple rake is available for most any type of industrial equipment front end loaders, loader backhoes, Etc.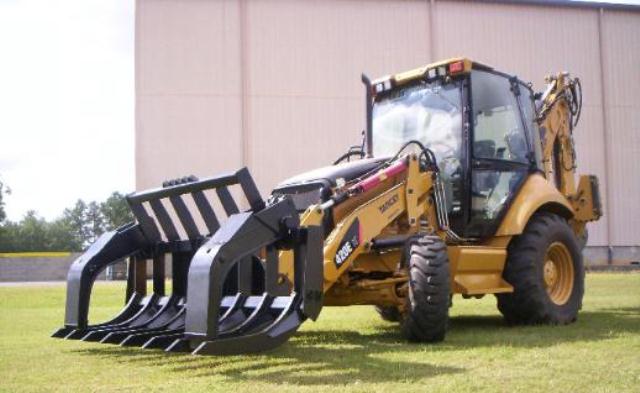 Aftermarket backhoe attachments
Whether you're looking to dig, drill, or lift heavy loads, choosing the right work tool comes down to knowing which one will get the most benefits for the different tasks you've scheduled.
Several things to consider are the type of job site, the size of the attachment, the toughest ground conditions you are operating in, and the make of your backhoe. You should check with your supplier which accessories you will get after-sales.
Backhoe bucket attachment manufacturers:
Case backhoe attachments
John Deere backhoe attachments
CAT backhoe attachments
JCB backhoe attachments
Kubota backhoe attachments
Bucket attachment for backhoe
Enhance the performance of Backhoes with buckets designed specifically to meet needs in the construction market. Backhoe Front Buckets match specific job requirements for capacity and functionality.
General-purpose buckets for backhoe loaders are the all-around choice for loading, carrying, dumping, and performing general clean-up work; including side dump buckets that can tip forward or to the left side and provide the versatility required in tight work areas and congested environments.
what is the best attachments for a backhoe?
Starting off, you should look at your project scope and understand what functionality you want the backhoe and its attachment to have. With over 30 types of attachments, knowing which type is best for your backhoe hire job is crucial to making your project both time and cost-efficient.
How deep will a backhoe dig?
One of the most significant variables in backhoe performance is to dig depth. This is simply a rating of how deep the backhoe arm can dig. Typically, dig depth is somewhere between 12 and 16 feet (3 to 5 m). Many backhoes have an extendible stick that lets them increase this dig depth a few feet when needed.
How much does it cost to rent a backhoe for a day?
Renting a backhoe for do-it-yourself use typically costs $100-$200 for half-day or full-day rental of a small or mini-backhoe; larger models typically rent for $200-$350 or more a day or $500-$1,500 or more for a week.
How much is a used backhoe worth?
A 10-year-old John Deere in average condition with 2,000 to 3,000 hours of use might sell for $25,000 to $35,000.
Do I need a license to rent a backhoe?
While backhoe operators don't need certification, they need to obtain a commercial driver's license (CDL) in order to drive their backhoes from site to site. Each state has its own requirement for granting licensure.
What is the hourly rate for a backhoe operator?
The average hourly rate for Heavy Equipment operators ranges from $25 to $34 with an average hourly pay of $30. The total hourly cash compensation, which includes a base and short-term incentives, can vary anywhere from $26 to $36 with the average total hourly cash compensation of $32.
The most read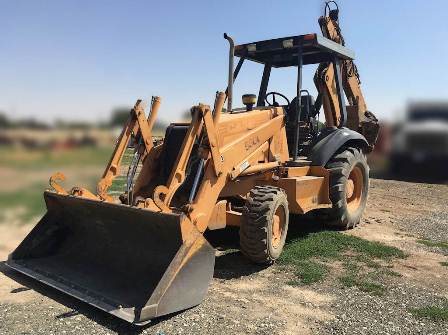 A backhoe is a type of excavating equipment, or digger, consisting of a digging bucket on the end of a two-part articulated arm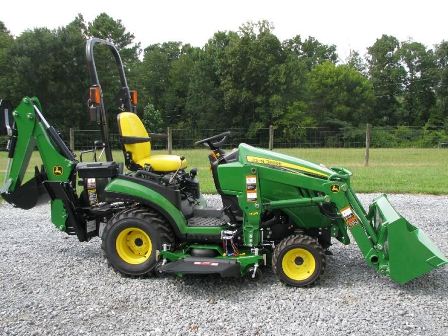 The loaders and backhoes illustrated here are the perfect tools for the care and maintenance of your property and landscaping.
More on this story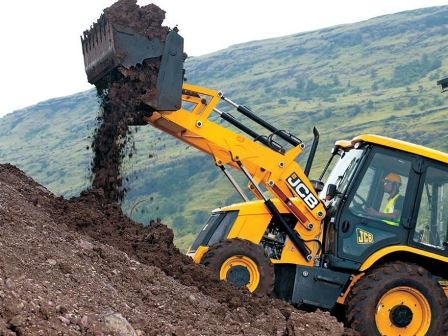 This machine consists of four main parts: the cab, the tractor, the backhoe, and the front loader or general-purpose bucket.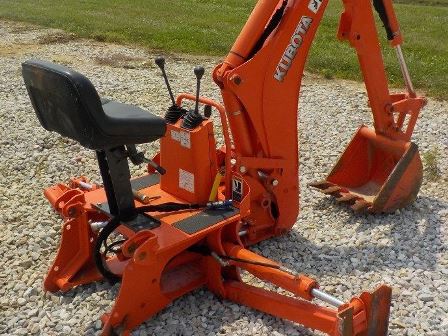 Aftermarket parts for backhoe loaders are also referred to as non-original equipment manufacturer parts, generic parts, or competitive replacement parts.