Amphibious Excavator – swamp excavator: Amphibious transporters have been specially designed to work in swamp areas and river deltas. Transporters consist of an undercarriage and an upper structure with cabin, engine, and platform.
The machine can be custom-made to suit your needs. The structure is also inter-changeable. Transporters are multi-functional and can be used for a wide range of purposes. This includes:
Passenger transport
Equipment transport e.g. drilling platforms
Dumper for ground transport
Possible to convert to the amphibious excavator
The undercarriage of transporters is the same as that of amphibious excavators. The transporter has a lot of traction and is able to extract itself from riverbeds, while pontoons have sufficient buoyancy and low ground compression.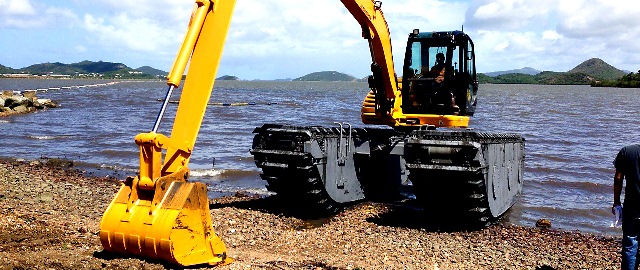 Floating excavator
Amphibious excavators are easy to transport. The advantage of excavators with an adjustable undercarriage is that they can be transported in one go. Pontoons can be extended and retracted.
Watering machines weighing more than 15 tonnes are no longer adjustable. This choice was made to reinforce the platforms and pontoons used on heavier machines. After all, they do not need to be retracted.
Despite the fixed undercarriage, transport is more efficient than with adjustable undercarriages. Higher class adjustable excavators exceed transport dimensions. This means a special permit must be requested, which unnecessarily delays transport and makes it expensive. Amphibious excavators can be assembled and dismantled within one and a half hours.
Machines of 20 tonnes or more are almost always used on large projects. This almost entirely eliminates the advantages of adjustable undercarriages.
Amphibious transporter: The upper structure can be transported separately from the undercarriage. Assembly and disassembly can be realized within an hour. The machine also complies with transport norms when it comes to height, width and length.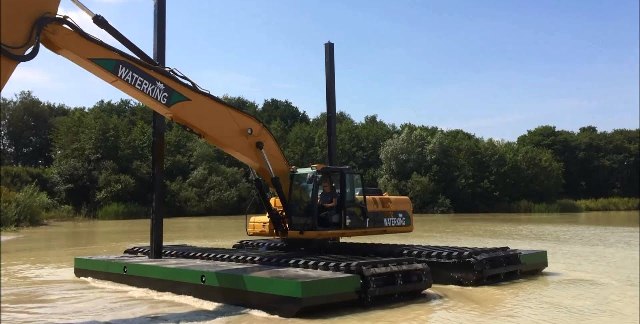 Amphibious trackhoe
industrial applications of amphibious excavators
Land Clearing and remediation work at Mining Areas, Plantation, and Swampy Land Area.
Deepening and widening of Canals and riverways.
Building Bunds, Flood Prevention and Land Reclamation.
Building Walls for Fish and Shrimp Ponds as well as Mining wastewater treatment ponds.
Clearing of Riverways and Water Reservoir.
Digging Trenches for Oil and Gas Piping Installation in water bogged & swampy environment.
Transporting and Clearing obstacles at the Landslide and earthquake area.
Building Water Irrigation bunds at Paddy Field and Plantation.
Wetland construction.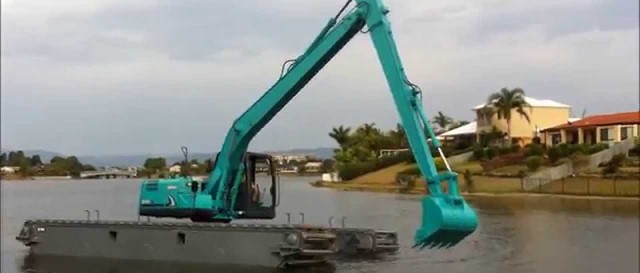 Swamp buggy excavator
Some industrial uses of Amphibious Excavator
Dredging often is focused on maintaining or increasing the depth of navigation channels, anchorages, or berthing areas to ensure the safe passage of boats and ships. Vessels require a certain amount of water in order to float and not touch the bottom. This water depth continues to increase over time as larger and larger ships are deployed. Since massive ships carry the bulk of the goods imported into the country, dredging plays a vital role in the nation's economy.
Dredging process
Waterways come in different forms and some are just impossible for the conventional excavators to work on. Amphibious excavators are specifically designed to take on such harsh environments up to 2-meter water depth. Amphibious excavators can be equipped with a hydraulic dredging pump that can pump silt from the waterway floor over a long discharge distance of up to 500 meters.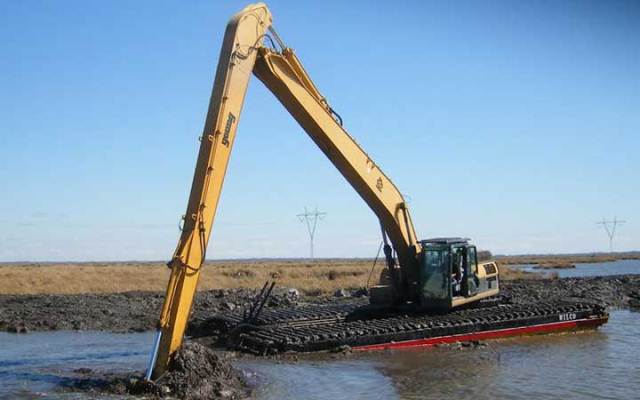 Deep excavations and tunneling in soft ground
Amphibious excavators are best suited to work in the interiors where soft grounds are often encountered. The excavators are equipped with floats that prevent them from been bogged down in the peat soils. Lumber clearing within soft grounds can be achieved with amphibious excavators.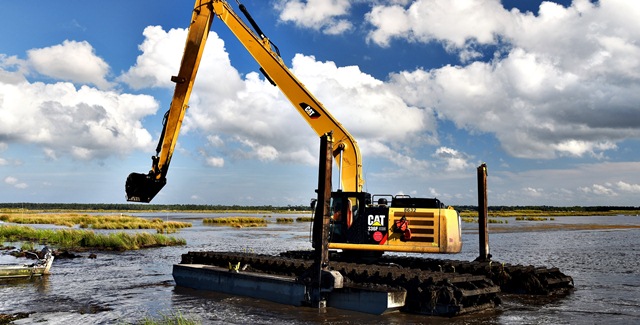 Shoreline construction
With increasing weather changes and often unpredictable floods, amphibious excavators are often used to build up the shorelines for flood prevention. Levees along the riverways can be easily built using pontoon excavators.
Riverbed deepening
River deltas often require constant de-silting & deepening. Marsh buggies are suitably designed to carry out such river deepening work. Rivers mouth require scheduled deepening as if they are neglected, flooding happens.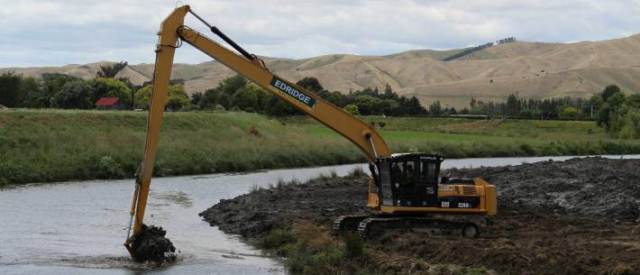 Landscaping services
Increasingly, swamp excavators are employed for landscaping areas that are near riverways and shorelines. The amphibious excavators have to be used because conventional excavators can easily slip & sink into the soft ground and get immobilized.
Highway construction
Highways do traverse different types of ground conditions. In construction, and where there is a waterlogged & swampy land area, the amphibious excavator can be easily deployed to work on the soft ground. It is also used to dig up tree stumps that if left underground.
Oil exploration
As mankind's dependency on fossil oil increases, finding more of the black gold requires the search in remote areas that often required special machines. Amphibious excavators have found use in the transporting of men and equipment into these areas. The benefits of pontoon fixed excavators is that they are very mobile.
Pontoon excavator
Ponton excavator or amphibious excavator is a type of excavator that can perform dredging while afloat in shallow water. An amphibious excavator is better adapted for removing silty clay, clearing silted trenches, swampland operation, and shallow water operation than traditional barge-mounted dredgers.
The amphibious excavator can walk or work in water because the chassis crawler floats on sealed pontoons. It may swing or even roll over when excavating with no support underneath. It moves using a dual-body boat form buoyancy tank. A reducer drives the crawler chain, allowing free and smooth movement. Its upper structure is a modified excavator that allows 360° full rotation and hydraulic operation.
Amphibious undercarriage
The machines have been developed to operate in poor load-bearing areas. The undercarriage is designed and built to have maximum buoyancy and low ground pressure. The low ground pressure ensures that the surface will have limited damage.
Other than that the amphibious excavator can be built with a new or used upper structure of choice. It is also possible to purchase only the undercarriage (this consists of two pontoons and a mounting frame).
All machines are durable, safe and have proven reliability. The amphibious excavators are efficient and they have a strong construction. The undercarriage is made of Cor-Ten steel and the bottom plates and wears strips are made of Hardox. Critical parts of the machine are protected to make sure they can't get damaged by the use of the machine.
The upper structure is placed at the center of the machine. This has as an advantage that the machine has a working range of 360 degrees and that the machine can be customized and equipped with extra options such as an extra fuel tank. Equipped with heavy-duty travel motors the undercarriage has a high tractive force.
Amphibious excavators can be used on land as well as on water. This means it is possible to easily cross swamps, moats, lakes and other waterways.
Pontoon mounted excavator
The amphibious excavators can be equipped with additional pontoons. The pontoons provide extra stability and buoyancy of the amphibious excavator. By adding pontoons to the machine it is possible to work in water with a depth between 4-6 meters.
The additional pontoons are built to fit the model of the undercarriage of choice. The pontoons are extra long, high and wide for extra buoyancy.
The spud poles measure 20 x 20 – 30 x 30 cm and because of their strong robust appearance the spud poles make sure that the machine is stable and can use more force while working. The spud poles are designed to go through the pontoon instead of being mounted on the back. This makes the entire structure of the machine and the pontoons stronger.
The pontoons are built with integrated steps to have easy acces to the cabin. The steps and deck of the additional pontoons are covered with an anti-skid surface. The coupling system is easy in use and due to several locks
What is hydraulic excavator?
what is the difference between an excavator and an amphibious excavator?
Excavators are heavyweight construction equipment whose house is outfitted with a cab, a boom, a dipper, and a bucket. The house is a rotating platform that rests upon an undercarriage with a track system. An operator controls the apparatus from the cab. A boom is connected to the house and has a stick attached to the end known as a dipper, providing adequate digging force to pull the bucket through the earth. Buckets come in a host of sizes and shapes to perform a variety of functions.
Many other attachments are available to be used with the excavator to employ in various applications, such as cutting, crushing, or boring, for example.
Hydraulic dredging equipment
Amphibious excavators are a type of excavator designed to be used for dredging in shallow water. They are better equipped with their pontoon undercarriages for operation in swamp/wetlands operations that traditional barge-mounted dredgers are ill-equipped to handle. Barge-mounted dredgers are better suited for deeper fresh waterways.
Amphibious excavators are engineered to have the most stable undercarriages constructed from the most reliable, state-of-the-art components available. Each undercarriage is fabricated to the specifications of the attached equipment to supply the lowest ground pressure, the best maneuverability, and the highest degree of buoyancy possible.
Amphibious Excavator
What is dredging?
Dredging is the removal of sediments and debris from the bottom of lakes, rivers, harbors, and other water bodies. It is a routine necessity in waterways around the world because sedimentation—the natural process of sand and silt washing downstream—gradually fills channels and harbors.
What are the benefits of dredging?
The advantages of dredging are: Widening and Deepening: Dredging can be a critical process for the commercial shipping industry. Removing sediment can maintain the appropriate width and depth for enabling the safe, unobstructed passage of cargo vessels carrying oil, raw materials, and other essential commodities.
How is dredging harmful?
Sediment can smother seagrasses, which are the key food source of dugongs and sea turtles, and damage corals. Some activists want to dredge to be banned completely, blaming it for releasing toxic chemicals, increasing water turbidity and littering harmful metals throughout the food chain.
Why dredging is needed at the port?
In the shipping industry, dredging is generally carried out to increase the channel or port depth for ensuring proper bottom clearance, to improve navigation and sometimes also for reclamation purposes (to reclaim material and use it later on land or in port development).
The most read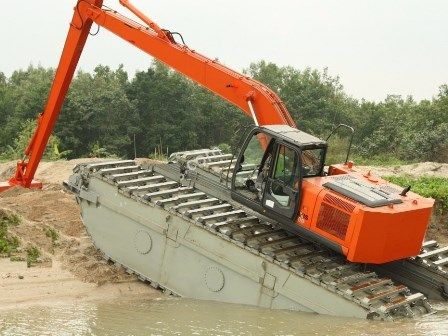 Amphibious Excavators are hard to find, if you are a contractor, you may be wondering why you should consider buying a swamp buggy excavator.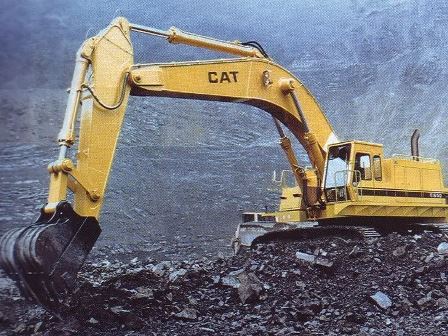 Essential in the mining sector, over time they incorporated hydraulics, automation, electronics, information technology, etc. Developed for engineering and heavy-duty.
More on this story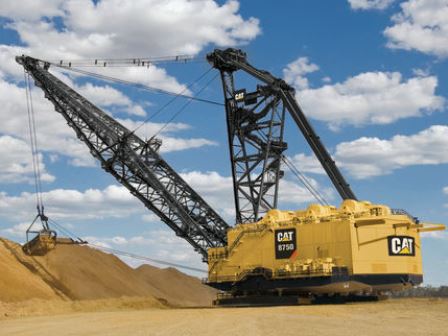 Draglines are an expensive and essential part of open-cut coal mining.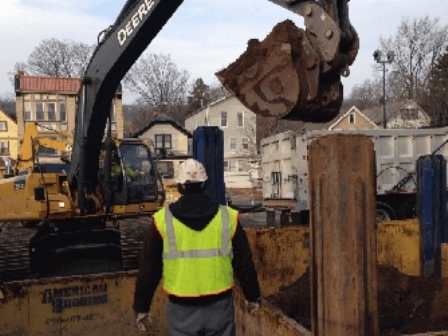 Well before a building or any structure is erected, excavating contractor is hard at work. But what is the role of an excavating contractor, exactly?