Lawn Mower Front end Loader Kit: Looking for a durable front-end loader attachment for a lawnmower?
Whether you call it a bucket, a scoop, a shovel, or a front loader, the solution for handling materials with a lawnmower is through a kit, which you must install in your equipment
A durable, utility front loader built for lawn tractors, it connects seamlessly with your mower, allowing you to conquer projects like snow removal, brush clearing, and landscaping with fun and ease.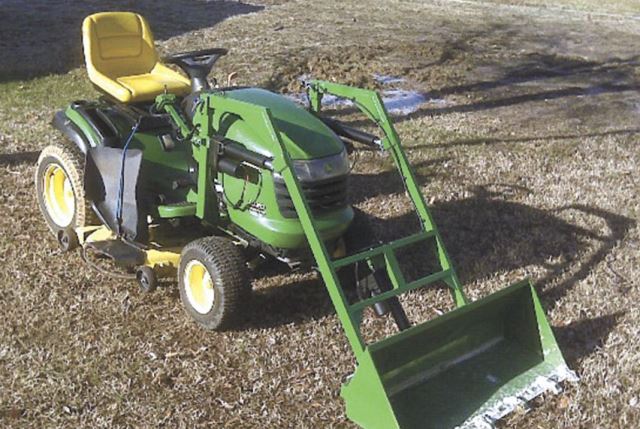 How to make a front-end loader for a Lawn Mower?
Front-end loader Specs for lawn mower: DIY front end loader kit
Attachments: There are no brackets to pre-attach, and your loader will arrive ready to use immediately. The mowing deck can remain mounted and function on every tractor model.
High-quality steel: High-quality steel construction and updated welding equipment provide superior rigidity and strength.
What can I use my loader to do?
Loaders are material movers. They're designed to move loose dirt, mulch, gravel, and snow; loaders are not designed to excavate.
Front end loader kit for sale
The great thing about building equipment or accessories yourself is that you can build them exactly the way you want. Solving your mower need is relatively simple, but you need blueprints and technical help.
How much does a little loader cost?
Little buck loaders are priced at $2000 approx, before shipping or taxes. This price excludes several models.
Front end loader for lawn tractor
Before starting the engine of your lawnmower, make sure all operating controls are in park lock or neutral position.
Operate controls only when seated in the operator's seat.
See your lawn mower operator's manual for correct seat belt usage.
Do not permit others to ride on your lawn mower. Only one person, the operator, should be on the machine when it is in operation.
Observe the bucket movement and maintain control with the control levers.
Stop the loader arms gradually when lowering or lifting loads.
Stay off of slopes too steep for safe operation.
Shift down before you start up or down a hill with a heavy load.
Avoid "freewheeling"
Travel speed should be such that complete control and machine stability are maintained at all times.
Where possible, avoid operation near ditches, embankments, and holes.
Reduce speed when turning, crossing slopes, and on rough, slick, or muddy surfaces.
Never use your hand to check for suspected leaks under pressure.
Use a piece of cardboard or wood for this purpose. Escaping hydraulic oil or diesel fuel leaking under pressure can have sufficient force to penetrate the skin and cause infection or other injured by leaking fluid, seek medical attention immediately.
To prevent personal injury, relieve all pressure before disconnecting fluid lines.
Before applying hydraulic pressure, make sure all hydraulic connections are tight and components are in good condition
Lawn mower safety tips
Understand that your safety and the safety of other persons are measured by how you service and operate this loader.
Know the position and operations of all controls before you operate.
Make sure you check all controls in all safe areas before starting.
The safety information given in this manual does not replace any safety Codes, insurance needs, federal, state, and local laws.
Make sure your Machine has the correct equipment required by your local laws and regulations
Read this manual completely and thoroughly and make sure you understand all controls.
All equipment has a limit.
Make sure you are aware of the stability and load characteristics of this loader before you begin operation.
Difference between a lawnmower and a lawn tractor
While lawn tractors are primarily used for mowing grass, garden tractors can not only mow, but also clear snow, tow heavy equipment, till gardens, grade driveways, and do pretty much any job you might need to be done. Garden Tractors have a more heavy-duty build, which makes them a more versatile machine.
More on this story