Different types of gantry cranes and gantry girder designs are for specific load and use situations, mobile cranes have lower load capacity than a fixed crane, aluminum cranes are for light but precise work, etc.
When buying one of this equipment, use and load considerations are necessary, whether they are for work at home or for a workshop.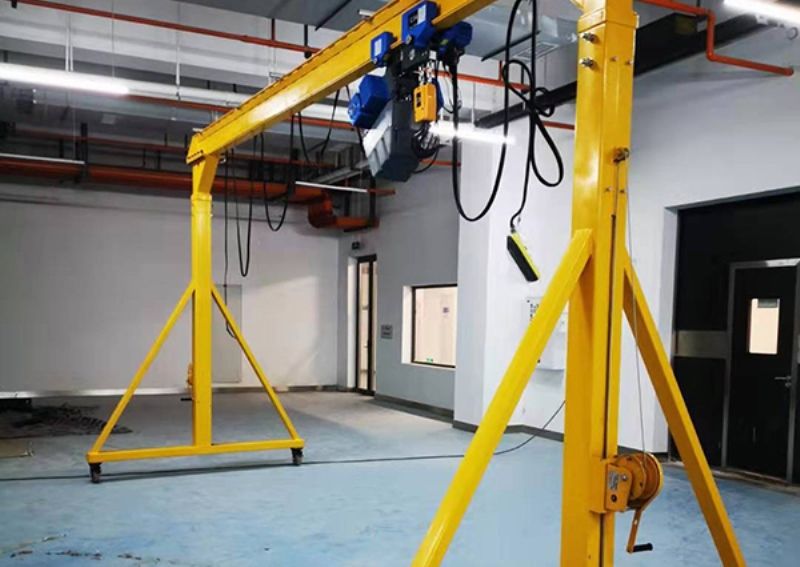 Gantry crane price
Every day, customers wonder how to quote a new gantry crane installation, they need to know the final price.
They may be moving into a new building, replacing old or outdated equipment, or they may be purchasing a gantry crane for the first time and are looking to expand the material handling capabilities of their business. The bottom line is that they are looking for the cost of a gantry crane.
If you are just beginning your research, we understand that the process of purchasing and installing a gantry crane at your facility may seem somewhat difficult.
First, we will discuss the different gantry crane models and uses that affect the cost of any type of gantry crane, and then we will discuss the prices of common types, sizes, and configurations of gantry cranes.
Gantry Crane for sale
Gantry cranes are a subset of cranes that have a hoist that runs horizontally along rails, usually installed on a single girder.
With the hoist attached, most gantry cranes can be used to lift heavy objects ranging from 250 pounds to 10 tons.
Additionally, gantry cranes are equipped with casters and casters that allow easy mobility under heavy loads.
The supply and selection of gantry cranes for sale come in a variety of options and capacities, from fixed-height, adjustable-height gantry cranes to three-way adjustable steel gantry cranes.
Portable Gantry Crane for sale
Portable gantry cranes come in many different sizes that can be used in many different types of industries, for example, there are small and large cranes available that can be used in small industries and workshops, respectively.
Besides that, portable gantry cranes also have an adjustable height function where some cranes are such that their height can be adjusted while others are fixed.
These types of cranes are usually made of aluminum or steel. Portable gantry cranes are designed with two vertical girders and also one cross girder. The crane also consists of two legs that are shaped like an A-frame design with wheels on the bottom to make it portable and mobile.
The smaller version of the portable gantry crane is used in fabrication jobs to move large parts to an off-site location or between the assembly and the work station.
Whereas in department stores portable gantry cranes are used to move heavier and bulkier materials. At that time they move across the work area. They have a capacity of almost four tons.
Mobile Gantry Crane for sale
A mobile gantry crane is one of the many cranes that lift objects by a hoist that is fitted in a hoist trolley and can move horizontally on a rail or pair of rails fitted under a beam.
Mobile gantry cranes have been known for being able to lift very heavy weighing objects.
The small gantry cranes can be used in workshops like lifting automobile engines out of vehicles.
Durable polyurethane wheels make it easy to move around your facility or are on rails on a predefined path.
Aluminum gantry crane for sale
Made of lightweight aluminum, the gantry crane components are easily installed and assembled by one or two people.
This allows the crane to be easily shipped to a job site and even carried up a ladder to a rooftop work area.
The adjustable height ensures a single ergonomic lifting solution for areas with little headroom and a wider lifting range in other areas.
Simple installation and disassembly allow the aluminum gantry cranes to be disassembled and stored when not in use.
Adjustable gantry crane for sale
Adjustable gantry cranes for sale have different uses and applications. Adjustable gantry cranes are perfect for applications where you need an inexpensive, portable way to lift materials anywhere in your facility.
An adjustable bridge crane provides a cost-effective lifting solution for infrequent lifting areas than a permanent jib crane or an overhead bridge crane.
These adjustable cranes provide a heavy-duty end frame design with square tube studs, knee pads, and channel base that provide a very stable base.
These adjustable bridge cranes for sale factor 20% of crane capacity for hoist and trolley weight, with an additional 25% of the allowable capacity for impact. All adjustable bridge cranes for sale are certified and have a capacity placard installed prior to shipment.
More on this story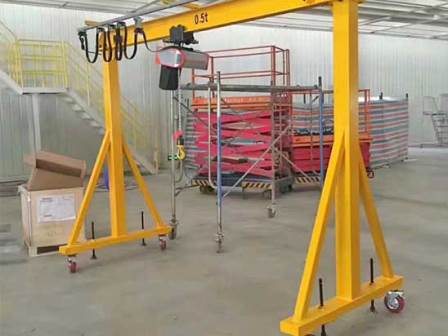 Small gantry cranes are the perfect solution when heavy-duty lifting equipment that is versatile and easy to set up and use is required.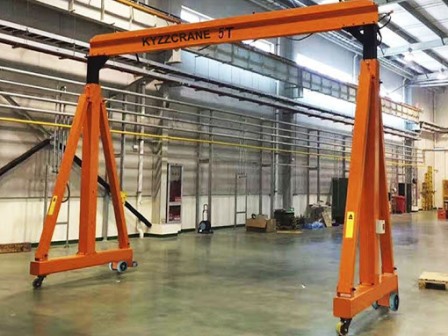 Mobile Gantry Cranes in freestanding, portable, fixed height, or adjustable height configurations that are ideal for your warehouse or workshop.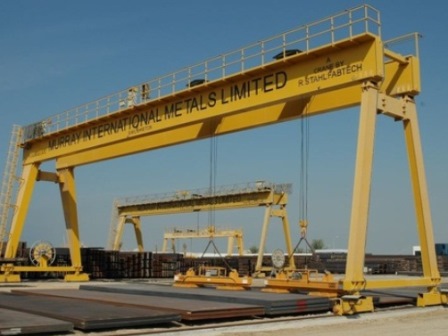 They are very similar in nature to bridge cranes; the only difference between the two configurations is the gantry crane's mobility compared to bridge cranes.