There are many different types of mobile gantry cranes, capacities, and spans for lifting, loading, and moving. The sale of gantry cranes specializes in different models, capacities, and uses
These are commonly found in workshops, fabrication warehouses, shipyards, and light manufacturing.
Mobile Gantry Cranes in freestanding, portable, fixed height, or adjustable height configurations that are ideal for your warehouse or workshop.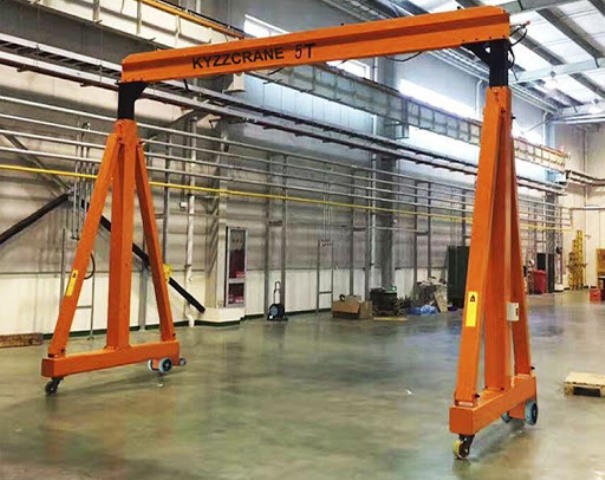 Gantry Crane Tons
Mobile gantry cranes range in capacity from 300 pounds with a 7-foot span to 10 tons with a 20-foot span.
Height-adjustable cranes range in capacity from 300 pounds with a 7-foot span to 5 tons with a 20-foot span.
Steel, stainless steel and aluminum options are available, as well as special coatings for outdoor applications.
There are also gantry crane kit solutions for sale including crane, hoist and trolley as a package, as well as accessories such as kits from festoon.
If you need more than 10 tons or a span longer than 20 feet, a special crane can be designed for your unique application.
The best selling mobile gantry cranes are the 1 ton and 3 ton adjustable crane, the aluminum gantry or the height adjustable gantry for industrial applications.
All mobile gantry cranes for sale are made in the USA. You can be sure that any gantry you buy will give you years of service.
Mobile Gantry Crane for Sale in USA
It is important to find the right company to partner with for your mobile gantry crane project. There are a couple of different resources you can use to research mobile gantry crane manufacturers, including references, industry events or trade shows, and use the Internet for research.
Request references:
Use Industry Connections to find out if other companies you know or work with have a mobile gantry crane on site.
Contact current customers, vendors or suppliers and find out if they use aerial lifting devices.
If so, find out who they worked with, if they were happy with the partnership, and ask if they would be willing to provide a contact or make a presentation on your behalf.
Gantry crane standards
Aattend industry fairs or events:
You may be lucky to find that a mobile gantry crane company that specializes in lifting equipment is already scheduled to exhibit at an industry fair that you are attending.
Please take a few minutes to visit the trade show website before the event and check the exhibitor list.
See if there are companies you would be interested in talking to; you may be able to reach out to them and schedule a quick presentation or consultation during the event.
Mobile Gantry Crane near me
Please use Google or other search engines to find local gantry crane manufacturers you can work with.
Adding a qualifier, such as a city or state you are in, will help return nearby businesses, transportation and installation is an additional price.
This could result in significant cost savings for coordinating travel and transportation when installation time comes.
Cost of a gantry crane
What factors affect the cost of a gantry crane?
When a mobile gantry crane manufacturer arrives on site for a consultation, they will attempt to identify your specific lifting challenges, as well as assess your installation to understand the building floor space, the supporting structures in place, and the size and capacity of the crane they will be building.
Before your individual visits, it may be helpful to prepare some notes or a cheat sheet on your overhead lift project.
This will remind you to ask the same questions of each company and also provide them with the same specifications for your project so that each company builds its quote from the same information.
Gantry crane amazon
Amazon is another place where you can find mobile gantry cranes for workshops or for work at home, there you can make a price comparison.
More on this story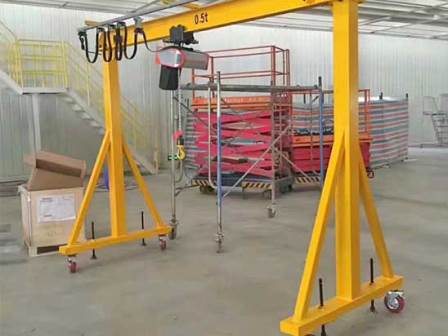 Small gantry cranes are the perfect solution when heavy-duty lifting equipment that is versatile and easy to set up and use is required.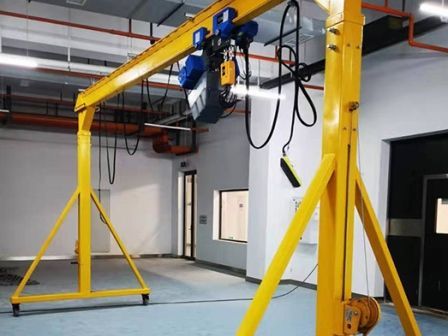 When buying one of this equipment, use and load considerations are necessary, whether they are for work at home or for a workshop.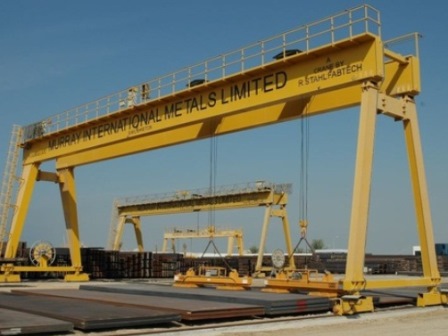 They are very similar in nature to bridge cranes; the only difference between the two configurations is the gantry crane's mobility compared to bridge cranes.