Electric Hoist Trolley: Learn about the different types of hoists and their uses. Explore the catalog and pick the one that suits your needs best.
Electric Hoist trolley provides the ability for a simple hoist to become a laterally traversing versatile piece of equipment. Powered trolley hoists come in different types, including air and electric and capacities.
Applications for quick hanging for suspending hand chain hoists up through motor-driven electric hoist trolleys both top and underrunning.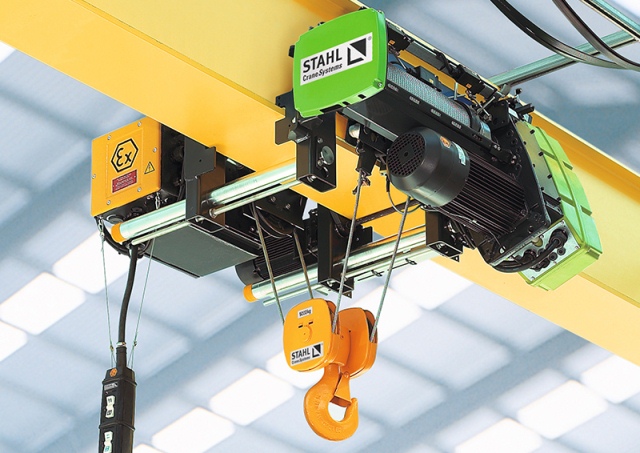 Hoist Trolley Features
Trolley Wheels are forged heat-treated steel with contoured tread for use on American Standard tapered or wide flang flat flange beams. Electric hoist Trolley capacities include 1 ton and under, 2 tons, 3 tons, and 5 tons
Chain hoist trolley
Hoists come with two choices of load chain; roller and link. Roller chain provides smoother, quieter operation for light to medium duty applications. The Roller chain models are available only in hook suspension.
Link chain hoists are ideal for heavier service applications requiring repeated lifting cycles. All link chain models are available in either hook or lug suspension.
Electric Hoist Trolley
All-electric hoists are equipped with heavy-duty, positive acting, short-stroke DC rectified disc motor brake. The brake is rated at 150% torque to stop and hold the load. In addition, all hoists are provided with a mechanical load brake for load lowering control and as a backup to the hoist motor brake. An overload device is also standard on all Electric Chain Hoists. The overload device protects the hoist, operator and supporting structure by preventing dangerous overloads.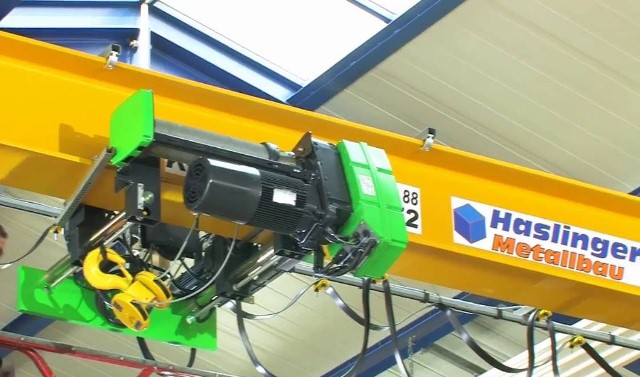 Different types of hoists
A wide variety of electric hoist trolley is provided for both hook and lug-suspended hoists. Trolleys are available in push, hand-geared and motor-driven versions. Hook-on trolleys are available in either push or hand-geared versions. Rigid Mount trolleys are available in push, hand-geared and motor-driven versions.
In addition to the different hoists and their uses mentioned, there are also double rail type hoists for double girder cranes and fixed suspension hoists, which are both variations of the same.
When you decide to buy a hoist, make sure to keep in mind the tasks you need it for and the environment you will be using it in, as well as the type of crane you are attaching it to.
Manual hoist trolley
Push-Pull Trolley Hoist: A hand-operated hoist with a trolley attached at the end. The trolley comes equipped with wheels for easier lateral motion. This is a hoist specifically geared towards load shifting rather than cross-motion. Usually, they have a load-bearing capacity of up to 3 tonnes. This type of hoist is perfect for warehouses and storage facilities.
Electric wire rope hoist
Wire rope hoist : a electric hoist trolley
Power Travel Wire Hoist: A heavy-duty electric hoist ideal for rough environments. It is one of the fastest moving hoists. Using an electric motor and dual rails, it can carry up to 20 tons but is not limited to that. Specific power travel wire hoists can be designed for a heavier load-bearing capacity. Not just a flashy moniker, this hoist truly delivers the power and efficiency required in chemical plants, foundries, and steel mills.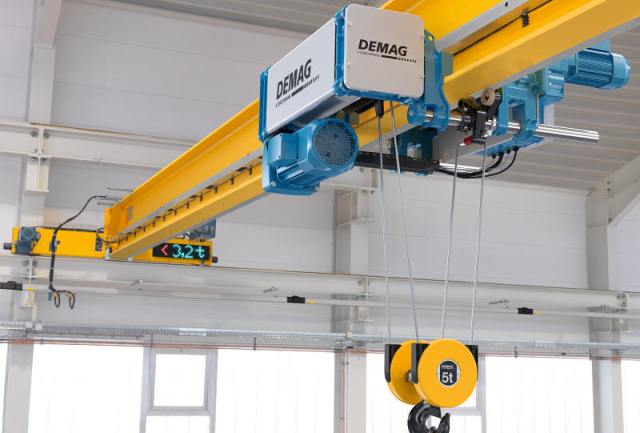 Electric hoist with girder trolley
Electric Hoist Trolley
Double Rail Hoist: While considering the different types of hoists and their uses, this particular variety is designed solely for double girder cranes. It is sometimes also referred to as the crab hoist. It is excellent for heavier loads. Double girder cranes are used for larger spans and need a specialized hoist, which is where the crab crawls
Overhead rail trolley
Flexible Trolley Hoist: It is designed for environments that require a lot of cross-movement. One of the most versatile hoists, providing ample maneuverability. It can navigate through twists and turns and easily changes direction as needed. It is perfect for use in huge warehouses and manufacturing plants.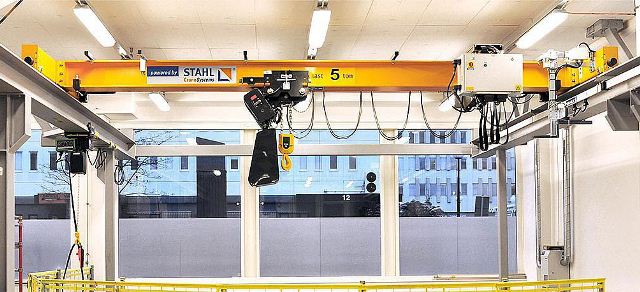 Electric beam trolley
Push Trolley: Hook suspension trolley (For use only with hook-type hoists)
Push trolleys are an economical alternative for low duty cycle, lighter capacity applications with lifts under 20 feet. Push trolleys are available in capacities from 1/4 to 3 tons. 1/4 thru 2-ton capacity are metric rated.
Hand-geared trolleys are designed for applications requiring close control of the horizontal movement of the hoist and its load. They are also ideal for those applications where an operator shouldn't be near or touch the load to move or position it. The electric hoist trolley is available in capacities from 1 thru 3 tons. The 1 and 2-ton trolleys are metric rated.
Hook suspension trolleys are available in the push and hand-geared versions to run on either American Standard Section I-Beams or wide flange beams.
The trolley sides are of all-steel construction for maximum strength.
The wheels are steel with hardened treads and roller bearings for easy traversing and long life. Self-aligning frames keep the load equally distributed and are adjustable to fit several sizes of beams.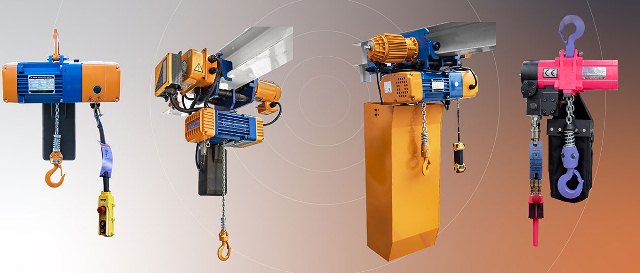 Motorized trolley hoist
The high-performance Electric Hoist & Motorized Trolley Kit is engineered for heavy-duty industrial service and is available in two-ton and three-ton capacities. This kit includes the 3-ton electric chain hoist with motorized trolley, chain container, and six-button pendant.
An operator pendant with a standard 6-foot drop is included with the kit. Three-axis, six-button pendants are set for use with Powered Gantry Cranes equipped with floor-drive control.
Trolleys are equipped with wrap-around side plates that act as bumpers to protect trolley wheels. Trolley wheels are machined and heat-treated with sealed, lifetime-lubricated ball bearings for extended product life.
The Electric Hoist & Motorized Trolley Kit is designed to last in harsh conditions, like battery rooms and other industrial settings. Lifting heavy loads is simple, ergonomic, and reliable with this durable equipment.
Safety and ergonomics are a key focus of the Electric Hoist & Motorized Trolley Kit. A mechanical load brake, motor brake, and overload clutch come standard to make this kit as safe as possible.
Ther engineers set the hoist and trolley speeds for minimal load swing as required for overhead removal and installation of industrial batteries.
This kit is required for the 3 Ton Power Drive Gantry Crane models.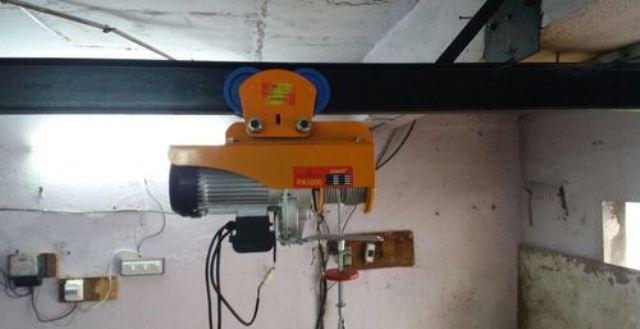 How does a hand hoist work?
How does a hand hoist work?
A Chain Block is a mechanism used to lift and lower heavy loads using a chain. Chain blocks contain two wheels in which the chain is wound around. When the chain is pulled, it winds around the wheels and begins to lift the item that is attached to the rope or chain via a hook.
What is a trolley hoist?
A trolley is a wheeled mechanism from which a hoist is suspended to provide horizontal motion of the hoist along a beam/bridge rail.
What is a hoist beam?
a hoist is simply a machine that is used for the lifting and lowering of heavy loads. A hook or lug can be used to permanently mount a hoist in one location, or affix it to a trolley. A trolley is a vehicle that travels on an overhead rail or beam, normally used to move the hoist and it's load from place to place.
What's the difference between the chain block and the lever hoist?
A chain block is suitable for the production of the factory, miners, agriculture, electric power, building, goods lifting, vehicle loading, and unloading, etc., especially for open and no power area, more important function. Except can be separately used, can be together with hand monorail car to be hand lifting transportation vehicles, can realize the function of lift heavy things through walking around.
What's the biggest difference between the chain block and the lever hoist?
Compared with the same lifting volume chain block, lever hoist is much smaller than the chain block, whereas, it is more efficient and widely applied.
When to use the lever hoist?
The lever hoist is driven, not use hand chain, but with a handle, the palm gourd has a neutral position. When you turn the braking of the lever hoist to braking to neutral gear and use hand to pull, the lifting chain will be very easy to pull down, or to pull back to convenient adjustment the lever hoist and traction distance, convenient to rapid traction or lifting.
How does a chain hoist work?
Chain hoist has got two chain loops – hand chain and lifting chain. The hand chain sits on a wheel located in the lifting mechanism, it needs to be pulled by hand in order to lift a load. The lifting mechanism consists of a cog, axle, driveshaft, gears, and sprockets.
The most read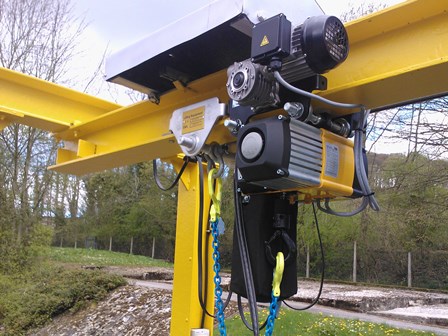 An I-beam trolley is a wheel mechanism from which a hoist is suspended to provide horizontal movement of the hoist along a beam or bridge rail.
More on this story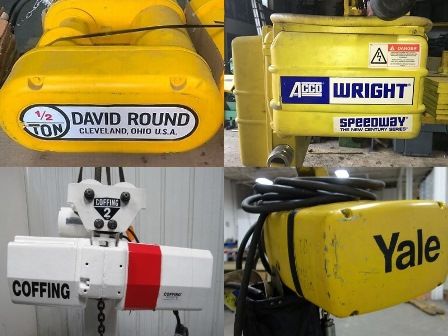 You'll hear opinions about leading chain hoists brand names like Yale, Gorbel, Budget, Coffing, and Harrington. These hoist manufacturers have been in business for decades.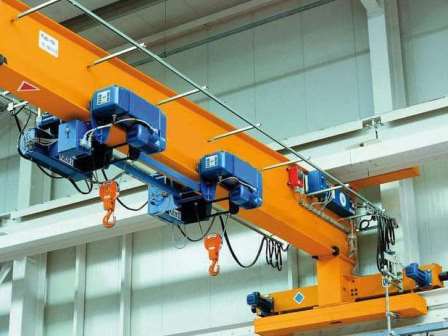 The mechanism used to raise and lower heavy loads to the desired height with comparatively little effort is called a lifting mechanism.