3 Ton Electric Chain Hoist: 3 Ton Capacity Electric Chain Hoists offer a wide variety of industries with a safe and productive tool to lift many different loads.
Electric chain hoists of 3-ton capacity can be used for many different applications. A hoist might be used to upgrade an older unit on a crane or supplied as part of a completely new lifting system with a jib crane, monorail or other light crane system in an industrial environment.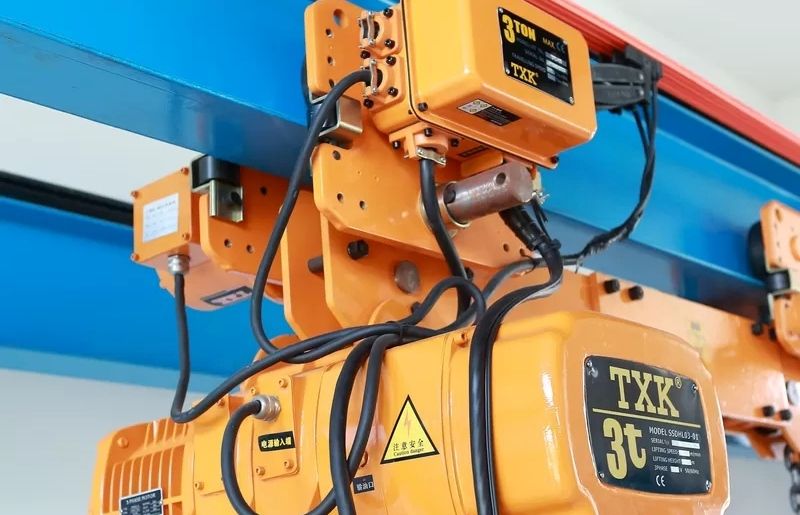 Electric chain hoist
3 Ton Electric Chain Hoist:
An electric chain hoist is a typical and unique optimal structure in shortening the distance between the machine body and the beam. It is applicable to operate inside low buildings, especially suitable for temporarily erected plant buildings or the sites where the expansion of effective hoisting spaces is required. The most important parts of the machine are a chain and brake system.
Electric chain hoists are consumed by industrial and entertainment industries for lifting and suspending materials.
3 Ton Chain hoist
3 Ton Electric Chain Hoist: A manufacturing production line might use a 3-ton capacity electric chain hoist for lifting components, while a theatre production company or entertainment show might put one to use for lifting scenery, sets, lighting, and other objects.
Electric chain hoists have proven to be robust, reliable and easy to maintain even in demanding applications.
They offer different lifting speeds so users choose a lifting device that suits their requirements. In the entertainment business sometimes it is a requirement to lift or lower a set quickly.
Industrial applications have varied speed and safe working load requirements. Electric chain hoists are commonly suspended from beams via a trolley. They feature a chain, hook and other components.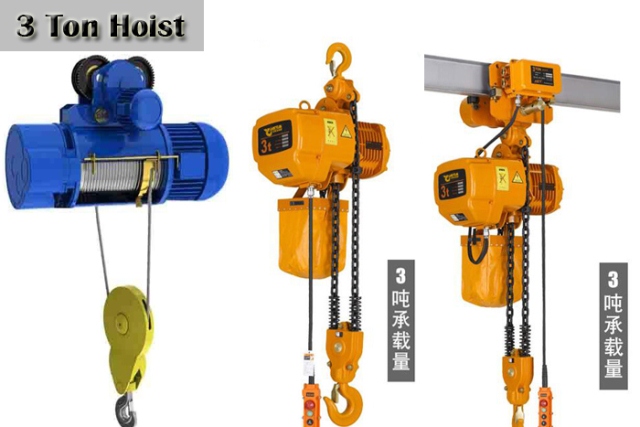 Chain pulley block 3 ton
Electric Chain Hoist 3 TON (Trolley or suspension lug)
This 3 ton Electric Chain Hoist series is a range of high capacity and great quality products for professional applications. They are highly efficient and engineered for long working life. The hoists are composed of three main component parts which make service easy and inexpensive.
With a Double chain fall & lifting speed at 4m/min (main lift), this direct-control electric hoist 3.2 Ton / 3200kg comes in 2 types of speeds.
Single-speed for CPE 32-4
Dual speed for CPEF 32-4
It is also available in 6 lifts from 3m to 18m.
Hoists and trolleys are not designed for passenger elevation applications and must not be used for this purpose.
Electric hoist trolley
3 Ton Electric Chain Hoist:
The electric hoist trolley combines safety and durability to operate in commercial and industrial applications. All models incorporate a slip clutch overload protection mechanism that prevents the hoist from lifting damaging loads above its rated capacity. They are available in single or three-phase configurations to suit your electrical needs.
Single-phase models have a thermal overload protection design that keeps the hoist from overheating, while the three-phase models feature a reverse phase relay that protects the hoist from incorrect wiring. The industry has proven DC electro-magnetic brake increases safety by holding the load even when power is interrupted.
The maintenance-free gear train incorporates a sealed oil bath, for reliability and durability. The electric hoist is available in ½ ton to 5-ton capacities with standard lifts of 10, 15, and 20 feet (custom lifts available).
3-ton chain hoist for sale
The 3 ton electric chain hoist offers power, flexibility and a number of important safety features. All capacities are available in either single speed or two-speed models. Heavy-duty motors are rated at thirty minutes. Workings are completely enclosed and compact for low headroom.
Safety features include a friction clutch assembly designed to stop the hoist when overloading occurs. A dual braking system – heavy duty magnetic a regenerative, plus upper and lower limit switches are additional safety features.
Reese chain hoist
Maximum lifting capacity of 6000 pounds
10-foot lift chain and 8.5-foot pull chain
Strong 360 degrees forged swivel hooks
Mechanical safety break load and protective steel housing
Portable, making indoor or outdoor jobs easier
Hiltex chain hoist
Chain hoist lift-wheel for lifting loads up to 6000 Lb making it suitable for engines and construction equipment
Manual gear chain hoist hangs down 6 ft from hoist for use on a-frame or gantry crane
The chain has positive, mechanical load brake for more safe control on lifting and spotting
Pulleys provide leverage to multiply force up to 100:1 for easy, efficient lifting
Chain fall hoist has swiveling hooks and safety latches for easier connection and great maneuverability
Toho chain hoist
Overload Protection – All the hoists are factory setted with overload protection system
Available in 1/2 Ton, 1 Ton, 2 Ton and 3 Ton Capacity with 10 Ft. or 20 Ft. Lift Chain Lengths
Each piece is proof load tested at 150% of rated load. Conforms to ANSI B30.16, AS1418.2, EN13157
All the hoists have a 4:1 safety factor / PLI available – Products liability insurance available for all the hoist
Warranty – Three Years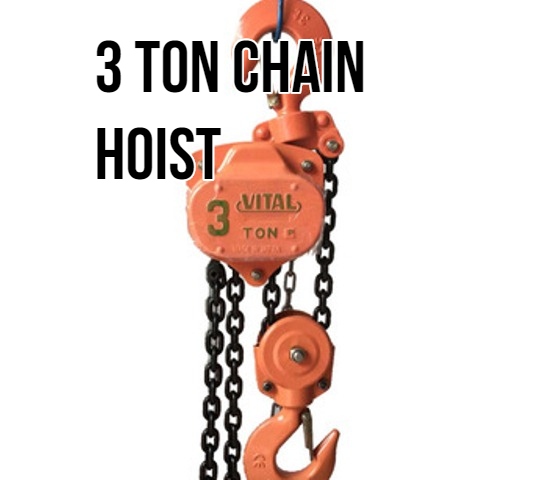 3 Ton Electric Chain Hoist
what is electric chain hoist?
Electric chain hoists are used for lifting or lowering material. An electric motor and controller are utilized to lift, lower and accelerate or decelerate the speed of the hoist. All chain hoists provide true vertical lift, meaning the load does not vary from the hoist centerline during hoisting or lowering.
What is a chain hoist?
A Chain Block (also known as a hand chain hoist) is a mechanism used to lift and lower heavy loads using a chain. When the chain is pulled, it winds around the wheels and begins to lift the item that is attached to the rope or chain via a hook.
How does a chain hoist work?
The electric chain hoist consists of an induction motor with a brake to hold the load lifted on it. It's an electrical panel board and the motor with pulley coupled to the hoist, with a pendant operating station hanging with the help of a steel wire rope at a height of the operator-friendly use.
What's the difference between the chain block and the lever hoist?
A chain block is suitable for the production of the factory, miners, agriculture, electric power, building, goods lifting, vehicle loading, and unloading, etc., especially for open and no power area, more important function.
The term lever hoist may be applied to any small, portable lifting device which relies on the manual operation to lift o lower heavy loads. Lever hoists fall into two main categories: cable or rope hoists and chain hoists. Both variants rely on a ratchet and pawl system to rotate a gear or pulley a pre-set distance that lifts the load. The ratchet and lever mechanism is equipped with a hook or fastener which is used to suspend the lever hoist from a suitable support.
The most read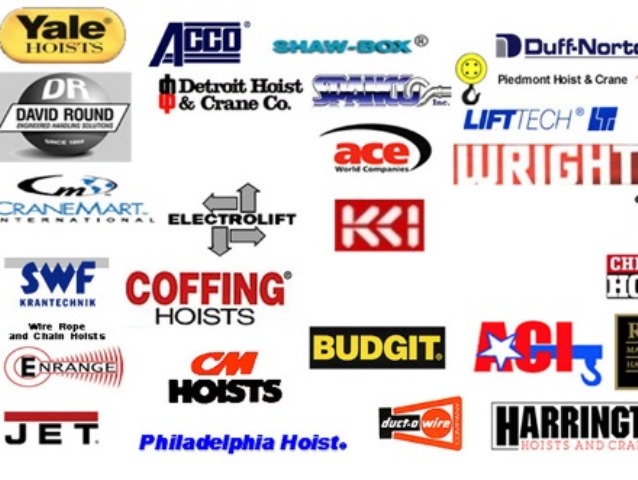 You'll hear opinions about leading chain hoists brand names like Yale, Gorbel, Budget, Coffing, and Harrington.
More on this story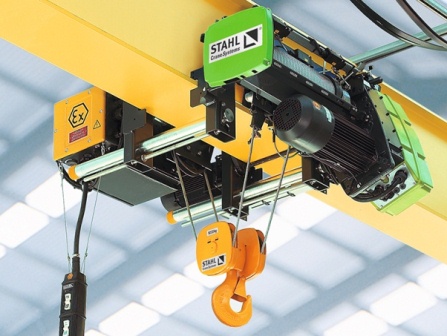 Electric Hoist trolley provides the ability for a simple hoist to become a laterally traversing versatile piece of equipment.