The electric hoist for sale is a specialized device, it is not an easy purchase, you have to have many factors when choosing the model, the capacity, the voltage, the industrial or garage use.
They can be powered by electricity, pressurized air, or by manual means. The component to which the load is actually attached is called the lifting hook.
The hoist is basically construction and material handling equipment that is used to move materials from the building floor to the upper floor.
Electric hoist for sale
Electric hoists are generally very robust lifting machinery items, designed to operate in an industrial environment. However, this does not mean that they should be maintained or used incorrectly.
Electric hoists are simple devices that give you a great mechanical advantage. By harnessing a small force over a long distance and transforming it into a large force over a short distance, electric hoists can perform heavy lifting and pulling that would otherwise be impossible for one person alone.
The American Society of Engineers and The Hoist Manufacturer's Institute have developed and published standards for hoists, including hoist duty ratings.
These duty classifications are based on numerous factors, including the number of lifts performed per hour over a given work period, the average and maximum load that is lifted, the frequency at which the maximum load is lifted, the average distance the load is raised, and lowered, and the maximum number of stops and starts per hour.
Types of electric hoists for sale
Hoists are material handling machines used to move loads up and down and sometimes left to right. It is possible thanks to the hooks that are fixed with ropes or metal chains depending on the type of hoist.
This metal rope or chain is usually wrapped through the hoist arms which can be operated electrically, hydraulically and pneumatically.
You may have many global hoist manufacturers, but some of the best hoist manufacturers are JCB, Tadano, Yale, etc.
Basically, hoists are divided into many different types that vary according to sizes, applications, and functions, so some of these types of hoists are chain, electric, pneumatic, manual, etc.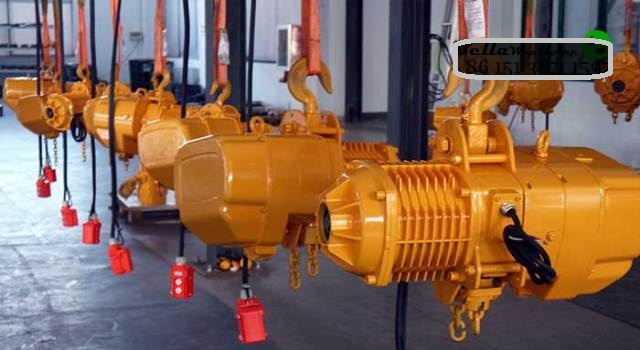 Used hoist for sale
Choosing equipment like electric hoists for your project is not necessarily as simple as ordering the purchase. There are many considerations to consider before placing an order such as the final price.
How to price a used electric hoist?
What to consider before buying a used electric hoist?
If you're looking to invest in a used electric hoist, you can find great deals and capitalize on your investment as long as the equipment you choose has been properly maintained and is now in working order.
A used electric hoist that is kept in good shape will not only be inexpensive, but it will also work like a new device.
This comes down to the fact that you can use a used electric hoist for many years, and with proper care, you can even sell your equipment and get a good return on your investment.
Therefore, the best way to buy a used electric hoist is to inspect it to make sure it is in working condition and serves its purpose for a certain period of time.
Used Electric chain hoist for sale
Initially, all devices come with a series of certificates that guarantee safe and efficient use, but later on, you may need to look for certain signals to make sure that the equipment you buy will be worth the price you pay.
Check if you can detect the presence of cracks in the equipment itself. Cracks or cracks are signs of wear and indicate that you may not be able to use the equipment for a long time. These cracks can lead to unwanted incidents and may indicate that your equipment is not safe for use.
Regular service and proper care really work to preserve and extend the life of an electric hoist and you may want to enlist the services of an inspector to make sure the device is free from bearing, electronics, or bearing issues. gears.
Some companies offer used electric hoists that are backed by warranties and this can give you some confidence to invest in these devices.
There are other factors to consider when purchasing a used electric hoist. You should consider the reputation of the equipment manufacturer when making a purchasing decision and should look for suppliers who can provide you with the necessary documentation related to use and care.
It is a good idea to involve an independent third party in the inspection process. Independent professional inspectors who handle such devices on a day-to-day basis will be in a better position to guide you in purchasing the right equipment.
More on this story