The electric Hoist with Wireless Remote Control is controlled by a keypad with a cable or without cable. A Chain Block (also known as a hand chain hoist) is a mechanism used to lift and lower heavy loads using a chain. Chain blocks contain two wheels in which the chain is wound around. When the chain is pulled, it winds around the wheels and begins to lift the item that is attached to the rope or chain via a hook. Chain Blocks can also be attached to lifting slings or chain bags to lift the load more evenly.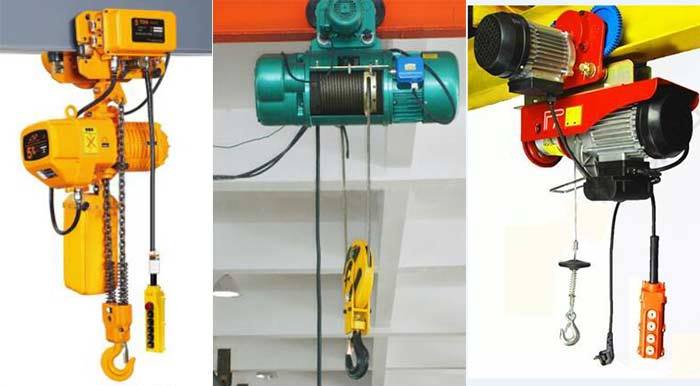 Electric hoist remote control
Electric hoist with remote control, as the name implies, is controlled by a keypad with a cable or without cable. Operators can handle the equipment on the ground. If this hoist is used with a heavy crane, operators may control the machine in a control cabin. But the way of operation on earth is more used for its convenience. All lifting equipment is designed in accordance with national and international standards. Customers can choose a keypad with an electric cable or wireless remote control.
These devices can be used with a stand or a crane. For example, different load capacities. They include 1-ton electric hoist, 2-ton electric hoist, 5-ton electric hoist, 10-ton electric hoist or more. If this hoist is used outdoors, it can be equipped with a rain cover to protect the parts.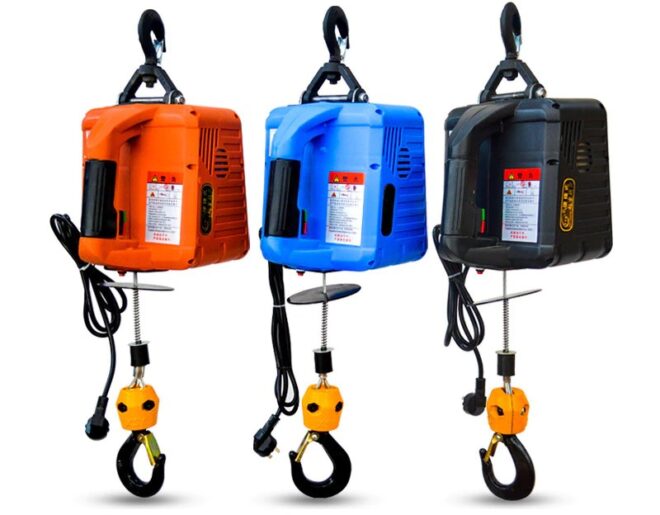 Hoist with wireless remote
How to choose the right electric hoist for your working conditions? – Electric Hoist with Wireless Remote Control
Electrical hoists are a perfect solution for lifting transporting, loading and unloading material. Compared with cranes, mechanical hoists have lighter weight and easier to carry with and move. Different kinds of lifting electrical hoists can adapt to different working classes. electrical hoists for sale have high quality and factory price to meet customers' practical needs.
According to practical working needs, different types of electric hoists are chosen.
For outdoor electric hoist, it has an anti-rain cover;
for electric motor hoist, it has powerful driving motor force;
electric engine hoist, it has reasonable design and compact structure;
for electric rope hoist, it has wide application and durable wire;
for electric pulley hoist, it can move stable with little noise;
electric lifting hoist, it can lift, load, unload material in different places;
for electric monorail hoist, it can be used together with single overhead crane, single gantry crane, and single beam;
for electric cable hoist, it has different lifting capacities to meet customers' needs;
cheap electric hoist, it can save much cost; for low headroom electric hoist, it is suitable for factory not strict for height.
Suspension hoist
Electric Hoist with Wireless Remote Control – Suspension Types:
Hoist Hook
This is where the top of a hoist unit features a 'Top Hook' which easily attaches the hoist to a trolley or beam clamp. Ideal for temporarily suspending off a trolley or beam clamp.
Hoist Lug
This is where the top of the hoist unit has a closed suspension lug (also known as a suspension eye). This is ideal for a hoist permanently being suspended on a trolley or beam clamp.
Push Travel Trolley
is a method of suspension that involves suspending a hoist from a beam with the ability to traverse manually. It allows the unit to travel horizontally across a beam enabling the hoist to travel with or without its load by the operator simply pulling the unit along the beam. When choosing a trolley you should always choose one that matches your hoist's SWL.
Geared Trolley
Same as a push trolley however instead of the operator pushing or pulling the trolley himself a hand chain is provided which turns the wheels on the trolley to make the unit travel, this is ideal for more precise movements and for heavier loads.
Electric Travel Trolley
Exactly the same function as a manual trolley however the user pushes a button on the pendant control or radio control to operate the horizontal travel of the trolley. Electric travel trolleys can be dual or single speed operating. We also supply these as a complete package with the hoist and controls or separately.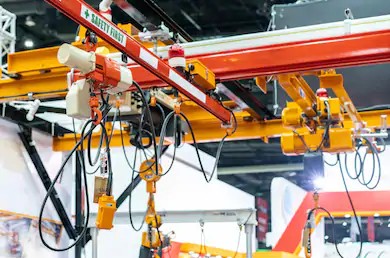 Hoist speed
Dual Speed- This means that the hoist can lift its load using two separate speeds, usually one faster speed and one slower speed. The slower speed is usually used when a load is to be slowly lifted/lowered into position or when the load is fragile. The faster speed is for regular use.
Single Speed- This means your hoist will have one lifting speed, this can be fast or slow depending on the model. Ideal for when budgets are tight or simply user preference. All single phase models feature single speed only.
Hoisting speed is measured in meters per minute.
Travel Speeds
only on hoists featuring electric travel trolleys:
Dual Speed- This means that your hoist unit attached to the electric travel trolley can be moved along the beam easily using two different speeds controlled by the pendant or radio control units. The trolley can travel at a slow speed or higher speed this is easily controlled by the operator for more movements.
Single Speed- is when the electric beam trolley can transport the hoist along an RSJ beam at a single operating speed. The hoist cannot move faster or slower along the beam, single speed is idea for when budgets are tight or simply operator preference. All single phase models feature single speed only.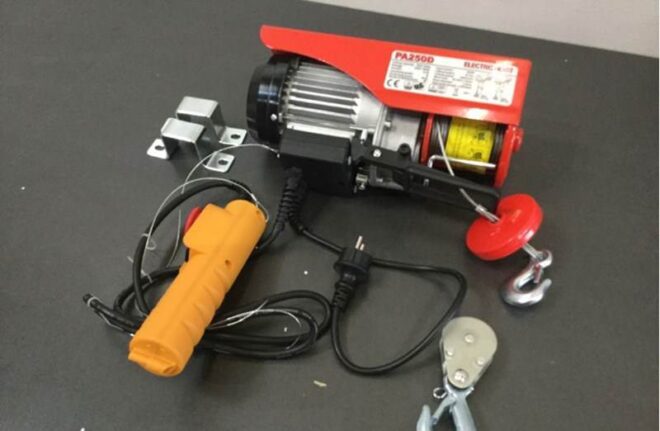 Outdoor electric hoist
Indoor and Outdoor Usage: When specifying your hoist requirements you may be asked if your hoist is for indoor or outdoor usage.
Indoor: All of our standard units are manufactured for regular indoor use. So you don't have to worry if you are using your hoist indoors unless the area is damp or subject to heavy moisture.
Outdoor: When using a hoist outdoors you must specify this when ordering. Outdoor hoists vary from the manufacturer but some of the common adjustments that are made are- Stainless Steel brakes, Weatherproof jackets, IP65 protection level and drainage holes where applicable.
Electric cable hoist with wireless remote control
Electric Wire Rope Hoist Description
The electric wire rope hoist is one of the most popular units for in-home or light use. This hoist has a compact lightweight body allowing you to conveniently move this hoist from place to place as needed. This product will give you the ability to lift those objects that were holding you back from completing your home projects.
Electric Wire Rope Hoists price-performance ratio.
All-electric wire rope hoists are created with the goal of offering the best price-performance ratio. Key components such as lifespan factors are constantly tested and improved in order to offer the best product for the price.
Control System
This electric wire rope hoist comes standard with an industrial wireless remote control, which is waterproof, shockproof, and can be operated from 100 feet away. It also features a safety key and an emergency stop button.
What is an electric hoist with wireless remote control?
In electric hoists, remote control or clicker is an electronic device used to operate another device from a distance, usually wirelessly. The remote control can allow the operation of hoists that are out of convenient reach for the direct operation of controls. They function best when used from a short distance.
How to use an electrical hoist remote control?
An electric hoist with wireless remote control that allows to operate it from distance up to 100 ft. Ideal when the hoist is placed far from the operator or from high beams where conventional wired controls are not practical. The wireless hoist also means a safer site, since the operations can stay away from the lifting area.
What is an electric hoist?
Electric hoist is a special lifting equipment, mounted on the overhead cranes, gantry cranes or Jib cranes. Electric hoist with small size, lightweight, simple operation, easy to use features, usually be used in industrial and mining enterprises, storage terminals and other places.
How Does an Electric Chain Hoist Work?
Electric chain hoists have an induction motor and a break to ensure the load is held when lifting (enabling heavy objects/loads to be lifted safely). The motor converts electrical energy that is fed into mechanical energy which can then lift the load/weight.
The most read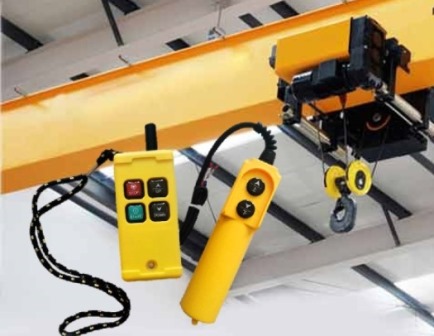 One safety measure that is now widely adopted is the use of a wireless remote control system with a switch to control the electric hoist rather than using pendant or cab controls.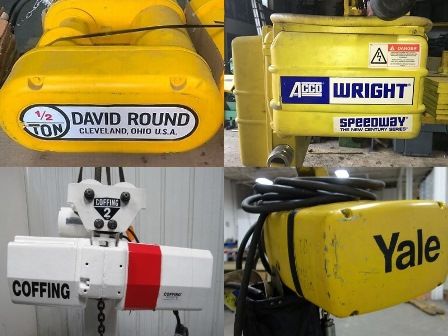 You'll hear opinions about leading chain hoists brand names like Yale, Gorbel, Budget, Coffing, and Harrington. These hoist manufacturers have been in business for decades.
More on this story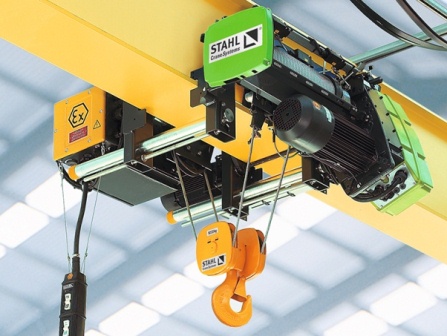 Electric Hoist trolley provides the ability for a simple hoist to become a laterally traversing versatile piece of equipment.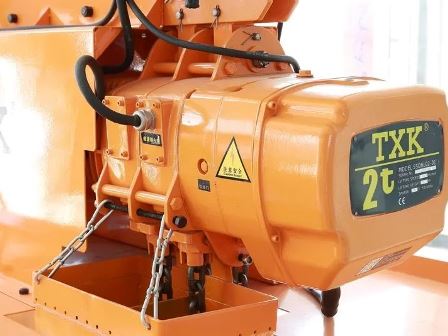 Whether you need to lift a load as light as 500 lb. or as heavy as 2 tons, you'll find a manually operated chain hoist here that can help you handle it.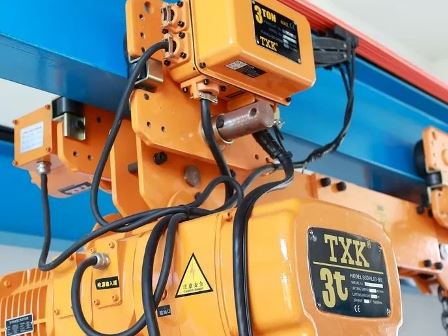 Electric chain hoists of 3-ton capacity can be used for many different applications.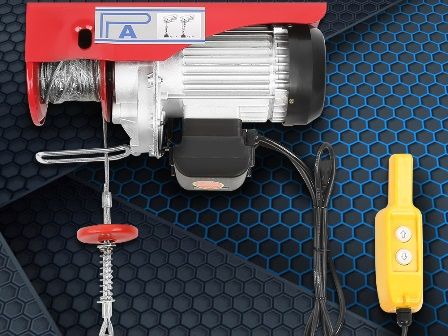 When operating equipment and machinery, there is always a safety risk. Radio remote controls serve as a value-added solution to this underlying problem.