Rough terrain forklifts or high capacity forklifts have become a common piece of equipment in all aspects of the construction industry.
Masons use them to load a block onto scaffolds, carpenters use them to move lumber, and ironworkers use them to bolt up structural steel.
Manufacturers have designed fork trucks with booms that will extend over 100 feet! Some fork trucks are even equipped with controls that can be operated from an attachable work platform.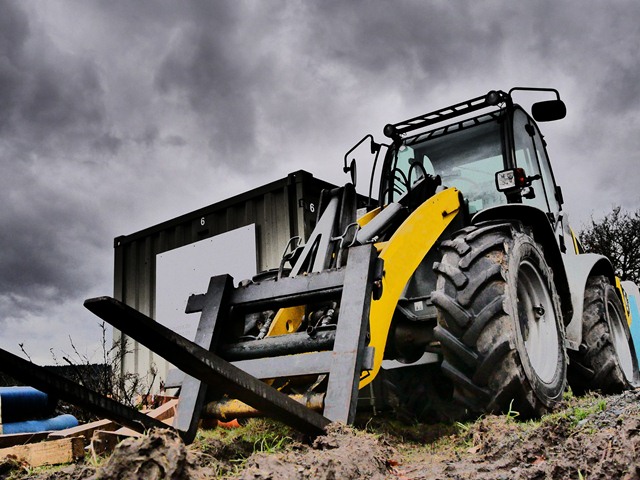 Different types of High Capacity forklifts
Rough terrain forklift or High Capacity Forklift types:
Rough terrain masted forklift
Straight mast forklifts are the upright vertical assembly on the front of the machine, raising and lowering the load. All forklifts of this nature work through hydraulic displacement for lifting, and gravity for lowering, but there are different mast types with various benefits.
Single-Stage Mast: A single-stage mast has one channel and limited lift height. These types of forklift are used for low lift heights. The forks attached to a single-stage mast have a limited capability in terms of reach and loads.
Two-Stage Mast: Also used for lower lift heights and full free lift applications, the two-stage masts are common in high capacity forklifts of 15,000 lbs and above.
Three Stage Mast: The most common of forklifts, the three-stage mast has three sections that extend the forks to their maximum lift height capabilities. They are used when a single or double stage mast just isn't enough, for higher loading and unloading requirements.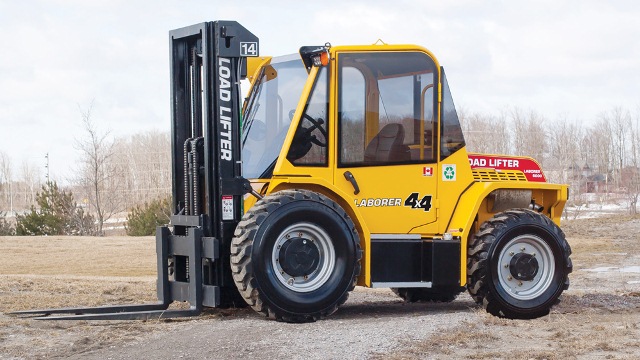 Articulated forklift rough terrain
An articulated forklift is adaptable to various surface conditions, it is suitable to operate on soft soils, grass, terrain, mine sites, and many other rugged surfaces. Extensive range of attachments is available for this model to extend its working capacity for heavy-duty mining.
Full hydraulic mechanic automatic transmission and steering system for flexible and easy handing.
Large hauling capacity from its double-axle four-wheel drive for improved safety and stability
Articulated body design reduces turning radius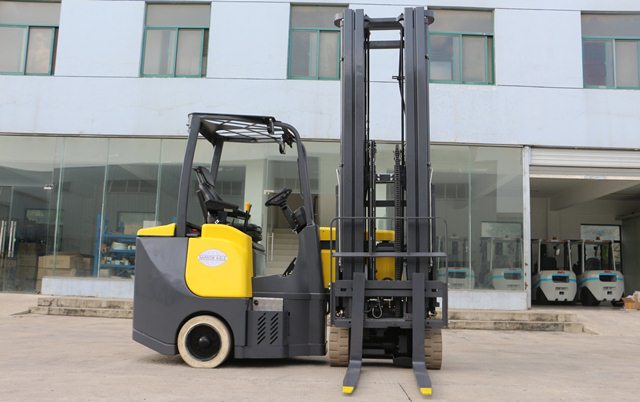 Telescopic rough terrain forklift
A telescopic forklift, also called a telehandler handler, is a lift truck that has an extendable boom. Telehandlers have become a mainstay at construction sites due to their ability to maneuver loads into precise locations and to reach over construction debris. Although they provide maximum utility at a worksite, they tend to cost more than their main competition, straight mast forklifts.
Rough terrain telescopic forklift
A telescopic forklift is a powerful machine that can provide a number of benefits to your business. The most desirable features of telehandlers include:
Versatility: The ability of telehandler forklifts to perform the work of both cranes and lift trucks.Their capacity to perform large and small jobs in a multitude of settings makes them the "Swiss Army Knife" of forklifts.
Precise positioning: The ability of a telehandler to move loads upward and forward allows them to do much more than conventional forklifts.
Steering: The possible steering modes on telescopic forklifts include two wheels, four wheels, and crab.
Attachments: Adding to a telehandler's versatility is its ability to be outfitted with numerous attachments specific to the job at hands such as tongs for picking up drums, flat panels for non-palletized items, buckets for transporting workers, a palate fork, and muck grab.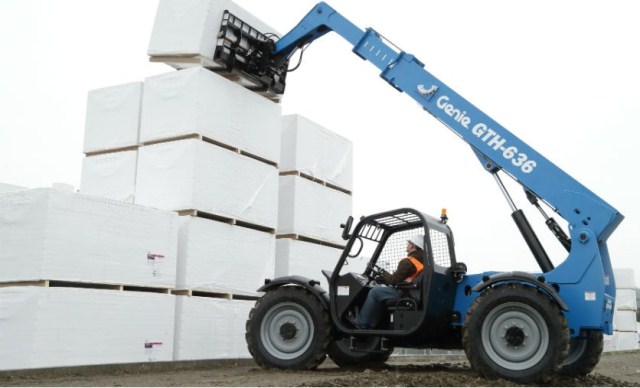 High Capacity forklift safety
MIOSHA has investigated serious injuries and fatalities related to fork trucks contacting overhead power lines, fork truck roll-overs and the use of inadequate aerial work platforms on fork trucks.
The possibilities for use of the rough terrain fork truck are endless.
Along with all this newer technology and methods of using fork trucks, there are more reasons to be concerned about safety.
The operators of fork trucks must have the appropriate training and skill to safely operate the specific equipment they are using.
The employer is required to provide certification of training for employees that are assigned to operate a rough terrain forklift.
The training requirements for a fork truck with or without a personnel platform are the same as those for a powered industrial truck.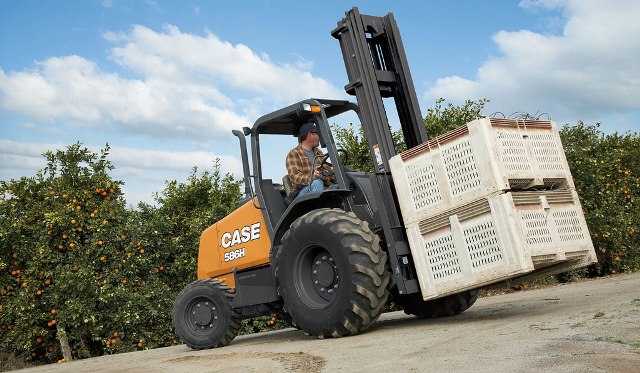 High Capacity forklift certification
operating safety rules and practices
Operator Responsibility
Safe operation is the responsibility of the operator. The equipment can be dangerous if not used properly.
The operator shall develop safe working habits and also be aware of hazardous conditions in order to protect himself, other personnel, the rough terrain forklift truck, and other material.
The operator shall be familiar with the operation and function of all controls and instruments before undertaking to operate the rough terrain forklift truck Before operating any rough terrain forklift truck, truck operators shall have read and been familiar with the operator's manual for the particular truck being operated; they shall also abide by the safety rules and practices according to the Manufacturer's recommendations and Brieser Safety Policies.
Before starting to operate the rough terrain forklift truck:
Be in operating position and fasten a seat belt, if so equipped;
Place directional controls in neutral;
Disengage clutch on manual transmission-equipped rough terrain forklift trucks, or apply a brake on Powershift or automatic transmission-equipped trucks;
Start engine.
High Capacity forklift license
Do not start or operate the rough terrain forklift truck, any of its functions or attachments, from any place other than from the designated operator's position. Keep hands and feet inside the operator's designated area or compartment.
Do not put any part of the body outside the operator compartment of the rough terrain forklift truck.
Never put any part of the body into the mast structure or between the mast and the rough terrain forklift truck.
Never put any part of the body within the reach mechanism of the rough terrain forklift truck or other attachments.
Understand rough terrain forklift truck limitations and operate the truck in a safe manner so as not to cause injury to personnel.
Safeguard pedestrians at all times.
Do not drive a rough terrain forklift truck up to anyone standing in front of an object.
Exercise particular care during backing and other operations where pedestrians may step into the path of travel of the truck.
Do not allow anyone to stand or pass under the elevated portion of any rough terrain forklift truck, whether empty or loaded.
Do not permit passengers to ride on rough terrain forklift trucks unless a safe place has been provided by the manufacturer.
High Capacity forklift operator training
When using a rough terrain fork truck that is equipped with a work platform to elevate personnel.
Such work platforms must be designed and built to specifications and must be positively secured against the back of the forks with a mechanical device so that the platform cannot tip or slip.
Lifting and Digging Equipment addresses "Multi-purpose machine" means a machine with removable forks or tongs that is configured to hoist by means of a winch or hook and can horizontally move a load.
When a Rough terrain fork truck is configured in this manner. Requires that a minimum distance of 10 feet be maintained from an energized power line.
This minimum distance increases as the voltage of the electrical source exceed 50 kilovolts.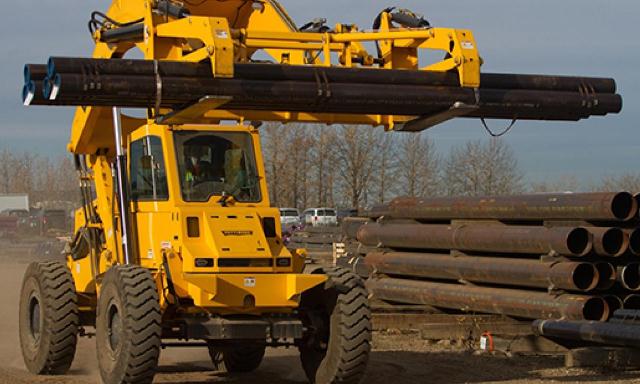 Rough terrain forklift training
Safety practices when operating rough terrain fork trucks:
Allow only qualified employees to operate the equipment and only to the ability of their training.
Perform an inspection of the equipment. Check all functions, equipment and safety devices.
Make sure back-up alarms are working properly. Use a signal person when the operator cannot visually see.
An operator must wear a seat belt at all times when operating the fork truck.
Take care when traveling on uneven ground and slopes. Keep the boom and load as low as possible when traveling.
Maintain proper clearances from power lines.
Do not allow any "riders" on the equipment.
Be sure to lower the boom, shut off the engine, and engage the parking brake when exiting the operator's station.
Do not park the fork truck on an incline and leave it unattended. If you must park on an incline, block the wheels.
Do not leave the fork truck unattended. The truck is unattended when the operator is 25 feet or more away and in view, or at any time the truck is not in view of the operator.
Do not allow anyone to stand or pass under the elevated portion of a fork truck, whether empty or loaded.
Do not exceed the rated load of the machine or the forks.
Make sure all loads are secured.
Drive slowly and in accordance with conditions at the site.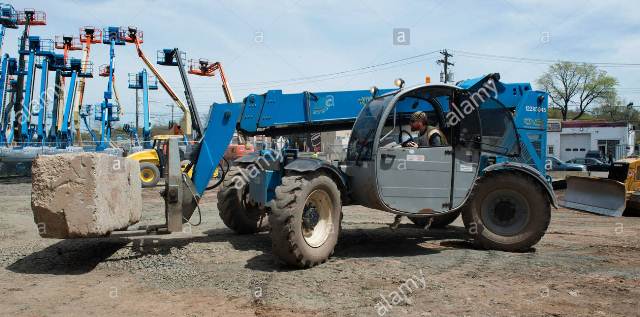 High Capacity forklift trucks
Additional safety practices when elevating personnel:
A pre-lift meeting should be conducted.
Securely attach the work platform to the back of the forks.
The work platform must be in compliance with:

Continuous guardrail system with toeboard.
A safety factor of four times the maximum intended load.
Wood planking, steel plate or grating bolted or welded to the bottom of the platform.
A permanent sign that specifies the maximum number of passengers, the work platform identification number, and the maximum rated load.
High-visibility color or marking.

The floor dimension width of the work platform cannot be more than the overall width of the truck measured across the load-bearing tires plus 10 inches on either side.
The elevated personnel must wear a harness and lanyard that is attached to a suitable anchorage point.
The operator of the fork truck must remain in the operator station while an employee is elevated.
No horizontal movement (driving) while an employee is elevated. Employees must exit before repositioning the fork truck.
Do not use the guardrails to climb up on, support materials, or support other work platforms.
Do not use ladders, planks, railings, or other material to gain more height or reach.
Rough terrain forklift manufacturers
Forklifts are a crucial element in any warehouse operation. These tools allow your team to quickly (and carefully) move heavy loads to and from the loading dock with relative ease. However, one question that a lot of warehouse and supply chain managers have is this:
"Which forklift is the best one for my"

Another common question related to this one is:
"What forklift manufacturers can i trust?"
Forklift equipment can be expensive. Therefore, it's important to get a good, reliable forklift because faulty or unreliable products can lead to holdups at your distribution center—or worse, injuries. But, how can you identify a reliable forklift manufacturer?
One way is to look at how well a manufacturer is performing—trustworthy manufacturers tend to see a lot of repeat business and growth. Another is to check out how they're rated by the users of their products—manufacturers who make shoddy products tend to get a lot of complaints online while reliable ones tend to be highly-rated.
The following manufacturers are all featured in the list, in order from most revenue in 2017 to least:
JCB rough terrain forklift
Caterpillar rough terrain forklift
Manitou rough terrain forklift
Toyota rough terrain forklift
CASE rough terrain forklift
Rough terrain forklift prices
The rough terrain forklift, also known as an "all-terrain forklift", is a bigger, meaner, beefier version of the standard forklift. It's like a factory forklift on steroids. It's got more power, more torque, and a giant set of tires to go along with it.
These lift trucks look more like tractors than they do forklifts. All-terrain forklifts are made to go to all the places a tractor can. The major difference is they have forklifts on the front instead of a bucket. It's the preferred forklift truck for construction sites, ranches, and farms.
There's naturally an added cost with all of the added bulk, power, traction, and capabilities of a rough terrain forklift. They can be purchased for as little as $20,000 and can cost upwards of $100,000 for a nice, new unit. Below we have provided some sample prices for rough terrain forklifts.
A new 6000LB Mast Explorer Diesel powered with Pneumatic tires runs about $36,000.
A used 2006 Genie Rough Terrain Forklift will cost around $44,000 to buy.
A used Hyster 80c Dually with a 3-speed transmission and dual-drive wheels will cost around $6,500.
$40,000 for a used 1996 JCB Loadall Tele-Fork Lift.
A 1996 Case Rough Terrain Forklift will run around $20,000.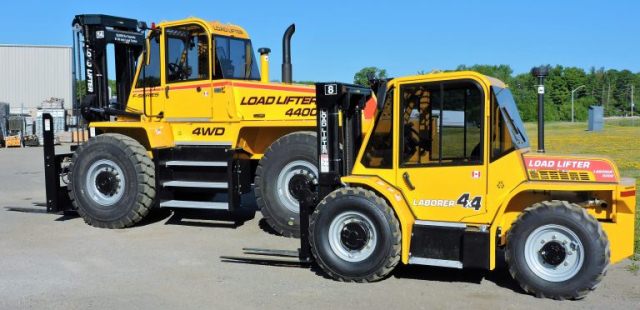 Forklift attachments
The purchase price isn't the only higher cost associated with these machines. Some of the rough terrain machines are twice the size of a standard forklift. They cost more money to repair. The parts cost more. Not only that. The fuel costs are going to be high as well. You need to pump a serious amount of fuel into these things.
The tires are a large expense in themselves. These are not small flat tires that are used for warehouse forklifts. They are giant, pneumatic tires. Each one is the size of a small car. They have deep tread for traction control.
Rough terrain forklift manufacturers
Rough terrain forklifts are designed to run on rough, unpaved surfaces and they are commonly used in outdoor construction sites or in military applications. They have large front tires, and may or may not have four-wheel drive. Rough terrain forklifts are often used to carry materials such as lumber, bricks, steel beams, and concrete.
They make it easier for operators to transport tons of materials over the hazardous ground like rock, wood, sand, mud, snow, and ice. Rough terrain forklifts are capable of lifting materials up to 8,000 lbs with the maximum of height at 30 feet off the ground. Buying a rough terrain forklift is a cost-efficient alternative to rough terrain forklift rental or buying new.
Liftking Rough Terrain forklift
CASE rough terrain forklift
Load lifter manufacturing
Manitou rough terrain forklift
Sellick rough terrain forklift
Liftking Rough Terrain forklift
Liftking is a North American manufacturer of a complete line of Rough Terrain Forklifts, Container Handlers, Military Forklifts, Straight Mast Forklifts, and other Rough Terrain Material Handling Equipment. LIFTKING
CASE rough terrain forklift
Pallets to pipes, CASE H Series rough terrain forklifts get it done smoother, easier and faster. With fast lifting speeds, roading speeds of up to 24 mph (38.6 km/h), lifting capacities of up to 8,000 lbs and a slew of unique features that keep loads level and forklift operators comfortable, this high-performance, Tier 4 Final forklifts truly do raise the bar. CASE Forklift
Load lifter manufacturing
Load Lifter Manufacturing Ltd. has been producing Rough Terrain Forklifts since the mid-70s and offers one of the widest ranges of models in the industry today. Load Lifter forklifts are used in all areas around the globe and cover many applications used in the Construction, Agriculture, Mining, Forestry, Lumber, and Industrial markets.
Capacities range from 4,000 to 30,000 lbs. and lift heights from 8 to 42 feet. The manufacturing facility is located in Toronto, Ontario, Canada and it is from this location that Load Lifter ships products all over the world. Load Lifter Manufacturing Ltd.
Manitou rough terrain forklift
Manufacturing its first truck in 1957, MANITOU is a pioneer in the rough terrain forklift market. By responding to market trends, MANITOU offers a complete line of rough terrain handling equipment adapted to the specific needs of each industry. The long history of reliable, relevant equipment has led to more than 500,000 MANITOU Group machines sold to more than 120 countries. Manitou Rough terrain forklift.
Sellick rough terrain forklift
Originally started in 1969, Walter Sellick along with sons Howard and David converted a Ford 4500 industrial tractor into a 6,000 lb forklift for outdoor use.
From simple tractor conversions in the early 1970s, growth for Sellick Equipment escalated with the development of the integral one-piece frame. The design could accommodate various industrial power trains which lead to brand manufacturing for John Deere and International Harvester. Sellick Forklift
What is a shooting boom forklift?
What is a shooting boom forklift?
Telescopic reach forklifts also called "telehandlers" or "shooting boom forklifts". They utilize a telescoping boom which allows you to place material up and out of reach of other rough terrain forklifts.
How much does an all-terrain forklift weigh?
The average automobile weighs approximately 3,000 lbs and the average forklift weighs close to 9,000 lbs. Also, forklifts are heavier in the rear to counter the weight of items being carried in the forks.
How much is it to rent a forklift?
An indoor, cushion tire forklift capable of lifting and moving 3,000 lbs has estimated rental costs of $100 per day, $250 per week, and $750 per month. An outdoor, pneumatic tire forklift capable of lifting and moving 5,000 lbs has estimated rental costs of $130 per day, $330 per week, and $990 per month.
Do you need a license to rent a forklift?
The answer is a definite "yes," per OSHA requirements. In addition to a license, you need to be certified to use a forklift, and you need authorization from your employer to operate the forklift. This is required in small and larger businesses.
More on this story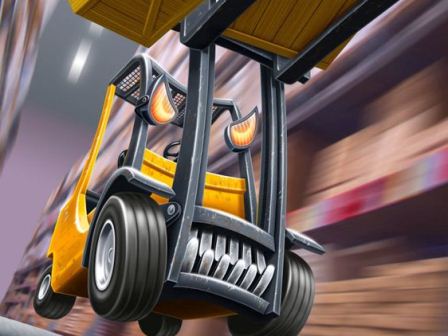 FORKLIFT SAFETY: forklift loader rules, guidelines and regulations, forklift rules and regulations, fork truck safety, forklift training license.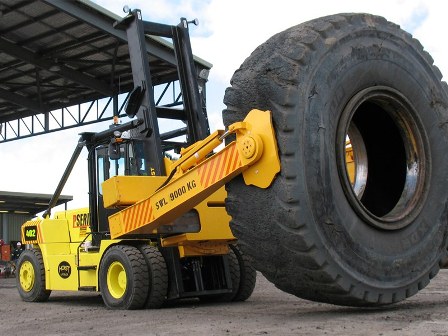 FORKLIFT LIFTING CAPACITY: high capacity forklift loader truck, forklift attachments, side loader forklift, used forklifts for sale, battery.