The importance of the efficient supply of forklift parts and accessories is vital for every company that has more than one forklift at its service.
The availability of forklift parts and accessories not only minimizes inefficiencies and downtime but also maximizes workplace safety.
For most companies, it is necessary to buy accessories and components for gas, diesel, gasoline, and electric forklifts in a wide range of brands, for spare parts and repairs.
Looking for a replacement part for your forklift or reach truck parts?
To keep your forklifts running and your employees safe, high-quality forklift parts and accessories are essential.
Forklift dealers carry an extensive inventory of genuine forklift parts, as well as a complete inventory of quality parts for other forklift brands.
Providers have the widest selection of forklift parts and accessories from the best manufacturers in the business.
Their online catalog includes electric forklift parts, walk-behind stacker parts, sit-down pallet truck parts, scissor lift parts, sit-on, and stand-up stacker and counterbalance truck parts, and in-line pallet truck wheels.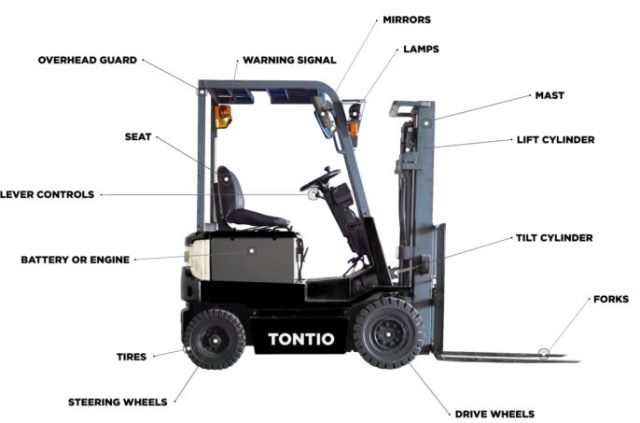 Riding forklift dealer
"Forklift" is a broad term that covers almost two dozen different designs.
Buying a forklift can be a significant business expense with prices ranging from $12,000 to $120,000.
Such a wide range of costs is due to factors such as size, lifting capacity, indoor and outdoor application, accessories, and other considerations.
With so many parts and replacements on forklifts, keeping them in good working order is critical to any business.
And because of the type of work they do and the environments they operate in, owners and maintenance personnel need to understand the construction and parts of a forklift to keep them in service.
For this guide, we are focusing on forklift parts.
Toyota forklift parts
Hyster forklift parts
Clark forklift parts
Yale forklift parts
Mitsubishi forklift parts
Komatsu forklift parts
Caterpillar forklift parts
Reach truck spare parts
Forklift parts are what make up the machine you depend on for safe, reliable productivity. Get to know basic forklift parts terminology.
Related Topics
More on this story