Mecanum Wheels Forklift: The fork truck mecanum utilizes uniquely designed wheels for omnidirectional movement.
Around the circumference of each wheel are spindles canted at an angle, with each spindle containing a pair of rollers. Each wheel is independently controlled; the speed and direction with which each wheel moves determines the trajectory of the vehicle.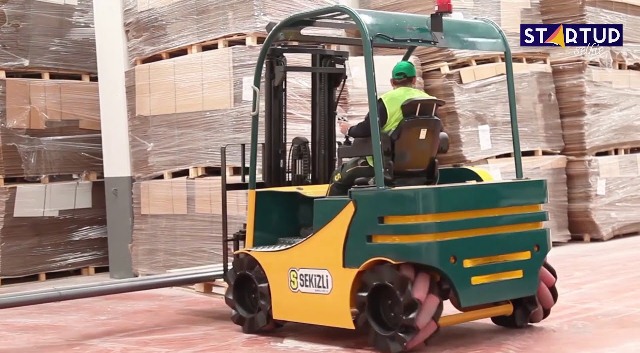 Forklift with mecanum wheels
The wheels can be used for normal directional control for forwarding and backward movement with all wheels going in the same direction. They can also pivot on the spot like a tank using skid steering with one sides wheel goes forward and the other side goes backward. The controls for the forklift is done using 2 joysticks
So how does a machine face forward and drive sideways? It all has to do with the wheels, mecanum wheels consist of a hub with rollers oriented 45° to the axis of rotation.
The angle is important because each wheel can be operated separately which forces of the wheels working in opposite directions to let the rollers to come into play and cause the sideways movement.
These mecanum wheels have been used in robotics for a few years at this point but these new tires for forklifts allow to navigate tight spaces letting you optimize every square foot of space in a warehouse. The full 360 degrees of mobility is perfect for reaching hard to get locations.
Unfortunately, these can't just put slapped on any old forklift, you have to have the proper controls and motors set up but the benefits on mobility seem worth it. It might be interesting to see on other types of vehicles with these wheels, and I have to say these would make parallel parking a lot easier.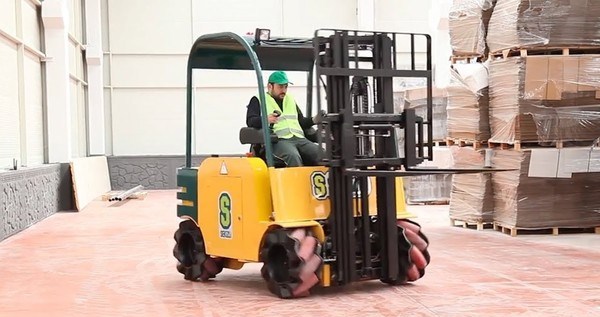 Mecanum forklift
Industrial forklifts excel in applications requiring tight maneuvering or transporting long loads sideways through standard sized doors or narrow aisleways.
The unique, Omni-Directional movement allows it to travel in all directions thus making it an ideal vehicle to work in tight spaces where turns are not possible and finite control is a necessity.
The forklift truck features 48-volt transistor controls with state-of-the-art technology, infinitely variable travel, lift and lower speeds, excellent visibility, ergonomic controls, and operator comfort.
The unique design of the four 21×12 independently driven Mecanum wheels enables the Omni Directional capabilities.
Each wheel is directly driven by individual transaxles. The wheels consist of a large, heavy-duty hub with 12 uniquely designed polyurethane rollers. The wheel and roller design provide the Omni-Directional movement of the vehicle based on the speed and direction of each wheel as determined by the operation of the traction joystick. Each roller incorporates bearings that do not require periodic greasing or maintenance under most conditions. Since each roller rotates freely, scrubbing against the floor is minimized while turning or moving sideways.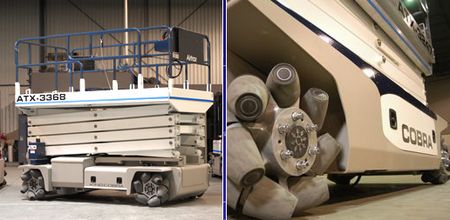 How do mecanum wheels work?
Mecanum wheels, also known as Omni wheels or ilon wheels, consist of a hub with rollers oriented 45° to the axis of rotation. Perfect for tight spaces, they enable conventional forward & backward movement as well as side to side and even rotation. To accomplish this, each wheel turns independently.

Omnidirectional forklift
Forklifts have greatly facilitated indoor and outdoor materials movement in manufacturing and logistics companies all over the world. The Omnidirectional forklift is a unique kind of forklift that is equipped with omnidirectional wheels. Unlike regular or 4-way forklifts, Omnidirectional forklift not only moves in two or four directions but in all directions. This has the potential to ease the handling of materials and products in production facilities or warehouses.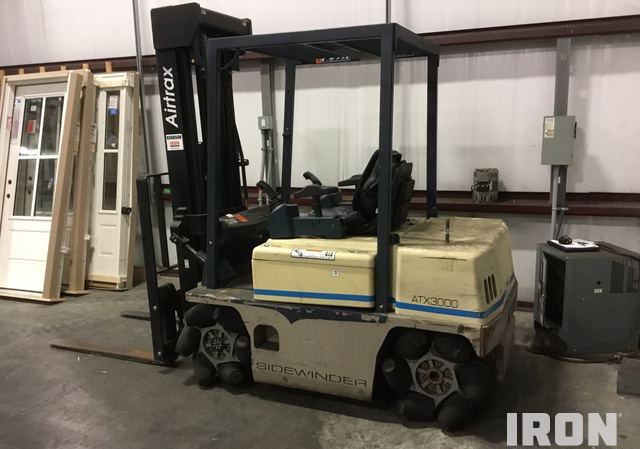 Forklift design
Design and Features
Omnidirectional forklift: is designed based on a unique mobility technology that allows 360 degrees movement. The machine is equipped with a synchronous motor drive that is responsible for its high-energy efficiency. Omnidirectional forklift consumes about 30-50% less power than similar devices. There is also a patented SAE safety system that helps the driver to avoid collisions and crashes.
Versatility
One of the many unique features of the Omnidirectional forklift is its admirable level of versatility. With a wide range of attachments such as service platforms, lifting beams and alternative forks, the device can act as more than a forklift. The device is designed such that the service tools can be changed easily.
Battery-powered forklift
Special battery trolley
In addition to its energy-saving operation, Omnidirectional forklift further comes with a special battery trolley that houses an extra battery. The operator can easily replace the machine's battery, giving room for 24-hour operation.
Driving a forklift
Two driving modes
To suit the needs of a wide variety of factories, Omnidirectional forklift has two driving modes. The driver has the freedom to choose between driving the forklift like the omnidirectional truck it is designed to be or driving it like a conventional forklift. Switching between the two modes could prove very useful for drivers that alternate between straightforward and difficult terrains.
Perfect control
The patented safety system ensures the driver has perfect control over the Forklift at all points in time. All important operating parameters such as speed and stability are controlled by the safety system. The driver can concentrate on the core task at hand, rest assured that the machine would not overspend or tilt over.
Ergonomic design
An omnidirectional forklift is designed to be comfortable and safe for both the driver and other workers alike. The design is such that the driver has a full view of the work environment thus minimizing collisions. All the controls of the machine are also situated at points where they can be easily seen or operated by the driver.
What is Mecanum drive?
What is Mecanum drive?
Mecanum drive is a method of driving using specially designed wheels that allow the forklift to drive in any direction without changing the orientation of the robot. A mecanum forklift can move in any direction without first turning and is called a holonomic drive.
How do mecanum wheels work?
Mecanum wheels, also known as Omni wheels or ilon wheels, consist of a hub with rollers oriented 45° to the axis of rotation. Perfect for tight spaces, they enable conventional forward & backward movement as well as side to side and even rotation. To accomplish this, each wheel turns independently.
How are forklift tires measured?
Usually, the tire size is printed on the sidewall. However, if it isn't printed on the tire or it has worn off then you'll need three measurements to determine the correct size tire for your machine. You'll need to measure: Outside Diameter, Width Of The Steel Band, and Inside Diameter.
When should forklift Tyres be replaced?
As a general rule, when there is less than one inch from the lettering on the tires to the top of the tires, it is time to change the tires. Did you know: after a tire has worn 40%, the forklift and the driver will absorb over 84% of the shock if it's being run over a rough surface.
What is a solid pneumatic forklift tire?
There are two types of pneumatic tires – solid and air. Solid pneumatic tires are made of solid rubber. These are more expensive than air pneumatic tires because you can't pop, puncture or gouge them as they are 100% rubber.
They're ideal for lumber yards and scrap yards where there is a lot of sharp metal scrap debris and nails. Like solid pneumatics, air pneumatics work well outdoors on asphalt, in gravel, and in yards, but they can be punctured so you'll want to make sure your work area is free of any sharp objects before you begin making your lifts. Air tires also tend to give a bouncy ride and thus, air pneumatic users foam fill their tires, giving themselves a smoother ride than the one experienced on solid pneumatic tires yet a less bouncy ride than pure air-filled.
The most read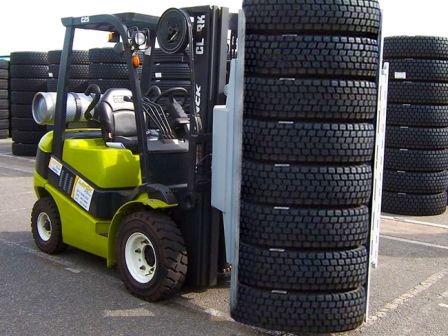 Forklift Tires are one of the decisions that affect the budget of a company, so you have to find out and compare what models exist in distributors.
More on this story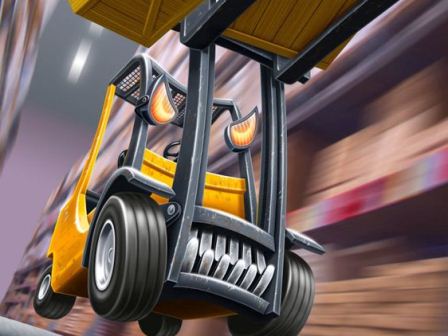 FORKLIFT SAFETY: forklift loader rules, guidelines and regulations, forklift rules and regulations, fork truck safety, forklift training license.