Preferred for outdoor operations, pneumatic forklift for sale are perfect for a wide range of applications, from a warehouse, lumberyard to the loading dock.
They are a solution for standard warehouse aisles and outdoor applications.
Pneumatic forklift tires for sale
Can you put pneumatic tires on a forklift?
Forklift tire types and uses
These are just some of the possible benefits of using pneumatic forklifts in your workplace:
Superior Traction
Pneumatic tire forklifts provide excellent traction on rough terrain and challenging surfaces and are generally the equipment of choice for outdoor jobs, including warehouses and construction sites.
Increased Headroom
Forklifts built for outdoor use with pneumatic tires generally have a larger chassis and more headroom than indoor shock-absorbing tire models, which means they provide superior maneuverability and greater clearance on road surfaces. gravel and other rough terrain.
More efficient refueling
Since most pneumatic forklifts are powered by an internal combustion engine, refueling is as simple as pumping in some diesel or changing a propane tank; This is an advantage over battery powered lifts that require significant downtime to recharge.
Smoother Ride
Forklifts with damping tires can be operated outdoors in certain conditions. However, since forklifts are not equipped with a suspension system, those that travel with air tires offer more comfort to the operator.
Forklift tire replacement cost
Forklift tires are a large part of operating costs – 20% to 30% of a forklift's total lifetime operating expense goes to tires.
Worn tires reduce productivity and take up to 10% longer to cover the same distance.
Operator comfort, and therefore productivity, is also closely related to the condition of the tires.
Tires are the only shock absorber on a forklift. Comfortable operators do more work.
When you want to replace your forklift tires look for these signs that you need new tires:
Chunking (missing sections of tread from a tire as though sliced or torn off)
Gouging (pieces missing from tire)
Flat spots
Separation of rubber from the wheel.
Tire volume loss
More on this story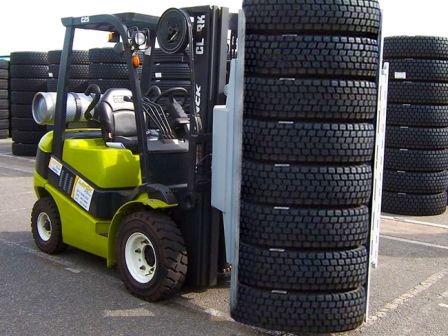 Forklift Tires are one of the decisions that affect the budget of a company, so you have to find out and compare what models exist in distributors.