The Telescoping Gantry Crane can be positioned anywhere you need to lift and position materials. Standard adjustable height 8 ft to 12 ft.
Portable Gantries: Reach all corners of your plant. Lift and move materials, or use for pulling motors, equipment, and other heavy machinery. Quick disassembly for transport by a service truck.
Adjustable Gantries: Adjust height, span, and tread for use on uneven floors, through doorways, aisles, and under mezzanines or other overhead obstacles. Excellent gantries for warehouses and welding shops.
Relocatable Gantries: Virtually all Spanco Gantries are relocatable, making them ideal for rented facilities or future workflow changes
Track-Mounted Gantries: Manual or motorized travel over a fixed route make our track-mounted gantries a great choice.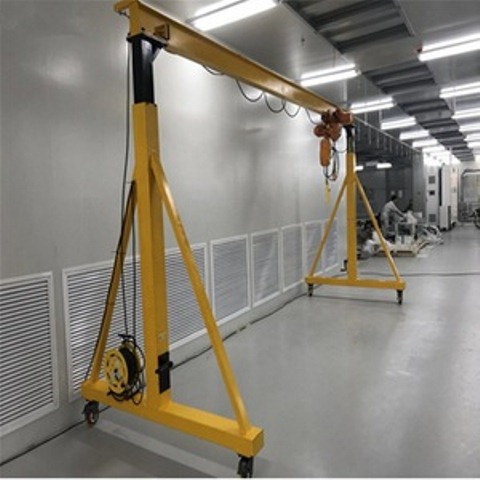 Types of Gantry crane
Adjustable and Portable gantry crane: A portable crane that you can position anywhere you need to lift and position materials.
Adjustable gantry crane
The Telescoping Gantry Crane is an adjustable height gantry crane. Adjustable ranges include 8′ – 12′ and 12′ – 16′. This gantry crane is a great option for when you need a portable crane that can have the height adjusted. With ranges from 1 Ton to 5 Ton, this gantry crane is suitable for a wide range of lifting jobs. Compatible with most hoists and trolleys.
Portable gantry crane
You can move this gantry crane anywhere in your work area with its easy to roll swivel steel casters. The wheels have brakes so your gantry crane will be able to lift safely. Simply release the brakes when you want to move your gantry crane elsewhere.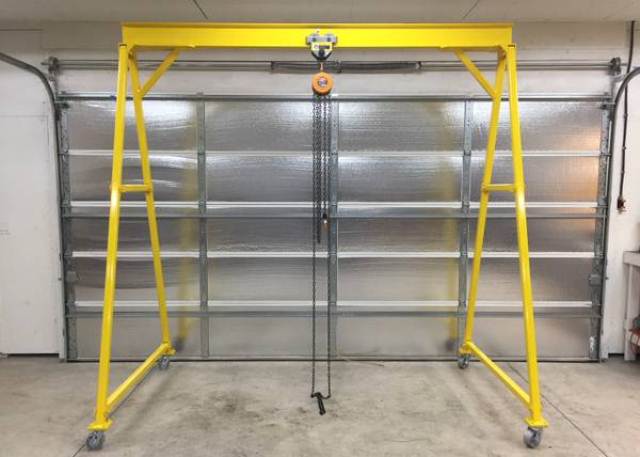 Titan telescoping gantry crane
The Telescoping Gantry Crane by Titan Attachments is what your shop needs for all lifting and loading tasks.
The adjustable boom raises and lowers to accommodate varying heights.
The 4 locking casters make moving and transporting easy and provide a sturdy base when lifting.
The 1/2 ton capacity covers a large range of items and equipment that can be lifted.
Trolley or hoist not included.
1 ton capacity telescoping gantry crane
Gantry crane Specifications:
Load Capacity: 2000 lb. (1000kg)
Item: Adjustable Gantry Crane
Min. I Beam Height: 114″
Includes: (4) Position Locking Swivel Casters with Roller Bearings
Max. I Beam Height: 144″
Gantry Crane Span: 8 ft.
Color: Gray
Wheel Diameter: 8″
Wheel width: 2″
Adjustable Increments: 6″
Caster Material: Glass/Nylon
Caster Type: (4) Swivel
I Beam Flange Width: 7.12″
Gantry Crane Clear Span: 6 ft.
Height Adjustment: Adjustable Height
Material: Aluminum
I Beam Height: 6.00″
Titan adjustable telescoping gantry crane
Titan Attachments helps you lift extremely heavy objects in your shop with this 2-ton gantry crane. For the best performance in your shop or on-site, this is just what you need to maximize your efficiency and save space. It can lift very heavy loads of up to 4,000 lb with ease, saving you and your back! Pulleys and other hooks (not included) are easily attached to the top beam.
If you've ever had to keep more than one gantry crane in your shop, this adjustable crane will be perfect for moving from smaller areas with lower headroom to larger ones for your lifting convenience. Each caster has its own brake to keep it safely locked in place while you work. When you're finished, simply lower the height for easy storage out of the way. (Telescoping Gantry Crane).
Titan gantry crane specifications:
Compatibility: Attach most pulleys and other gantry attachments; Includes and fits most mobile push trolleys
Quality Design: Heavy-duty steel is strong yet easy to move around; Supremely large lifting power of 2 tons
Convenient: Cost-effective for areas with infrequent lifts; Easily collapsible; Adjustable height
Dimensions: Max and min-height: 8 ft. – 12 ft.; 102″ long; Weight: 370 lb; See Specifications section for complete dimensions
Usage: Wheel over heavy objects and lower hook from crane to lift; Objects can be slid across the track as needed
Telescoping gantry crane plans
Telescoping gantry crane: Engineering Considerations:
Crane capacity is a function of the height, width, and beam options. Plans include several graphs showing the effects of the beam type, length and under beam clearance with instructions for choosing. Since these plans cover a wide range of options, prepare for some figuring. You'll need to know the required load, span width, and how tall (and short) the crane must be.
Load capacity for the crane is a static vertical load and is highly dependent on materials used, construction techniques, assembly methods and load distribution. Capacity numbers quoted are extremes.
Several beam choices are available, including aluminum. Higher (taller) cranes and wider (span) cranes have lower capacity. Load capacity does not compensate for capacities for trolley, cables, chains or other hoist equipment used. Do not exceed manufacturers' limits. Always use Extreme Caution when lifting. Here is some more good Crane Safety advice.
Telescoping Gantry Crane: Mobile Gantry Crane Plans
Plans include instructions with lots of illustrations, a List of Materials, and Construction Hints for building the crane.
Telescoping Gantry Crane
What is telescoping gantry crane?
The telescoping gantry cranes are lightweight, versatile, and a low-cost lifting alternative to fixed Overhead Crane Systems. The telescoping gantry cranes contain height adjusting steel locking pins, adjust in six-inch increments and automatically engage when height positioning holes are reached.
What is an adjustable gantry crane?
Adjustable Height Steel Gantry Cranes provide an economical way to lift materials anywhere within a facility. The casters enable you to move the gantry around your work area. This is a more cost-effective lifting solution for areas of infrequent lifts than a more expensive permanent structure.
What is A-frame crane?
With a selection of fixed or portable designs, gantry cranes with frame A are a very popular lifting product for light and medium loads. There are A-frame gantry cranes of various sizes, heights, and lights, which can raise a variety of capacities.
How does a gantry crane work?
Gantry cranes lift the load using a hoist that is connected to the horizontal beam or girder. The beam is supported by pillars at both sides and the hoist can carry objects from one end of the beam to another. The cranes are powered with wheels or rails that can help move it to different locations.
The most read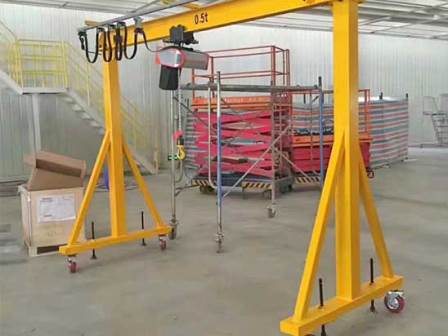 Small gantry cranes are the perfect solution when heavy-duty lifting equipment that is versatile and easy to set up and use is required.
More on this story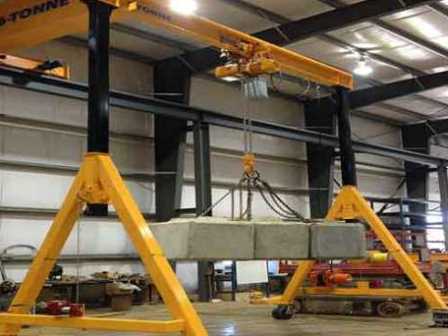 Adjustable Height Steel Gantry Cranes provide an economical way to lift materials anywhere within a facility. The casters enable you to move the gantry around your work area.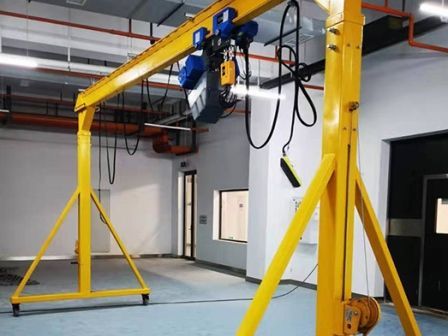 When buying one of this equipment, use and load considerations are necessary, whether they are for work at home or for a workshop.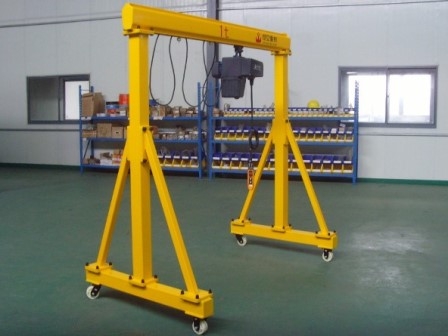 A gantry crane is a serious purchase. Not only are they expensive, but they are relied upon to lift seriously heavy objects.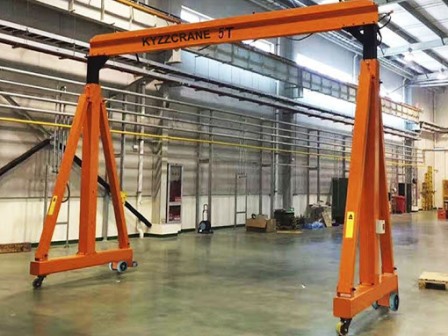 Mobile Gantry Cranes in freestanding, portable, fixed height, or adjustable height configurations that are ideal for your warehouse or workshop.