Forklift operator job description
Duties of a forklift operator
Machine operator jobs
Forklift operator meaning:
Duties of a Forklift Operator: Since forklifts are used today in a wide variety of indoor and outdoor environments, you can expect there to be a significant number of differences in the job description from one employer to the next. Despite the varied environments, there are a few basic responsibilities that tend to remain constant regardless of the employer.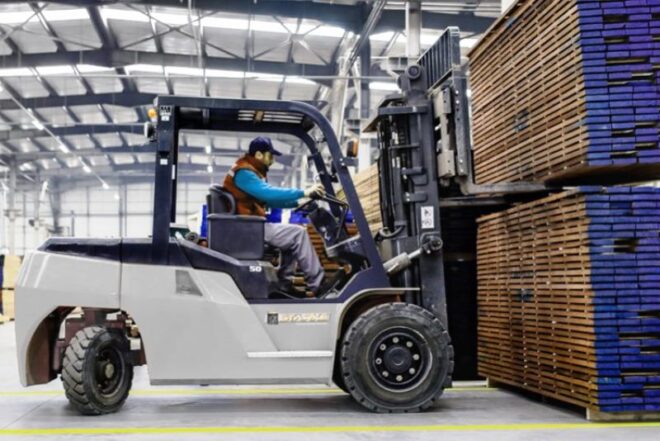 Forklift operator job duties
All operators of lift trucks must be trained and receive a certificate or license to indicate the employee's knowledge, skill, and ability to safely operate a powered lift truck. The certification must include the name of the trainee, the date of the training, and the signature of the person performing the training and evaluation.
Refresher training of the operator's performance must be conducted at least every 3 years by completing the practical training.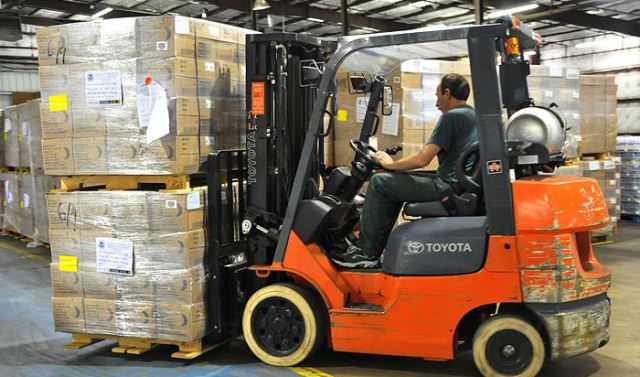 Forklift daily inspection
Safety Inspection
• The safety inspection is performed once per day or shift
• All defects are to be logged daily
Forklift operators must make judgment calls from the beginning to the end of each job.
Some things which must be considered include the weight of the load and the forklift capacity, the stability of the load, the height at which a load must be lifted, obstacles both in the path and overhead where the forklift operator is operating, and blind-spots or individuals who might be sharing the workspace with the forklift operator and vertical incline.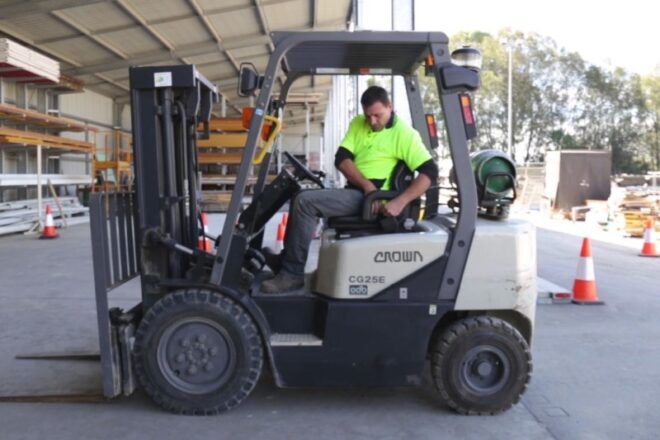 Forklift job duties
Forklift job description:
Before using the forklift, always check to see that the charge is at least ½ full for normal loads and ¾ full for heavy loads. If the load to be lifted is rated at 90% or more of capacity, the charge should be full.
Safety inspections are important because using damaged equipment has the potential for serious accident scenarios.
Operating a forklift that is not fully charged is a recipe for disaster when lifting a heavy load.
Forklift operator responsibility
Pre-op safety inspection
Driving to pick-up load
Load pick-up
Driving load
Setting down a load
Each forklift operator has many responsibilities whenever he or she is engaged in picking up and moving a load. It is easy to become complacent from routine operations. This is why training is an important part of any safety program. Training should include initial hands-on experience, encompassing each element of forklift operation.
Retraining is also necessary to diffuse bad habits and to reiterate important situations, which might have been forgotten by the casual forklift operator. Training always reduces risks.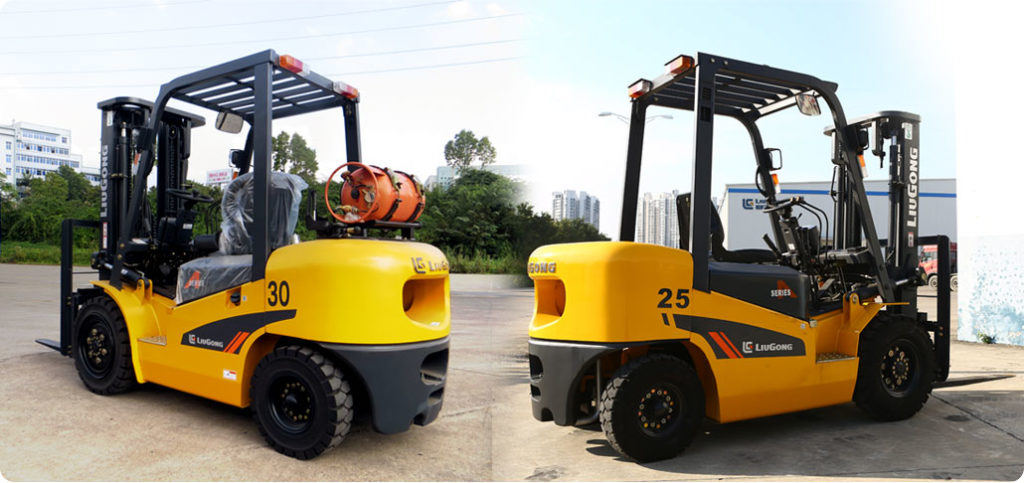 Forklift pre start checklist
Pre-start checklist safety inspections are fundamental to safe operations of the forklift. In addition to knowing the load capacity, operators must be knowledgeable regarding the use of all forklift levers. Always test proper operation and electrical charge of a forklift prior to beginning any lift.
Operators should be cautious of driving forklifts up or down inclines, whether or not they are carrying a load. Drivers should engage forks completely when picking up a load. Loads should only be lifted to a height to clear stacks and then lowered to a position that gives both maximal stability and clearance of obstacles.
Operators should always be aware that they may have to share their space with pedestrians. Therefore, they should always use spotters when driving around blind corners or other areas where visibility is impaired. When approaching a stack to set down a load, the operator must ensure that the area of approach is clear of personnel.
Forklift battery charging
Electric Forks – electric forklift:
Make sure the forklift is charged before using
Minimum charge should be ½ of capacity (3/4 for heavy loads)
Heavy loads drain the battery more quickly
Electrical forklifts have many advantages and disadvantages. There is no exhaust, and therefore they are the vehicle of choice for closed indoor work. Fumes from diesel or gas-powered vehicles will rapidly degrade indoor air quality. However, electrical forklifts must be routinely recharged.
An operator should never begin to use an electric forklift that does not have at least a ¾ charge on the battery. Further, operators must be aware that heavy loads [greater than 90% of load capacity] will significantly and rapidly deplete the load charge on the battery. This is because more work is being done on a heavy load than on a light load.
Topping off batteries must only be done when the battery is disconnected and in an area where there is adequate room for the task. Only qualified [trained] personnel should be permitted to oversee the task of recharging electrical forklifts.
Having been certified as a forklift operator does not automatically confer the ability to recharge the forklift.
Inform your supervisor or facility manager if you feel your electrical forklift requires recharging.
Forklift speed control
Checking Controls
Check that the horn functions
Check the steering mechanism with the engine running
Check the breaks (not more than ½ inch travel)
Check the seat brake
Check that the clutch disengages the transmission
Check the hydraulic controls-lift and tilt levers
All forklift work begins by going through a mental checklist. After checking tires, make sure that the horn and warning backup lights perform as specified when the forklift is put in reverse.
Check that the forklift steers properly both in the forward and reverse directions. Always check the foot brake to ensure it engages when pressed. The travel on a foot brake should be no more than ½ inch.
forklift seats:
Seat brakes are provided on a forklift as a safety device. When someone is seated on the seat, it is possible to operate the forklift. By lifting yourself out of the seat, you should no longer be able to move the forklift either in the forward or backward direction.
Some forklifts are equipped with a clutch. This should always be checked to see whether it will disengage the transmission before making a lift.
Forklift speed limiter
Operators should test all hydraulic controls before attempting to pick up a load.
This includes lift, tilt and horizontal [used for centering a load] hydraulic levers. At the same time, the operator can ensure that all chains move smoothly. All of these actions are required before attempting to lift a load. It does the operator no good to be stuck with an elevated load, which will not move because he or she neglected to test the controls before lifting the load.
It is the responsibility of the forklift operator to ensure that the forklift is in proper working order before attempting to lift or move a load. Operators who have time limits should not bypass these important checklist items in an effort to save time. They should reschedule or pass on their responsibility.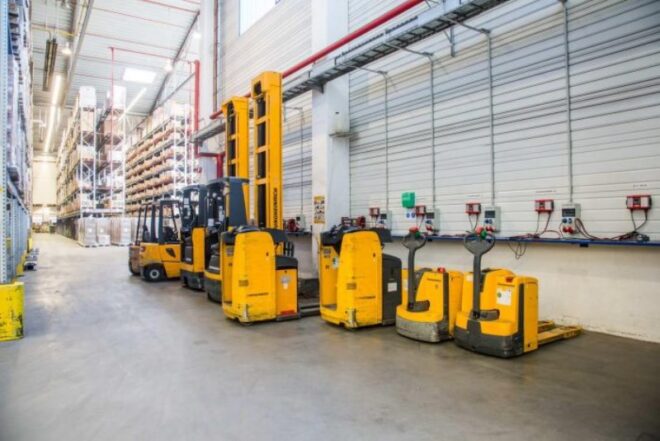 Forklift inspection and load testing requirements
Checking Loads
Check that the pallet is undamaged.
Check that load is banded.
Check that the area is clear of people and debris.
One of the most important aspects of forklift operation is checking the load to be lifted. Most forklift loads are moved on pallets. Alternately loads may be lifted via sling onto a sling a single or both forks.
When using sling care should be taken to ensure that the sling is fitted towards the back of the fork (I.e closest to the forklift frame) to prevent or reduce the risk of sling slippage.
All pallets should be inspected for integrity.
Broken or pallets of insufficient mechanical strength should be replaced.
Small materials on pallets should be shrink wrapped in place before attempting to move any pallet.
Pallet height should also be kept to a minimum in order to increase driver visibility and overall stability.
If vision is impaired by the load height, the driver may elect to drive the load backward.
Also, check to make sure the forklift travel path has been cleared of all obstacles and personnel. Remember pedestrians always have the right of way.
Duties of a Forklift Operator
What are some warehouse forklift driver skills?
Warehouse driver skills that should be included on a resume include organization, planning, time management, inventory control, equipment maintenance, teamwork, documentation, and data entry, and attributes listed should include dependability.
How do you get forklift experience?
It is possible to get a forklift operator job with no experience, but the employee must then go through training and pass all certification requirements. There are stringent regulations that forklift operators and their employers must follow. An individual who is not trained and does not have a proper certification cannot operate a forklift. A forklift operator must have certification or training that follows all local and state laws.
What is the definition of forklift operator?
Forklift operator meaning: A forklift operator is someone who is responsible for operating a forklift to move, locate, relocate, stack, and count merchandise around warehouses, storage yards, factories, construction sites, and other work sites.
The most read
More on this story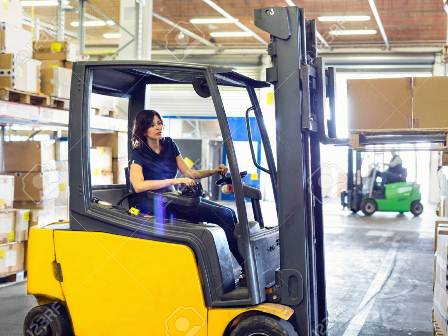 Forklifts are extremely useful workplace vehicles, as long as they are used safely and appropriately by operators who are appropriately trained and competent to use them. Learn about the rules for driving forklifts.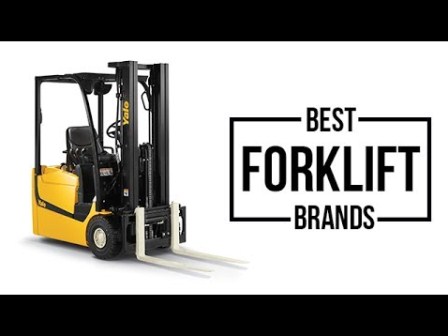 Forklift Brands and models: Which forklift brand is best? Top brands in the world: Caterpillar, Toyota, Volvo, Hyundai, forklift brands and models, top 10 forklift brands.