Robotic forklift system or Automated Guided Vehicles and robotic forklifts are increasingly becoming a mainstay in manufacturing facilities and distribution center operations where tasks are highly standardized, repetitive, and easily accomplished without the need for advanced human management.
While some Automated Guided Vehicle technologies like wire- and track-guided systems are at use in many locations today (and play an intricate role in improving efficiency), new technologies are making AGV forklifts and AGV pallet jacks an even more integral solution in your current material handling operation.
Many observers believe that automated forklifts are on the verge of making significant headway in warehouse applications. So why are driverless industrial trucks getting so much attention now? Who is adopting and implementing them? And what do potential buyers need to know before they make the leap?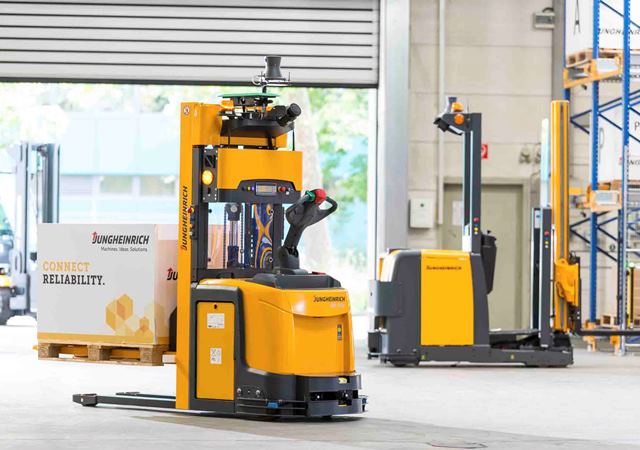 Robotic Forklift system
What if you could automate repetitive picking tasks and free up workers to take on more valuable roles?
With robotic forklift trucks, you can.
Built on standard production chassis, robotic lift trucks allow you to automate repetitive, low value-added tasks by picking up, transporting and dropping off pallets independently and reliably.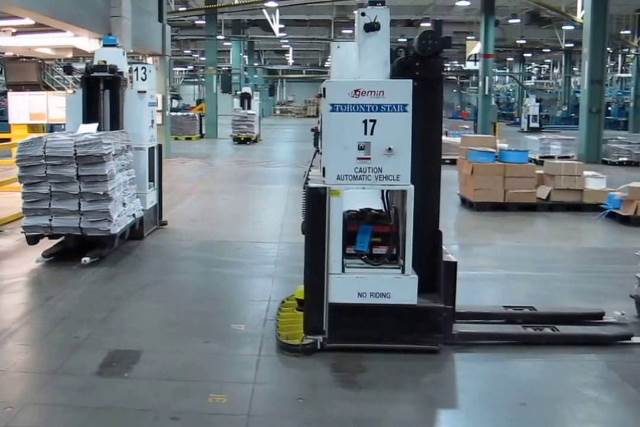 Automated Guided Vehicles
The ideal solution for autonomous logistic applications. Industrial manufacturing associated to its innovative and proven unmanned solutions allows now industrials to optimize their logistics for complex operations inside or outside their premises.
This solution is dedicated to the autonomous management of heavy loads in the industrial environment. It consists of a fleet management system and of one or more Self Driving Vehicles of different types specifically adapted for transportation.
This system operates indoor or outdoor with high accuracy localization working independently from any external device (like satellites for the GPS or reflectors for laser positioning systems).
Robotic forklift cost
Do you face labor shortages, increased SKU counts, and increasing demands to move more, faster than ever before? Then automating your operation with robotics could be the ideal solution to meet your tremendous materials handling needs.
How can you decrease your cost of operations while stabilizing your workforce?
You will always need great people, but good people can be hard to find and even harder to retain. One forklift operator could cost a company up to $25.00 per hour. Fortunately, the average operating cost of a robotic lift truck is $7-$10 per hour. And it won't leave your warehouse for a raise at a competitor down the street.
Your robotic lift truck can be programmed to perform many of the repetitive, day-to-day tasks for your operation. That offers your employees the opportunity to do more rewarding, higher responsibility work, which keeps them happier on the job.
With better retention and lower cost of operation, you could reap the full return of your investment in as few as two years
Robotic forklift trucks
robotic forklift trucks: why choose forklift robotics?
Comprehensive software integration: The robotic software interfaces with systems, giving your supervisory staff a complete view of your robotic "operators" in real-time.
Dual operating modes: A robotic lift truck can run autonomously on its programmed path or be driven by an operator. An operator can take manual control of the robotic lift truck at any time during its operation.
Cost-effective with no added infrastructure: Traditional automatic guided vehicles (AGVs) are designed as highly-specialized equipment that needs costly infrastructure. The forklift trucks add robotic components to a standard production chassis to produce a high-quality, cost-effective solution that requires no added infrastructure. That's right–no laser reflectors, guide wires or magnets needed.
Improved inventory accuracy: The average inventory inaccuracy rate is currently 1.25%.* In an operation with $100M in annual revenues, that's a $1.25M impact. Robotic lift trucks put loads where they are programmed to be, reducing costly time spent hunting for misplaced inventory.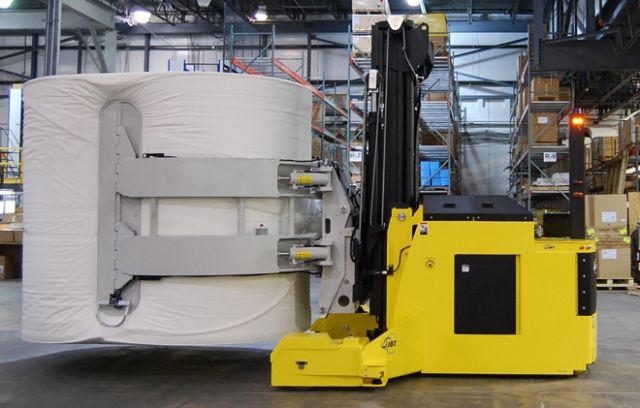 Robotic Autonomous Forklifts
Robotic Autonomous Forklifts Are Revolutionizing Warehouse Work.
Robotic autonomous forklifts are now hard at work in a growing number of warehouses and distribution centers — powered by amazing new technology that enables companies to reduce labor costs, optimize workflow and increase the bottom line.
However, many companies have adopted a wait-and-see approach when it comes to reaping the benefits of robotic forklift technology, impressed by the game-changing capabilities but uncertain whether the added expense would make it a worthwhile investment.
Well, the good news is that as technology continues to evolve, calculations around return on investment are now more favorable than ever.
In industry-wide conversations about robotic materials handling solutions, the question is no longer whether you can afford to consider integrating robotics into your operation. Instead, the question becomes: Can you afford not to?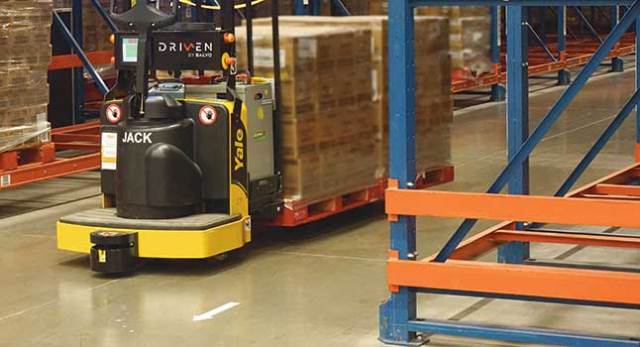 Work automation
As the world begins to adopt more forms of automated systems, it raises concern for the impact on job loss. While robotics can automate and improve efficiency it is not a substitute for all operations and human labor in the industry.
A study shows that 60% of companies are utilizing robotics as an assist to with current workforce rather than to replace it altogether.
This will lead to a fundamental change in the duties assigned to human roles. Repetitive, labor-intensive, and oftentimes potentially dangerous tasks will be replaced by robotics while more crucial and analytical roles will still need a personalized touch of human involvement.
Robotics help boosts productivity, efficiency, resilience, and even safety within a facility, however, humans are still needed to play critical roles in the overall system. The ideal solution is a blend of human involvement and robotic automation.
The pandemic showed the world that the current supply chain model was modeled after a world that does not exist anymore.
Customers demand easy access to products, speed of delivery, and high-touch customer service.
Businesses must evolve quickly to navigate the e-commerce demand and to stay ahead of their competitors.
Businesses that can serve eCommerce customers efficiently and effectively will win market share.
The most read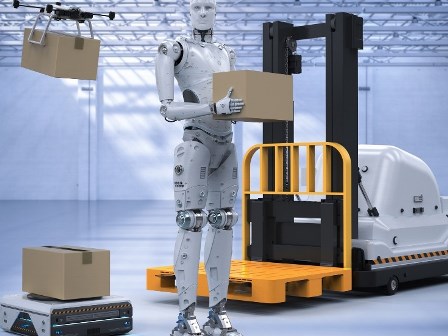 Autonomous forklifts and Systems make a significant contribution to the optimization of processes in intralogistics.
More on this story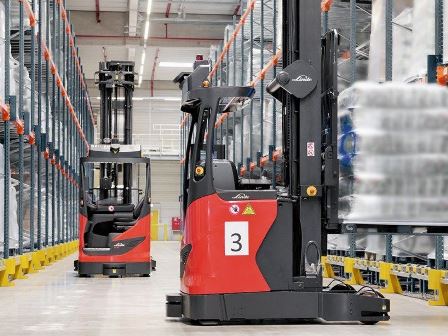 AGVs and AGCs are automated material handling equipment using similar operating components and navigation methods.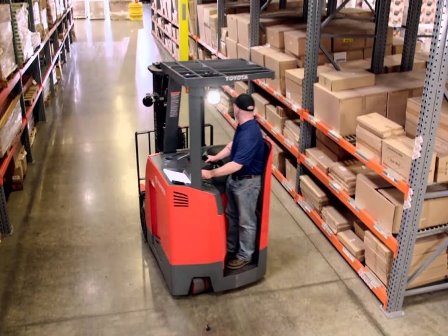 Stand-up forklifts (also known as stand-on and electric riders) are designed for applications where the operator must get on and off the lift truck frequently.