Heavy Equipment Hauling: Trailer Options for Hauling Construction Equipment. Consider carefully all your options for hauling your construction equipment. Use too much trailer, and you're wasting money. Skimp on your trailer choice, and you risk a big headache.
Your equipment's dimensions determine the type of trailer you should use for transportation. Smaller pieces of construction equipment ship on flatbed trailers. Medium-sized machinery fits on step-deck trailers. Larger pieces require Removable Gooseneck (RGN) trailers for safe shipping.

Heavy machinery transport
Signs You Need A Professional Heavy Equipment Hauler
Load size large
The transportation of any large, heavy equipment presents unique challenges, where trying to use the company truck and trailer simply won't get the job done. The proper handling of these oversized machines is essential to preserving the state of your equipment as well as the safety of everyone else out on the roads.
On top of this, heavy haul freight requires certain transportation equipment and vehicles in order to meet legal requirements such as axle restrictions.

Transporting heavy machinery
Distance: The length of your heavy equipment haul can also lead to many logistical challenges for you and your company if attempting to do so using your own means. In order to ensure that everything goes smoothly during your cross-country heavy equipment transportation, you should lean on a company that has been there and done that — time and time again.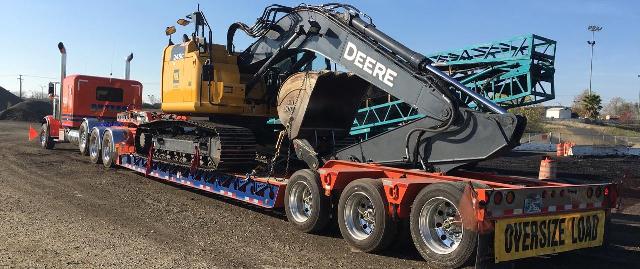 Timely delivery of product
One of the biggest concerns contractors face is the on-time delivery of their cranes and other heavy construction equipment in time to start their projects. When you trust a reputable heavy equipment hauling company with this task, it takes the weight off your shoulders and gives you more peace of mind knowing you have a team with a proven track record for prompt delivery bringing your equipment to you.

Transport and logistics requirements
Permit requirements
Another aspect of heavy equipment hauls is obtaining the proper documentation and permits prior to transporting. Most states require freight to have a permit for the machinery traveling on their highways and depending on the time of year, there can be limited travel hours or additional permits required depending on which states your heavy equipment will be passing through.
Transport heavy equipment cost
No matter what size your business may be, you likely don't enjoy seeing money go out the window on unnecessary costs. While transportation is an unavoidable cost with any industry utilizing heavy equipment, there is certainly a multitude of ways to ensure you aren't spending any more than you have to.
Use proved load and transport techniques that not only ensure the safest and most efficient superload deliveries, but they also cut out the unnecessary costs that you might run into at another company or when attempting to transport heavy equipment by your own means.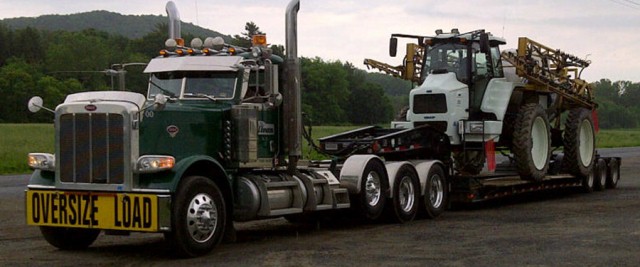 All size equipment transport
Trailer suggestions for transporting construction loading equipment include:
Backhoe Loaders: (flatbed, step deck, RGN) Match the size of the backhoe to the proper type of trailer. Most backhoes travel on RGN trailers because step-deck ramps are too steep to navigate.
Forklifts: (flatbed, step deck, RGN) Smaller warehouse forklifts fit on flatbed trailers, as long as you can load them. Telehandlers usually travel on step-deck trailers. Rough terrain forklifts need RGN trailers.
Skid steers: (flatbed, step deck) Relatively compact, skid steers are pretty easy to ship. They usually fit on flatbed trailers, if they're less than 8-½ feet tall. Topdeck of a step-deck trailer is a great spot too.
Wheel Loaders: (step deck, RGN) Small wheel loaders are backed onto step-deck trailers from the rear of the trailers. Larger wheel loaders are driven onto RGN trailers from the front of the trailers.

Construction equipment hauling
For the largest pieces of construction equipment, specialized RGN trailers are required. We're talking multi-axle, extended length trailers. Bulldozers usually can fit on regular RGN trailers. Street sweepers come in all shapes and sizes, so you'll have to match your equipment with the right trailer type.
Trailer suggestions for shipping heavy construction equipment include:
Street Sweepers: (flatbed, RGN) If your street sweeper is too big for a flatbed trailer, it's likely too big for a step-deck trailer. Step-deck trailers handle around 45,000 pounds; larger gear must travel on an RGN trailer.
Bulldozers: (step deck, RGN) Small bulldozers fit on step-deck trailers. Larger bulldozers require RGN trailers. You back a bulldozer onto a step-deck trailer, but you drive it forward onto an RGN trailer.
Graders and Scrapers: (RGN) Motor graders and motor scrapers can be gigantic, too big to haul. Your smaller motor graders and motor scrapers fit on an RGN trailer. Expect wide load designation.
Articulated Trucks: (RGN) Big off-road dump trucks always travel as oversize loads. You'll need a specialized trailer to haul an articulated dump truck, with extra axles and enhanced suspension.
Heavy equipment shipping
Shipping Earth Digging Equipment
Most earth-digging equipment is used for utility work. Trenchers create the ditches in which pipelayers deposit their pipes. Due to their versatility and maneuverability, mini-excavators have become extremely popular. Full-size excavators are standard equipment on most construction sites.
Trailer suggestions for hauling earth digging equipment include:
Trenchers: (flatbed, step deck, RGN) Walk-behind trenchers fit easily on a flatbed trailer. Larger trenchers, like Ditch Witches, need step-deck trailers. Self-propelled trenchers ride on RGN trailers.
Mini Excavators: (flatbed, step deck) Smaller mini-excavators usually travel aboard a flatbed trailer. Larger mini-excavators fit on step-deck trailers, but you'll need ramps to get them loaded.
Excavators: (flatbed, RGN) Smaller excavators can travel aboard a flatbed trailer. If your excavator is too big to fit on a flatbed trailer, it's likely too large for a step-deck trailer. An RGN is your best bet.
Pipe Layers: (RGN) These crane-like machines are wide, tall and long. They're heavy, too. Most pipelayers travel as oversize loads on specialized RGN trailers. Their dimensions make them difficult to handle.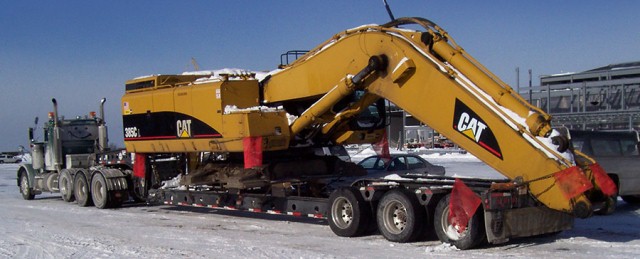 Heavy equipment shipping overseas
How to ship machinery and parts
To successfully ship machinery and machine parts, you must determine the right packaging, mode, and carrier.
Know your machinery. To start the process, assess the item you're choosing to ship. Take note of product dimensions, weight and any other features that could impact freight capacity. Understand the type of machinery you are shipping and research how carriers have moved items like yours in the past. If what you are shipping is uncommon, use what you know about a similar item to anticipate your needs and restrictions.
Package properly. Machinery often brings about more packaging regulations than other shipments. You must balance your shipping needs with the packaging requirements of your carrier.
For example, some carriers require all machinery shipments to be crated. You'll need to add crating costs to the final price to use these carriers.
Know what prep work or loading equipment will be required before packaging your machinery. Heavy equipment often requires lifts and loading dock access in order to get it on the truck.
Identify the appropriate mode. While some machinery and machinery parts are small enough in size and quantity to be assigned to LTL, others are much larger and will require a different transportation mode. In these instances, it's important to consider truckload or flatbed options as well.
Find the right carrier. Finding the right carrier requires you to combine what you know about your machinery shipment with the most relevant carrier you can find. This may be difficult depending on the contents of your shipment. You'll want to find a specialized carrier specific to the kind of machinery you plan to ship.
For example, if you need to ship an x-ray machine, find a carrier that specializes in shipping medical machines. This increases efficiency and reduces the chance of damages or unexpected costs

Heavy Equipment Hauling
How much does it cost to transport heavy equipment?
The cost to transport heavy equipment varies greatly based on the equipment being transported. The cost to ship heavy equipment longer distances, over 500 miles, averages $1.75 per mile, while shorter distance shipments average $5.00 per mile.
What is heavy haul trucking?
In the U.S. a superload is a truck tractor with an attached trailer that has an over-dimensional or overweight object (the load) on it that exceeds the ordinary permit limits commonly associated with oversize or overweight loads.
What is hauling in construction?
Hauling heavy, large loads requires the use of hauling in construction. There are several different types of hauling equipment that can be used for building and construction. Some of the most typical types include cranes, bulldozers, forklifts, dump trucks, and excavators, as well as many others.
What do hauling companies do?
For hire, truckload carrier is a classification of trucking companies within the trucking industry that earns their revenue by hauling other companies freight. Typically, for-hire truckload carriers will contract out their trucks, trailers, and drivers to another company that needs their services.
The most read
Heavy-duty equipment mechanics repair, troubleshoot, adjust, overhaul and maintain mobile heavy-duty construction equipment.
More on this story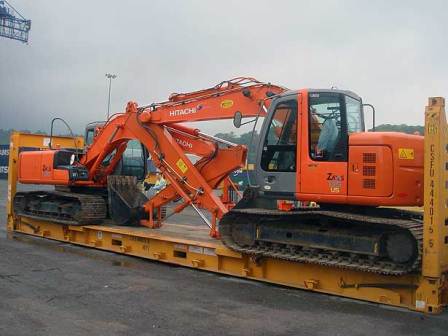 Unlike shipping standard freight, heavy equipment transport requires special handling, oversize load permits, and special freight carriers.