One of the basic infrastructures for the handling of merchandise and ships in all types of ports are the mechanical automated Stacking Cranes, especially in the commercial ports where the loading, unloading, storage, and unloading are key actions for the development and operation of these ports.
The stacking cranes are used to load between the port and the ship, in order to organize and stack it. After the large port cranes, the structures that usually occupy the line of sight of ports around the world, we find the smallest formats, capable of working in even smaller spaces. The first of these cranes is the reach stacker crane, also known as a forklift.

Automatic Stacking Crane
Cranes and other stacking equipment: When very efficient management of the container terminal is required, the port cranes and stacking equipment demonstrate their technological advantages.
It's precise handling, synchronized movements and high speeds guarantee high load cycles at a low cost.
Its high quality and ease of maintenance reduce downtime and increase profits.
Rubber Tyred Gantry Crane
Tire container cranes (RTG) are manufactured in different models and according to the individual needs of each client.
These cranes can handle lines of between five (5) and eight (8) containers (in addition to a truck lane) and elevation heights between one (1) over three (3) and one (1) over six (6). ) containers.
RTG cranes are designed in a configuration of eight (8) or sixteen (16) wheels with AC or DC transmission control.
Special design features such as DGPS automatic steering, profiling, semi-automation and remote access are also available.
We also offer a wide variety of power options for different models.
Whether diesel, electric, hybrid or combined, RTGs guarantee the highest productivity.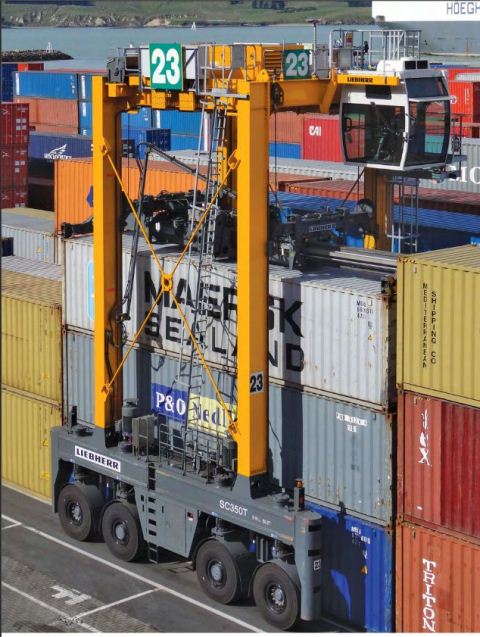 Rail Mounted Gantry Crane
Rail-mounted cranes (RMG) are manufactured according to the individual needs of each customer and include all the design and technology advances that have been made in the last four decades.
Numerous design features are available such as automation, remote control, profile stacking, and remote access.
The stacking cranes on rails are presented in several models that cover lines from 20 meters to 72 meters.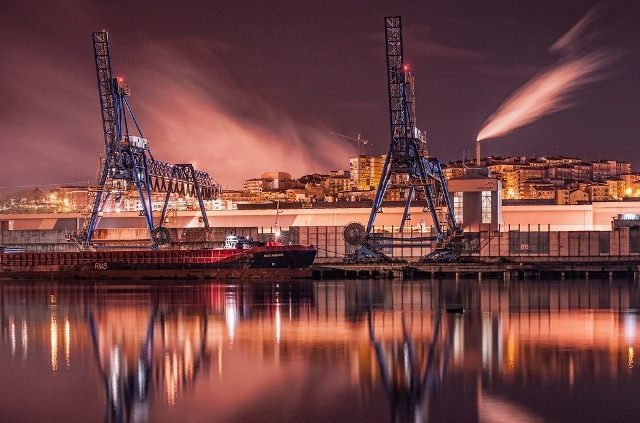 Straddle Carrier
Straddle Carriers are custom built with two standard heights, the height of 3 containers (1 on top of 2) and a height of 4 containers (1 on top of 3).
The Straddle Carriers are designed for both single and dual-lift operation.
8 wheels mounted on four steering axles together with the superior response of the drive and control system offer the maximum in terms of maneuverability and stability.
Thanks to the innovative positioning design of the hydraulic components at a low level, more dynamic response of the steering and braking system are obtained.
The improvements in the design with respect to other models guarantee the advantages of the Straddle Carrier of Liebherr, that is to say, a few costs of maintenance more reduced and more profitability of fuel with an increase of the productivity.
The truck has been developed based on an experience of more than 40 years in container handling and introduces new features in this market.
Technical specifications:
Smooth translation control and fast positioning on the container.
Steering and brake by means of a cable control system, guaranteeing a greater dynamic response regardless of the speed.
Impact protection and automatic tire alignment.
Four steering axles with two and four wheels, with increased stability in both straight lines and curves, maintaining maximum agility when positioning.
Extensive component life and reduced tire wear, resulting in higher container handling averages and lower operating costs.
Spacious and well-equipped operator cab with an ergonomic design and improved visibility.
Location of winch with easy access, external disc brakes, and simple cable forwarding.
Parallel operating brake system – Hydraulic and electric regenerative wet disc brakes.
Regeneration of power between the systems of translation and elevation.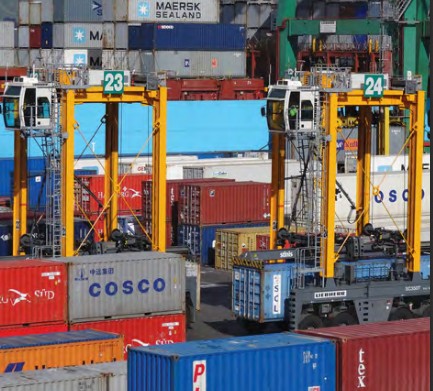 Reach stacker
To expand the successful line of sea freight handling equipment, its own reach stacker concept has been introduced.
This powerful machine, which is characterized by its telescopic boom in a curved shape, offers to handle possibilities hitherto unseen and many unique features such as fully hydrostatic transmission, independent traction, and a highly efficient shock absorber system.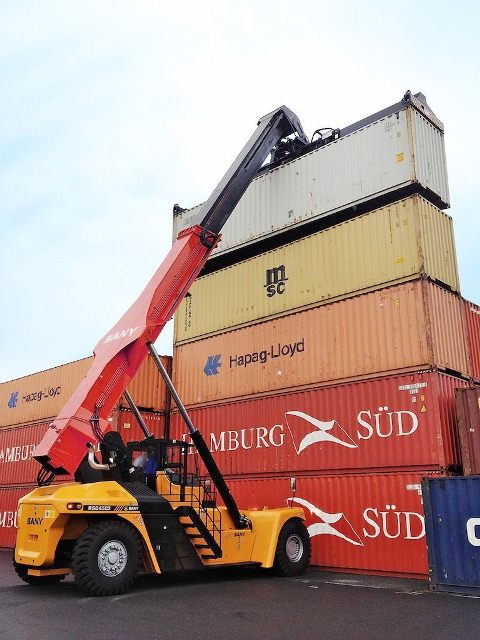 Technical specifications
Thanks to the revolutionary design pen, it is possible to access the second and third container line without having to remove the containers from the front line.
It is easy to load/unload containers from or below ground level, as it offers direct access to the spreader from the ground.
The progressive control of the speed by means of an automatic power regulator allows smooth and easily controllable translation movements and offers maximum efficiency, which is reflected in the notable reduction in fuel consumption.
The easy and ergonomic operation of the reachstacker is controlled from a wide and well-equipped cab in which the operator enjoys 360-degree visibility.
Special damping measures increase driver comfort, extend reachstacker life and reduce maintenance costs
Automated stacker crane
Konecranes Automated container crane systems
The automated handling of containers is the next step in the evolution of container crane technology that began with the introduction of containerized shipping in the 1960s. The Konecranes Automated RMG (ARMG) system offers valuable advantages in an ever-more automated industry. These advantages are being realized by leading container terminals around the world where Konecranes ARMG systems are hard at work.
Technology proven in the real world: The Konecranes ARMG crane design drew upon rail and yard conditions that are the daily reality in container terminals around the world and brought in the proven technology of our Rubber Tired Gantry cranes. Konecranes ARMGs have a light, intelligent steel structure. When this is combined with our Active Load Control (ALC) technology, the cranes deliver fast, accurate container stacking over a range of real-world conditions.
Hard-won experience: Konecranes can deliver a field-proven, complete ARMG system on time and within budget. We have an excellent track record of ARMG system project delivery, from the system design phase through to commissioning and hand-over.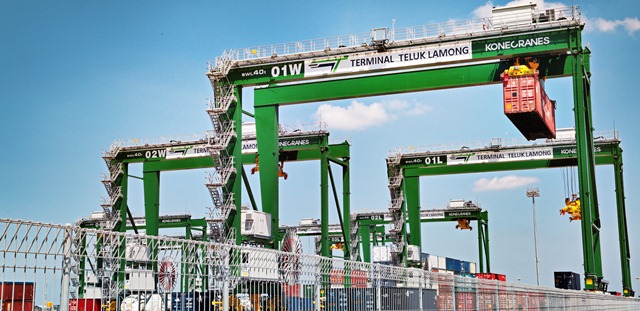 Container stacking crane
A container is a cargo container intended for international and national transportation through sea, inland waterway and/or air routes.
The size and shape of it vary depending on the length and height. The form and characteristics of the same are regulated in accordance with the ISO-668: 2 (International Organization for Standardization), for that reason in some places containers are also known as ISO containers.
This regulation also facilitates the handling of the same to the decks of the ships and the cargo spaces of ships and trucks.
As for the characteristics of the containers, it should be noted that they are usually made mainly of steel, but there are also some made of aluminum and some others made of wood reinforced with fiberglass. In most cases, the floor is made of wood, although there are recent examples where the floor is made of bamboo.
Inside they have a special anti-humidity coating, designed to avoid humidity and incumbencies of time along the way.
Another distinctive feature of any container is that they have hooks on each corner that allow them to be hooked by cranes, as well as their lashing on boats and trucks.
As for the identification, all the containers carry an alphanumeric identification to follow up and avoid its loss. These codes are usually four letters and seven numbers. As an example: MDGU 154570. The maximum load of a container generally varies according to the shipping company responsible for carrying out the transport and the type of container. Containers with an international standard of 20 feet have a maximum gross weight of about 29 tons – including the load plus the weight of the container itself – and the largest of 40 feet have a maximum gross weight of 32 tons.
What is an Automated Stacking Cranes?
What is an Automated Stacking Cranes?
The automated handling of containers is the next step in the evolution of container crane technology that began with the introduction of containerized shipping in the 1960s. Automated stacking cranes (ASC) are rail-mounted cranes used for yard-stacking and in-stack transportation of containers. ASCs deposit and pick up containers from dedicated interchange areas located at both ends of the stack.
What is an automated straddle carrier?
Straddle carriers are trusted by terminal operators around the world for their ability to enable faster ship-to-shore crane operations and more efficient landside operations. Straddle carriers are highly versatile machines that can be used for a wide variety of applications and terminal operating modes.
What is autonomous straddle carriers?
The straddle carrier can undertake self-repositioning, handling, stacking, loading, and unloading, as well as transporting empty containers. The benefits of automating these tasks include energy savings, lower maintenance costs, environmental protection, and regulatory compliance. The straddle carrier has high mobility and flexibility, enabling modular retrofit for current operations in existing terminals.
What is RTG crane?
A rubber-tired gantry crane is a mobile gantry crane used in intermodal operations to ground or stack containers. Inbound containers are stored for future pickup by drayage trucks, and outbound are stored for future loading onto vessels.
The most read
More on this story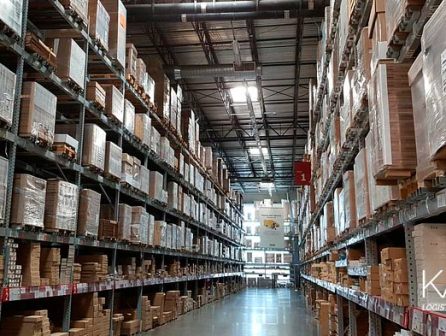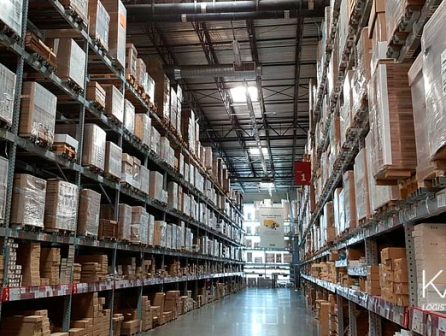 Storage logistics: management, transport, inventory in warehouses with drive-through shelves, forklifts, stacker cranes. cold storage warehouse.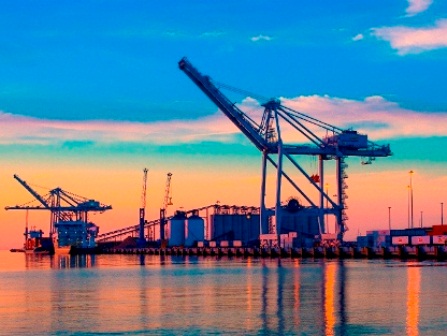 The gantry crane for containers: panamax, post panamax, operator, uses, characteristics, ports, docks, transport, maneuvers, parts, container