A Sidelifter is a semi-trailer built especially for this purpose, in which a set of cranes specially designed to lift and transport containers is mounted
It is a truck crane that incorporates a lateral elevator in the semi-trailer. Also called side loader container.
Also used for the handling of loads in the dock as the gantry truck, however, its use is more linked to rail.
It is used in both trains and trucks, leaning on the side of these as well as on the ground, to load and unload the containers laterally.
A Sidelifter is a semi-trailer built especially for this purpose, in which a set of cranes specially designed to lift and transport containers is mounted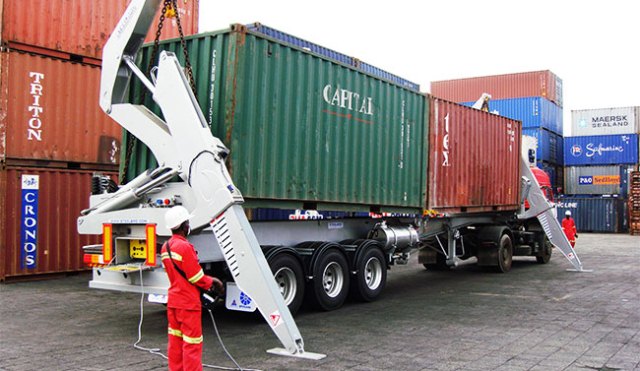 Side loader container
How is it used? Two hydraulic arms, mounted on an attached vehicle, on the trailer of a truck, on a standard 2 or 3-axle truck, or on a railroad car, which allow access to the load, make it possible to load or unload standard containers from a maximum weight of 32 tons.
The process is executed by means of a radio control system located in the truck. It is important to note that the sidelifter is not capable of stacking containers.
The chassis is ideal for accurately placing shipping containers anywhere a truck can access, and then loading or unloading the container on the ground.

Sideloader
Advantages of using a sidelifter crane:
The loading and unloading of containers can take place on the ground, reducing the risk of injury.
The waiting time is eliminated so that other lift-type machines are available, as well as the need for expensive land preparation.
This not only saves money for the transport operator; It also saves time for importers, manufacturers, and distributors.
When transporting a sidelifter by road, operators can easily load containers into trailers without the help of cranes.
This means that, in addition to transporting their own containers, a Sidelifter can load and unload entire container convoys without the need to relocate independent heavy equipment.
This eliminates the cost associated with leaving the trailers on the site and increases the opportunities for the number of pickups and deliveries in each cycle.
It can also free up personnel and equipment for other tasks, thus increasing efficiency and reducing operating costs.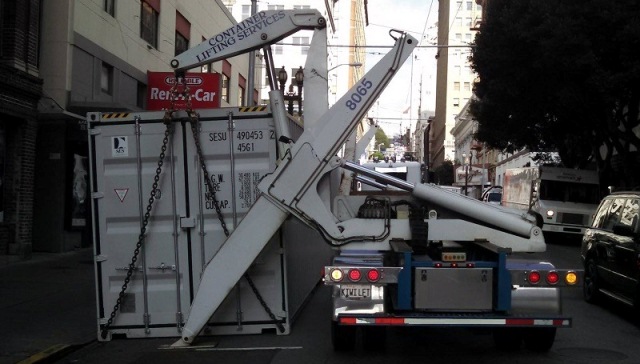 Side Loader Container Truck
Where is it used?
The field of application of this type of cargo handling system is wide, as wide as the use of the container for transporting goods.
Railway transfer
Because it does not require a lot of expensive infrastructures, just enough space to load or unload the wagons.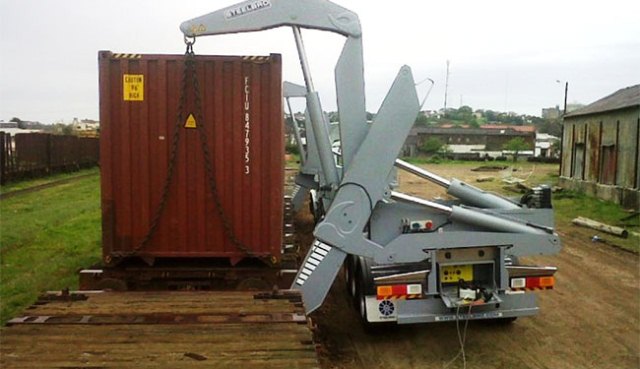 Container loading
The self-loading and unloading capacity of a container eliminates the need for forklifts and other heavy equipment available at both ends of the container route.
Industrial Transport Services
producing companies use these vehicles for their merchandise.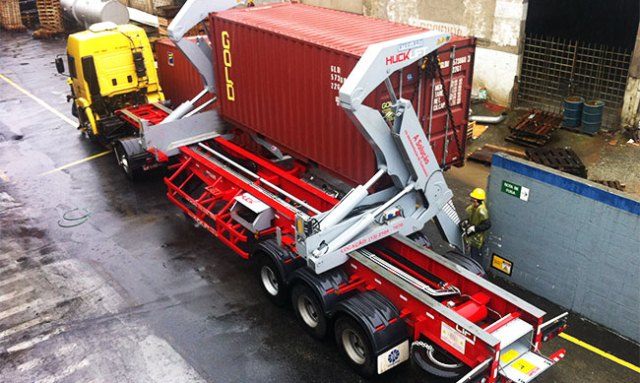 Intermodal transportation
characterized by a frequent transshipment of cargo between roads and railways and because it requires an uninterrupted transport chain.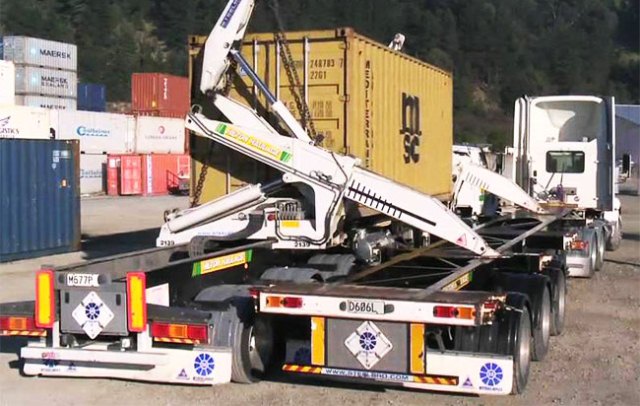 Crane design
Who designed this Crane?
The sidelifter was invented during the 1960s in Germany, with a focus on military operations.
In the beginning, they were heavy and not profitable in the commercial area.
It was purchased by the Steelbro brand in New Zealand, which has developed the Sidelifter to be lighter and commercially acceptable.
It was also developed by the Hammar Maskin AB brand in Sweden. Since then, it has become a vehicle commonly used in intermodal facilities around the world.
The main alternative to expensive sidelifter machinery is the use of interchangeable body containers, which are too light to be stacked but can be unloaded from a truck by means of folding legs.
Today, the most important manufacturers are Hammar, Valart, Boxloader, and Steelbro, followed by other regional minority manufacturers.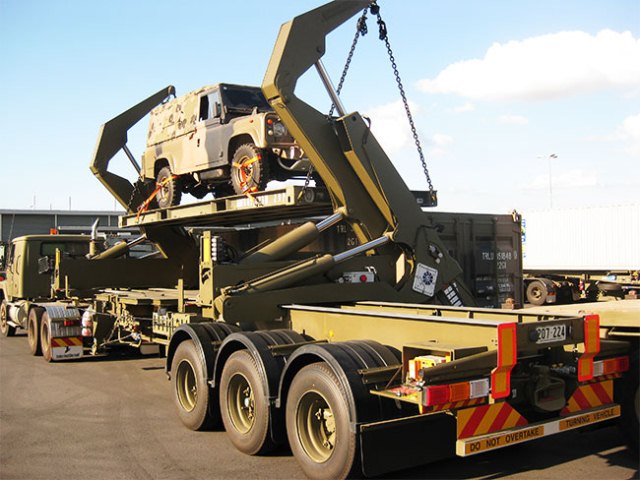 Industrial Crane Design
Design of a Sidelifter Crane: Sidelifters cranes generally have the following attributes:
Crane Lift
Hydraulically powered cranes lift the container (from the ground, the loading dock, another vehicle, the rail car or from the top of another container placed on the ground or other location) into and out of the chassis.
These cranes are placed in the upper part of the side chassis and can usually be moved along the chassis moving with hydraulic cylinders or hydraulic motors to load different lengths of containers.
Power Supply
While cranes are usually driven by a diesel engine mounted on a trailer or gasoline engine, the cranes have sometimes driven through a power take-off from the truck or tractor.
Trailer Stabilizer Legs
These are equipped with hydraulic legs that are necessary to allow the lifting of loads of up to 44 tons without tilting the vehicle.
These can be adjusted to help the operation in a level less terrain and facilitate greater safety margins and load limits when stacking containers.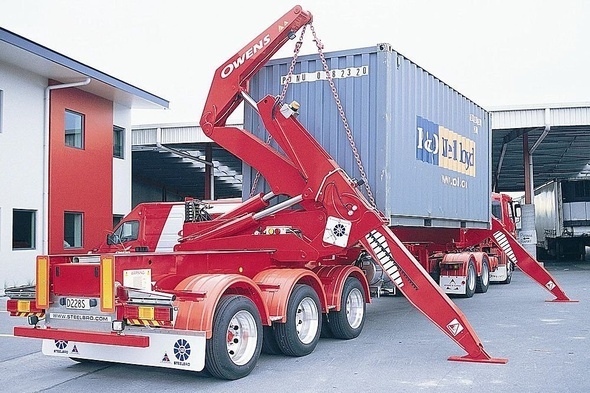 Chains
They are attached from the top of the cranes to the corner corners at the base of the container (s) during lifting operations.
There is a special link device that, when placed between two 20-foot containers, allows the user to lock two 20-foot (2 TEU) containers together, which allows the container-lifter to lift them up as if they were a 40-foot container. feet.
Truck cab
Drag the trailer, and in some cases supply power through the PTO. This tractor/cab always supplies the compressed air for the brakes of the sidelifter wheels. Normally, the sidelifter cannot be operated without being connected to the Tractor because even if the power unit is below the sidelifter, the tractor provides compressed air for the trailer brakes and also additional stability for the lifting operation.
Chassis
It supports the weight of the container when it is loaded, it also supports the cranes.
Remote Control
A device with control levers and buttons that are usually connected by a multiple-pair electric cable or by a radio signal, allows the operator to walk around the container and view the unit from several different angles during the operation.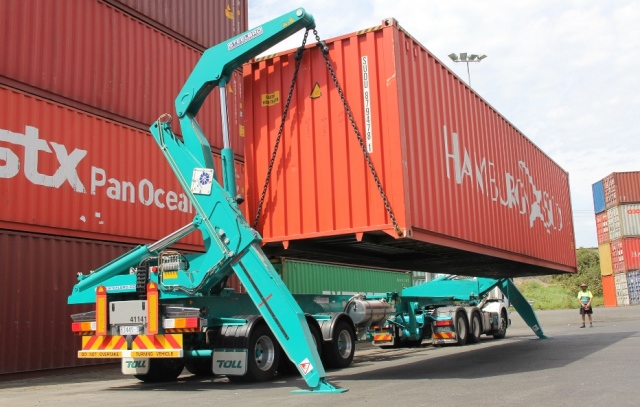 Chassis Extension
Sometimes called a trombone chassis, which allows the unit to expand and contract to accommodate containers of 20 feet, 40 feet or even 45 feet. These trombone units are especially suitable for small secondary roads where curves are quite difficult with 40-foot trailers.
Sidelifter machines are designed to lift up to a maximum of 44 tons (49 short tons, 43 long tons) although there are smaller machines.
In addition to controlling the lifting and lowering of cranes, the operator can sometimes tilt the chassis using the stabilizing legs, which provides a limited capacity to operate on uneven terrain.
Crane Safety
Safety during maneuvers:
A sidelifter is classified for ISO containers, with a maximum total weight specified and a maximum distance from the sidelifter chassis (also called maximum range or maximum radius).
This information is found on an identification plate provided by the manufacturer, and the loads must not exceed these specifications.
It is known that side units flip like any other crane, especially when they lift loads that are heavier than the maximum allowed weight or when they operate at a radius greater than the maximum allowed radius.
Units should always be operated only by trained personnel. Local legislation sometimes requires security devices such as the Electronic Stability System that prevents the sidelifter from moving.
Side lifter trailer
SIDELIFTERS – SELF LOADING TRAILERS
STEELBRO strives to offer the world's best-valued side lifter self-loading trailers.
STEELBRO Sidelifter is the most versatile and cost-effective container transport equipment.
Steelbro self-loading trailers are ideal for placing shipping containers with precision anywhere a truck can access, then loading or unloading the container on the ground. No other way of delivering and retrieving containers matches the accuracy and precision of STEELBRO Sidelifter technology.
Steelbro sidelifter
The STEELBRO Sidelifter self-loading trailer with the lightest tare weight ever subject to specifications.
Deliver higher payload and improve your fuel returns. The SB362 Lightweight has been specially engineered to have the lowest tare weight of any other 36-tonne sidelifter.
An outreach of over 4 meters allows transfers to and from flatbed rail wagons and companion vehicles making transitions quick, easy, and efficient.
Hammar Side Loader
Hammar Maskin AB is developing manufacturing, and marketing side loaders, also known as Sidelifters, Swinglifters, or Self-loading trailers, under the brand name HAMMAR.
Since its start-up in 1974 the company has been focusing on side loaders only, this dedication has made it possible for Hammar Maskin to become the world's leading supplier of Sidelifters.
HAMMAR side loader has been sold in more than 111 countries worldwide.
Container Side Lifter
Prompt service saves time and money
Today Hammar has customers who travel here from other countries to get their HAMMAR serviced, and that says a great deal about our efficiency.
In the Service and Repairs Unit, the red route is designed to reduce waiting times for our customers.
Waiting around costs money, but our efficient operating methods enable us to save the customer a lot of time.
Hammar has production facilities where crane and chassis parts are built from scratch, Hammar can simply go in and select those spare parts which your customers require. We are therefore able to offer prompt service with short lead times.
In the case of major damage and breakdowns which take longer to remedy, Hammar service is absolutely first class.
We are always able to offer the loan of a replacement trailer as a standby, which means that our customers never need to interrupt their work schedule.
After all major repairs and renovations, the trailer is inspected and checked just as if it were new.
Port cranes
Alternatives to the Sidelifter:
The mobile container loader/stacker. A rubber leg crane is another device for loading containers into trucks (as well as around the port).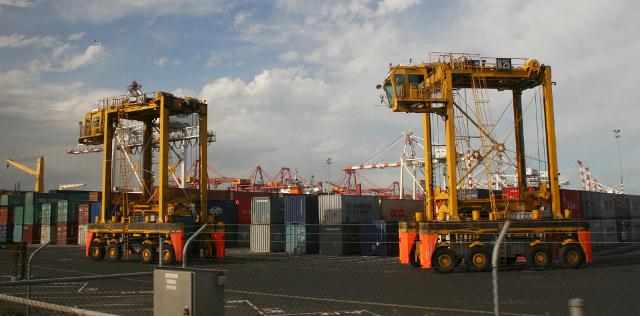 What is a side loader?
What is a side loader?
A side loader does exactly what its title suggests. It loads and unloads from the side of the machine. Instead of the forks being located in front of the equipment like on a standard forklift, a sideloader's forks are located on its side.
what benefits does a side loader have over a standard forklift?
1. Sideloaders don't need to turn like standard forklifts, so they can drive up alongside the rack or the truck and easily unload and load from the side
2. Sideloaders are designed to work in narrower aisles and doorways
3. Long loads such as timber, steel or pipes are more easily handled because the load is facing in the direction being traveled, reducing the overall width of the equipment and load
4. A flatbed allows the load to be stabilized, ensuring safer movement
5. Since the load is carried on the side, the operator has clear visibility in front and behind
6. New side loaders have been developed as multidirectional machines, so they can move in all 4 directions by changing the direction of the wheels
A few things to be aware of with side loaders
-Sideloaders are not as maneuverable as standard forklifts (although multidirectional sideloaders offer advances in this area)
-Sideloaders are a specialized machine.
-While they are great for long or awkward loads, think about what else you are trying to move and whether you need your machine to handle different types of loads, or whether a combination of different equipment would work best.
-Another alternative to a side loader is a multidirectional forklift, such as the range from Combilift, which offers the benefits of a side loader and standard forklift.
what is a Combilift?
All over the world, Combilift is revolutionizing the way companies handle and store materials, especially long and awkward loads, or when space is limited. Our pioneering product range includes multi-directional, articulated, pedestrian forklifts as well as straddle carriers.
Image gallery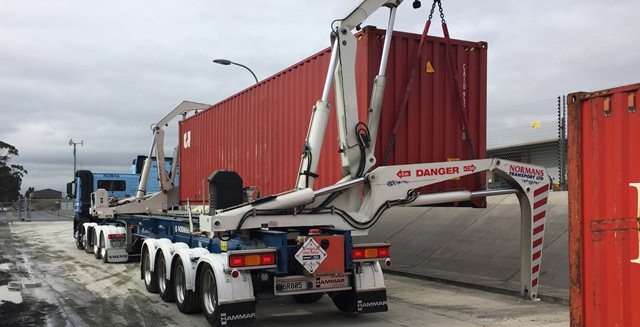 The most read
More on this story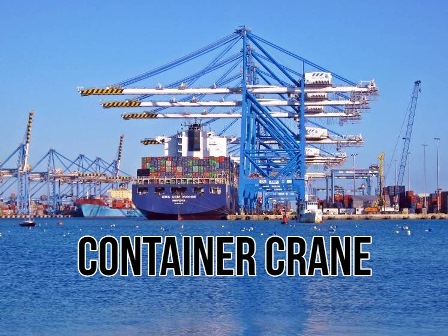 Container cranes consist of a supporting framework that can traverse the length of a quay or yard on a rail track. Instead of a hook, they are equipped with a specialized handling tool called a spreader.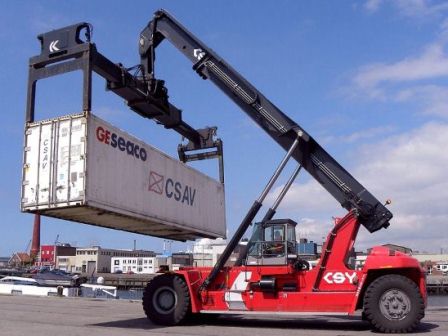 REACH STACKER CRANE: container reach stacker, reachstackers, kalmar reachstacker, Container Handler, What is a reach stacker?