Container Stacker: Reachstacker is generally compared to forklifts, but they have many differences. Forklifts are used for the most frequent loading and unloading and do not offer the same capacity as reach stackers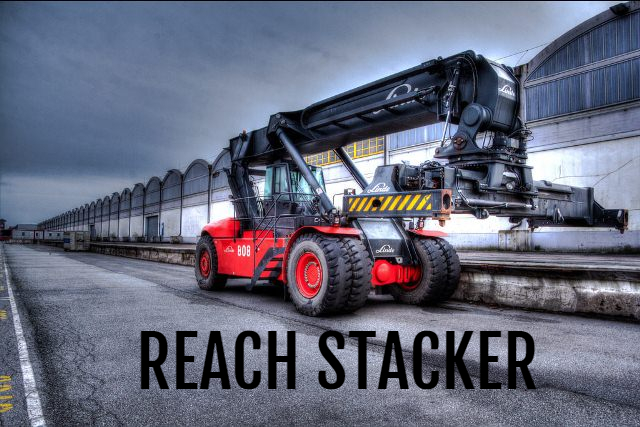 Container Handler
Container handlers are described as highly efficient material handling machines that are used in many sectors of the port industry.
Some of the most used machines for handling containers are the reach stacker and the container crane. Gantry cranes for containers are the largest and most powerful units for loading and unloading containers.
The reach stackers, on the other hand, are faster and more efficient machines for short distances. Although they are used for the same purpose, these two machines are different and work in a different way.
Reachstacker: the reach stacker can lift, load, move and lower containers in a fast, efficient and unique way.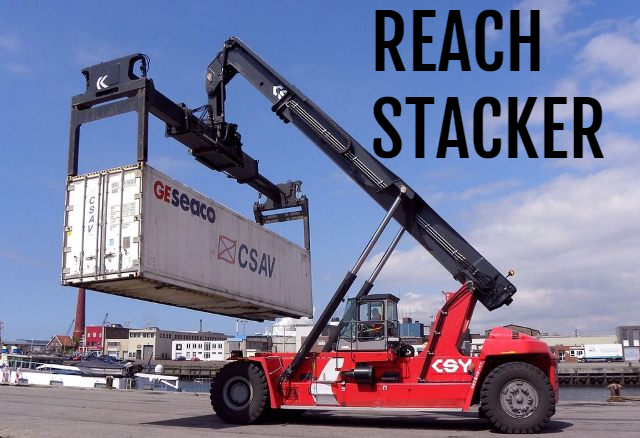 Reach Stacker Crane
HOW DOES IT WORK:
With large storage capacity and a great capacity of stacking, the reach stacker is designed to work between rows easily and to store containers in blocks of 4 deep.
The newer reach stackers come with smart mechanisms to improve efficiency. For example, the hydraulic load sensing system ensures that the hydraulic lift system and the engine are available with sufficient power.
However, the reach stacker includes many other innovative systems with a single goal: to improve profitability by offering higher torque at lower rotation speeds and to provide a comfortable and safe environment for operators.
The reach stackers are generally compared to the forklifts, but they have many differences. Forklifts are used for the most frequent loading and unloading and do not offer the same capacity as reach stackers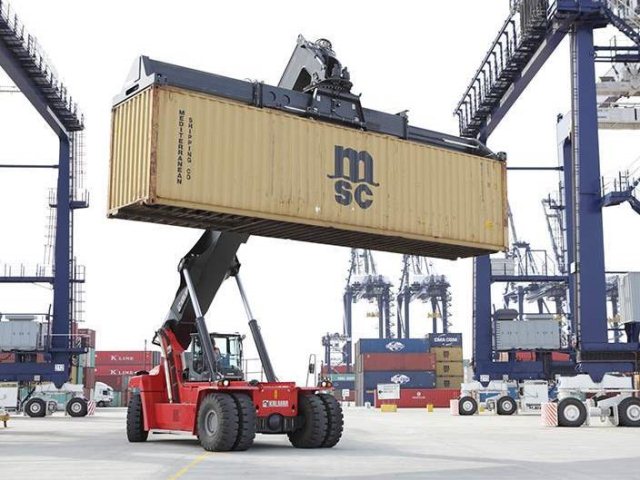 Reachstackers
TECHNICAL INFORMATION:
The container crane or is also very common the English term reach stacker due to its weight of approx. 37-85 tons cannot be used on public streets.
In general, the reach stacker container cranes are used for the handling of empty or full containers of 20′- 40'with a weight of 5 – 45 tons.
The main sites where reach stacker container cranes are used are port terminals, container depots and are also used in the intermodal sector.
Load Capacity
Reachstacker or container cranes at the end work as a crane with the accessory the spreader that has the dimensions to raise containers 20′ but can also be extended to 40′ to raise equally 40′ containers be empty or full.
There are also reach stacker cranes with an accessory called piggyback that are four arms mounted on the spreader with which you can also raise a trailer with the container and put it on a train.
For example, reach stacker machines can stack full containers in the first row with a weight of approx. 42-45 tons 5 containers high, in the second row they can stack even 25-30 tons and in the 3rd row, they can still go up 20 tons.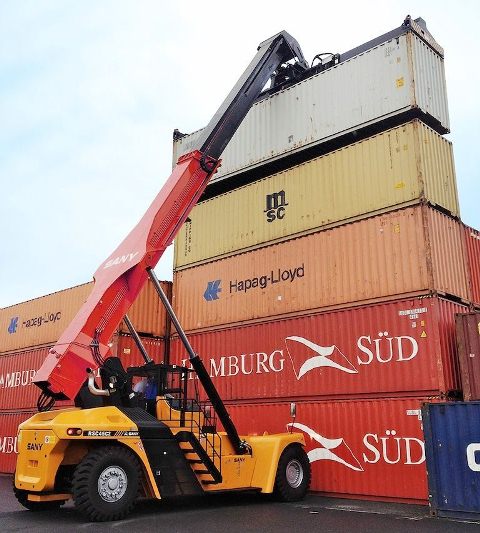 Cargo Handling
APPLICATIONS:
The machine offers different extensible rigs for each job. The wide range of products for reach stacker offers possibilities for different fields of handling besides containers.
In addition to container handling, the transport of bulk goods, handling of wood, loading of loose material with hooks and pulleys are also included.

Reach stacker manufacturers
Manufacturing Companies
Kalmar
Fantuzzi
CVS Ferrari
Linde
Liebherr
Terex
Konecranes
The most well-known manufacturers are the Swedish companies Kalmar Industries, SMV Konecranes, the Italian brands Fantuzzi, CVS Ferrari, the German brands Linde, Liebherr producers of a single reach stacker where the mast has the shape of a banana, besides The Hyster brand, PPM Terex, is still on the market. For many small terminals that do not have the economic means to buy a portal crane, the reach stacker machines are a good alternative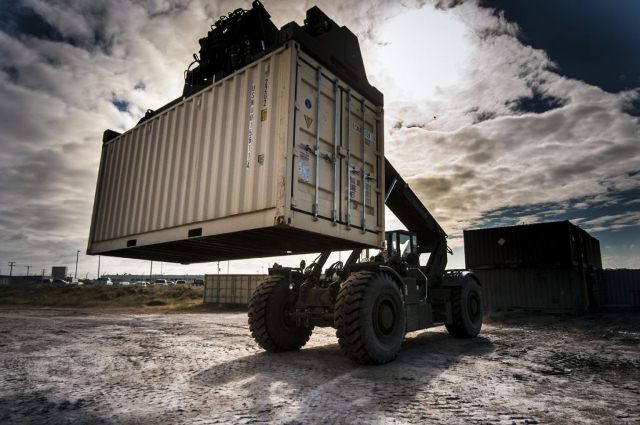 Konecranes reach stacker
Konecranes Liftace Reach Stackers consist of the well-known TFC models and the R models launched in April 2015 under the Liftace name. Built on engineering tradition and expertise, these reach stackers are dependable workhorses, simple to maintain, robust and good value for money.
Thanks to a high degree of standardization, terminal operators benefit from short delivery lead times – making Konecranes Liftace Reach Stackers available, serviceable and durable.
Konecranes Liftace Reach Stackers are of a high standard and specially designed to work with modern control systems and drive technology. Engines comply with emission standards EU Stage IIIA (EPA Tier 3) and EU Stage IV (EPA Tier 4 final).
Versatile, reliable and powerful Whether for use in port, railway or intermodal terminals, in container stackyards or any other area of logistics, Konecranes Liftace Reach Stackers are known for good quality, robust design and reliability in operation when handling containers or heavy general cargo.
With the durable Konecranes Liftace Spreaders, 20' to 40' containers are stacked up to 1-over-6 high-cube containers high.
To handle general cargo, the machines can be fitted with dedicated lifting gear. Konecranes Liftace Reach Stackers meet the challenges of professional cargo handling with high loading capacities of 45 t and high working speeds while providing simple and safe operation.
Konecranes Liftace Reach Stackers at a glance
Productive – working speeds for efficient handling rates
Economical – low fuel consumption and predictable maintenance cost
Simple – operation and maintenance
Proven technology – agile, robust and reliable
Safe – reliable monitoring and excellent visibility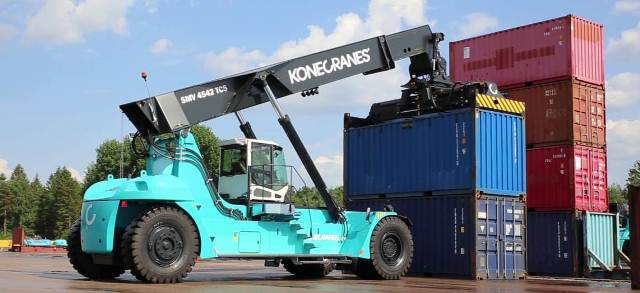 Ferrari Reach Stacker
CVS FERRARI F500 Reach Stackers are true engineering masterpieces conceived to massively increase the value generation for the user by sensibly extending the equipment service life and drastically reduce operating cost, besides introducing an unprecedented control of the unit and its systems.
CVS FERRARI is proud to introduce its F500 Reach stacker series:
a new breed of machines that will forever change the standards of performance and return on investment of the industry.
Structures certified to withstand endless duty cycles, ultimate energy-saving solutions, state of the art onboard intelligence, maintenance costs killing, design and uncompromised quality of components.
Nothing else like these trucks ever existed before.
Discover the unmatched safety of these unique products and the many innovative driver and caretakers "job easing" solutions they contain.
Meet the strength of mechatronics and the power of integrated data processing applied to lift equipment.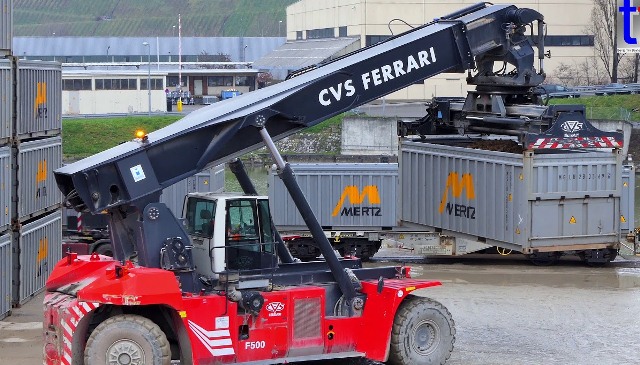 Liebherr reach stacker
Functional handling solution for any terminal
Liebherr reachstacker profit from many years of development experience in the maritime sector. A variety of highly efficient innovations, a comfortable and ergonomic design as well as impressive performance distinguish the Liebherr reachstacker. In this way, it is a versatile handling solution that can be deployed for any kind of terminal.
Hydrostatic drive: The tried-and-tested hydrostatic drive enables continuous acceleration for enhanced driving comfort. It also ensures energy recovery for increased efficiency.
Ergonomic cab: The comfortable cab with its ergonomic design eases the burden on the operator. An optimal view with the high proportion of glass in the cab increases safety in the terminal.
Wheel rims: The wheel rims ensure reduced maintenance costs and increased safety. The simple principle of these rims makes assembly quick and safe. This concept is unique in the market.
Liebherr LRS 645
The "award" for the most distinctive feature of a Liebherr Reachstackers certainly goes to the uniquely curved, telescopic boom for unrivaled range and unbeatable stacking capabilities.
This makes a Liebherr reachstacker not only a suitable instrument for today's handling requirements but also an investment in the future!
The new dimension of the Container handling With the departure from the straight boom concept, direct access to containers in the second and third row is possible without shifting in the foremost stack. Such an innovative handling concept increases the efficiency of container terminals all over the world in one fell swoop.
Inspired by nature, designed by Liebherr
Due to its unconventional design, the curved, telescopic boom has been given the name "banana boom" shortly after its launch.
The comparison fits: Like the banana, the Liebherr reach stacker offers a wealth of vitamins, meaning useful resources for its users.
For example, in barge handling, it is possible to load and unload containers below the floor – even without special equipment retrofitting.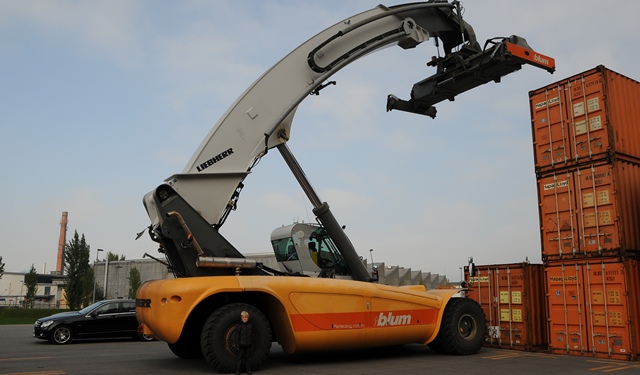 Reachstacker Kalmar
The Kalmar DRG100 is the only reach stacker for empty and semi-laden container handling on the market that allows you to rotate, lift at a 45° angle, drive forwards or reverse with a full-tilt stroke, reach 6 or 8 containers high, work in second or third row and even do a unique 1,000 mm side shift and rotate the container so the door is on the right side.
The Kalmar DRG100 offers full flexibility with full rotation, large side shift and tilt to allow you to both transport and perform services, maintenance, repairs and cleaning with maximum efficiency. Low and narrow workshop doors don't present a problem. Just turn the container lengthwise and drive inside.
Add another dimension to empty and semi-laden container handling with a reachstacker containers that can be transported at full width, turned 45° or lengthwise at 90°, making it possible to deliver "end-on" into and through low and narrow workshop doors, port sheds and other tight openings.
Operators don't have to pick up containers right-angled and can increase efficiency and handling speed during yard stacking, loading of road trucks or container repairs.
Eco cranes
Increasing fuel costs and tougher emissions standards means you need a solution that is leaner and greener, while still maintaining the highest levels of operational productivity. The Kalmar Eco Reachstacker provides you with an eco-efficient solution that is guaranteed to use significantly less fuel than others reach stackers.
Container handling
With Kalmar's reach stackers for container handling, you benefit from superior usability, comfort, and safety combined with low operating and maintenance costs. Terminal operators around the world rely on Kalmar equipment for its precision, the low total cost of ownership and excellent environmental performance.
Intermodal handling
Kalmar reach stackers for intermodal handling give you the power, speed, and precision you need for efficient operations. Our flexible equipment solutions are easily adapted to a wide variety of handling tasks common in modern intermodal terminals.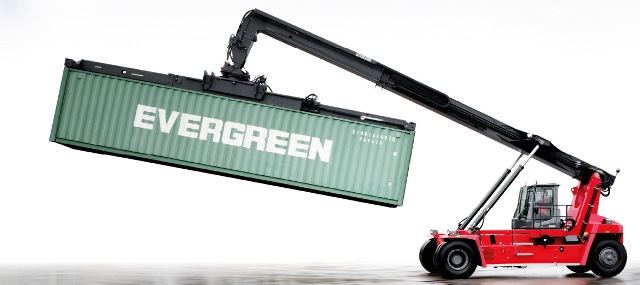 Forklift Reach Stacker
The debate on: is a reachstacker better suited to handling full containers in the yard than a forklift? The operator crane finds there are arguments for either solution.
The short answer is that both machines have their place but there are at least four inter-related factors to take into account when deciding:
running cost and return on investment (see box)
the scale and nature of the terminal operation
the very different handling characteristics of the two machines
the cultural factor, (traditional practices in certain parts of the world)
Weighing up these factors, separately and collectively, should lead to the right choice.
Reach stacker vs Forklift
What's it for?
The scale and cargo profile of the terminal may decide the type of machine at the outset.
Operator crane says "Many smaller terminals around the world handle a mix of cargoes: containers, steel coils, stone and so on. So they need a machine that is flexible.
Reachstacking is more suitable where you have 20-25% container handling in intermodal situations.
But the reach stacker is only made for one purpose: to handle containers.
"So operator crane, for example, has at least 10 big forklifts for container handling but they also have a couple of reach stackers for intermodal handling of containers onto rail wagon and truck.
The port has done much analysis and concluded that for them it is better to drive with a masted forklift because it is quicker, safer and the load is a little closer to machine and driver. That is their decision."
He adds that in cases where the machine is only driven for perhaps 1,000 to 1,500 hours a year, to handle a mix of cargoes, then its flexibility – with the options of fitting a container spreader or quick release forks – will favor the masted forklift.
"It is so easy to say we produce both forklift and reach stackers so what would you like to have?" says operator crane. Actually, it is very important to make an analysis with each customer, what is the intent or purpose of buying the machine."
Reach stacker driver
How does it drive?
Then comes the question of whether the forklift's arguably more agile handling characteristics make it a better choice.
Furthermore, the container is pretty well fixed to the dedicated attachment. For a driver, this makes the handling operation very straightforward and reliable.
Compare this with a reach stacker and you will notice that one of the most difficult movements is the straight vertical lift, where the driver must operate the controls such that boom tilt and extension move at a certain pace. When stacking containers at an angle the whole operation becomes even more complex.
"Nevertheless, " he concludes, "the reach stacker is excellent for reaching into a stack. If this is carefully thought out and all terminal logistics play ball, a reach stacker (with sufficient capacity) can boost terminal storage capacity. Plus the reach stacker is a solution for low overhead situations and/or regular transport over the road."
Reachstacker vs forklift
characteristics of the two machine types.
"Reachstackers have become popular, and in certain circumstances enable increased container storage. On the other hand, " he argues, "increased storage density when using reach stackers brings an inherent change in 'selectivity' which could result in extra handling and reduced throughput of containers when compared to the use of lift trucks.
"Available space is a limiting factor in most locations and mobile handling equipment that enables the highest storage/density will be favored. Increasing storage can be achieved by stacking higher and/or deeper (i. e. in a 2nd row). Both methods do reduce the accessibility ('selectivity') of containers."
The operator crane goes on to illustrate his arguments taking an average terminal and comparing reach stacker and lift truck performance. "As expected reach stackers achieve the higher storage, though perhaps disappointing at just 19 % over the lift trucks. The other side of the equation should not be overlooked either: namely that by adding a second row of containers the accessibility of containers, i. e. the 'selectivity' is significantly altered.
"On maneuverability lift trucks commonly work in 15 meter wide aisles, stacking a mix of 20ft and 40ft loaded containers. There is sufficient clearance for the lift truck and also lorries can pass in front, without a need for the incoming lorry to (partly) drive underneath a lifted container."
Operator forklift
In conclusion, the challenge for a terminal operator is to establish what is the workable mix of the two key variables (storage and selectivity) and let this "total picture" determine the choice of mobile handling equipment.
"Investment in reach stackers can pay dividends by increasing terminals' storage, while lift trucks may well be faster in the turnaround of containers and thus satisfy your, and your customer's needs better."
IT'S ABOUT CULTURE TOO Speaking of Kalmar's own experience, product manager, whose portfolio includes heavy Forklifts, says: "It's really only in North America and Australasia that they prefer forklifts to reach stackers.
North America has a rather conservative attitude towards change.
Also, their labor unions are opposed to putting in reach stackers in place of forklifts. Furthermore, over the years they have made huge investments and have built up huge fleets of top-picks as they call them.
They have arranged the layout of the yards to suit top-picks. All operator training is done on top-picks. And all this together makes it very hard to change unless you open a brand new site. So they are locked into a handling solution and it would be very costly for them to change. In Australiasia they also have a long tradition of using forklifts."
"We don't try to push the reach stacker onto these customers because we can see that they have very good schemes for operating with forklifts. The productivity is very high and they would not gain too much by changing over to reach stackers".
Reach stacker specification
Reach stackers and ISO container handlers are material handling vehicles that transport intermodal containers. They provide short-distance transport for containers transferred to and from fleets, vessels, or railcars at ports, railyards, or other storage terminals.
Intermodal containers are manufactured according to the International Organization for Standardization (ISO) specifications and are also referred to as ISO containers. ISO containers meet size, strength, and durability requirements as well as dimensional standards that allow for increased storage capacity and logistics optimization. More information about ISO containers can be found in Engineering360's ISO container specification guide.
The terms reach stackers and ISO container handlers generally differentiate two distinct but closely-related types of industrial trucks.
Reach stackers
Reach stackers have a telescoping boom that allows for an extended horizontal reach. These booms can be equipped with attachments that best interface with the ISO containers being transported. They are preferable to ISO container handlers when storage capacity needs to be maximized. Reach stackers offer the ability to stack containers multiple rows deep.
ISO container handlers
ISO container handlers have a forklift attachment that only extends vertically. They are more versatile than reach stackers since they can lift and transport a wider range of containers and cargo. Container handlers also offer quicker loading and greater selectivity. The vehicle's lack of horizontal reach prevents it from stacking more than two rows deep. This limits the number of "dead picks" (i.e. containers with restricted access). Loaded container handlers may be further classified as empty container handlers or laden container handlers.
Laden container handlers are slightly larger with an increased lifting capacity suitable for lifting and transporting fully-loaded ISO containers.
Empty container handlers are smaller with a lower capacity rating and are only suitable for the transport of empty ISO containers.
Reach stacker design
Reach stackers are specified by their lifting capacity, wheelbase, reach, and turning radius.
Lifting capacity is the maximum force or load supported by the lift, cart, truck, or dolly.
The wheelbase is the distance between the front and rear axles of a vehicle.
Reach is the difference between the fully-retracted and fully-extended positions of the lift or boom.
Turning radius is the radius of the smallest circle the vehicle is capable of making.
What is a reach stacker?
what is a reach stacker?
A reach stacker is a vehicle used for handling intermodal cargo containers in small terminals or medium-sized ports. Reach stackers are able to transport a container short distances very quickly and pile them in various rows depending on its access.
What Licence do I need to drive a reach stacker?
To operate a reach stacker you need to have an RS high-risk work license (HRW). The reach stacker license covers powered reach stackers (with a capacity of three tonnes or more) that have an attachment for lifting, lowering, moving and traveling with a shipping container.
What is a container handler?
The Loaded Container Handler is the king of the port. Popular in ports, terminals and shipping yards, the Loaded Container Handler will provide fast lifting cycles, high stacking, and reduced freight costs.
How tall are container cranes?
Megaships can be up to 1,300 feet long and carry nearly 23,000 cargo containers. Containers are stacked up to 12-high above deck on the largest vessels. Taller cranes are required to reach the top of the stacks.
What is Port Equipment?
The fast and efficient transfer of cargo between ships and land-based modes of transport is the goal of ports throughout the world. The TTS range of port equipment offers a number of flexible options for access and for the management of traffic when loading or unloading ships.
How do container ports work?
A container port or container terminal is a facility where cargo containers are transshipped between different transport vehicles, for onward transportation. Inland container ports tend to be located in or near major cities, with good rail connections to maritime container ports.
The most read
More on this story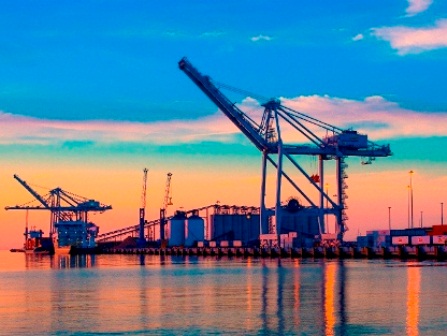 The gantry crane for containers: panamax, post panamax, operator, uses, characteristics, ports, docks, transport, maneuvers, parts, container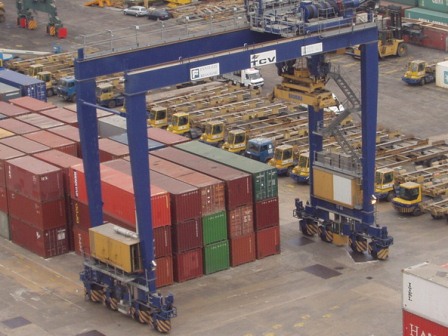 RTG CRANE: Rubber Tyred Gantry Crane, Container Terminal, what is an rtg crane? RTG crane parts name, RTG crane manufacturers, specification.