Types of Sea Ports – Types of ports in shipping : Each year, seaports move a gigantic volume of merchandise throughout the world, occupying a priority role of international trade.
Types of Sea Ports
Types of ports in shipping
Types of port terminals
They are the set of works and facilities and services, built-in calm waters, necessary for the safe tearing of ships, while the loading and unloading of passengers and goods are carried out.
Of the two billion dollars in total goods traded worldwide, 90% was transported by sea, which is equivalent to approximately 5% of total world trade, doubling the value of maritime trade until 2020.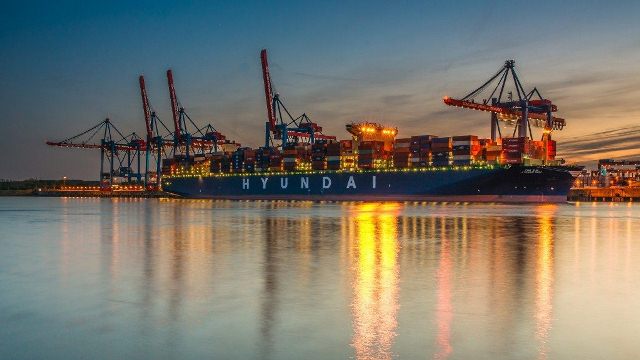 Definition of seaport and maritime
What Are Different Types of Ports For Ships?
A port is a place to facilitate loading as well as unloading of vessels. Technically speaking it is a convergence point between freight circulation domains.
Ports are the inhibitors which begin the social and economic growth of a region by not only allowing trade but also by serving a hub for social activities.
These days, most of the ports (especially seaports) are well-equipped with specialized fixtures such as forklifts and gantry cranes to facilitate regular dealings of cargo.
Ports can of great significance to a nation, as it promotes the commercial welfare and the trade scenario. Ports can also be of military importance, as they are used to keep the warships before moving out to the battle scene.
Ports are also a major source of employment as a large number of workers are employed at the ports.
Container terminal
The ports terminal can be classified according to use: civil or military.
Interior ports
Seaports
Fishing port
Hot Water Ports (In frozen places such as Russia.)
Dry Port (Interior intermodal terminal connected via railway line or highway.)
Cruise Ports Ports of Load
Main ports of the world
Singapore: It has the seaport that handles the largest volume of annual cargo in the world, both in tonnage and in the number of containers, with 26 million TEU containers in 2009, of which 80% were forwarded to other ports.
In turn, it operated with 471 million tons of cargo and one million cruise passengers in 2009, from the 130 575 ships that arrived at the port.
This port has 204 dock cranes, capable of operating on the largest ships and stacking 22 containers per column.
Hong Kong: Hong Kong Port, which operated 25 million containers in 2008, is next in cargo volume.
Shanghai: The third largest is Sanghai, which exceeded 21 million containers in 2006.
Rotterdam: In Europe, the largest port is in Rotterdam, with 400 million tons per year.
This is because 30% of all ocean freight from and to the countries of the European Union passes through it. Around 30,000 ships a year leave the port and 130,000 have their destination there, from more than a thousand ports.
Port equipment
The ports are equipped with modern freight logistics technology. For this, it has the positioning system of the Delta terminal, in which all the vehicles and cranes that handle the containers are robotized, that is, they are controlled and supervised by means of a powerful computer.
This container traffic is possible thanks to a magnetic grid installed on the asphalt that allows vehicles to be guided thanks to a navigation system that regulates their position and speed.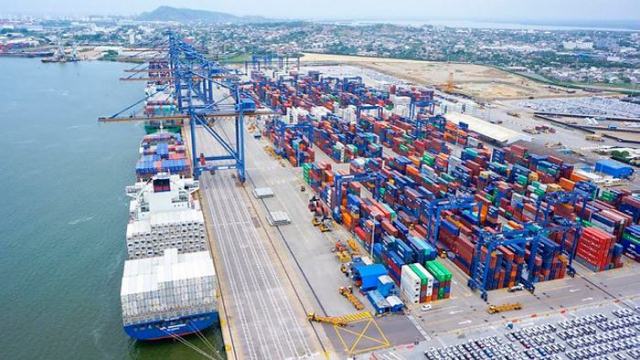 Maritime trade
Maritime trade is usually calculated in tons/mile, that is, the transported tonnage multiplied by the distance traveled.
The choice of maritime trade as a means of transport is due to its low cost since it represents between 1 and 2% of the final price of the product.
In the last four decades, the total volume of goods transported by sea has quadrupled, going from less than six trillion tons/mile in 1965 to 25 trillion tons in 2003.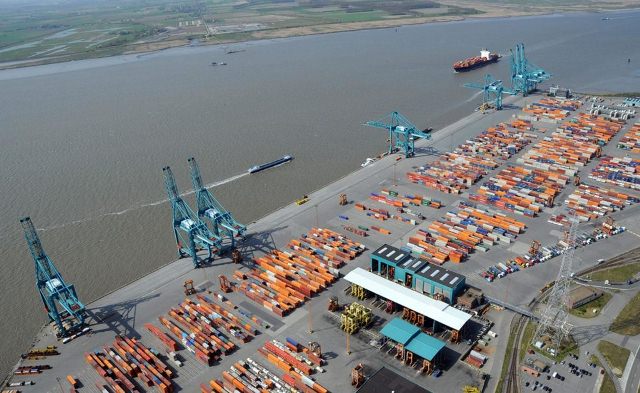 Maritime container
The emergence of the container (container) in 1956 also contributed to this impulse, thus normalizing the transport of goods, which meant the speeding up of transport, unloading, and storage of products.
The dimensions of the containers are identical, whatever the product they contain and are regulated by ISO 6346, it is the most common 6 meters long, 2.4 meters wide and 2.6 meters high.
They are usually made of steel or steel and 75% of the total merchandise is transported.
They have the twistlock, devices located in each of their corners to allow the container to be hooked by cranes and secured in the trucks for transport.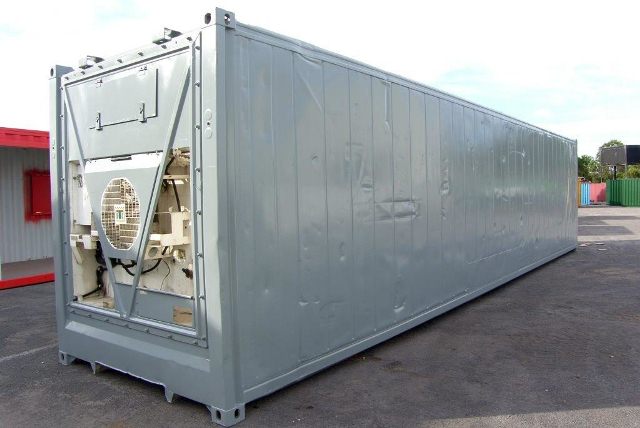 Largest ship in the world
Among the ships that dock these ports is the largest ship in the world, the "Knock Nevis", a Norwegian supertanker with 458 meters of length and 69 meters of beam.
It weighs 564,763 tons and can transport 83,192 tons with a cargo of 650,000 cubic meters (4.1 million barrels of oil). With maximum load, the hull sinks 24.6 meters below sea level.
The "Emma Maersk" is the largest container transport vessel in the world, capable of transporting between 13 500 and 14 500 TEUs.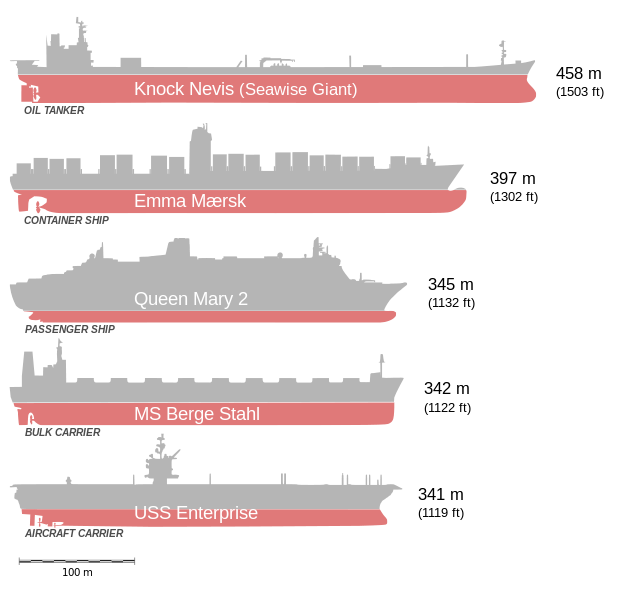 It has a length of 397 meters and a beam of 56 meters and is powered by the largest diesel engine in the world, with 2,300 tons and a capacity of 109,000 horsepower. Maritime transport accounts for 90% of the volume of goods transported worldwide.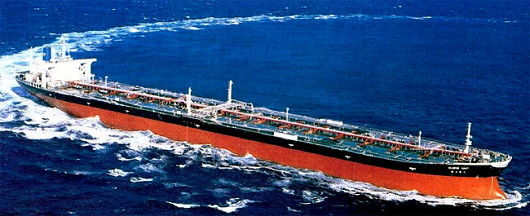 Port logistics
Difference between ports and terminals:
The ports are strategic geographical places that are on the edge of the oceans, seas, rivers or lakes.
These locations are then developed to inculcate facilities for the loading and unloading of cargo ships.
The facilities provided for a port depend on the purpose for which the port is used.
While a terminal is known as the set of facilities in a port where loading and unloading of cargo/container take place.
The terminals are named according to the type of cargo they can handle.
Some of the most common types of terminals are container terminal, bulk cargo terminal, LNG terminal, etc.
Shipping container
Port Containers have a wide range of new and used general purpose and specialized containers suitable for shipping goods by rail, truck or ship, in both 20 foot and 40-foot sizes.
Built to ISO standards with solid Corten marine-grade weathering steel, they're strong, secure, wind-proof, watertight, and incredibly durable.
You can choose from standard containers, high cube containers, side loading containers, open-top containers, flat rack containers, refrigerated containers, and insulated containers.
Storage containers
Though originally used for shipping goods by sea (hence their name), shipping containers have gained a new lease of life as super secure long and short term storage units.
The same features that make them so good for shipping (strength, security, and transportability) are excellent for storage as well.
The containers most commonly used for storage are the general-purpose, high cube, side loading, and insulated containers.
Portable storage containers
Whether you need long or short-term storage, a shipping container really is the perfect storage solution.
Why pack up the car or truck with all your boxes and drive to an expensive storage facility that's hard to access, when you can store all your goods right there at home in a shipping container.
From furniture, household goods, DIY projects, craft goods, office files, radiators and air-conditioners, sports equipment, cars, bikes, jet skis, dune buggies and more. It can all be stored securely in a 20′ or 40′ container.
If you have a farm or ranch, and we're thinking of getting another shed or enclosure building, consider a shipping container or two instead. They're perfect for storing parts, machinery, tools, chemicals, and feed. And – unlike a shed – they are completely portable.
Conex container
Tips for Buying a Conex Box
Before you buy your shipping container (or Conex Box as they're often called), make sure you know which Conex box is the most suitable for your needs. After all, if the box is too big, you've overpaid for the floor space required. And if the box is too small, then you're plum out of luck. (A mistake folks tend to realize much too late in the game to do anything about it)
So how do you know which shipping container is right for you? Below is a list of tips to keep in mind before signing on the dotted line…
Which Size Conex Box Do You Need?
The most helpful piece of advice to have before you purchase a Conex Box is to work out how much space you'll actually need to fit all your stuff in.
A standard Conex Box is 20 ft or 40 ft long. There are other sizes available, such as the 10 ft box. But 10 ft boxes are often cut down from larger containers and so tend to be a bit more pricey due to the labor involved in their construction.
Conex shipping container
Construction of Your Conex Box
The actual construction of your Conex Box is super important. Is the Conex Box you're looking to buy or rent made from corrosion-resistant, Corten steel? If it isn't, then walk away. Corten steel is made for outdoor conditions and is incredibly strong. And – due to its chemical composition – Corten steel exhibits increased resistance to atmospheric corrosion compared to other steels, due to the steel forming a protective layer on its surface when impacted by the weather. (Think of it as the shipping container equivalent of a force field!)
Siting Your Conex Box on Level Ground
When getting your container sited, try to make sure that your Conex Box is positioned on level ground. In an ideal world, try to site the box on concrete. But if the concrete isn't available, then wooden or concrete blocks are recommended.
What are the marine ports?
What are the maritime ports?
The term port can be used in different areas. This is, in its broadest sense, the infrastructure that includes various services for the realization of a certain operation. The maritime ports direct their work to the loading and unloading of containers, of different types of merchandise, especially fishing; to the deposit of pleasure boats (marinas) or others.
How do container ports work?
A container port or container terminal is a facility where cargo containers are transshipped between different transport vehicles, for onward transportation. Inland container ports tend to be located in or near major cities, with good rail connections to maritime container ports.
What are port operations?
Port operations can be defined as all policies, reforms, and regulations that influence the infrastructure and operations of port facilities including shipping services.
What is container terminal operations?
Container terminals are designated for the handling, storage, and possibly loading or unloading of cargo into or out of containers, and where containers can be picked up, dropped off, maintained, stored, or loaded or unloaded from one mode of transport to another (that is, vessel, truck, barge, or rail).
What is Port Handling?
An area designated for the handling, storage, and possibly loading or unloading of cargo into or out of containers, and where containers can be picked up, dropped off, maintained, stored, or loaded or unloaded from one mode of transport to another (that is, vessel, truck, barge, or rail).
How much is a Conex box?
The use of a Conex box for more than a couple of years can make purchasing a unit more cost-effective than renting. The purchase price ranges from $3,000-$5,000, depending on whether you buy new or used and how much the delivery fee will be.
The most read
More on this story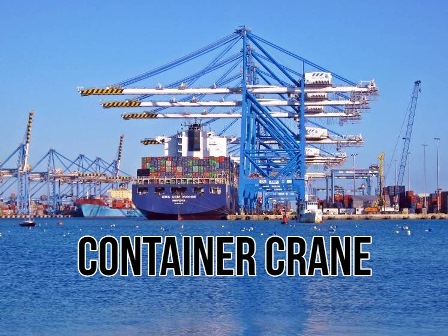 Container cranes consist of a supporting framework that can traverse the length of a quay or yard on a rail track. Instead of a hook, they are equipped with a specialized handling tool called a spreader.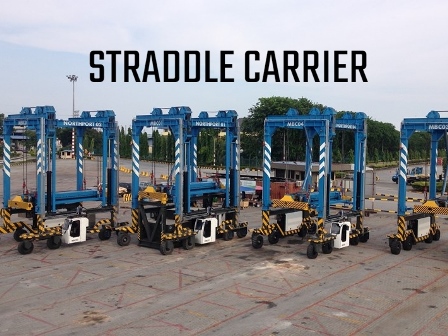 Globalization combined with the success of containerization has brought about tremendous increases in the transportation of containers across the world.