Easily haul loose dirt, mulch, or rocks for small or large jobs, the universal lawn tractor front scoop is an easy-to-install attachment.
Ideal for spreading sand or moving heavy rocks or bags of potting soil for garden plants. Raise, lower, and dump everything from the tractor seat.
Blade removal is easy after installing 1x mounting brackets. No need to remove the mower deck, with a load capacity of up to 200lbs.
The bucket raises 5″ to 7″ off the ground. You can use the bottom of the bucket to level the ground. Tire chains and wheel weights are recommended for best performance.
Lawn tractor front scoop
The front scoop, as opposed to a bucket loader, is a unique ground contact garden tractor attachment that is designed for light loads and limited capacities that keep the load below or at chassis height.
This allows the use of a lawn tractor to move the backfill instead of a wheelbarrow and not go too far above the center of gravity and negatively affect the design capacity and strength of the equipment.
Bucket loaders are designed to go above the tractor chassis, which requires a lot more chassis engineering to handle raising the center of gravity above the chassis and potentially the tractor.
Universal front scoop for sale
A universal dump bucket makes moving snow, dirt, and gravel quick and easy. It has a wide 44-inch bucket and 1/8-inch steel construction for powerful moving capabilities.
It features a quick-release dump engagement and a durable powder coat finish that will stand up to harsh climate conditions.
This front scoop can be used with an existing ATV winch. Use with a universal mounting kit. Once installed, the blade can be attached and removed in seconds without tools. Made in EE.UU.
More on this story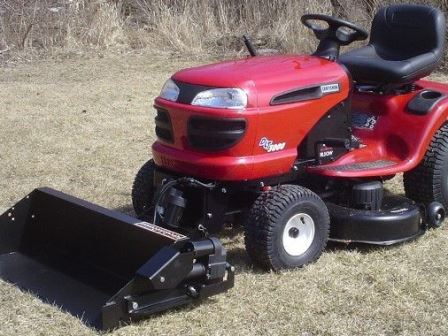 Move topsoil, mulch, and more during your next landscaping project, with the lawnmower front-end loader kit.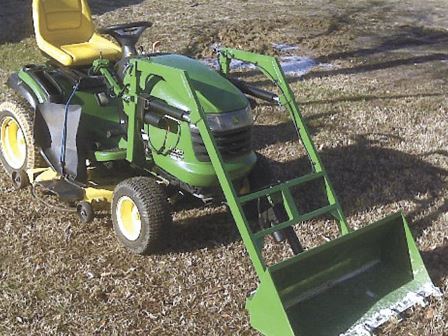 Whether you call it a bucket, a scoop, or a front loader, the solution for handling materials with a lawnmower is through a kit, which you must install in your equipment.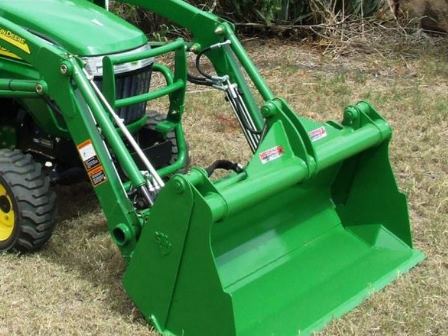 For those unfamiliar with garden tractors, a front loader doesn't seem like a useful tool. The truth is that garden tractors can be fitted with a front loader kit.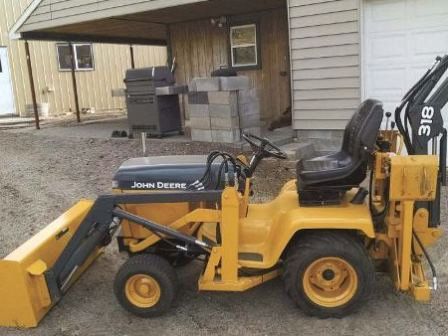 The loaders and backhoes illustrated here are the perfect tools for the care and maintenance of your property and landscaping.