If you want to buy a marine forklift for your facilities, here are some recommendations before you buy it:
There is a wide selection of new and used marina forklifts for you to choose from. Forklifts sold to lift boats are designed for maximum performance, speed, durability, and safety.
Forklifts are designed to lift large ships into the air and easily place them in or out of the water and safely in your dry storage facility.
Whether you have a large or small facility, you can be sure that there is a marina forklift to suit your needs.
Those with forklifts can handle capacities from 5,000 pounds to 65,000 pounds.
There are also forklifts that can stack jet skis and boats from 10 'long to 50' long.
The fork height can reach a maximum of 6 or 7 boats tall and over 60 ′ tall.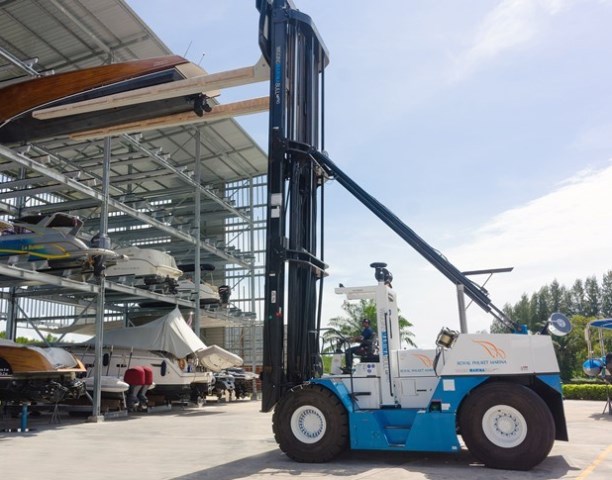 Negative lift forklift
The term negative lift sounds counterintuitive, but it actually refers to the ability of the mast and cart to lower a load below ground level of the forklift.
Used primarily in the marine industry, negative lift allows marina owners to quickly and easily lower boats into the water, as well as dip the forks into the water to retrieve them.
Marine forklifts are ideal for your marina and boat handling needs.
These features include galvanization and a three-step painting process for maximum corrosion protection; advanced rubber fork cover system intuitive electronic joystick controls; deluxe air suspension seat; compliant Cummins diesel engine; algae filtering system; and remote vehicle management system.
Boat Forklift Weight
Moving boats in a marina can be a tricky business. You have to lift boats in and out of the water, move the boats overland, and carry the boats up to the storage areas.
These specialty forklifts are like no other forklift out there. Not only can they lift loads, they can also lower loads under the mast.
Because marinas are such a special application, there are three characteristics to consider when considering purchasing a boat lift truck:
Negative lift forklift: positive and negative elevation
Custom forklift: ability to customize forklift
Technology to be used for transport maneuvers
Each of these requires you to consider your specific lifting environment.
Custom forklift
Boats come in different shapes and sizes, as do marina forklifts.
When considering which forklift is best suited for your port or warehouse, consider customizing the forklift to meet all of your needs.
Make sure the forklift can be configured to handle the largest ship in the marina. That means lifting it in and out of the water, as well as lifting it in and out of storage.

Lifting capacity
lifting height
negative elevation and
the load center
They influence your needs for the marina or boat warehouse.
Also explore your options for masts and fork lengths, as your marina lift can be built to your specifications.
In fact, with every purchase of a high-capacity forklift, your dealer will conduct a site inspection to make sure the forklift precisely matches the lifting needs of your boat.
Specialty forklift attachments
Forklifts are useful equipment, but sometimes they need a little extra help.
Make your forklift safer and more versatile with various forklift accessories and extensions to get the most out of your forklift.
A forklift is designed to make your lifting work more efficient, which will increase productivity.
Use your forklift to its full capacity with the right accessories!
You will also find that the return on your investment in forklift accessories will be quick, as most forklift parts pay for themselves in just a few uses.
Brows especialty forklift attachments below: Touchscreens, cameras, and wireless remote control are just a few of the technologies that you can and should take advantage of when considering a new marina forklift.
Boat forklifts are huge. You must use a backup camera when you are operating. Or when lifting boats in and out of the water, it should have a wireless remote control function that allows you to get out of the forklift to get a better point of view.
Both are available on a high-capacity forklift. And if additional cameras are needed for increased visibility, engineers can work to make sure you have them. These are all characteristics that you should consider when purchasing a marina forklift.
More on this story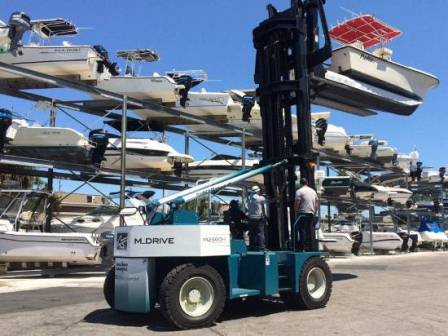 Hoist lift truck is compact and extremely maneuverable to operate around any facility, yet strong and durable enough to lift/lower boats of various sizes and weights.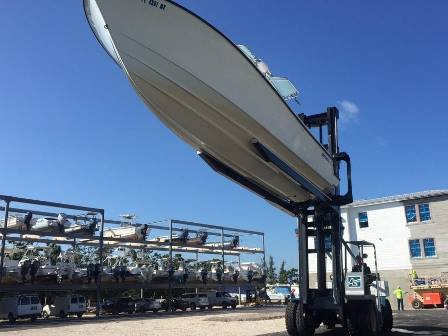 Large marina forklift picking up boat