On a busy day launching boat, efficient and safe forklift operations can make or break a business, especially for a seasonal facility. Operators need a machine that keeps them comfortable and alert, and marinas and boatyards need one designed to handle the toughest challenges without fail. The High-Capacity Marina Forklift has the industry-proven components and technology to meet those needs and solve problems before they start.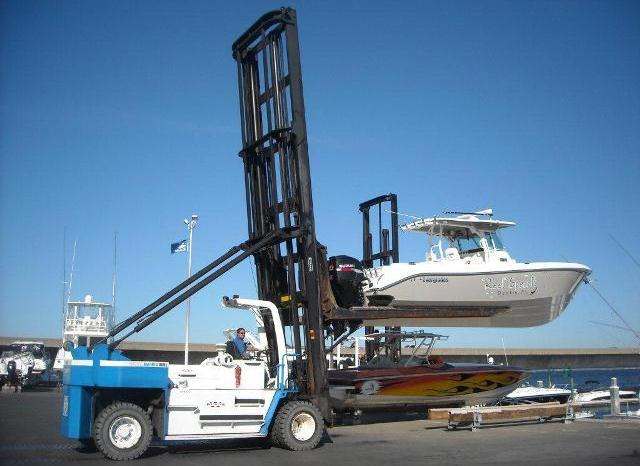 Marine Forklift
For any marina or boatyard, a successful business depends on the handling of boats efficiently. This is particularly true for a dry stack facility, where vessels are frequently moved in and out of the water. Downtime for equipment fixes, slow operations or the worst-case scenario — boat damage — will hamper productivity and negatively impact the bottom line.
A key component to every marina, and especially a dry stack one, is the forklift — the all-important mode of transport for getting boats from storage to the water and back again. The best forklift for the job will address marina-specific issues and help keep a facility running smoothly at a higher level of effectiveness and profitability.
The High-Capacity Marina Forklift has taken into account the issues marinas and dry storage facilities face, and its purpose-designed systems expand efficiency and, under the right circumstances, productivity. Whether the challenge is higher dry storage racks or lower slips, larger capacity loads or precise maneuvering, improved operator sightlines or long-term reliability, the forklift is expressly suited for the task.
Providing the Lift You Need With land at a premium anywhere along the shoreline, the biggest issue most marinas face is space and access to the water. As a result, facilities are building upward rather than outward and want higher and higher applications.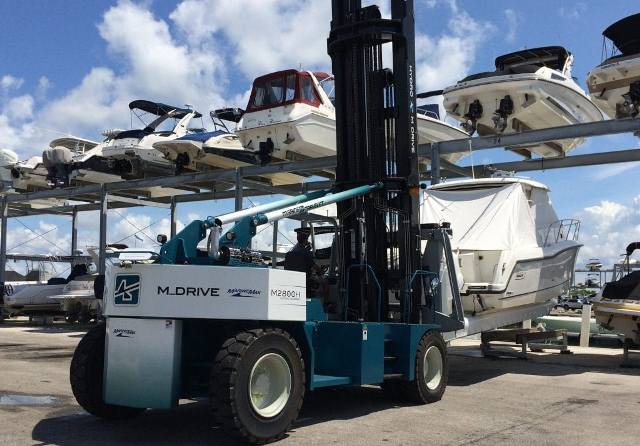 Boat forklift
Boat Forklift: Mast forklift
For a 96-inch load center, the High-Capacity Marina Forklift capacity ranges from 15,000 to 55,000 pounds. The forklift can lift smaller vessels up to 75 feet; as you go higher, the capacity decreases. Dry storage facilities traditionally stack larger boats on the bottom and use higher levels for lighter boats.
A specially designed mast provides a standard negative lift down to 20 feet, meaning operators are able to pull boats out of lower marina slips. Forklift capacity and height limits (upper and lower) can be customized to match the types of vessels a facility will transport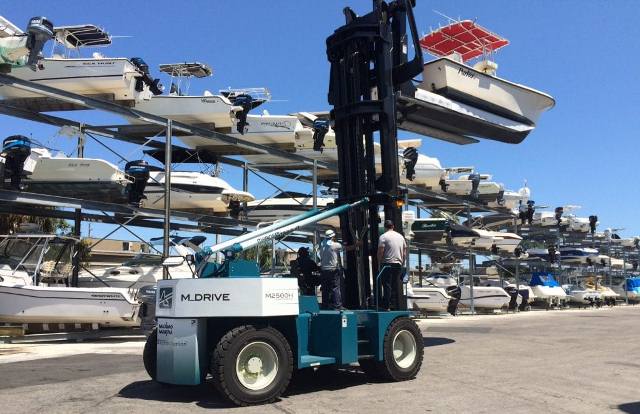 Forklift hydraulic system
To protect boats on the forklift, a "smart" hydraulics system calculates the weight of the vessel and a lift interrupter alerts the driver if it is too heavy. Without an automated system, operators may need to take precious time to ensure they can lift a boat. "A lot of times, if you were lifting a boat that was new to your facility, it wasn't uncommon that you had to call the manufacturer and find out how much the boat weighed and figure out if you could lift it," said Lunt.
Instead, the automated system will display how high the forklift can lift a vessel, and a safety interlock will kick in to stop a heavy load from being hoisted too high.
Top safety and economic concern when lifting a boat on a forklift is a hose break or something that would cause the vessel to fall. Utilizing a system that monitors for hydraulics issues, a safety mechanism will stop the truck from dropping in the event of a failure. Boats can then be lowered manually. "The hydraulic monitoring reduces the risk of boats falling."
Hydraulically controlled swinging forks also help to protect boats. Each fork hinges open to approximately 60 degrees, so the operator can find the right cradle fit for each vessel. "Every boat hull is different, with a different design.
[The swinging forks] allow for an adjustment based on the hull size, so you get good, solid contact,"
The majority of the contact with the boat is at the base of the forks, and protection there further helps prevent damage. A dense, slip-resistant rubber provides padding on the forks and can be replaced in 4-foot sections as needed.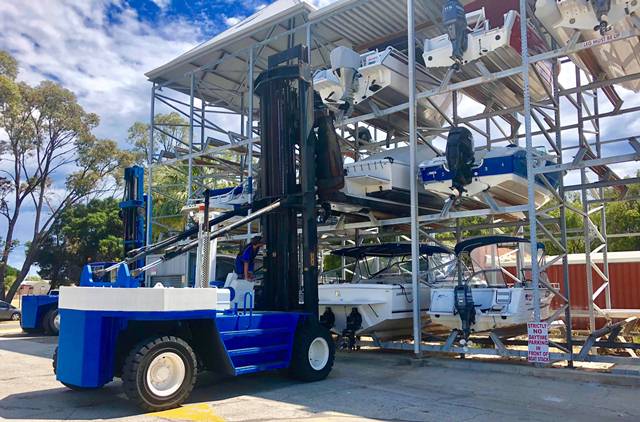 Forklift operator
The Operator and Technology Working Together
A marina or boatyard operation presents many opportunities for unsafe conditions, where personnel, property, vessels or customers are at risk. But quality, purpose-built equipment that is properly maintained — combined with good management and precise practices — can enhance a culture of safety.
Inside a dry storage building, space is also at a premium, and many facilities have narrow aisles to maximize storage space. Operators need to be especially mindful of large (and expensive) outboard motors that may stick out of the rack system and are prime for damage from forklifts.
Guidelines recommend that operators always look in the direct they are traveling. However, the unique challenges of lifting a boat in a marina dry storage application occasionally call for additional lines of sight. For operators in dry storage facilities, tight racks and narrow slips provide unique challenges that require expert precision. Advances in technology can help to facilitate success in unique dry stack marine applications.
These include control station that gives the operator real-time, on-board digital access to helpful tools such as an estimated rack height calculator and a backup camera. This feature is intended to allow the operator to observe the boat or vessel being lifted while also observing what is behind the forklift.
It can assist the operator in unique marine dry stack reverse travel situations where they need to be looking at the lifted boat while traveling in reverse. In addition, a border on the screen will flash a red proximity warning and an audible alert will sound to alert the operator of nearby obstacles.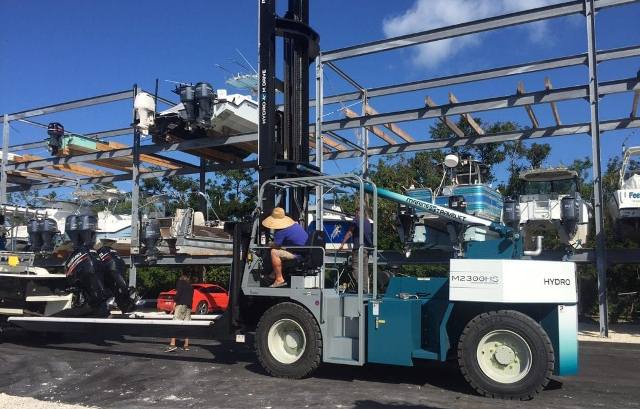 Forklift operator job description
The display can also be programmed to travel and shift gears faster for enhanced efficiency or can limit the use of the forklift to designated operators. For situations where operating speed needs to be restricted, the forklift speed can be locked at a certain gear.
The system can also customize a pre-operational checklist, display manuals and diagrams to help diagnose technical issues faster and relay data on the screen in words, not codes. Every minute of downtime saved translates to more value and productivity for the facility.
While the open cab design provides good visibility in all directions, the forklift can also be operated remotely in narrow spaces or when pulling a boat off a dock at low tide. In these cases, the operators may not be able to see around corners or below their normal field of vision. Using the remote allows them to walk where they need in order to sight-check forklift positioning and note potential hazards before proceeding.
The wireless remote can operate functions such as drive, lift/lower, right fork, left fork and tilt. The parking brake will also automatically engage when the operator switches to the remote.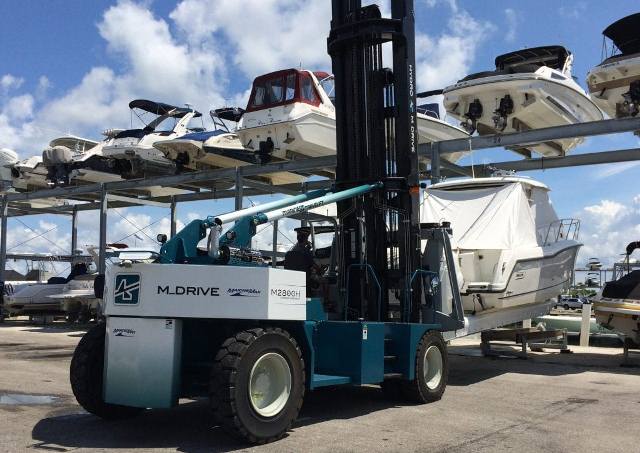 Forklift mast design
Designed for Smooth Operation
One relatively simple way to help keep a marina running smoothly is by using equipment designed for dependability and low maintenance, as well as for ergonomic operation and less stress on the user.
The High-Capacity Marina Forklift allows operators to sit on an air-ride seat, or the cab also permits stand-up operation. The electronic joystick controls make maneuvering intuitive and natural. The two-stage, wide-view mast provides maximum visibility, and the counterweight at the back of the unit is spread in a low profile to minimize obstruction.
Beyond external design, the components that make up-promote reliable operation. The forklift has force-cooled wet disc brakes for stopping power in heavy-duty applications. "The biggest enemy of brakes is heat, so cool hydraulic fluid is forced in and continually cycled."
From its Axletech planetary drive axle, to its welded steel chassis and heavy-duty cross supports, to its high-impact composite trunions, the forklift is constructed for durability in high-capacity applications.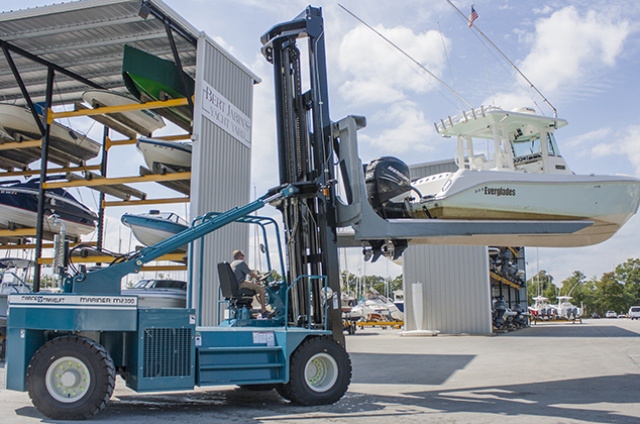 Forklift carriage
The forks and carriage are galvanized to prevent corrosion where they enter the water to lift boats. A two-part, rust-inhibiting polyurethane base coat and two-part polyurethane topcoat provide protection elsewhere. Fluorescent torque indicators on all the wheel lug nuts help operators identify when one gets loose because they look out of place, possibly preventing a problem before it occurs.
Trouble-free serviceability is critical for keeping a machine up and running, and the High-Capacity Marina Forklift addresses this with easy access to the drive train, filters, and lubrication points. The brakes are serviceable through the wheel ends, and O-ring face seal fittings prevent oil leaks.
What is marine forklift?
What is marine forklift?
The marina forklift in the industry is used to dry-stack boats in storage racks, and lower/raise boats in/out of the water. Hoist's lift truck is compact and extremely maneuverable to operate around any facility, yet strong and durable enough to lift/lower boats of various sizes and weights. Components and features that are optional on similar lift trucks are standard
What is a forklift used for?
A forklift (also called lift truck, jitney, fork truck, fork hoist, and forklift truck) is a powered industrial truck used to lift and move materials over short distances.
What is the difference between a reach truck and forklift?
Reach trucks are designed to work in narrow aisle warehousing spaces. They have two outer legs that distribute the load weight; with a wheel configuration of two or one wheels per leg. The wheelbase of a reach truck is the same length as a normal counter-balance forklift; however, the body is more compact.
What is a forklift truck used for?
One of the most common uses of a forklift is for indoor and outdoor materials movement. For indoor materials movement, forklifts are typically put to use in distribution centers or warehouses. These forklifts can pull or lift pallets of materials. They are also used for transporting drums, crates or stacked boxes.
The most read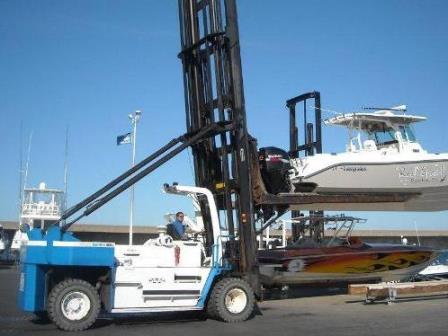 If you want to buy a marine forklift for your facilities, here are some recommendations before you buy it: …
More on this story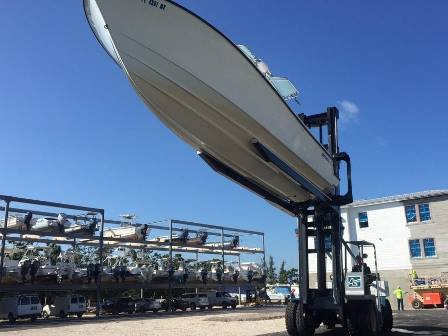 Large marina forklift picking up boat, a 100% welded steel chassis with steel cross supports is built to take on the toughest challenges at your boatyard or marina.