The technical specifications of a boat forklift are of a proven design and rock solid construction, so mast lubrication provides easy access during maintenance, reducing service downtime.
Remote grease lines, pilot-operated hydraulic controls provide smooth, precise and more efficient operation, feature built-in negative and positive lift that reduces overall turning radius and load moment.
Heavy duty 2- or 4-stage masts offer stepped entry and exit for easy operator access from both sides of the machine.
Once in the cab, the operator enjoys front and side visibility, from the cab at the top.
Forklift for boat storage
The Boat Forklift Series offers premium features ideal for your marina and boat handling needs.
These standard features include galvanization, powder coating, and a three-step painting process for maximum corrosion protection; advanced rubber fork cover system, intuitive electronic joystick controls, deluxe air suspension seat, level compliant Cummins diesel engine, algae filtering system and remote technology vehicle management system.
Not only is the boat forklift series extremely attractive to the eye, it has been designed, refined and tested to meet and exceed current global regulations for stability, sound levels and safety.
Engineering personnel use the latest 3D solid modeling technology to develop the highest quality forklift in terms of performance, durability, operator safety, comfort, visibility and serviceability.
American made forklift use all of the same North American components throughout their product line to maintain a standard of service and make parts readily available 24 hours a day.
Boat forklift operator
To obtain maximum performance, an operator must have all the essential tools at their fingertips. Boat Forklifts are designed with advanced ergonomics for maximum comfort and productivity.
Standard features:
Complies with OSHA operator protection
Release control pedal
Intuitive electronic controls provide effortless operation; mimics the movement of the forks and carriage
Gauges and auxiliary controls located next to the operator's seat. The display shows the hour meter, all engine functions, filter restrictions, low battery and remote technology functions.
Hydraulic controls are adjustable via the display and customization by the operator is possible, password protected.
forklift for lifting boats
Tilting steering column. Easy entry and exit
Directional and gear shift lever on steering column
Deluxe air suspension seat with retractable seat belts
Low, non-slip steps and handrails provide 3-point contact
Roof guard with top panel
Splash guard in front of operator platform
Optional wireless remote control available to operate boats off the operator platform.
Spring-loaded, hydraulically released parking brake
Enclosed cab (optional). Features available with enclosed cab include: heater and air conditioning unit, windshield wipers, front, rear, top wipers, tinted windows, and key lock doors
Rear crash sensor notifies operator with visual and audible warning of people or objects within a predetermined distance around the rear of the vehicle
Forklift dimensions and weight
Visibility
Boat forklifts are designed with a fully open mast and a unique low-profile counterweight to provide the operator with unobstructed views in all directions.
The two-stage wide-view mast is constructed with mast channels, lift cylinders, chains, and hoses positioned as far out as possible to provide the operator with the largest possible window of visibility.
forklift for moving boats
Superior tilt cylinders provide excellent stability and visibility.
Main rollers are lubricated and sealed with grease spots on each side of the mast. All mast lubrication can be done at ground level.
Main and side push rollers reduce friction; impact resistant.
Mast pivots constructed with wear resistant bronze bushings and hardened steel pins. The mast pivots can also be greased.
The accumulator in the lift circuit reduces shocks to the mast and the load.
Safety valves built into the base of the lift cylinders provide controlled lowering in the event of hose failure.
Forklift for Boats
More on this story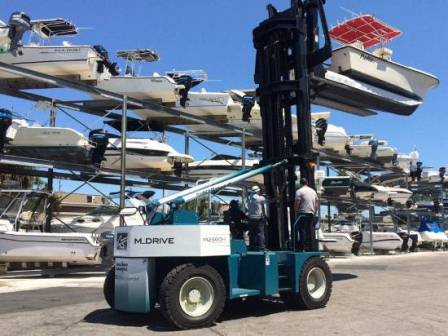 The marina forklift in the industry is used to dry-stack boats in storage racks, and lower/raise boats in/out of the water. Hoist's lift truck is compact and extremely maneuverable to operate around any facility, yet strong and durable enough to lift/lower boats of various sizes and weights.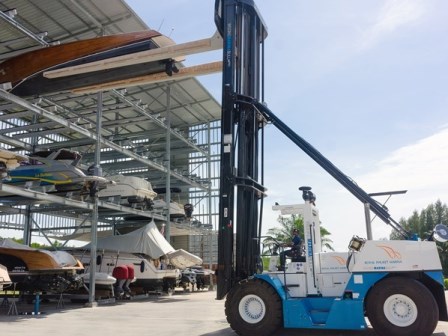 If you want to buy a marine forklift for your facilities, here are some recommendations before you buy it.