Container cranes consist of a supporting framework that can traverse the length of a quay or yard on a rail track. Instead of a hook, they are equipped with a specialized handling tool called a spreader. Cranes normally transport a single container at once, but some newer cranes have the capability to pick up two to four 20-foot containers at once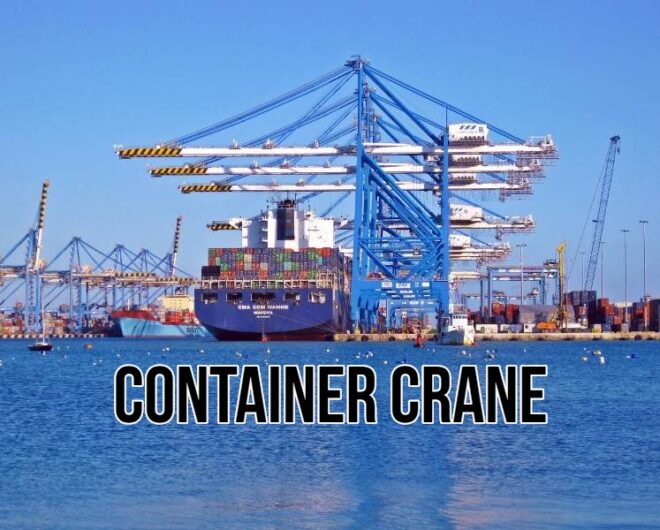 Container handling equipment
For the loading and unloading of boats on the docks, a wide range of port cranes is available:
cranes for containers
mobile port cranes
crane installed fixedly on a foundation column
cranes on rails.
Each one of them can be equipped with numerous optional and specific accessories for each job.
Likewise, customized and economically viable solutions are offered for all types of tasks, vessel sizes, and types of merchandise.
All cranes and their components are subjected to strict tests at the manufacturer's plant in order to ensure the quality and long-term availability required by all products of the highest quality.
Container cranes
In modern port facilities, what counts is productivity and reliability.
Container cranes must be available 99% of the time in order to comply with the handling rates required by transport companies and port operators. And this is only possible by acquiring the correct equipment.
Container cranes are present on all five continents and their advanced technology satisfies the constant demands of customers.
They offer a wide range of gantry cranes for container loading, from Panamax sizes to the latest generation of Megamax cranes.
They have an extra reach of 70 m and are capable of working with the largest container ships in the world and with safe loads of up to 120 metric tons.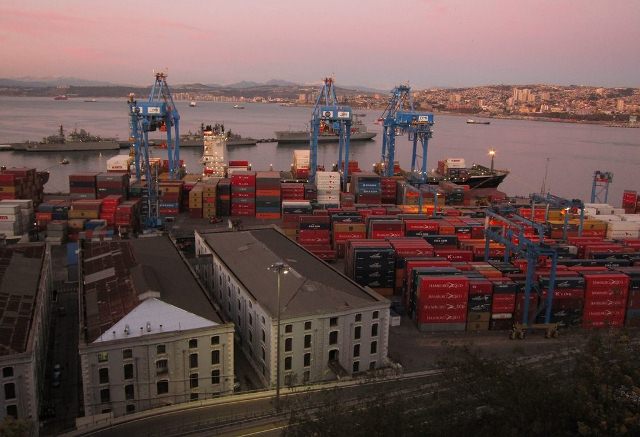 Mobile harbor crane
The port equipment covers a wide range of mobile cranes for ports, as well as cranes on a fixed pedestal and on the rail, each of which is available with numerous options planned for each type of operation, each ship size, and each type of freight.
Technical specifications
The result is a balanced program of 7 variations of the existing series with a range of performance from 42 tons to a maximum of 308 tons.
Its impressive range of applications includes a highly efficient container handling system with up to 45 movements/hour
bulk operations up to 2,300 tons/hour
the handling of scrap or general cargo and even heavy loads of up to 308 tons, simply with an easy change of the lifting equipment.
Mobile port cranes are based on an innovative concept that is the result of a development process that takes into account the modern requirements of material handling.
The modular concept applied to the basic machine offers solutions for a wide range of operational requirements.
The product range, with its excellent combination of well-established functions and unique features, is the perfect tool for simple and highly efficient load handling.
Whatever your objective is, mobile port cranes are a cost-effective, fast and practical solution.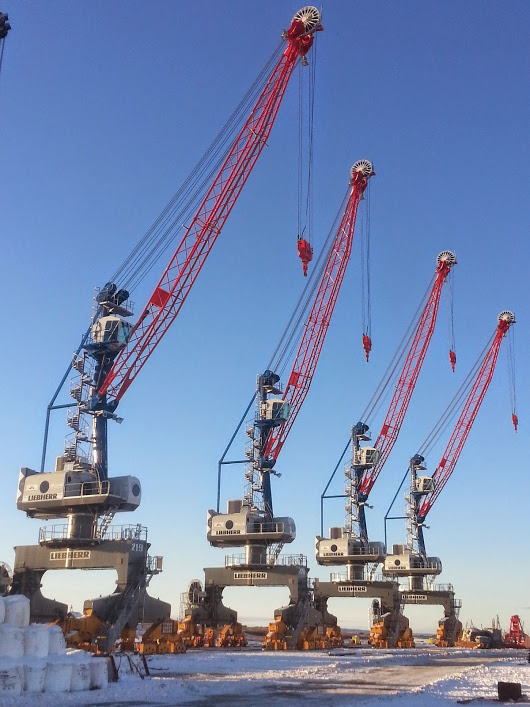 Rotating crane
Fixed cranes and mobile cranes for cargo handling, rotating cranes for docks, harbors and shipyards can be fixedly installed on foundation columns (FCC) or mobile gantries on rails (TCC).
The FCC and TCC ranges are economical solutions for cargo handling on ships up to Capesize size.
This concept is perfect for ports and shipyards with limited space or spring resistance.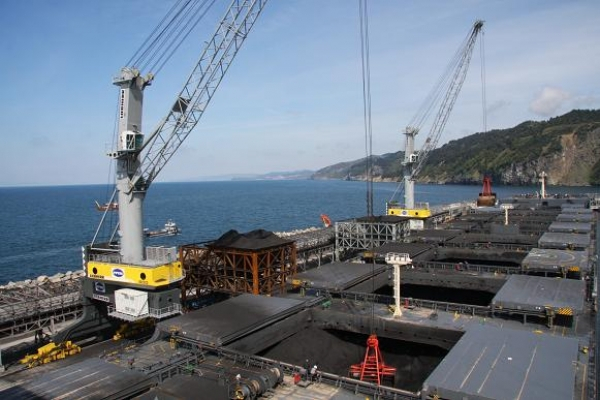 The rotating cranes are proven designs that reach yields of up to 1000t metric
Little initial investment and reduced operating and maintenance costs.
The FCC and TCC range from Liebherr include different types of cranes that adapt to all types of load, thus guaranteeing maximum handling efficiency: cranes with boom lifting mechanism by cable or by cylinders, cranes for heavy loads or cranes for containers/bulk or general cargo.
The wide range of accessories allows the crane to be configured for specific purposes (handling of containers or bulk), for multiple operations or for special applications.
The cranes come equipped with control systems such as the hydraulic load sensing control (CSC) or the Litronic ® high-speed control system.
The Crane offers a complete view of the work area and the load, which guarantees the precise handling of the goods.
Types of port infrastructure
As existing terminals, ports, and coastal infrastructure prepare for future mega-ships, improvements and expansions of port infrastructure require well-documented strategies and careful planning in order to be implemented successfully.
At a time when terrestrial, regulatory, environmental and safety requirements are becoming increasingly stringent, offering clear solutions to help customers navigate this complex world, it is necessary to have the necessary infrastructure.
Container crane
Rubber Tyred Gantry crane
Straddle carrier
Intermodal Container
Wharf
Container crane operator
Profession container crane operator
Container crane operators operate electrically powered cranes equipped with cantilevers on which hoisting gear is supported to load or unload container cargo.
They move towers in position alongside the vessel and lower cantilevers over the deck or hold of a vessel. They lift and move the container along the cantilever and position the container on the dock, on the vessel deck, or in the hold.
Container crane operator training
Personality Type
Realistic / Conventional
Realistic / Enterprising
Crane Knowledge
Loading charts for transportation of goods
Understand the information displayed in loading charts showing the weight of shipments loaded in trailers.
Read loading charts for the transport of larger items, dangerous materials or shipments that need special care.
Machine operator skills
Stay alert
Stay focused and alert at all times
React quickly in the case of unexpected events.
Concentrate and do not get distracted performing a task over a long period of time.
Load cargo on to ships
Load and unload cargo onto ships.
Oversee cargo loading and discharging operations.
Assist in the movement of heavy loads
Provide assistance in the relocation of heavy loads
Set up and operate a rigging system of ropes and cables in order to move heavy cargo.
Inspect crane equipment
Inspect the suitability of cables, pulleys, and grappling devices that form parts of cranes.
Ensure the ongoing maintenance of this equipment.
Set up crane
Set up cranes taking all safety measures into account.
Organize weight of loads according to lifting equipment capacity
Organize the weight of loads to prevent overloading and imbalances in lifting equipment.
Operate cranes
Operate cranes to move, position, lift or place machinery, equipment, or other large objects at various locations.
Check the quality of products on the production line
Check products for quality on the production line and remove defective items before and after packaging.
Use rigging tools
Employ rigging tools such as cables, ropes, pulleys, and winches to safely secure high structures.
Conduct routine machinery checks
Check machinery and equipment to ensure reliable performance during use and operations in worksites.
Maintain crane equipment
Ensure appropriate maintenance of crane equipment
Identify and report damage and malfunctions.
Replace worn or damaged components if necessary.
Operate railway lever frames
Operate mechanical lever frames housed in signal boxes.
Understand different applications of levers such as interlocking or signal receiving
Read and comprehend the track diagram and signaling layout mounted above the lever frame.
Operate hand-powered interlockings, power frames, mechanical, pneumatic or electric levers.
Perform high-risk work
Perform high-risk tasks and work that requires close adherence to specific rules and procedures to ensure safe operations.
Container crane manufacturers
Konecranes
I have over 40 years of experience in the design, manufacture, and delivery of Ship-to-Shore (STS) cranes. have delivered over 120 of them. They're keeping berthing windows open at container terminals around the world.
SHIP LOADING AND UNLOADING: Konecranes provides STS cranes in sizes ranging from Panamax to Super-Post-Panamax, with a long list of standard and optional features to choose from. Also, provide a set of driver assistance features. Our STS cranes have an excellent reputation for design, build quality and after-sales support. We can erect them on-site, or ship them fully erect depending on your location.
Liebherr Container Cranes
Shipping lines and port operators demand high productivity rates in modern container ports. Port equipment must, therefore, prove extremely efficient and economical in use. Liebherr Container Cranes Ltd. has over 50 years of experience in crane development and manufacture.
In 1958 Hans Liebherr founded the company in Ireland as the first manufacturing plant outside of Germany. At the Killarney plant in the Southwest of the country, the company produces ship-to-shore container cranes, rubber-tired and rail-mounted stacker cranes, and accessories. Liebherr container cranes are in use in over 100 ports and nearly 50 countries worldwide.
Hyundai container ship
Hyundai has established an effective total system in engineering, design, manufacturing, erection, transportation, site installation, test, and commissioning of high-quality Container Handling Cranes.
A choice of Hyundai Container Handling Crane will certainly increase the efficiency and productivity of a port and terminal operation.
Weihua crane
Weihua group mainly deals with researching, developing, and producing the lifting machinery, port machinery, construction-use tower crane, reducer, etc.
In the twelfth Five-Year Plan period, under the guidance of the scientific outlook on development, Weihua people will develop strategies; develop courageously, and continuous innovation, to achieve the magnificent goal of 'To be one of the most famous brands in the world.
Container crane specifications
A container gantry crane is a specialized crane located on a wharf and used for loading and unloading shipborne cargo containers.
It usually is fitted with a telescopic spreader to handle containers of different sizes. Crane back-reach is the distance from the centerline of the landward crane rail to the centerline of the farthest landward position of the spreader. Crane out-reach is the distance from the centerline of the waterside position of the trolley spreader.
Applications
These cranes are specialized for loading and unloading shipborne cargo containers.
Technologies
Such a crane is usually a three-part, H-shaped steel structure. The main vertical element includes a counterweight and is mounted on rails to allow the crane to move along the wharf in order to transfer containers to or from any part of the vessel. It also includes a cabin for the operator and a container spreader that can move horizontally through the steel structure, perpendicular to the wharf edge.
How to choose
In choosing a container gantry crane, the out-reach and back-reach distances, lift height, and capacity must be taken into account.
Advantages
Disadvantages
Requires trained operators
How do cranes pick up containers?
How do cranes pick up containers?
At ports served by RTG yards, the containers are first loaded on truck trailers before the RTGs move them to the yard. At ports that use straddle carriers, the ship-to-shore gantry cranes place containers directly on the dock. The carrier then straddles the boxes, picks them up, and takes them to the yard
How do shipping container cranes work?
The crane is operated by a specially trained crane operator from within the cabin located on the top end of the crane and suspended from the trolley. It is the operator who lifts the container from the ship or dock for unloading or loading of cargo.
What are ports and terminals?
A port is defined as an area on both land and water, whether on the sea or river, that provides facilities for shipping vessels to load and unload their cargo. This area, contained within 'port limits', will have been established over years of increasing or declining trade patterns and therefore is defined as the 'human set limits'.
How do container ports work?
A container port or container terminal is a facility where cargo containers are transshipped between different transport vehicles, for onward transportation. Inland container ports tend to be located in or near major cities, with good rail connections to maritime container ports.
What are the responsibilities of a container crane operator?
-Load cargo onto ships
-Assist in the movement of heavy loads
-Inspect crane equipment
-Set up crane
-Operate cranes
-Check the quality of products on the production line
-Use rigging tools
-Conduct routine machinery checks
-Maintain crane equipment
-Operate railway lever frames
-Perform high-risk work
The most read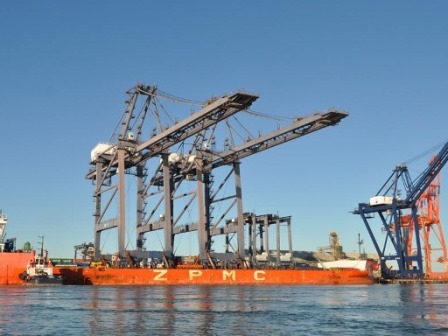 At present, there are many different types of cranes, depending on where they work, the loads they have to hoist and the tons they support, as well as the mechanisms they use.
More on this story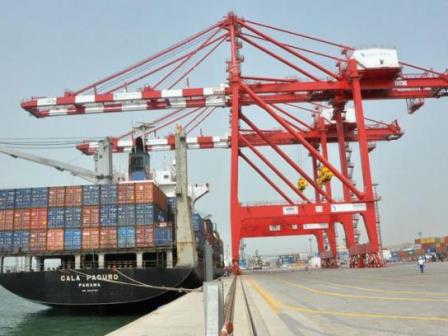 The gantry crane for containers: Panamax, post-Panamax, operator, uses, characteristics, ports, docks, transport, maneuvers, parts, container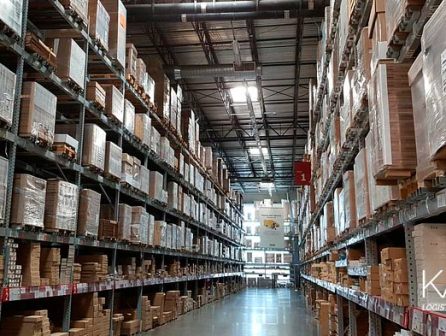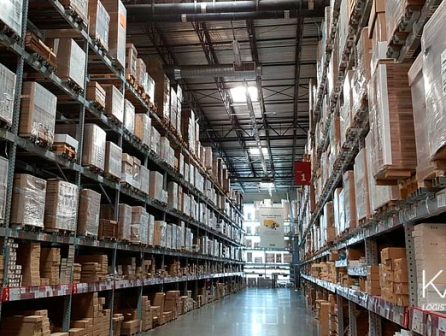 Storage logistics: management, transport, and inventory in warehouses with drive-through shelves, forklifts, and stacker cranes. cold storage warehouse.