Container Reach Stacker: Container handling with a reach stacker is one of the most flexible handling solutions whether to operate a smaller one unit terminal or a medium-sized port. A reach stacker can handle loaded containers quickly and efficiently in narrow spaces, while still ensuring the driver has optimum visibility.
The extensive freedom allowed by the lifting equipment, boom and attachment, and its rotation possibilities, give that the driver can improve the work efficiency of the unit, by not needing to approach the container from a 90 degrees position.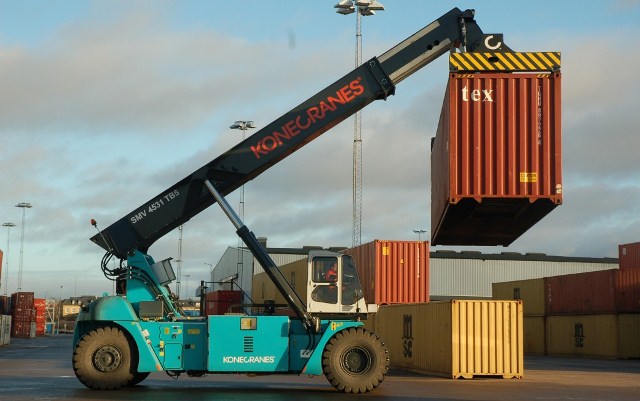 Port Cranes
There is a long history of working with container ports and intermodal terminals that are expert buyers and operators of reach stackers. Container handling customers demand a lot.
Larger reach stackers are needed for railroad stacking. To load and unload on more than one track you need a flexible reach stacker with a large lifting capacity and an extended set of functions. You will find a reach stacker in our range that will meet the specific requirements of your terminal.
Industrial crane
Many industrial companies need customized reach stackers for their specific industry. Reach stackers are remarkably adaptable to industrial cargo handling.
The reach stackers special spreaders incorporating steel grabs, lifting magnets, vacuum grippers and coil C-hooks among other attachments.
What kind of material do you need to lift and move?
Applications
Container ports and terminals
Railroads and intermodal
Trimodal river handling
Transport, shipping, and logistics
Steel and aluminum
Automotive
Oil and gas
Wind power
Nuclear power
Waste-to-energy
Reach stacker safety
Security measures related to container transport:
Operating the reach stacker without proper training.
Operating the machine without understanding that rated capacity is dependent on boom position.
Braking too hard or too quickly with a load; accelerating too quickly.
Turning too sharply or too quickly; turn the steering wheel slowly.
Raising the load when wind velocity is excessive.
Operating the machine on uneven surfaces or in unstable yard conditions.
Extending or lowering the boom with a load, not over a stack, or railcar.
Traveling with the load raised too high or extended too far.
Traveling without the seat belt fastened.
Jumping from a moving or tipping machine.
Handling an off-center load improperly.
Traveling on an incline with the load downhill
Backing away from a load in a rack or stack without completely releasing the load
Operating the machine in areas with an inadequate overhead clearance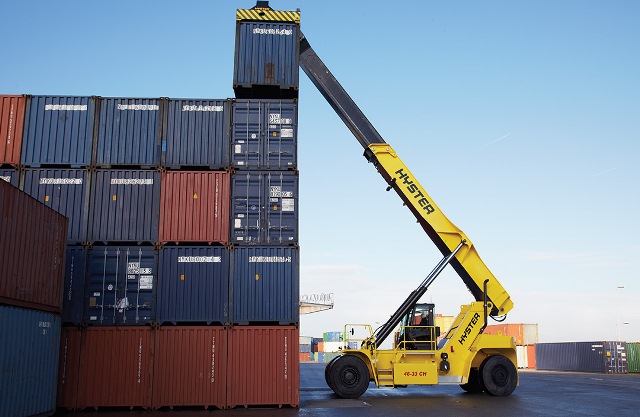 Safety rules in the workplace
Some of the security measures to take into account during operations are:
Operating the reach stacker before checking for proper operation of all functions and safety devices.
Moving or lowering the cab before checking the area around and below the cab and around the cab stairs.
Allowing personnel under the attachment or load.
Operating the reach stacker when it needs maintenance when safety devices are not functioning properly or are missing when ground personnel is working in an unsafe manner, when the wind is too high, when the grade is too steep, or if any other unsafe condition exists.
Operating or parking the reach stacker in an area where the slope is too steep or has insufficient strength to support the weight of the machine.
For reach stackers with moveable cabs, traveling the reach stacker when the cab is not properly positioned.
For reach stackers with stationary cabs, traveling the reach stacker when the cab is not properly secured.
Lifting a load that exceeds the rated capacity of the reach stacker.
Raising the load so it is directly over the reach stacker cab.
Lifting a container without all four twist locks fully locked.
Leaving the reach stacker with a load suspended.
Backing away from the load in a rack or stack without the complete release of the load.
Starting the engine if a "Do Not Operate" tag is on the operator's controls, ignition switch, battery disconnect switch, or engine control panel.
Parking the reach stacker in an unsafe area (in areas not designed to reach stacker travel, or on grades that are too steep).
Operating the reach stacker while the personnel is on any part of the machine.
Operating a reach stacker in areas without proper overhead clearance.
Operating a reach stacker in areas where power lines are present.
For your safety you must:
know the reach stacker's size
know the reach stacker's operating capacity at various boom positions
know how to operate the reach stacker
know what safety features are available
know the safe operating procedures at your worksite
check the reach stacker daily for proper operation
use every safety feature
follow safe operating procedures
be alert and use common sense
know the reach stacker's two basic modes of operation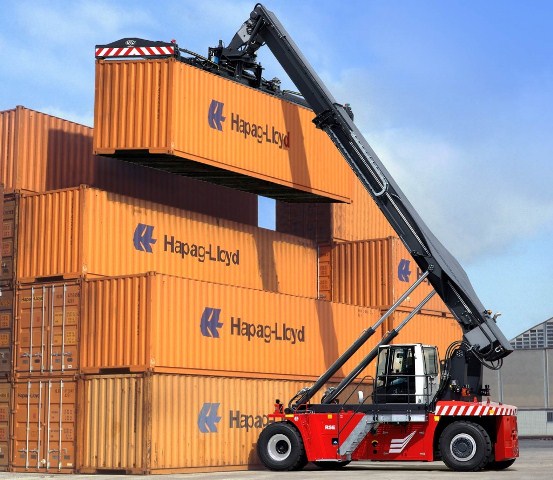 Reach stacker safety procedures
Safety measures for pedestrians are listed below:
Operating the reach stacker in an environment that is not ergonomically designed.
Traveling forward with a load that blocks visibility.
Walking or standing between a machine and/or a load, a rack, stack, or other objects.
Operating a machine with riders on the truck.
Groundsmen or other personnel in "blind spots."
Moving a machine without clearing all blind spots.
Relying on a back-up alarm or flashing light and not looking in the direction of travel.
Failure to properly instruct and safeguard transients.
Relying on mirrors.
Relying on cameras.
Not ensuring the path of the machine's tail swing is clear.
Pedestrian vehicle safety rules
Three things to keep in mind in the workplace:
The operator must fail to "look in the direction of and keep a clear view of the path of travel." Assuming the reach stacker/pedestrian contact was not intentional, the operator may have relied on mirrors thus not having a completely clear view of the path of travel, may have used an improper carry position thus blocking his view of the path of travel, or simply may not have looked, instead relying on motion alarms, strobe lights, or engine noise to alert pedestrians to the machine's presence. The operator must lean side to side and forward and back to clear all blind spots before putting the reach stacker in motion.
The pedestrian must be located within an area in which reach stackers travel and fail to keep a proper lookout. While the operator plays a large part in safe reach stacker operation, safety can not be solely the operator's responsibility. Pedestrians who work in and around reach stackers have a responsibility to watch out for reach stacker travel and stay clear of the reach stacker. Pedestrians should wear high visibility vests, maintain eye contact with reach stacker operator at all times, and stay out of marked reach stacker travel lanes, or stay within marked pedestrian lanes. Pedestrians must never assume that the operator sees them, and must keep a proper lookout.
The employer must fail to either establish reach stacker/pedestrian lanes or to enforce the restrictions. Employers govern the activities of each and every person on the work premises. Employers can not assume that operators nor pedestrians know the dangers of the workplace. The employer must, therefore, educate operators and pedestrians and take affirmative steps to separate reach stacker travel from pedestrian travel. The employer, ultimately, has the means at its disposal to prevent reach stacker/pedestrian accidents. Accidents do not just happen, they are caused by someone. Likewise, safety does not just happen, it is caused by someone.
Ergonomic design
Pedestrian crossing incidents are among the occupational hazards. The only reliable way to prevent this is to ergonomically design the environment so that pedestrians and stackers cannot cross and so that operators always follow OSHA rules to:
always look in the direction of and keep a clear view of the path of travel;
slow down and sound the horn at cross aisles and other locations where vision is obstructed;
travel with the load in defined travel position for optimum visibility;
Travel with the load trailing if forward visibility is obstructed.
and follow the Operator's Guide to:
Do Not operate the vehicle until both forward and reverse travel paths are clear;
Be sure tail swing paths are clear;
Do Not operate the vehicle when bystanders are present;
Ensure all travel alarms and strobes are functioning and the video cameras are working properly
What is the reach stacker?
What is the reach stacker?
A reach stacker is a vehicle used for handling intermodal cargo containers in small terminals or medium-sized ports. Reach stackers are able to transport a container short distances very quickly and pile them in various rows depending on its access.
How do shipping container cranes work?
The crane is operated by a specially trained crane operator from within the cabin located on the top end of the crane and suspended from the trolley. It is the operator who lifts the container from the ship or dock for unloading or loading of cargo.
How do shipping ports work?
Typically, containers arrive via specialized ships at designated ports that have the particular equipment for unloading and loading the cargo as well as loading it onto trucks that can bring the goods to their destinations. For exporters, who move containers from truck to ship, this process operates in reverse.
Why are ports so important?
Ports constitute an important economic activity in coastal areas. Ports are also important for the support of economic activities in the hinterland since they act as a crucial connection between sea and land transport. As a supplier of jobs, ports do not only serve an economic but also a social function.
The most read
More on this story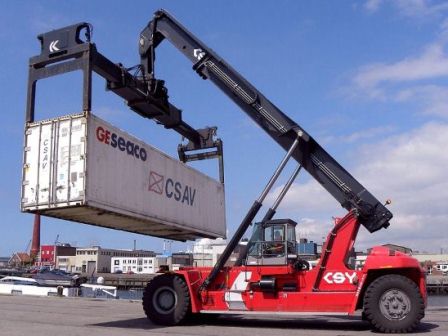 Container reach stacker, reachstackers, kalmar reachstacker, Container Handler, What is a reach stacker?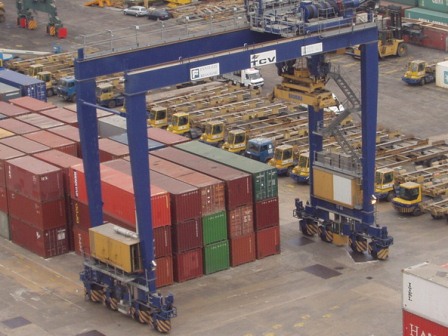 Rubber Tyred Gantry Crane, Container Terminal, what is an rtg crane? RTG crane parts name, RTG crane manufacturers, specification.