A rubber tyred gantry crane (RTG crane) is a mobile gantry crane used in intermodal operations to ground or stack containers.
Inbound containers are stored for future pickup by drayage trucks, and outbound are stored for future loading onto vessels.
RTGs typically straddle multiple lanes, with one lane reserved for container transfers.
Advantages: its mobility gives a rubber tyred gantry crane wide appliance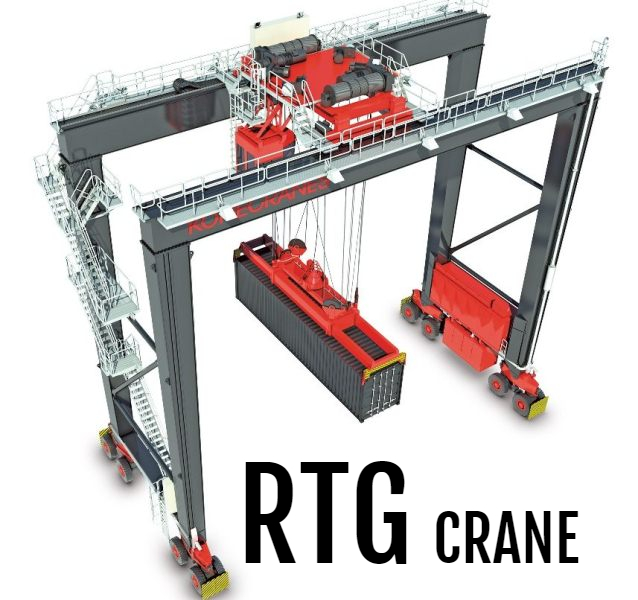 Rubber Tyred Gantry Crane
Tire container cranes (RTG) can be supplied with wingspan sizes of between five and eight containers (plus truck track width) and lift heights from "1 over 3" to "1 over 6" containers.
RTG cranes offer extraordinary productivity and reliability when stacking containers.
The RTG crane has a steel structure with high rigidity and stability that allows the containers to be handled in a very precise way and without shaking in their movement, even at high handling speeds.
This machine responds perfectly to the high level of quality demand. Its ease of maintenance results in a minimization of downtime, which in turn increases the performance of each RTG unit. It has a very precise control with the simultaneous movement of the different drives, so it is not necessary to mount a cable pulley crossbar or a lateral displacement system.
It can be supplied in an 8-wheel or 16-wheel configuration with numerous options to increase productivity, from DGPS and automatic steering to battery profiling and automation.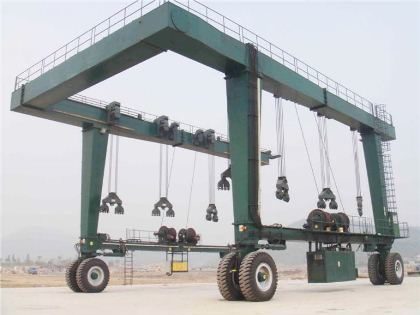 Container Terminal
Uses in Container terminal: To reduce the loading and unloading times of large container ships, the container storage area (container depot) needs to be handled in the best and most efficient way possible.
Depending on the degree of automation in modern container terminals, this can be done by means of two types of cranes for the handling of containers: gantry cranes on tires (RTG, for its acronym in English) or cranes gantry on rails (RMG).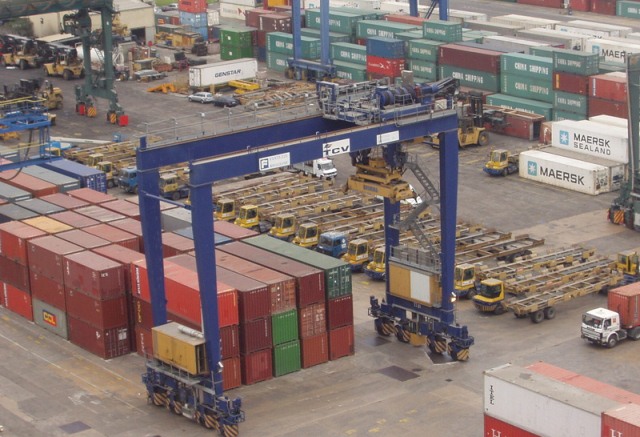 RTG container crane
RTG equipment
Although the task of both types of cranes is very similar – handling the entrance and exit of containers and placing them in blocks or piles – the technical and functional requirements for these types of machines are considerably different.
RTG cranes are operated by onboard drivers. The main function of these cranes is to unload containers from trucks or terminal tractors and load them in the container block or vice versa.
In general, RTGs have an extension equivalent to 5-8 containers wide and 3-5 tall. Standard RTG cranes are equipped with diesel engines to provide the power needed to move and lift loads.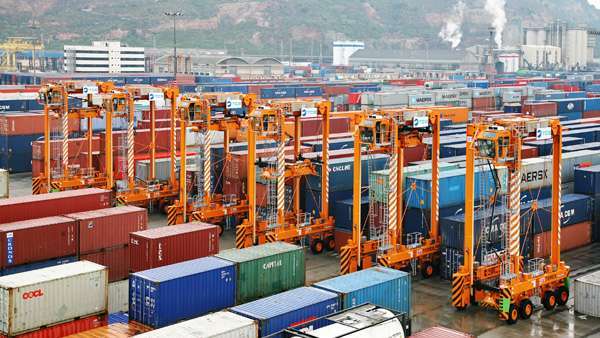 The transmission of energy and data to the truck of the RTG crane is provided by festoon cable systems or electric cable chains.
The RMG cranes are fully electrified. The main power supply and data transmission are handled by highly dynamic and specialized motorized cable reels.
RMG cranes are generally wider and taller than RTG cranes. Due to the automation of functions and the additional control equipment on board, the requirements for data communication to an RMG crane are much greater.
The transmission of energy and data to the truck of the RMG crane is carried out by highly resistant electric cable drag chain systems. The fully automated RMG cranes are known as automatic stacking cranes, or ASC, for its acronym in English.
RTG crane parts name
Rubber tyre gantry crane overview:
steel frame
hoisting mechanism
minimum slewing mechanism and
spreader anti-shaking mechanism
crane travel mechanism
turning mechanism
trolley traverse mechanism
container spreader
diesel generating sets
electrical equipment and
other accessory equipment for safety.
Inverter, PLC and CMMS(fault monitor system)
RTG crane parts
High tensile structural steel: Reduced weight leading to savings in civil infrastructure costs.
Self-powered trolley: Ensures precise positioning.
Simultaneous motion: 1,2 & 3. Simultaneous motion of all drives for increased productivity
Performance and safety: Anti-collision, gantry align and optional DGPS for improved safety and productivity
Ergonomic driver's cabin:

Designed with driver comfort and productivity in mind.
Reduced fatigue.

Modular drive systems: "Plug-in" modular construction of main drives assists fault finding and results in reduced maintenance costs.
Choice of power options: Depending on operational requirements, choose from electric, diesel-electric, dual or variable speed diesel, or hybrid.
Unique hoist system

No requirement for a head-block.
Reduced weight and energy consumption.
No additional motors or ropes for positioning of spreader leading to reduced maintenance costs.
Eight rope reeving ensures no sway or skew.
Precise spreader positioning for increased efficiency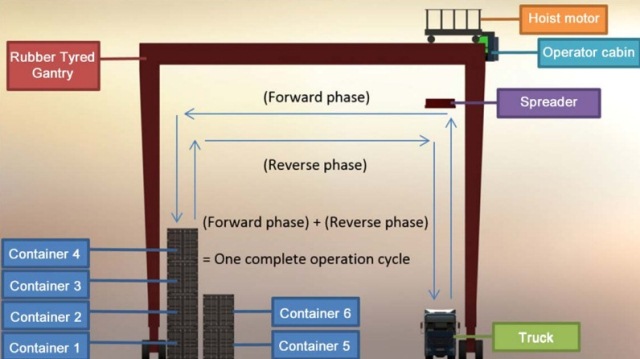 RTG crane specification
Features and advantages of RTG crane
Advanced technology: Advanced design, manufacturing technology, and test detection system, etc.
Comfortable ride. Nice-round view, industrial moldings control panel, high-resolution electronic monitor, centralized operation handle, warm-cold air conditioner, sound-absorbing, and de-noising, etc.
Safe and efficient. RTG crane is equipped with overload protection, diesel engine over-speed protection, water higher temperature indicator, and lower oil pressure indicator devices, and wind speed indicator, typhoon anchor device, emergency stop button, and each mechanism limit switch and indicator, etc.
Energy-saving and environment protecting. On yard turning, the RTG crane is driven by low power engine generators, saving energy and meet the demand for environmental protection.
RTG crane manufacturers
Konecranes
Liebherr
Kalmar
Sany
RTG Konecranes
Konecranes Rubber Tired Gantry (RTG) cranes and Konecranes Noell RTGs that make container handling safer, more productive and more reliable.
The Konecranes RTG has an intelligent steel structure, Active Load Control (ALC) technology and a smarter cabin, making this RTG the most productive and reliable in the world
The Konecranes Automated RTG (ARTG) system is available for both greenfield and brownfield container terminals.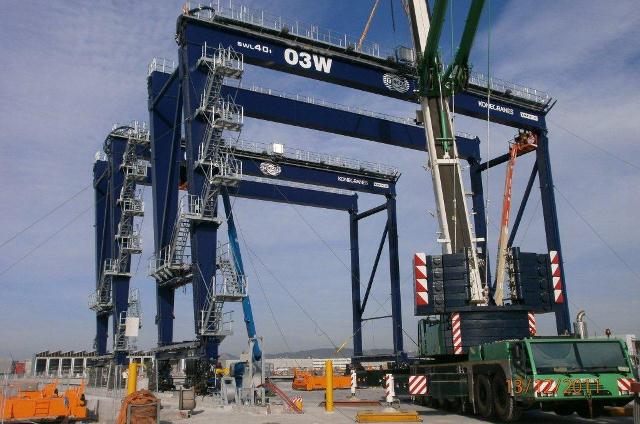 RTG Liebherr
Liebherr technology powering productivity. Liebherr cranes are engineered with efficiency in mind. Each component has been specifically designed for maximum productivity, reliability, and quality. The result is a crane delivering excellent productivity, with exceptional lifetime costs and industry-leading longevity.
RTG Kalmar
The Kalmar RTG cranes offer a highly efficient and flexible platform with four power source alternatives, industry-leading performance levels and state of the art features that can help you reduce RTG fuel consumption from 17% to 100% compared to most other RTGs.
The features include e.g. electro-mechanical anti-sway system, SmartProfile stack anti-collision system, SmartView camera system and a completely new intuitive graphical user interface (GUI) for the driver.
Each of the Kalmar RTGs can be designed to meet your business requirements. We can build your RTG to the height and width you specify, with an extensive choice of highly efficient power sources and cabin options. Kalmar RTGs are available up to 10+1 wide, giving you high stacking density and efficient land utilization.
RTG Sany
SANY RTG is customized to meet your unique demand at ports and yards, available in the standard model and tailored models with multiple choices of hoisting height, spans, and specifications. Modular design, top manufacturing, leading technologies, and rigorous tests give you the best RTG crane in the shortest period.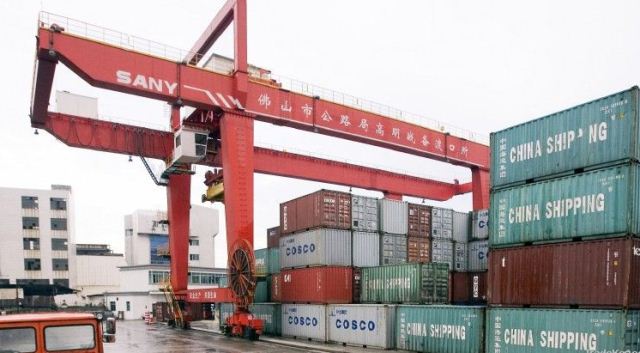 Rubber Tyred Gantry
What is RTG crane?
A rubber tyred gantry crane is a mobile gantry crane used in intermodal operations to ground or stack containers. Inbound containers are stored for future pickup by drayage trucks, and outbound are stored for future loading onto vessels.
What is the load capacity of the RTG crane?
RTG crane is a mobile rubber tyred Gantry Crane, often powered by diesel generator systems or other power supply equipment, which is an excellent solution for medium-sized container handling. The lifting capacity of RTG crane is 20 to 45 ton and the working class is A6.
What is a gantry operator?
A gantry crane is a crane built atop a gantry, which is a structure used to straddle an object or workspace. The distinction most often drawn between the two is that with gantry cranes, the entire structure (including gantry) is usually wheeled (often on rails).
How much do gantry crane operators make?
The Bureau of Labor Statistics reports that the average annual income of crane and tower crane operators was $50,040 in May 2011. This annual income figure is based on an average wage of $24.06 an hour and 2,080 hours of work per year.
The most read
More on this story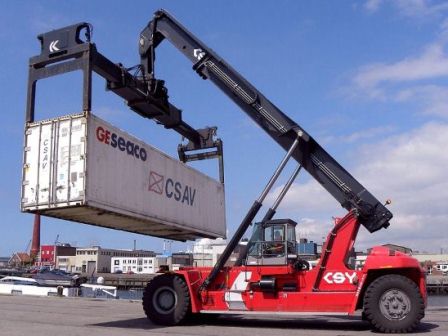 Container reach stacker, reachstackers, kalmar reachstacker, Container Handler, What is a reach stacker?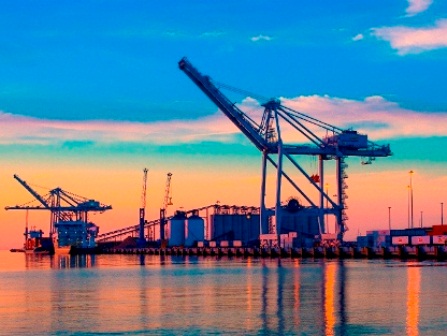 The gantry crane for containers: panamax, post panamax, operator, uses, characteristics, ports, docks, transport, maneuvers, parts, container