Radio remote controls are now standard equipment on most self-erecting tower cranes and are even becoming common in some parts of Europe for a flat-top tower crane.
Almost all self-erecting tower cranes come with remote control. A growing number of top-slewing tower cranes use them as well.
"In Europe, remote controls are used only with small top-slewing tower cranes, up to 100tm or 120tm," The limiting factor, he says, is that operators of larger cranes need to feel the crane reacting to the load so they do not operate too roughly.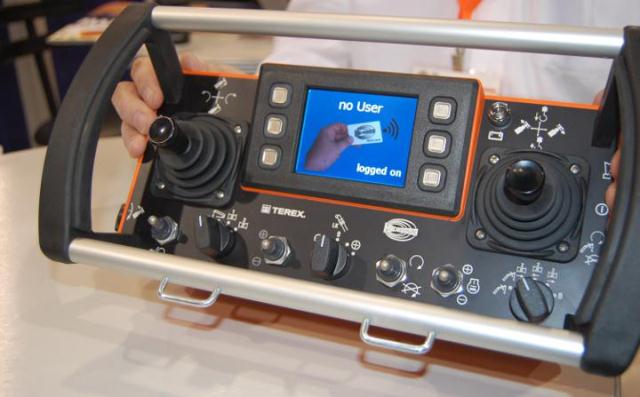 Tower Crane remote controls
With digital readouts wedged in between the controls, remote controls have started to look more and more like the load-moment indicator inside the cabin of a mobile crane. They tell users how much the load weighs, and what percentage of the maximum it is, how high the load is, and even how strong the wind is blowing.
What is remarkable is how quickly this has happened. Tower cranes have moved from simple electric machines to computer-control in about 20 years- perhaps half the development time of mobile cranes.
Remote controls have played a key role in this development. Early on, crane owners realized that small cranes are not busy all the time, and so operators who use remote controls can help out with rigging and other site jobs during downtime. Although of course, it costs more, adding a remote control could save an entire salary.

Tower crane joystick
"Sometimes nothing is happening, and then it is possible for the driver to do other things. If you have a remote control, you can walk beside the load. If you have to put a load down softly, you can stand beside the load, and see everything very well."
These early remote controls would have only replicated the main levers of the crane. Remote controls were an aftermarket business.
Remote controls have evolved away from being a specialty thing
"Twenty years ago, a crane operated by remote without a cable was some kind of magic. Now it is becoming standard for all crane applications, especially tower cranes, and loader cranes and mobile crushers."

Hetronic remote control
A key milestone was the manufacturers' decision to start to work directly with remote control vendors in the development of the crane. In 2000, Potain teamed up with German remote control manufacturer Hetronic, according to Potain global product manager.
About the same time, Liebherr's Biberach tower crane factory also started working closely with HBC-Radiomatic.
The decision was taken with the Igo range in 2000, that because of the evolution in the market toward radio remote controls, we should offer it as standard. It was then a gradual process to roll out standard remote controls.
"This was not about cost; the market was pulling for a solution, and we thought we should follow."
This move was important because it integrated the remote control into the technical architecture of the crane. Since the manufacturers were buying one unit for every crane, remote control manufacturers could expect much larger orders. By moving from an aftermarket addition to an OEM business, radio remote controls reached the mainstream.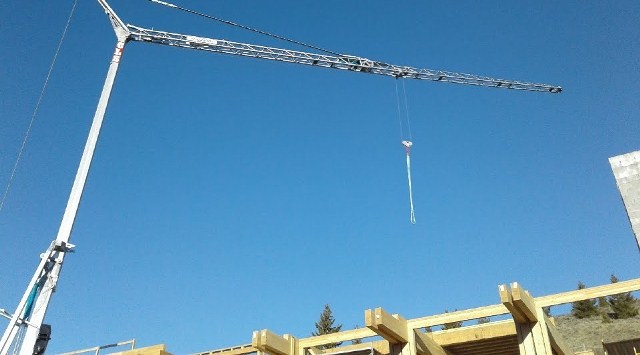 RC Tower crane
PLC remote control
The other feature of this new arrangement was technical cooperation. When OEMs started to work together with radio remote design engineers, remotes became many higher-performance products.
The trend in the industry is for radio remotes to move from being simply transmitter-receivers to going toward the receiver having the features of a PLC, referring to a programmable logic controller (a computer). Receivers need to become more intelligent, and programmable.
"It is necessary to have a long-term partner," Frech at Liebherr says. "You have to give many things to the partner so that they can provide control signals to the PLC, and give them the possibility to log into our control system. You don't give someone you don't know such access."
A remote control unit based on a computer is also more efficient to manufacture. Instead of having to make 50 different circuit boards for different customers, Hetronic can, for argument's sake, make five, and adapt each one of those 10 different ways using its H-Link configuration software. The H-Link software can assign buttons to outputs, and program speed increases or decreases, for example.
The next generation of remotes will be even more programmable.
Remote controlled tower crane
Remote control construction crane
The stage looks set to make tower cranes more computer-controlled in the future. "If you look at the market generally, there wasn't a computer network on the crane; there wasn't CAN-Bus architecture."
In the old days, if an operator was unsure of the weight of a load, he would try to raise it on the crane. If the crane's limit switches to cut out the hoisting motion, then he would know that it was too heavy to lift. Now, control software available in the Potain Igo T and MCT ranges will interpret the crane's load chart and warn the operator before the limit switches to cut out.
This same software will help crane operators determine how far they can trolley out a given load on the hook.
Now, on the latest cranes, there is, and optional extras such as site signaling lamps or zone limits can be slotted in without detailed set-up, extra programming, or complex troubleshooting.
"That is pretty recent, and I have not seen that elsewhere on self-erectors." Tooled-up end-users or dealers will configure the crane using an input screen inside the electrical cabinet of the crane itself.
Describes the interface as similar to a mobile phone's menu-type system.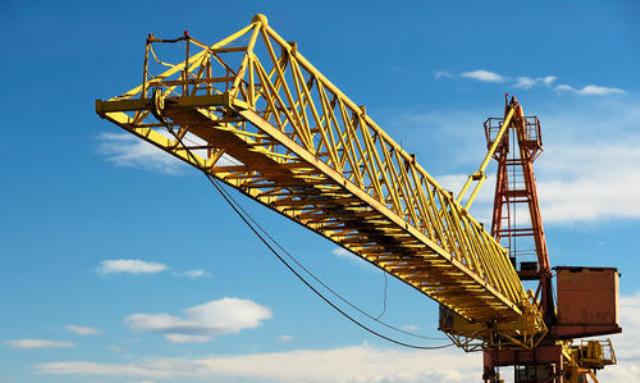 Potain tower crane
The Hetronic control for the Potain T85 displays trolley radius, hook height, weight, percentage capacity remaining, battery power, signal strength, wind speed, whether the crane is in two-fall or four-fall configuration, and warnings at 90% and 100% of crane capacity.
The first models displayed one piece of information; now screens display all of it.
Remotes with data feedback have become something more than just levers connected to the crane by a wireless radio link. Now a computer- or several computers – sit between the levers and the crane motors. The software that interprets the signals that display the information also moderate the crane operator's actions.
"What is most interesting in tower cranes now is the control system," "A tower crane is a steel construction, but there are more and more control and monitoring systems."
Tower crane design
The main objective of the project is to design robust, fast, and practical controllers for tower cranes to transfer loads from point to point in a short time as fast as possible and at the same time, keep the load swing small during the transfer process and completely eliminate it at the load destination.
Moreover, variations of the system parameters, such as the load weight are taken into account.
A tower crane is one of the major items of equipment used in the construction of high-rise buildings. However, crane operators do not receive adequate information, such as the target space conditions and the material being lifted, to control the crane. This limitation degrades productivity and safety. This study describes a prototype of a tower crane equipped with wireless control (IR remote control) technology.
With these advanced technologies, the tower crane can provide the crane operator with an enhanced view of the workspace and various other functions providing up-to-date material status. The tower crane can also provide faster information flow with greater accuracy and improved driving efficiency.
The tower crane was used to test its performance. The main objective of the project is to design robust, fast, and practical controllers for tower cranes to transfer loads from point to point in a short time as fast as possible and at the same time, keep the load swing small during the transfer process and completely eliminate it at the load destination.
Moreover, variations of the system parameters, such as the load weight are taken into account. The results confirmed considerable improvement in operational speed and significantly enhanced performance in workplace safety and communication efficiency.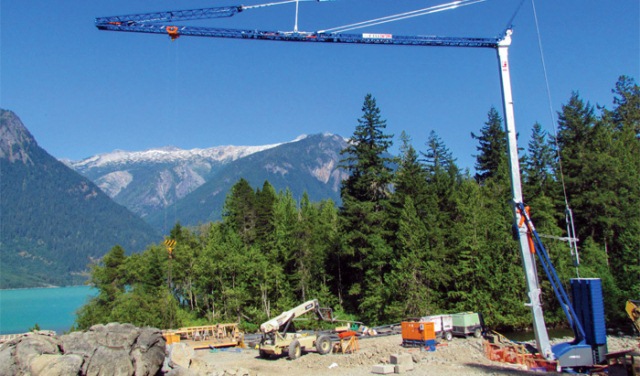 Remote Control Tower Crane
What is the use of remote control?
A remote control (RC) is usually hand-held, an electronic device for controlling another device, such as a television, radio or audio/video recording device. Remote controls commonly operate via infrared signals but sometimes by radio frequency signals.
How do IR remotes work?
An IR remote (also called a transmitter) uses light to carry signals from the remote to the device it controls. It emits pulses of invisible infrared light that correspond to specific binary codes. Radio-frequency remotes work in a similar way.
What is a jib on a tower crane?
A jib crane is a type of crane where a horizontal member (jib or boom), supporting a moveable hoist, is fixed to a wall or to a floor-mounted pillar. Jib cranes are used in construction sites and industrial premises.
What is a pendant on a crane?
Pendant crane is a type of pendant Overhead Crane, used in an industrial environment. A pendant overhead crane consists of parallel crane runways with a traveling bridge spanning the gap. An electric hoist or trolley travels along the bridge as the lifting mechanism.
What is a pendant control?
A pendant control hangs down from the hoist or off of a separate festoon track and allows the operator to control the crane and the load as it moves down the runway. A handheld controller with push buttons is directly wired into the hoist or a separate festoon track and hangs down to be used by the operator.
The most read
More on this story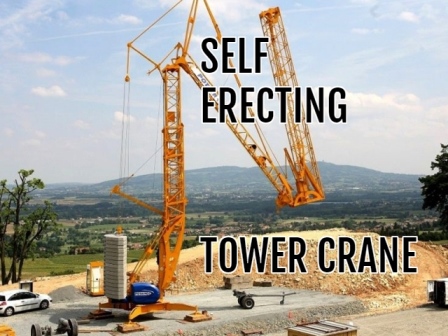 A self-erecting tower crane is compact, easy to erect and operate, and has several transport options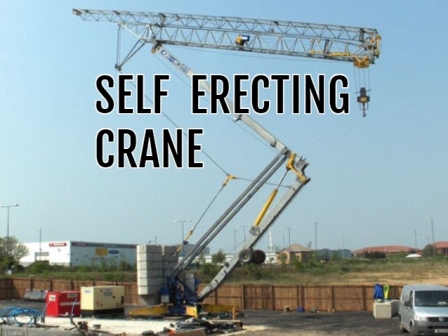 Self-erecting tower cranes have long been commonplace in Europe. Their versatility and reliability have made them a mainstay on the European Jobsite.