Self-Erecting Crane: Self-erecting tower cranes have long been commonplace in Europe. Their versatility and reliability have made them a mainstay on the European Jobsite. That same versatility and reliability are now practical for the Canadian market. Roblin Crane Services can provide you with self-erecting cranes for all your lifting needs.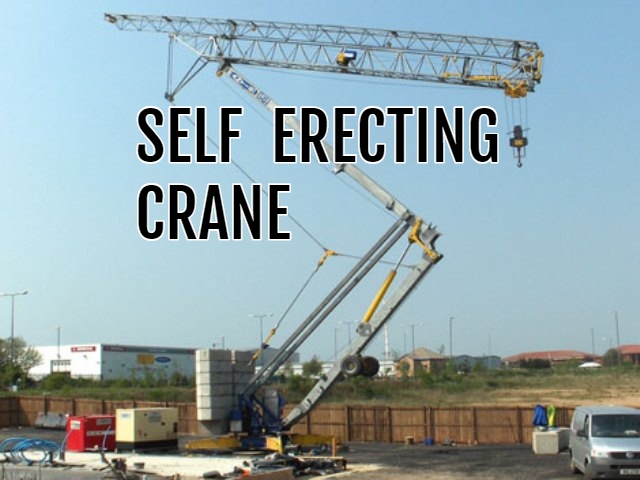 Self erecting cranes
Self Erecting Crane: What Is a Self erecting Tower Crane?
A self-erector is a tower crane that is designed to be easily and rapidly transported and erected without the assistance of a large hydraulic crane.
A range of models with varying capacities exist. In the hierarchy of cranes, their capacities are below those of larger "city" tower cranes and are viable for residential and commercial projects six stories and under.
A self erecting tower crane "folds up" upon itself — generally in four or more sections — when being readied for transport.
The tower typically folds into two sections and the jib, depending on its length, will fold into two or more sections. When folded up, the crane's size is such that it is ready and legal for transport, either on its own mounted highway axles or via flatbed transport.
From the time crane erection begins until the crane is fully unfolded is typically between fifteen and thirty minutes.
Calibration and testing must be done once the crane is erected and prior to use, but the overall duration from the time erection begins until the crane can be in use is a matter of hours — typically two to three.
Smaller self-erectors hold and are transported with their full requirement of ballast, or counterweight permanently attached. Most, beyond the smallest, have additional ballast that is transported and set in place separately. Cranes that have their full requirement of ballast permanently attached are referred to as "self-contained".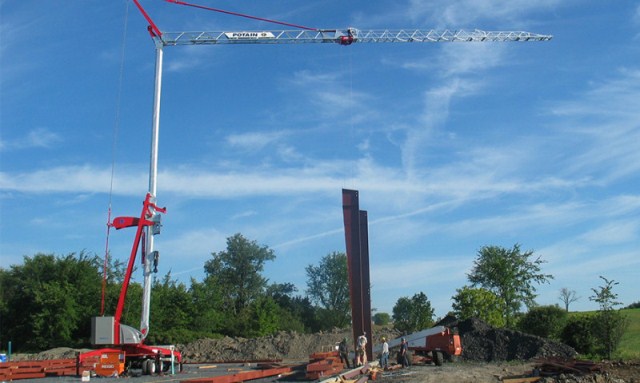 Self erecting crane specifications
Self erecting Crane Features
operable on tight-boundaries job sites and impassable job sites where other material handlers (like all-terrain forklifts or telehandlers) cannot perform
excellent reach (from 80 feet and up, depending on model)
minimal erection and set-up time
effective material lifting capacity (tip loads from 1,000 pounds and up, and maximum loads from 2,000 pounds and up, depending on crane model)
useful clearance (hook heights from 55 feet and up, depending on crane model)
minimal Jobsite "footprint" — between a 10-foot x 10-foot footprint and 14-foot x 14 foot, depending on crane model
quiet operation (they run on electricity)
operates on 480v three-phase electricity
stationary once erected
environmentally friendly
easy to operate, with a short learning curve
radio remote control
minimal maintenance
virtually no downtime
safe operating techniques
very affordable to rent, and operate
high-value retention and long useful life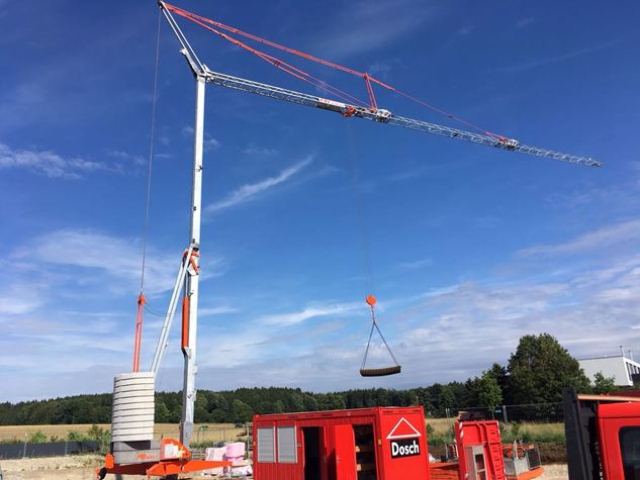 Construction crane
Self erecting Crane Benefits
The ultimate benefit of self erecting crane usage is, quite simply, value — savings (in construction costs resulting from using the crane) that outweigh the cost (to rent and operate the crane).
Crane users generally report a reduction in manual labor hours equivalent to four or more persons. They also report shortened job completion times — primarily during the framing cycle — of 15% or more, and reduced need for multiple pieces of material handling equipment. And these cranes are much less impactful to the environment as well.
The benefits that drive these results to follow, and are accomplished by the crane features and uses described previously.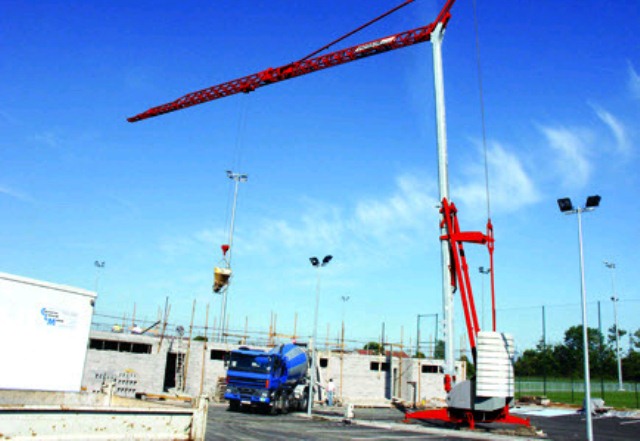 Self erecting crane hire
Self Erecting Crane: Improved Efficiency and Productivity
for crews that rely on their carpenters to perform the requisite manual labor to get their jobs done, a crane can remove much of the manual labor performed by carpenters freeing them up to focus on what you pay them to do — carpentry; the result is an improvement in productivity that also improves carpenters' morale and leaves them much fresher at the end of a long day
use of dedicated staging areas results in a more efficient assembly of construction components (wall sections, roof sections, built-up beams, etc.); materials required in the staging area can be placed in the staging area when needed, and, since navigation of other material handling equipment (like telehandlers) is not necessary, the staging areas do not continually have to be moved or
disturbed to allow passable access for that equipment
crane does not require a dedicated operator; rigging and operating can be done by a single person and, with the use of the remote control, the operator can move with the load, reducing the need for someone to "guide" the operator
the single-person operation for many tasks that otherwise would
require multiple people (lifting and setting trusses, lifting and
setting rafters, etc.)
the minimal footprint of crane leaves much more room on Jobsite for
material storage, staging areas, etc.
materials do not need to be handled or moved multiple times to make way for mobile equipment; material can be initially delivered to a "receiving" location and then dispersed a single time to the location of need when needed — the right material, the right quantity, when needed, delivered once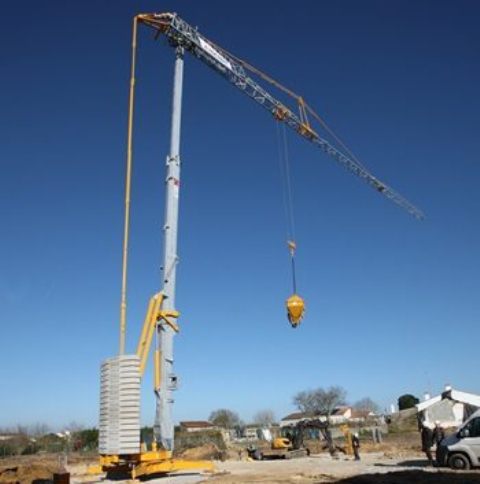 Tower crane uses
Self erecting Crane Uses
Self erecting crane has many users on the Jobsite. These cranes represent a new and different way to handle Jobsite material handling and hoisting tasks. Therefore, you will find new and different uses for these cranes beyond your customary techniques. In fact, our customers come up with new uses for these cranes on nearly a daily basis. Here is a sample of uses:
placing Jobsite material (lumber, engineered floor joists, trusses, masonry, etc.)
raising complete wall sections (first level, lower level, upper levels, interior, exterior, etc.)
hoisting, positioning, and setting trusses and/or roof rafters
after you assign dedicated staging/assembly areas, the crane can be used to place materials into those areas, and then remove and position assemblies in place; assemblies include exterior wall sections, interior wall sections, roof sections, gables, dormers, built-up wood, and microlaminated LVL beam sections, etc.
setting of steel beams, wood, and micro-laminated LVL beams, & interior structural and decorative timbers
picking up trash receptacles and dumping them directly into your Jobsite dumpster
placement of roof sheeting
placement of roofing shingle bundles
positioning workers, via a "man basket", to set windows, install siding, install exterior trim, paint, install and/or clean gutters, clean windows, etc.
access hard-to-reach areas to place or work on assemblies like chimney tops, cupolas, high eaves, gutters, etc.
placement of concrete via a concrete skip
This is just a sampling of these cranes' uses. You will continually innovate and find new uses that improve job site efficiency and safety.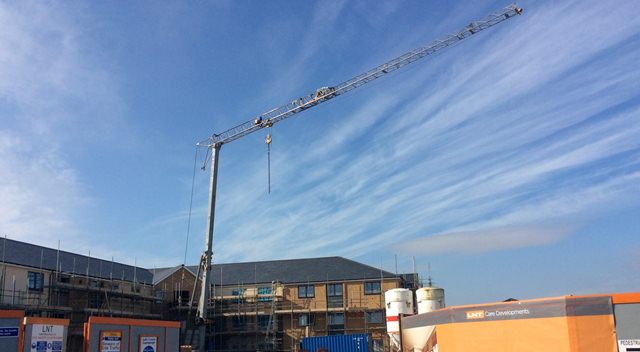 Self erecting tower crane for sale
"Once erected, these machines take up a very small footprint, much less than a mobile crane", "They cover a large area of a project from one location, and don't require an expensive concrete foundation."
But first, it's important to break down the mechanics of a self-erecting tower crane.
"Self-erecting tower cranes swing from the bottom, hence they are bottom slewing tower cranes". "They are also set up on outriggers, so instead of using a concrete foundation, they are set up much like a mobile crane does, and you can adjust the height of the outriggers to get the crane perfectly level.
Another big difference is that there is no counter jib. So with these cranes, the jibs are held up by the suspension going up the rear of the tower instead of a large counter jib sticking out the back."
These cranes also typically use wireless remote controls, or wired remote controls, depending on the model. But one of the most impressive attributes of a self-erecting tower crane is it folds up into the size of a semi-trailer, making it easy to transport going down the road.
Self-erecting tower cranes are safer and more cost-effective when compared to other crane and material handling options.
Self erecting tower crane rental
Estimated that the machine population in the U.S. is sitting between 500 and 600, compared to 15,000 self-erecting tower cranes in Germany alone. But while self-erecting tower cranes are not as heavily utilized in North America as they are in Europe, the market is improving as more users see their advantages on the Jobsite. With significant cost savings to customers, a self-erecting tower crane provides a strong return on investment.
Ranging from smaller units (approximately 80-foot radius) to extra-large (around 160-foot radius), the versatility of self-erectors plays a huge role in their benefits. Small models often have self-contained counterweights, and axle sets are possible with the smaller range, making fast erection and onsite moves possible. Small self-erectors are ideal for two- to three-story apartments with multiple buildings.
Mini self erecting tower crane
Small self-erecting tower cranes are easy to train operators to erect and dismantle, and in most cases are cheaper and safer than a boom truck. Estimated that a two-month-long project costs around $55,000 with a boom truck, while an 85-foot self-erecting tower crane with a full-time operator costs only $25,000, with 75 percent of this cost going to the operator. The crane only ends up costing as little as $30 per hour over this period of time.
Counterweight jib crane
A medium-sized self-erecting tower crane comes with counterweights and the axle set, but it is not permanently attached to the axle set. Medium-sized units can be erected in just two hours with three men and two semi-trucks. They have a radius of up to about 130 feet. These machines are ideal for three- to six-story wood-framed structures. They can be moved on the Jobsite in three to four hours. For this size range, Hadland provided the example of a self-erecting tower crane in comparison to a forklift.
Tower crane cost
Self Erecting Crane : Decreased Equipment and Labour Costs
a single self erecting crane eliminates the need for multiple pieces of material handling equipment like mobile cranes, telehandlers or all-terrain forklifts, boom trucks, etc.
reduced fuel costs to operate material handling equipment
can be used on job sites with tight boundaries or impassable terrain where the only real material handling option typically is manual labor
a crane is a "model employee":

it is on-time to work
it doesn't talk back
it is reliable and dependable
it never gets tired
it won't ever file a workers' comp claim

for crews that employ dedicated laborers, the many cranes use (trash removal, material handling, and lifting, etc.) reduce much of the need for laborers
the ability to place materials and assemblies anywhere on the Jobsite, including inside the structure (and not just at the perimeter, a limitation of telehandlers for instance), reduces the need for manual labor to perform that task
quick, easy setup
jobsite safety is improved due to the decreased need for manual tasks, also drastically reducing workers' comp claims
Environmental Benefits

operate on electricity from a generator
does not leave deep ruts or disturb surrounding terrain as a result of machinery navigating the job site.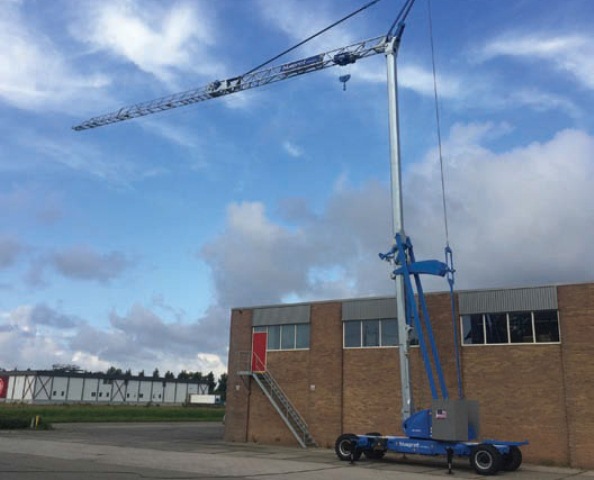 Self erecting Crane manufacturers
Tower crane manufacturers – Self Erecting Crane manufacturers:
Liebherr self-erecting tower crane
Terex self-erecting tower cranes
Potain self-erecting crane
Manitowoc tower cranes
How much does it cost to hire a tower crane?
A typical monthly fee for a 150-foot-tall tower crane is approximately $15,000, with an additional charge to rent the climbing frame and extra mast sections.
How much does a self erecting crane operator make?
A Crane or Tower Operator will usually earn a wage of around 40000 and 60000 based on education and experience. Crane and Tower Operators usually receive an average pay level of Fifty Thousand One Hundred dollars on a yearly basis.
How does a tower crane work?
Concrete and steel beams are much too heavy for construction workers to carry upstairs. Instead, they load these objects onto a crane and carefully put them in place. The tall part of the crane that sticks up in the air is called the mast. It looks kind of like the mast on a ship!
Who invented the self erecting crane?
Hans Liebherr helped develop the mobile tower crane in the late 1940s with the help of a team of design engineers.
What is a crane Luffer?
A level-luffing crane is a crane mechanism where the hook remains at the same level whilst luffing; moving the jib up and down, so as to move the hook inwards and outwards relative to the base.
The most read
More on this story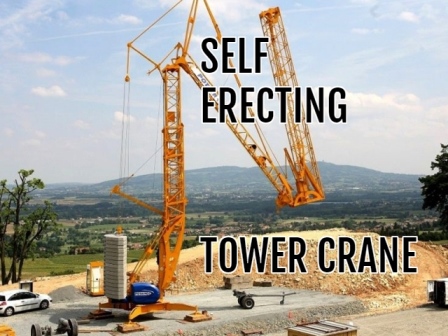 A self-erecting tower crane is compact, easy to erect and operate, and have several transport options. Wireless remote controls, quiet and efficient electric motors, state-of-the-art variable frequency motor drives and overload protection systems are standard.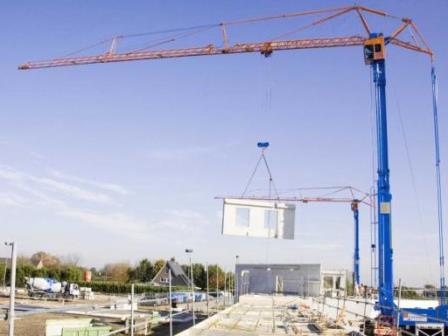 The economic benefits obtained at the end of a certain project are directly related to the planning and programming of costs that are made from the beginning include the rental of cranes and construction machinery.