Adjustable Gantry Crane or A-Frame crane: The production of gantry cranes includes capacity and structures with different dimensions according to the requests and needs of the customer.
Adjustable Height Steel Gantry Cranes provide an economical way to lift materials anywhere within a facility. The casters enable you to move the gantry around your work area.
This is a more cost-effective lifting solution for areas of infrequent lifts than a more expensive permanent structure.
heavy duty end frame design with square tubing uprights, knee braces, and channel base provides stable lifting and movement.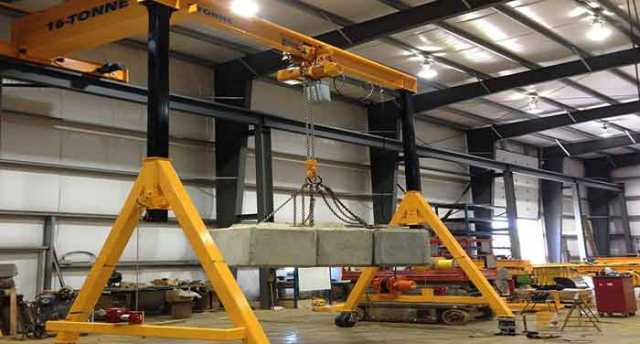 A-Frame Gantry Crane Design
The gantry cranes are designed and manufactured in different types of structures, in order to ensure customers get the most use out of the place.
Therefore are realized gantry cranes lateral leaps in structures and crane type Half-crane, which have the particularity to move for a part sliding on the floor and the other on the upper part of the building by means of a special head fitted with wheel boxes motorized
The translation is made through a group formed by wheel boxes and longhorns. The wheel boxes are equipped with steel wheels mounted on bearings with direct coupling to a reducer coupled to an electric motor self-braking.
The wheel boxes are equipped with a system that allows adjustment of the axis of translation of the machine, thus allowing to adapt the movement of the crane to the rails and ensuring ease of maintenance.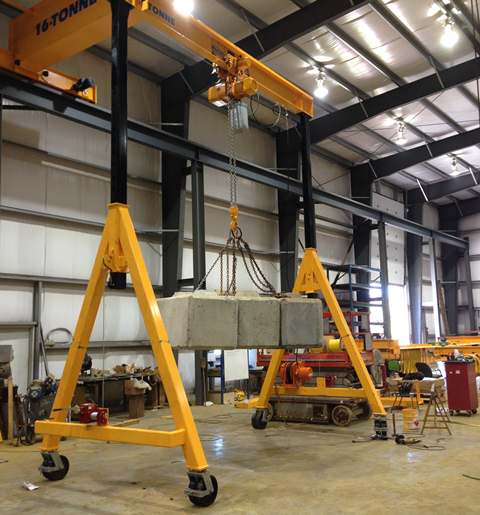 Types of gantry crane
Adjustable Gantry Crane
Capacities from 1 ton – 5-ton
Spans from 8ft. – 30ft.
HUB heights range from 7 ft. (Min.) to 20 ft. (max)
Adjustable in 6″ increments to provide different lifting heights
Easily moved to any location in a facility
Cost-effective for areas with infrequent lifts
Folding Aluminum Gantry Crane
Capacities from 1000 lbs. – 4000 lbs.
Standard spans up to 20′.
Height Under Boom 6-12′
Adjustable in 6" increments to provide different lifting heights
Collapsible for easy storage
Cost-effective for areas with infrequent lifts
Fixed Gantry Crane
Capacities from 1 ton – 5-ton
Spans from 8ft. – 30ft.
Heights from 10ft. – 20ft.
Easily moved to any location in a facility
Cost-effective for areas with infrequent lifts
Gantry Crane Specification
Moving and lifting heavy materials doesn't have to involve installing expensive equipment or permanently changing your facility. Gantries are a versatile, portable, economical, and a viable solution to expensive overhead crane
Gantry cranes are assembled and disassembled quickly and easily, making them ideal for use in a rented facility or in multiple work areas.
Gantry Cranes are easy to install and relocate.
If needed, V-tracks and guide angles simply lag bolt to the existing floor.
Gantry Cranes are unsurpassed in design, strength, durability, and quality construction:
Precision tolerances and welding ensure component alignment and operational stability.
Use standardized quality American I-beams and wide flange beams.
All nuts, bolts, and pins are plated for corrosion resistance, and all gantries are painted Yellow Industrial Enamel.
Outdoor use options are available, including exterior coatings and stainless steel motors.
V-Groove Track Drives: Two motors drive rigid steel V-groove wheels along a fixed path.
Guide Angle Drives: Ideal for installations where the gantry runs along a wall, two motors on one side of the gantry drive trackless polyurethane wheels that are led by a small guide angle; the guide angle simply lags into the floor, at the base of the wall.
Crane Rail Drives: Two motors drive double flange steel wheels along a fixed path. Truly Trackless (Aligning) Drives: These drives are ideal for when you need to keep your shop floor clear of all tracks or angle guides; a selector switch in the control pendant selectively turns each motor on and off to guide the gantry along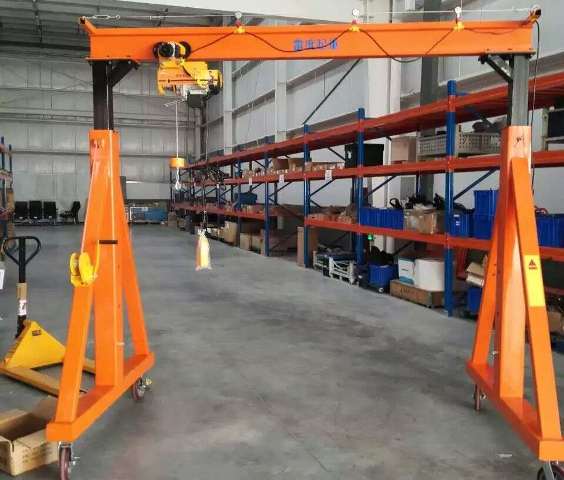 Aluminum Portable Gantry Cranes
The Adjustable Height Aluminum Gantry Cranes combine lightweight and rigid construction into one unit. The all-aluminum construction of this gantry crane makes it corrosion-resistant and perfect for outdoor use.
Adjustable I-beam spans allow for inboard or outboard bracing.
Adjustable legs permit crane height adjustments at 6″ increments allowing you to go over equipment and material or under low ceilings and doorways.
Legs can be set at different heights where the floor or terrain is uneven – ideal for loading from truck dock to floor or from ground level to mezzanine.
Adjustable caster treads make it easy to roll through narrow aisles or doorways and avoid costly disassembly/reassembly.
The main legs are equipped with spring-loaded bolts permitting crane height adjustment.
Stress-proof steel pins with locking rings provide quick assembly and disassembly.
Cranes are durable and made with high-quality heavy gauge steel and aluminum.
The optional "Kart Kit" transforms your disassembled crane into a cart which allows for easy transportation and storage.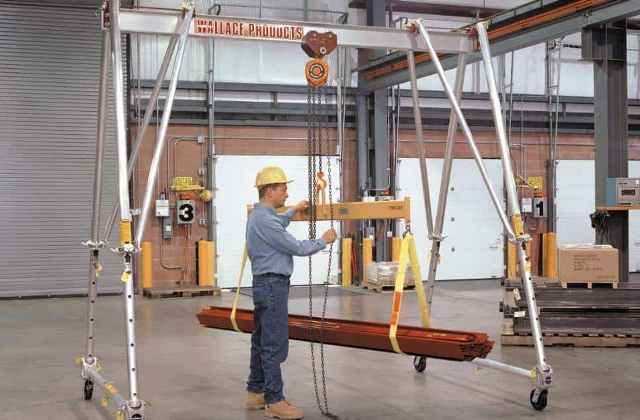 Gantry crane definition
Gantry cranes are typically used in applications that require a mobile crane for multiple functions.
Because of their versatility, gantry cranes are frequently used in many industries. In the maintenance and repair operations industries, this versatility is crucial because the lifting often occurs in multiple places throughout the facility or even at different locations.
Gantry cranes are usually manufactured using three main components: an I-beam or wide-flange beam and two support legs in a basic A-frame shape.
A gantry crane design differs from a standard jib crane because jib cranes are generally manufactured with one support point at the base of the mast.
Unlike gantry cranes that use both gantry legs to support the load. Another important aspect of the gantry design is the mobility provided by attaching caster assemblies to the end of the gantry legs, which allow the gantry to be easily rolled from one location to another.
In fact, when using the correct caster assemblies for your specific application, one or two workers can easily push the crane manually.
Because gantry cranes can support the load without being permanently mounted to building supports or foundations, gantry cranes are an ideal option for maintenance and repair operations both inside and outside of the facility.
Gantry crane maintenance
Although maintenance and repair applications vary for each specific operation, the environment where the crane will be used determines which gantry crane is best for your application.
Gantry cranes that will only be used indoors are easy to move virtually anywhere within your facility for quick maintenance and repair.
Depending on the capacity and which casters are used, one or two workers can easily push the gantry crane and lift components wherever needed.
Indoor gantry cranes typically use polyurethane caster assemblies, but they can also be track mounted for manual or motorized travel over a fixed path and even equipped with Nylacron casters.
which are typically used as a cost-effective alternative to motorized travel.
However, because most maintenance and repair applications do not use the same exact fixed path, portable or relocatable gantry cranes are often the more ergonomic option.
Depending on the needs of the specific application, there are several gantry cranes to choose from for both indoor and outdoor use.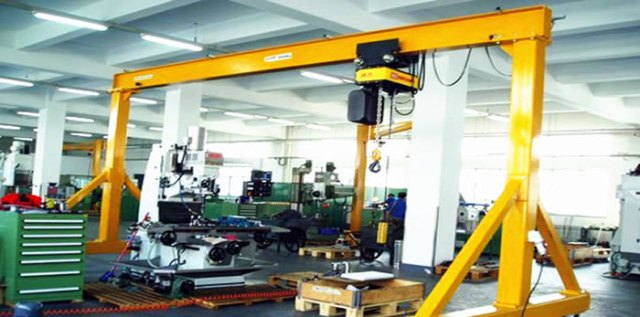 Small Gantry crane
Below are two popular applications and the best gantry crane for each operation:
Engine or Electrical Maintenance and Repair
For facilities that perform equipment maintenance and repairs on vehicles and machinery, an adjustable steel gantry crane is a perfect solution.
In these facilities, workers often need to remove heavy components, like an engine or transmission, from inside a vehicle.
Regardless of whether the vehicle is an automobile, rail car, or transit vehicle, lifting components from larger vehicles is extremely difficult without using a material handling solution.
Adjustability and mobility are key for the engine or electrical maintenance and repair industries. Adjustable gantry cranes are often adjustable in three areas: height, span, and tread width.
For example, a transit company that needs to lift heavy components from rail cars can use a three-way adjustable gantry crane because it can be easily maneuvered around the rail car and adjusted to lift from virtually any position.
With their stable design, gantries allow the I-beam to self-center over the load. In fact, depending on the gantry type, the I-beam can even be cantilevered up to four feet past the end of the I-beam.
This cantilever allows the gantry crane to reach into machinery and lift whatever is required. The A-frame leg design also improves stability by minimizing swaying.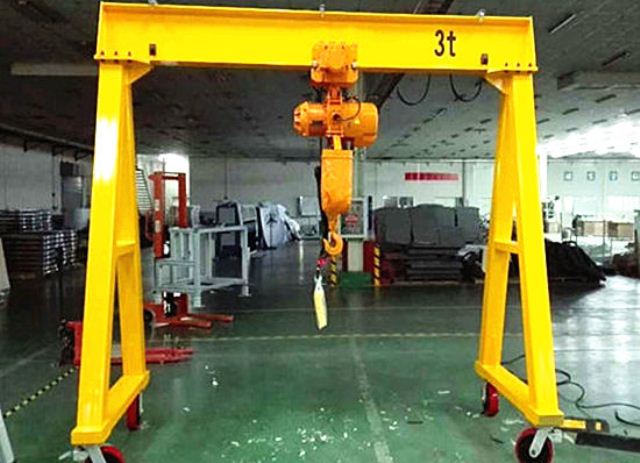 Adjustable gantry crane for sale
From amazom.com
What is A-frame crane?
What is an A-frame crane?
With a selection of fixed or portable designs, gantry cranes with frame A are a very popular lifting product for light and medium loads. There are A-frame gantry cranes of various sizes, heights, and lights, which can raise a variety of capacities.
What is meant by a gantry crane?
A gantry crane is a crane built atop a gantry, which is a structure used to straddle an object or workspace. The terms gantry crane and overhead crane (or bridge crane) are often used interchangeably, as both types of crane straddle their workload.
What are the hazards of crane lifting?
The three most common hazards involving overhead cranes include electrical hazards, overloading, and materials falling/slipping from overhead hoists.
What are a bridge and gantry crane?
A bridge crane: consists of a bridge beam or beams that are mounted to end carriages at each end. and have one or more hoisting mechanisms arranged to traverse across the bridge.
What is a gantry hoist used for?
Gantry hoists are floor-standing frames that can be used with a mains-powered hoist unit or a battery-powered portable hoist unit.
The most read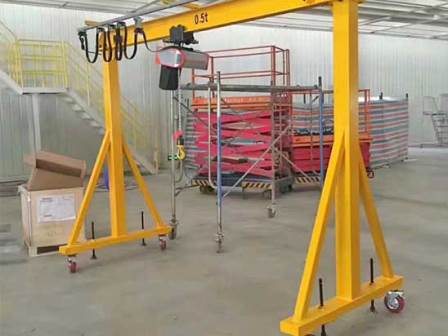 Small gantry cranes are the perfect solution when heavy-duty lifting equipment that is versatile and easy to set up and use is required.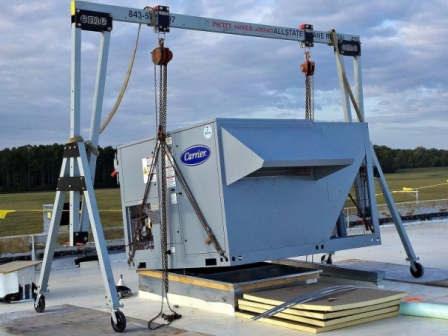 Made from lightweight extruded materials, the components of the adjustable height aluminum gantry crane are easily lifted by one person.
More on this story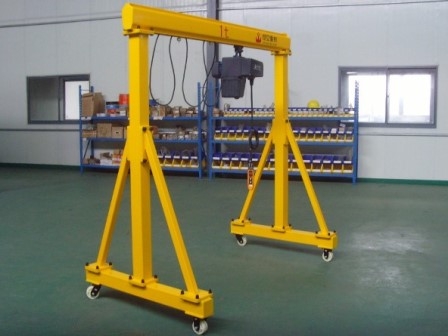 A gantry crane is a serious purchase. Not only are they expensive, but they are relied upon to lift seriously heavy objects. It is not worth it to try and save a few bucks on a crane of inferior quality.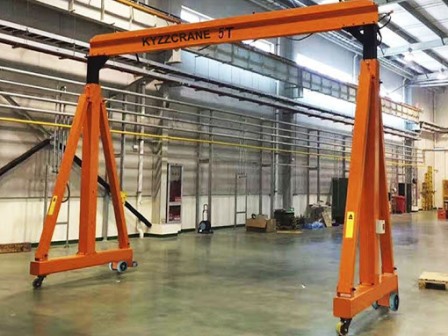 Mobile Gantry Cranes in freestanding, portable, fixed height, or adjustable height configurations that are ideal for your warehouse or workshop.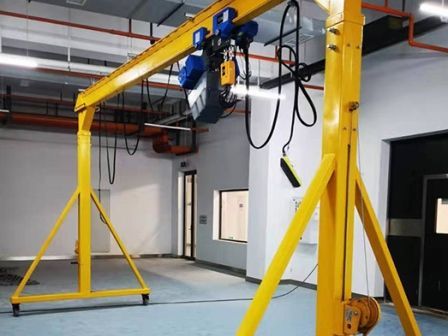 When buying one of this equipment, use and load considerations are necessary, whether they are for work at home or for a workshop.